Abstract
Exposure to general anesthetics induces neural apoptosis and degeneration in the immature neonatal brain. Erythropoietin (EPO) has been shown to protect neonatal animals against hypoxic-ischemic injury and general anesthesia-induced developmental neurotoxicity. However, preventive strategy caused by EPO against neurotoxicity due to general anesthesia is still uncertain. This study examined the effects of EPO administration on brain cytology and cognitive function in adolescent rats exposed to 3% sevoflurane as neonates. Seven-day-old rats received intraperitoneal saline (EPO 0 U group) or EPO (60, 120, or 600 U) 30 min before exposure to 3% sevoflurane with 21% oxygen for 4 h. The rats only received 21% oxygen without EPO and sevoflurane as the sham group. The Morris water maze task was performed time-dependently among the groups, 3 weeks post-anesthesia exposure. Escape latency and % quadrant in the EPO 600 U group were significantly reduced and increased, respectively, compared with those in the EPO 0 U group 6 weeks post-exposure. In addition, freezing time in response to the conditioned stimulus and the number of NeuN-positive cells in the hippocampal CA1 region were significantly increased in the EPO 120 and 600 U groups than in the EPO 0 U group 6 weeks after exposure. Moreover, the statistical parameter mapping of positive cell density was increased in the EPO-treated rats. These results support the observations that pretreatment with EPO reduced long-term cognitive deficits and neuronal degeneration in cortex and hippocampus induced by sevoflurane exposure with low oxygen concentration in neonatal rats.
Access options
Buy single article
Instant access to the full article PDF.
US$ 39.95
Tax calculation will be finalised during checkout.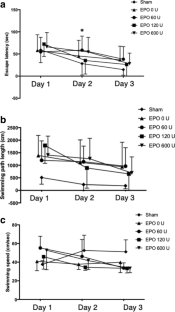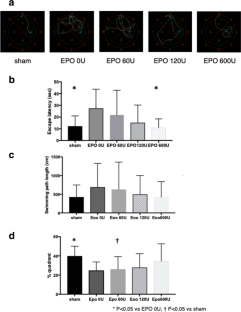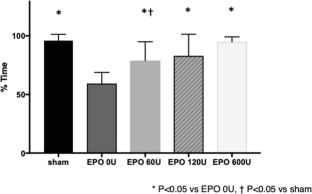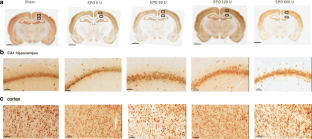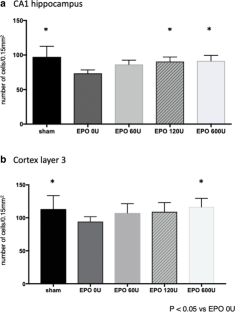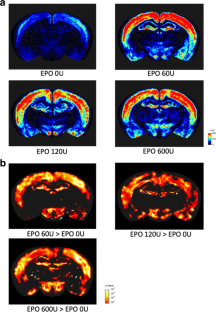 References
Acharya NK, Goldwaser EL, Forsberg MM, Godsey GA, Johnson CA, Sarkar A, DeMarshall C, Kosciuk MC, Dash JM, Hale CP, Leonard DM, Appelt DM, Nagele RG (2015) Sevoflurane and isoflurane induce structural changes in brain vascular endothelial cells and increase blood-brain barrier permeability: possible link to postoperative delirium and cognitive decline. Brain Res 1620:29–41. https://doi.org/10.1016/j.brainres.2015.04.054

Andropoulos DB, Greene MF (2017) Anesthesia and developing brains—implications of the FDA warning. N Engl J Med 376:905–907

Davidson AJ, Disma N, de Graaff JC, Withington DE, Dorris L, Bell G, Stargatt R, Bellinger DC, Schuster T, Arnup SJ, Hardy P, Hunt RW, Takagi MJ, Giribaldi G, Hartmann PL, Salvo I, Morton NS, von Ungern Sternberg B, Locatelli BG, Wilton N, Lynn A, Thomas JJ, Polaner D, Bagshaw O, Szmuk P, Absalom AR, Frawley G, Berde C, Ormond GD, Marmor J, McCann M, GAS consortium (2016) Neurodevelopmental outcome at 2 years of age after general anaesthesia and awake-regional anaesthesia in infancy (GAS): an international multicentre, randomised controlled trial. Lancet 387:239–250. https://doi.org/10.1016/s0140-6736(15)00608-x

Digicaylioglu M, Lipton SA (2001) Erythropoietin-mediated neuroprotection involves cross-talk between Jak2 and NF-κB signalling cascades. Nature 412:641–647

Disma N, Mondardini MC, Terrando N, Absalom AR, Bilotta F (2016) A systematic review of methodology applied during preclinical anesthetic neurotoxicity studies: important issues and lessons relevant to the design of future clinical research. Paediatr Anaesth 26:6–36. https://doi.org/10.1111/pan.12786

Dzietko M, Felderhoff-Mueser U, Sifringer M, Krutz B, Bittigau P, Thor F, Heumann R, Bührer C, Ikonomidou C, Hansen HH (2004) Erythropoietin protects the developing brain against N-methyl-D-aspartate receptor antagonist neurotoxicity. Neurobiol Dis 15:177–187. https://doi.org/10.1016/j.nbd.2003.10.006

Elmahdy H, El-Mashad AR, El-Bahrawy H, El-Gohary T, El-Barbary A et al (2010) Human recombinant erythropoietin in asphyxia neonatorum: pilot trial. Pediatrics 125:e1135–e1142. https://doi.org/10.1542/peds.2009-2268

Goyagi T (2018) The additional oxygen as a carrier gas during long-duration sevoflurane exposure ameliorate the neuronal apoptosis and improve the long-term cognitive function in neonatal rats. Brain Res 1678:220–230. https://doi.org/10.1016/j.brainres.2017.10.014

Goyagi T, Tobe Y, Nishikawa T (2012) Long-term and spatial memory effects of selective beta1-antagonists after transient focal ischaemia in rats. Br J Anaesth 109:399–406. https://doi.org/10.1093/bja/aes134

Iwai M, Stetler RA, Xing J, Hu X, Gao Y, Zhang W, Chen J, Cao G (2010) Enhanced oligodendrogenesis and recovery of neurological function by erythropoietin after neonatal hypoxic/ischemic brain injury. Stroke 41:1032–1037. https://doi.org/10.1161/STROKEAHA.109.570325

Jantzie LL, Miller RH, Robinson S (2013) Erythropoietin signaling promotes oligodendrocyte development following prenatal systemic hypoxic-ischemic brain injury. Pediatr Res 74:658–667. https://doi.org/10.1038/pr.2013.155

Jevtovic-Todorovic V (2018) Exposure of developing brain to general anesthesia: what is the animal evidence? Anesthesiology 128:832–839. https://doi.org/10.1097/ALN.0000000000002047

Jevtovic-Todorovic V, Hartman ER, Izumi Y, Benshoff DN, Dikranian K et al (2003) Early exposure to common anesthetic agents causes widespread neurodegeneration in the developing rat brain and persistent learning deficits. J Neurosci 23:876–882

Juul SE, Pet GC (2015) Erythropoietin and neonatal neuroprotection. Clin Perinatol 42:469–481. https://doi.org/10.1016/j.clp.2015.04.004

Kumral A, Uysal N, Tugyan K, Sonmez A, Yilmaz O, Gokmen N, Kiray M, Genc S, Duman N, Koroglu TF, Ozkan H, Genc K (2004) Erythropoietin improves long-term spatial memory deficits and brain injury following neonatal hypoxia-ischemia in rats. Behav Brain Res 153:77–86. https://doi.org/10.1016/j.bbr.2003.11.002

McPherson RJ, Juul SE (2010) Erythropoietin for infants with hypoxic-ischemic encephalopathy. Curr Opin Pediatr 22:139–145. https://doi.org/10.1097/MOP.0b013e328336eb57

Morris R (1984) Developments of a water-maze procedure for studying spatial learning in the rat. J Neurosci Methods 11:47–60

Olgun Y, Kirkim G, Kolatan E, Kiray M, Bagriyanik A et al (2013) Otoprotective effect of recombinant erythropoietin in a model of newborn hypoxic-ischemic encephalopathy. Int J Pediatr Otorhinolaryngol 77:739–746. https://doi.org/10.1016/j.ijporl.2013.01.029

Pellegrini L, Bennis Y, Velly L, Grandvuillemin I, Pisano P, Bruder N, Guillet B (2014) Erythropoietin protects newborn rat against sevoflurane-induced neurotoxicity. Paediatr Anaesth 24:749–759. https://doi.org/10.1111/pan.12372

Pinyavat T, Warner DO, Flick RP, McCann ME, Andropoulos DB et al (2016) Summary of the update session on clinical neurotoxicity studies. J Neurosurg Anesthesiol 28:356–360. https://doi.org/10.1097/ANA.0000000000000347

Rappaport BA, Suresh S, Hertz S, Evers AS, Orser BA (2015) Anesthetic neurotoxicity—clinical implications of animal models. N Engl J Med 372:796–797. https://doi.org/10.1056/NEJMp1414786

Robert WT (2010) Is there any relationship between long-term behavior disturbance and early exposure to anesthesia? Curr Opin Anaesthesiol 23:332–336. https://doi.org/10.1097/ACO.0b013e3283391f94

Rogers EE, Bonifacio SL, Glass HC, Juul SE, Chang T, Mayock DE, Durand DJ, Song D, Barkovich AJ, Ballard RA, Wu YW (2014) Erythropoietin and hypothermia for hypoxic-ischemic encephalopathy. Pediatr Neurol 51:657–662. https://doi.org/10.1016/j.pediatrneurol.2014.08.010

Sanders RD, Hassell J, Davidson AJ, Robertson NJ, Ma D (2013) Impact of anaesthetics and surgery on neurodevelopment: an update. Br J Anaesth 110(Suppl 1):i53–i72. https://doi.org/10.1093/bja/aet054

Sinor AD, Greenberg DA (2000) Erythropoietin protects cultured cortical neurons, but not astroglia, from hypoxia and AMPA toxicity. Neurosci Lett 290:213–215

Stratmann G (2011) Neurotoxicity of anesthetic drugs in the developing brain. Anesth Analg 113:1170–1179. https://doi.org/10.1213/ANE.0b013e318232066c

Sun LS, Li G, Miller TL, Salorio C, Byrne MW et al (2016) Association between a single general anesthesia exposure before age 36 months and neurocognitive outcomes in later childhood. JAMA 315:2312–2320. https://doi.org/10.1001/jama.2016.6967

Tsuchimoto T, Ueki M, Miki T, Morishita J, Maekawa N (2011) Erythropoietin attenuates isoflurane-induced neurodegeneration and learning deficits in the developing mouse brain. Paediatr Anaesth 21:1209–1213. https://doi.org/10.1111/j.1460-9592.2011.03657.x

van der Kooij MA, Groenendaal F, Kavelaars A, Heijnen CJ, van Bel F (2008) Neuroprotective properties and mechanisms of erythropoietin in in vitro and in vivo experimental models for hypoxia/ischemia. Brain Res Rev 59:22–33. https://doi.org/10.1016/j.brainresrev.2008.04.007

Wada M, Yoshimi K, Higo N, Ren YR, Mochizuki H, Mizuno Y, Kitazawa S (2006) Statistical parametric mapping of immunopositive cell density. Neurosci Res 56:96–102. https://doi.org/10.1016/j.neures.2006.05.013

Wada M, Takano K, Ikegami S, Ora H, Spence C, Kansaku K (2012) Spatio-temporal updating in the left posterior parietal cortex. PLoS One 7:e39800. https://doi.org/10.1371/journal.pone.0039800

Walters JL, Paule MG (2017) Review of preclinical studies on pediatric general anesthesia-induced developmental neurotoxicity. Neurotoxicol Teratol 60:2–23. https://doi.org/10.1016/j.ntt.2016.11.005

Warner DO, Zaccariello MJ, Katusic SK, Schroeder DR, Hanson AC, Schulte PJ, Buenvenida SL, Gleich SJ, Wilder RT, Sprung J, Hu D, Voigt RG, Paule MG, Chelonis JJ, Flick RP (2018) Neuropsychological and behavioral outcomes after exposure of young children to procedures requiring general anesthesia: the mayo anesthesia safety in kids (MASK) study. Anesthesiology 129:89–105. https://doi.org/10.1097/ALN.0000000000002232

Wilder RT, Flick RP, Sprung J, Katusic SK, Barbaresi WJ, Mickelson C, Gleich SJ, Schroeder DR, Weaver AL, Warner DO (2009) Early exposure to anesthesia and learning disabilities in a population-based birth cohort. Anesthesiology 110:796–804

Wu YW, Bauer LA, Ballard RA, Ferriero DM, Glidden DV, Mayock DE, Chang T, Durand DJ, Song D, Bonifacio SL, Gonzalez FF, Glass HC, Juul SE (2012) Erythropoietin for neuroprotection in neonatal encephalopathy: safety and pharmacokinetics. Pediatrics 130:683–691. https://doi.org/10.1542/peds.2012-0498

Yazar S, Hewitt AW, Forward H, Jacques A, Ing C, von Ungern-Sternberg BS, Mackey DA (2016) Early anesthesia exposure and the effect on visual acuity, refractive error, and retinal nerve fiber layer thickness of young adults. J Pediatr 169:256–259. https://doi.org/10.1016/j.jpeds.2015.10.048

Yu X, Shacka JJ, Eells JB, Suarez-Quian C, Przygodzki RM, Beleslin-Cokic B, Lin CS, Nikodem VM, Hempstead B, Flanders KC, Costantini F, Noguchi CT (2002) Erythropoietin receptor signalling is required for normal brain development. Development 129:505–516

Zhu C, Kang W, Xu F, Cheng X, Zhang Z, Jia L, Ji L, Guo X, Xiong H, Simbruner G, Blomgren K, Wang X (2009) Erythropoietin improved neurologic outcomes in newborns with hypoxic-ischemic encephalopathy. Pediatrics 124:e218–e226. https://doi.org/10.1542/peds.2008-3553

Zhu L, Bai X, Wang S, Hu Y, Wang T, Qian L, Jiang L (2014) Recombinant human erythropoietin augments angiogenic responses in a neonatal rat model of cerebral unilateral hypoxia-ischemia. Neonatology 106:143–148. https://doi.org/10.1159/000362262
Acknowledgements
I would like to thank Mr. Yoshitsugu Tobe and Dr. Yoko Masaki, Ph.D. from the Department of Anesthesia and Intensive Care Medicine, Akita Graduate School of Medicine, for the technical assistance. I am also grateful to Dr. Makoto Wada, M.D., Ph.D. from the Department of Rehabilitation for Brain Functions, National Rehabilitation Center for Persons with Disabilities, for the technical advice and the use of his software.
Funding
This study was supported in part by a Grant-in-Aid for Scientific Research (C), JSPS KAKENHI Grant Number JP 24592291.
Ethics declarations
Conflict of Interest
The authors declare that they have no conflicts of interest.
Ethical Approval
The animal experiments were performed according to international ethical standards and approved by the research ethics committee of Akita University (a-1-2625). Every effort was made to minimize the number and suffering of animals.
Additional information
Publisher's Note
Springer Nature remains neutral with regard to jurisdictional claims in published maps and institutional affiliations.
About this article
Cite this article
Goyagi, T. Erythropoietin Reduces Neurodegeneration and Long-Term Memory Deficits Following Sevoflurane Exposure in Neonatal Rats. Neurotox Res 36, 817–826 (2019). https://doi.org/10.1007/s12640-019-00028-8
Received:

Revised:

Accepted:

Published:

Issue Date:
Keywords
Sevoflurane

Anesthesia

Erythropoietin

Cognitive function

Neonate

Neural toxicity