Abstract
Despite the importance of this issue, less has been paid to the influence of exercise on the neural side effects of anabolic androgenic steroids and mechanisms. We investigated the effects of two levels of endurance exercise on neurodegeneration side effects of nandrolone. The study period was 8 weeks. Wistar rats were divided into nine groups including the control (CTL) group, mild exercise (mEx) group, and vehicle (Arach) group which received arachis oil intramuscularly, nandrolone (Nan) group which received nandrolone decanoate 5 mg/kg two times weekly, mEx+Arach group which treated with arachis oil along with mild exercise, mEx+Nan group which treated with nandrolone along with mild exercise, severe exercise (sEx) group, sEx+Arach, and sEx+Nan groups. Finally, brain samples were taken for histopathological, biochemical, and western blot analysis. Nandrolone significantly decreased the intact cells of the hippocampus, total antioxidant capacity (TAC) (P < 0.05 versus CTL and Arach groups), TAC to malondialdehyde ratio (TAC/MDA), and Bcl-2. Nandrolone increased the Bax/Bcl-2 ratio of the brain tissue (P < 0.01 versus CTL and Arach groups). Combination of mild exercise and nandrolone rescued the intact cells to some extent, and this effect was associated with the improvement of Bcl-2 level and Bax/Bcl-2 ratio of brain tissue. Combination of severe exercise and nandrolone rescued the intact cells and improved the TAC, TAC/MDA, and Bax/Bcl-2 ratios. The findings suggest that low- and high-intensity endurance exercise decreased the risk of neurodegeneration effect of nandrolone in the hippocampus of rats. This effect can be explained by the regulation of the redox system and cell homeostasis.
Access options
Buy single article
Instant access to the full article PDF.
US$ 39.95
Tax calculation will be finalised during checkout.
Subscribe to journal
Immediate online access to all issues from 2019. Subscription will auto renew annually.
US$ 79
Tax calculation will be finalised during checkout.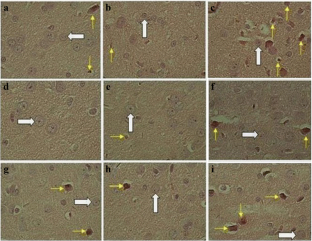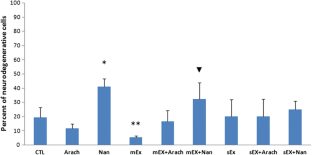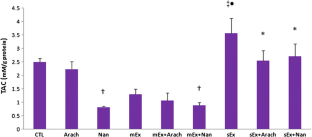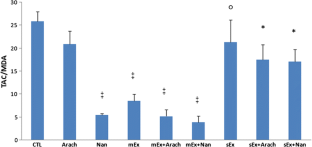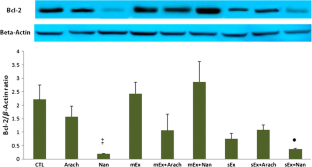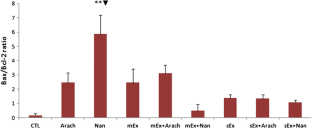 References
Abdollahi F, Joukar S, Najafipour H, Karimi A, Masumi Y, Binayi F (2016) The risk of life threatening ventricular arrhythmias in presence of high-intensity endurance exercise along with chronic administration of nandrolonedecanoate. Steroids 105:106–112

Asadi-Shekaari M, Eftekhar-Vaghefi H, Talakoub A, Khorram-Khorshid HR (2010) Effects of Semelil (ANGIPARS™) on focal cerebral ischemia in male rats. Daru 18(4):265–269

Barretti DL, Magalhães FC, Fernandes T, do Carmo EC, Rosa KT, Irigoyen MC, Negrão CE, Oliveira EM (2012) Effects of aerobic exercise training on cardiac rennin-angiotensin system in an obese Zuckerrat strain. PLoS One 7(10):e46114

Basile JR, Binmadi NO, Zhou H, Yang YH, Paoli A, Proia P (2013) Supraphysiological doses of performance enhancing anabolic-androgenic steroids exert direct toxic effects on neuron-like cells. Front Cell Neurosci 7:69

Binayi F, Joukar S, Najafipour H, Karimi A, Abdollahi F, Masumi Y (2016) The effects of nandrolone decanoate along with prolonged low-intensity exercise on susceptibility to ventricular arrhythmias. Cardiovasc Toxicol 16(1):23–33

Brännvall K, Bogdanovic N, Korhonen L, Lindholm D (2005) 19-Nortestosterone influences neural stem cell proliferation and neurogenesis in the rat brain. Eur J Neurosci 21(4):871–878

Caraci F, Pistara V, Corsaro A, Tomasello F, Giuffrida ML, Sortino MA, Nicoletti F, Copani A (2011) Neurotoxic properties of the anabolic androgenic steroids nandrolone and methandrostenolone in primary neuronal cultures. J Neurosci Res 89:592–600

Cunha TS, José M, Moura CS, Bernardes CF, Tanno AP, Marcondes FK (2005) Vascular sensitivity to phenylephrine in rats submitted to anaerobic training and nandrolone treatment. Hypertension 46(4):1010–1015

Do Carmo CA, Gonçalves ÁL, Salvadori DM, Maistro EL (2012) Nandrolone androgenic hormone presents genotoxic effects in different cells of mice. J Appl Toxicol 32(10):810–814

Endlich PW, Firmes LB, Gonçalves WL, Gouvea SA, Moysés MR, Bissoli NS, Reis AM, Abreu GR (2011) Involvement of the atrial natriuretic peptide in the reduction of arterial pressure induced by swimming but not by running training in hypertensive rats. Peptides 32(8):1706–1712

Estrada M, Varshney A, Ehrlich BE (2006) Elevated testosterone induces apoptosis in neuronal cells. J Biol Chem 281(35):25492–25501

Fineschi V, Di Paolo M, Neri M, Bello S, D'Errico S, Dinucci D, Parente R, Pomara C, Rabozzi R, Riezzo I, Turillazzi E (2011) Anabolic steroid-and exercise-induced cardio-depressant cytokines and myocardial β1 receptor expression in CD1 mice. Curr Pharm Biotechnol 12(2):275–284

Foradori CD, Werner SB, Sandau US, Clapp TR, Handa RJ (2007) Activation of the androgen receptor alters the intracellular calcium response to glutamate in primary hippocampal neurons and modulates sarco/endoplasmic reticulum calcium ATPase 2 transcription. Neuroscience 149:155–164

Galea LA (2008) Gonadal hormone modulation of neurogenesis in the dentate gyrus of adult male and female rodents. Brain Res Rev 57(2):332–341

Ghorbani BH, Joukar S, Fathpour H, Kordestani Z (2015) Nandrolone plus moderate exercise increases the susceptibility to lethal arrhythmias. Res Cardiovasc Med 4(2):e26233

Golestani R, Slart RH, Dullaart RP, Glaudemans AW, Zeebregts CJ, Boersma HH, Tio RA, Dierckx RA (2012) Adverse cardiovascular effects of anabolic steroids: pathophysiology imaging. Eur J Clin Investig 42(7):795–803

Hamson DK, Wainwright SR, Taylor JR, Jones BA, Watson NV, Galea LA (2013) Androgens increase survival of adult-born neurons in the dentate gyrus by an androgen receptor-dependent mechanism in male rats. Endocrinology 154(9):3294–3304

Handa RJ, Pak TR, Kudwa AE, Lund TD, Hinds L (2008) An alternate pathway for androgen regulation of brain function: activation of estrogen receptor beta by the metabolite of dihydrotestosterone, 5α-androstane-3β, 17β-diol. Horm Behav 53(5):741–752

Harr MW, Distelhorst CW (2010) Apoptosis and autophagy: decoding calcium signals that mediate life or death. Cold Spring Harb Perspect Biol 2:a005579

Holmes S, Abbassi B, Su C, Singh M, Cunningham RL (2013) Oxidative stress defines the neuroprotective or neurotoxic properties of androgens in immortalized female rat dopaminergic neuronal cells. Endocrinology 154(11):4281–4292

Joukar S, Bashiri H, Dabiri S, Ghotbi P, Sarveazad A, Divsalar K, Joukar F, Abbaszadeh M (2012a) Cardiovascular effects of black tea and nicotine alone or in combination against experimental induced heart injury. J Physiol Biochem 68(2):271–279

Joukar S, Najafipour H, Dabiri S, Sheibani M, Sharokhi N (2014) Cardioprotective effect of mumie (shilajit) on experimentally induced myocardial injury. Cardiovasc Toxicol 14(3):214–221

Joukar S, Shahouzehi B, Najafipour H, Gholamhoseinian A, Joukar F (2012b) Ameliorative effect of black tea on nicotine induced cardiovascular pathogenesis in rat. EXCLI J 11:309–317

Kanayama G, Hudson JI, Pope HG Jr (2010) Illicit anabolic-androgenic steroid use. Horm Behav 58(1):111–121

Kim SE, Ko IG, Kim BK, Shin MS, Cho S, Kim CJ, Kim SH, Baek SS, Lee EK, Jee YS (2010) Treadmill exercise prevents aging-induced failure of memory through an increase in neurogenesis and suppression of apoptosis in rat hippocampus. Exp Gerontol 45(5):357–365

Klempin F, Beis D, Mosienko V, Kempermann G, Bader M, Alenina N (2013) Serotonin is required for exercise-induced adult hippocampal neurogenesis. J Neurosci 33(19):8270–8275

Lowry OH, Rosebrough NJ, Farr AL, Randall RJ (1951) Protein measurement with the Folin phenol reagent. J Biol Chem 193(1):265–275

Melino G, Vaux D (2010) The BCL-2 family proteins – key regulators and effectors of apoptosis. In: Vaux DL (ed) Cell death, 1st edn. Wiley-Blackwell, West Sussex, UK, pp 69–74

Novaes Gomes FG, Fernandes J, Vannucci Campos D, Cassilhas RC, Viana GM, D'Almeida V, de Moraes Rêgo MK, Buainain PI, Cavalheiro EA, Arida RM (2014) The beneficial effects of strength exercise on hippocampal cell proliferation and apoptotic signaling is impaired by anabolic androgenic steroids. Psychoneuroendocrinology 50:106–117

Ohkawa H, Ohishi N, Yagi K (1979) Assay for lipid peroxides in animal tissues by thiobarbituric acid reaction. Anal Biochem 95(2):351–358

Okamoto M, Hojo Y, Inoue K, Matsui T, Kawato S, McEwen BS, Soya H (2012) Mild exercise increases dihydrotestosterone in hippocampus providing evidence for androgenic mediation of neurogenesis. Proc Natl Acad Sci U S A 109(32):13100–13105

Onakomaiya MM, Porter DM, Oberlander JG, Henderson LP (2014) Sex and exercise interact to alter the expression of anabolic androgenic steroid-induced anxiety like behaviors in the mouse. Horm Behav 66(2):283–297

Pope HG Jr, Katz DL (1988) Affective and psychotic symptoms associated with anabolic steroid use. Am J Psychiatry 145(4):487–490

Riezzo I, Turillazzi E, Bello S, Cantatore S, Cerretani D, Di Paolo M, Fiaschi AI, Frati P, Neri M, Pedretti M, Fineschi V (2014) Chronic nandrolone administration promotes oxidative stress, induction of pro-inflammatory cytokine and TNF-α mediated apoptosis in the kidneys of CD1 treated mice. Toxicol Appl Pharmacol 280(1):97–106

Sjöqvist F, Garle M, Rane A (2008) Use of doping agents, particularly anabolic steroids, in sports and society. Lancet 371(9627):1872–1882

Spritzer MD, Galea LA (2007) Testosterone and dihydrotestosterone, but not estradiol, enhance survival of new hippocampal neurons in adult male rats. Dev Neurobiol 67(10):1321–1333

Stergiopoulos K, Brennan JJ, Mathews R, Setaro JF, Kort S (2008) Anabolic steroids, acute myocardial infarction and polycythemia: a case report and review of the literature. Vasc Health Risk Manag 4(6):1475–1480

Sullivan ML, Martinez CM, Gennis P, Gallagher EJ (1998) The cardiac toxicity of anabolic steroids. Prog Cardiovasc Dis 41(1):1–15

Tanehkar F, Rashidy-Pour A, Vafaei AA, Sameni HR, Haghighi S, Miladi-Gorji H, Motamedi F, Akhavan MM, Bavarsad K (2013) Voluntary exercise does not ameliorate spatial learning and memory deficits induced by chronic administration of nandrolone decanoate in rats. Horm Behav 63(1):158–165

Tugyan K, Ozbal S, Cilaker S, Kiray M, Pekcetin C, Ergur BU, Kumral A (2013) Neuroprotective effect of erythropoietin on nandrolone decanoate-induced brain injury in rats. Neurosci Lett 533:28–33

Turillazzi E, Neri M, Cerretani D, Cantatore S, Frati P, Moltoni L, Busardò FP, Pomara C, Riezzo I, Fineschi V (2016) Lipid peroxidation and apoptotic response in rat brain areas induced by long-term administration of nandrolone: the mutual crosstalk between ROS and NF-kB. J Cell Mol Med 20(4):601–612

Um HS, Kang EB, Koo JH, Kim HT, Lee J, Kim EJ, Yang CH, An GY, Cho IH, Cho JY (2011) Treadmill exercise represses neuronal cell death in an aged transgenic mouse model of Alzheimer's disease. Neurosci Res 69(2):161–173

Van Praag H, Christie BR, Sejnowski TJ, Gage FH (1999) Running enhances neurogenesis, learning, and long-term potentiation in mice. Proc Natl Acad Sci U S A 96(23):13427–13431

Van Praag H, Shubert T, Zhao C, Gage FH (2005) Exercise enhances learning and hippocampal neurogenesis in aged mice. J Neurosci 25(38):8680–8685

Vicencio JM, Estrada M, Galvis D, Bravo R, Contreras AE, Rotter D, Szabadkai G, Hill JA, Rothermel BA, Jaimovich E, Lavandero S (2011) Anabolic androgenic steroids and intracellular calcium signaling: a mini review on mechanisms and physiological implications. Mini Rev Med Chem 11:390–398

Zhang L, Hu X, Luo J, Li L, Chen X, Huang R, Pei Z (2013) Physical exercise improves functional recovery through mitigation of autophagy, attenuation of apoptosis and enhancement of neurogenesis after MCAO in rats. BMC Neurosci 14:46
Acknowledgements
The authors are thankful to the Vice Chancellor of Research and Neuroscience Research Center, Kerman University of Medical Sciences Kerman, Iran, for the financial support. Arachis oil and nandrolone decanoate were dedicated by Iran Hormon Company.
Ethics declarations
Conflict of Interest
The authors declare that they have no conflict of interest.
Ethical Approval
Experimental procedures were followed according to the national care and use of laboratory animals' guidelines (ethics committee permission of Kerman University of Medical Sciences, Kerman, Iran; No. K/92/608).
About this article
Cite this article
Joukar, S., Vahidi, R., Farsinejad, A. et al. Ameliorative Effects of Endurance Exercise with Two Different Intensities on Nandrolone Decanoate-Induced Neurodegeneration in Rats: Involving Redox and Apoptotic Systems. Neurotox Res 32, 41–49 (2017). https://doi.org/10.1007/s12640-017-9705-1
Received:

Revised:

Accepted:

Published:

Issue Date:
Keywords
Nandrolone decanoate

Mild exercise

Severe exercise

Neurodegeneration