Abstract
This study is focused on understanding the mechanism of neurobehavioral toxicity of lambda-cyhalothrin, a new generation type II synthetic pyrethroid in developing rats following their exposure from post-lactational day (PLD)22 to PLD49 and investigate whether neurobehavioral alterations are transient or persistent. Post-lactational exposure to lambda-cyhalothrin (1.0 or 3.0 mg/kg body weight, p.o.) affected grip strength and learning activity in rats on PLD50 and the persistent impairment of grip strength and learning was observed at 15 days after withdrawal of exposure on PLD65. A decrease in the binding of muscarinic–cholinergic receptors in frontocortical, hippocampal, and cerebellar membranes associated with decreased expression of choline acetyltransferase (ChAT) and acetylcholinesterase (AChE) in hippocampus was observed following exposure to lambda-cyhalothrin on PLD50 and PLD65. Exposure to lambda-cyhalothrin was also found to increase the expression of growth-associated protein-43 in hippocampus of rats on PLD50 and PLD65 as compared to controls. A significant increase in lipid peroxidation and protein carbonyl levels and decreased levels of reduced glutathione and activity of superoxide dismutase, catalase, and glutathione peroxidase in brain regions of lambda-cyhalothrin exposed rats were distinctly observed indicating increased oxidative stress. Inhibition of ChAT and AChE activity may cause down-regulation of muscarinic–cholinergic receptors consequently impairing learning activity in developing rats exposed to lambda-cyhalothrin. The data further indicate that long-term exposure to lambda-cyhalothrin at low doses may be detrimental and changes in selected behavioral and neurochemical end points may persist if exposure to lambda-cyhalothrin continues.
Access options
Buy single article
Instant access to the full article PDF.
US$ 39.95
Tax calculation will be finalised during checkout.
Subscribe to journal
Immediate online access to all issues from 2019. Subscription will auto renew annually.
US$ 79
Tax calculation will be finalised during checkout.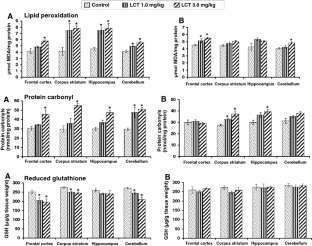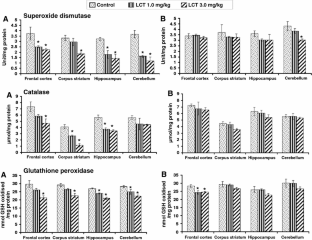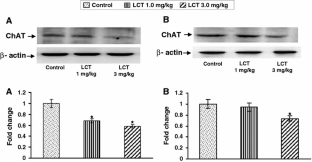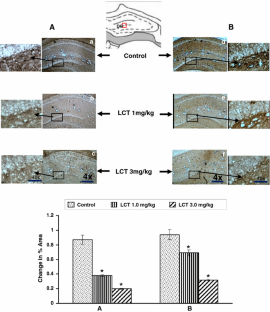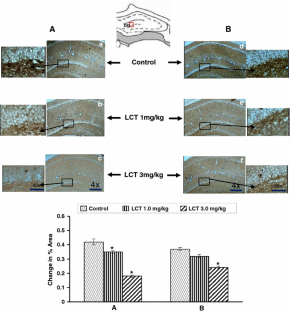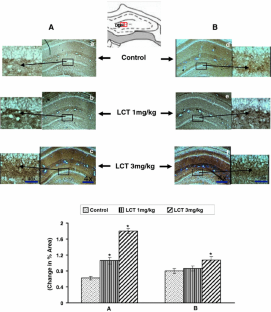 References
Aebi H (1984) Catalase in vitro. In: Packer L (ed) Methods in enzymology, vol 105. Academic Press, New York, pp 121–126

Amoah P, Drechsel P, Abaidoo RC, Ntow WJ (2006) Pesticide and pathogen contamination of vegetables in Ghana's urban markets. Arch Environ Contam Toxicol 50:1–6

Amweg EL, Weston DP, Ureda NM (2005) Use and toxicity of pyrethroid pesticides in the Central Valley, California, USA. Environ Toxicol Chem 24:966–972

Amweg EL, Weston DP, You J, Lydy MJ (2006) Pyrethroid insecticides and sediment toxicity in urban creeks from California and Tennessee. Environ Sci Technol 40:1700–1706

Andersen JK (2004) Oxidative stress in neurodegeneration: cause or consequence? Nat Med 10:S18–S25

Aziz MH, Agrawal AK, Adhami VM, Shukla Y, Seth PK (2001) Neurodevelopmental consequences of gestational exposure (GD14–GD20) to low dose deltamethrin in rats. Neurosci Lett 300:161–165

Benowitz LI, Routtenberg A (1997) GAP-43: an intrinsic determinant of neuronal development and plasticity. Trends Neurosci 20:84–91

Bissacot DZ, Vassilieff I (1997) Pyrethroid residues in milk and blood of dairy cows following single topical applications. Vet Hum Toxicol 39:6–8

Bradberry SM, Cage SA, Proudfoot AT, Vale JA (2005) Poisoning due to pyrethroids. Toxicol Rev 24:93–106

Breckenridge CB, Holden L, Sturgess N, Weiner M, Sheets L, Sargent D, Soderlund DM, Choi JS, Symington S, Clark JM, Burr S, Ray D (2009) Evidence for a separate mechanism of toxicity for the Type I and the Type II pyrethroid insecticides. Neurotoxicology 30S:S17–S31

Brown TP, Rumsby PC, Capelton AC, Rushton L, Levy LS (2006) Pesticides and Parkinson's disease—is there a link? Environ Health Perspect 114:156–164

Celik A, Mazmanci B, Camlica Y, Askin A, Comelekoglu U (2003) Cytogenetic effects of lambda-cyhalothrin on Wistar rat bone marrow. Mutat Res 539:91–97

Celik A, Mazmanci B, Camlica Y, Comelekoglu U, Askin A (2005) Evaluation of cytogenetic effects of lambda-cyhalothrin on Wistar rat bone marrow by gavage administration. Ecotoxicol Environ Saf 61:128–133

El-Demerdash FM (2007) Lambda-cyhalothrin-induced changes in oxidative stress biomarkers in rabbit erythrocytes and alleviation effect of some antioxidants. Toxicol In Vitro 21:392–397

Ellman GL, Courtney KD, Anders V, Featherstone RM (1961) A new and rapid colorimetric determination of acetylcholinesterase activity. Biochem Pharmacol 7:88–95

Farage-Elawar M (1989) Enzyme and behavioral changes in young chicks as a result of carbaryl treatment. J Toxicol Environ Health 26:119–131

Feo ML, Eljarrat E, Manaca MN, Dobaño C, Barcelo D, Sunyer J, Alonso PL, Menendez C, Grimalt JO (2012) Pyrethroid use-malaria control and individual applications by households for other pests and home garden use. Environ Int 38:67–72

Fetoui H, Garoui EM, Makni-ayadi F, Zeghal N (2008) Oxidative stress induced by lambda-cyhalothrin in rat erythrocytes and brain: attenuation by vitamin C. Environ Toxicol Pharmacol 26:225–231

Fetoui H, Garoui EM, Zegha IE (2009) Lambda-cyhalothrin-induced biochemical and histopathological changes in the liver of rats: ameliorative effect of ascorbic acid. Exp Toxicol Pathol 61:189–196

Flohe L, Gunzler WA (1984) Assays of glutathione peroxidase. Method Enzymol 105:114–121

Forster MJ, Dubey A, Dawson KM, Stutts WA, Lal H, Sohal RS (1996) Age-related losses of cognitive function and motor skills in mice are associated with oxidative protein damage in the brain. Proc Natl Acad Sci 93:4765–4769

Fredriksson A, Archer T (1996) Alpha-phenyl-tert-butyl-nitrone (PBN) reverses age-related maze learning performance and motor activity deficits in C57 BL/6 mice. Behav Pharmacol 7:245–253

Glowinski J, Iversen LL (1966) Regional studies of catecholamines in the rat brain. The disposition of 3H-norepinephrine, 3H-dopamine and 3H-dopa in various regions of the brain. J Neurochem 13:655–659

Goslin K, Schreyer DJ, Skene JHP, Banker G (1990) Changes in the distribution of GAP-43 during the development of neuronal polarity. J Neurosci 10:588–602

Gu BG, Wang HM, Chen WL, Cai DJ, Shan ZJ (2007) Risk assessment of lambda-cyhalothrin on aquatic organisms in paddy field in China. Regul Toxicol Pharmacol 48:69–74

Halliwell B (2006) Oxidative stress and neurodegeneration: where are we now? J Neurochem 97:1634–1658

Hasan M, Haider SS (1989) Acetyl homocysteine thiolactone protect against some neurotoxic effects of thallium. Neurotoxicology 10:257–262

Holahan MR, Honegger KS, Tabatadze N, Routtenberg A (2007) GAP-43 gene expression regulates information storage. Learn Mem 14:407–415

Hoskins B, Ho IK (1992) Tolerance to organophosphorus cholinesterase inhibition. In: Chambers JE, Levi PE (eds) Organophosphates: chemistry, fate, and effects. Academic Press, San Diego, pp 285–297

Hossain MM, Richardson JR (2011) Mechanism of pyrethroid pesticide-induced apoptosis: role of calpain and the ER stress pathway. Toxicol Sci 122:512–525

Hossain MM, Suzuki T, Sato I, Takewaki T, Suzuki K, Kobayashi H (2004) The modulatory effect of pyrethroids on acetylcholine release in the hippocampus of freely moving rats. Neurotoxicology 25:825–833

Hossain MM, Suzuki T, Sato I, Takewaki T, Suzuki K, Kobayashi H (2005) Neuromechanical effects of pyrethroids, allethrin, cyhalothrin and deltamethrin on the cholinergic processes in rat brain. Life Sci 77:795–807

Hossain MM, Suzuki T, Sato N, Sato I, Takewaki T, Suzuki K, Tachikawa E, Kobayashi H (2006) Differential effects of pyrethroid insecticides on extracellular dopamine in the striatum of freely moving rats. Toxicol Appl Pharmacol 217:25–34

Jamal M, Ameno K, Ameno S, Morishita J, Wang W, Kumihashi M, Ikuo U, Miki T, Ijiri I (2007) Changes in cholinergic function in the frontal cortex and hippocampus of rat exposed to ethanol and acetaldehyde. Neuroscience 144:232–238

Julvez J, Grandjean P (2009) Neurodevelopmental toxicity risks due to occupational exposure to industrial chemicals during pregnancy. Ind Health 47:459–468

Jurisic DA, Petrovic PA, Rajkovic VD, Nicin DS (2010) The application of lambda-cyhalothrin in tick controls. Exp Appl Acarol 52:101–109

Kakkar P, Das B, Viswanathan PN (1984) A modified spectrophotometric assay of superoxide dismutase. Indian J Biochem Biophys 21:130–132

Kale M, Rathore N, John S, Bhatnagar D (1999) Lipid peroxidative damage on pyrethroid exposure and alterations in antioxidant status in rat erythrocytes: a possible involvement of reactive oxygen species. Toxicol Lett 105:197–205

Khanna VK, Husain R, Seth PK (1994) Effect of protein malnutrition on the neurobehavioral toxicity of styrene in young rats. J Appl Toxicol 14:351–356

Kroeger A, Villegas E, Ordonez-Gonzalez J, Pavon E, Scorza JV (2003) Prevention of the transmission of chagas disease with pyrethroid-impregnated materials. Am J Trop Med Hyg 68:307–311

Kumar A, Rai DK, Sharma B, Pandey RS (2009) Lambda-cyhalothrin and cypermethrin induced in vivo alterations in the activity of acetylcholinesterase in a freshwater fish, Channa punctatus (Bloch). Pesticide Biochem Physiol 93:96–99

Landrigan PJ, Miodovnik A (2011) Children's health and the environment: an overview. Mt Sinai J Med 78:1–10

Lawler SP, Dritz DA, Christiansen JA, Cornel AJ (2007) Effects of lambda-cyhalothrin on mosquito larvae and predatory aquatic insects. Pest Manag Sci 63:234–240

Levine RL, Garland D, Oliver CN, Amici A, Climent I, Lenz AG, Ahn B, Shaltiel S, Stadtman ER (1990) Determination of carbonyl content in oxidatively modified proteins. Methods Enzymol 186:464–478

Liu R, Liu IY, Bi X, Thompson RF, Doctrow SR, Malfroy B, Baudry M (2003) Reversal of age-related learning deficits and brain oxidative stress in mice with superoxide dismutase/catalase mimetics. Proc Natl Acad Sci 100:8526–8531

Liu HX, Zhang JJ, Zheng P, Zhang Y (2005) Altered expression of MAP-2, GAP-43, and synaptophysin in the hippocampus of rats with chronic cerebral hypoperfusion correlates with cognitive impairment. Brain Res Mol Brain Res 139:169–177

Lowry OH, Rosenbrough NJ, Farr AL, Randall RJ (1951) Protein measurement with the folin phenol reagent. J Biol Chem 192:265–275

Martinez-Larrañaga MR, Anadón A, Martínez MA, Martínez M, Castellano VJ, Díaz MJ (2003) 5-HT loss in rat brain by type II pyrethroid insecticides. Toxicol Ind Health 19:147–155

Mate MS, Ghosh RC, Mondal S, Karmakar DB (2010) Effect of lambda cyhalothrin on rats: an acute toxicity study. J Indian Soc Toxicol 6:25–28

Mathirajan VG, Natarajan K, Kuttalam S, Chandrasekaran S, Regupathy A (2000) Efficacy of lambda cyhalothrin (Karate 5 EC) against brinjal shoot and fruit borer (Leucinodes orbonalis Guen.). J Pestic Res 12:117–119

Michelangeli F, Robson MJ, East JM, Lee AG (1990) The conformation of pyrethroids bound to lipid bilayers. Biochem Biophys Acta 1028:49–57

Miodovnik A (2011) Environmental neurotoxicants and developing brain. Mt Sinai J Med 78:58–77

Miranda K, Cunha ML, Dores EF, Calheiros DF (2008) Pesticide residues in river sediments from the Pantanal Wetland, Brazil. J Environ Sci Health B 43:717–722

Mohapatra S, Ahuja AK (2010) Persistence and dissipation of lambda-cyhalothrin in/on mango (Mangifera indica). Indian J Agric Sci 80:306–308

Moreira EG, Vassilieff I, Vassilieff VS (2001) Developmental lead exposure: behavioural, alterations in the short and long-term. Neurotoxicol Teratol 23:489–495

Muhammad F, Akhtar M, Rahman ZU, Farooq HU, Khaliq T, Anwar MI (2010) Multi-residue determination of pesticides in the meat of cattle in Faisalabad-Pakistan. Egypt Acad J Biol Sci 2:19–28

Mulambalah CS, Siamba DN, Ngeiywa MM, Vulule JM (2010) Evaluation of lambda-cyhalothrin persistence on different indoor surfaces in a malaria epidemic-prone area in Kenya. J Biol Sci 5:258–263

Narahashi T (1996) Neuronal ion channels as the target sites of insecticides. Pharmacol Toxicol 78:1–14

Nasuti C, Gabbianelli R, Falcioni M, Stefano A, Sozio P, Cantalamessa F (2007) Dopaminergic system modulation, behavioral changes, and oxidative stress after neonatal administration of pyrethroids. Toxicology 229:194–205

Ohkawa H, Ohishi N, Yagi K (1979) Assay for lipid peroxides in animal tissues by thiobarbituric acid reaction. Anal Biochem 95:351–358

Oliveira C, Vassilieff VS, Vassilieff I (2000) Residues and placental transfer of lambda-cyhalothrin in goats. J Vet Res I 4:146–152

Pesticide Tolerances (1998) Lambda-cyhalothrin. Fed Regist 63:7291–7299

Ratnasooriya WD, Ratnayake SSK, Jayatunga YNA (2003) Effects of IconR, a pyrethroid insecticide on early pregnancy of rats. Hum Exp Toxicol 22:523–533

Ray DE, Fry JR (2006) Reassessment of the neurotoxicity of pyrethroid insecticides. Pharmacol Ther 111:174–193

Rekart JL, Quinn B, Mesulam MM, Routtenberg A (2004) Subfield-specific increase in brain growth protein in post-mortem hippocampus of Alzheimer's patients. Neuroscience 126:579–584

Routtenberg A, Cantallops I, Zaffuto S, Serrano P, Namgung U (2000) Enhanced learning after genetic overexpression of a brain growth protein. Proc Natl Acad Sci USA 97:7657–7662

Sarin S, Gill KD (1998) Biochemical and behavioral deficits in adult rat following chronic dichlorvos exposure. Pharmacol Biochem Behav 59:1081–1086

Sayre LM, Smith MA, Perry G (2001) Chemistry and biochemistry of oxidative stress in neurodegenerative disease. Curr Med Chem 8:721–738

Sayre LM, Perry G, Smith MA (2008) Oxidative stress and neurotoxicity. Chem Res Toxicol 21:172–188

Schroeder SR (2000) Mental retardation and developmental disabilities influenced by environmental neurotoxic insults. Environ Health Perspect 3:395–399

Seenivasan S, Muraleedharan NN (2009) Residues of lambda-cyhalothrin in tea. Food Chem Toxicol 47:502–505

Shafer TJ, Meyer DA, Crofton KM (2005) Developmental neurotoxicity of pyrethroid insecticides: Critical review and future research needs. Environ Health Perspect 113:123–136

Shingo T, Date I, Yoshida H, Ohmoto T (2002) Neuroprotective and restorative effects of intrastriatal grafting of encapsulated GDNF-producing cells in a rat model of Parkinson's disease. J Neurosci Res 69:946–954

Soderlund DM, Clark JM, Sheets LP, Mullin LS, Piccirillo VJ, Sargent D, Stevens JT, Weiner ML (2002) Mechanism of pyrethroid neurotoxicity: implication for cumulative risk assessment. Toxicology 171:3–59

Spurlock F, Lee M (2008) Synthetic pyrethroid use patterns, properties and environmental effects. American Chemical Society, Washington, DC

Stahl Wl, Smith JC, Napolitano LM, Basford RE (1963) Brain mitochondria. I. Isolation of bovine brain mitochondria. J Cell Biol 19:293–307

Tariq MI, Afzal S, Hussain I (2004) Pesticides in shallow groundwater of Bahawalnagar, Muzafargarh, D.G. Khan and Rajan Pur districts of Punjab, Pakistan. Environ Int 30:71–79

Tariq MI, Afzal S, Hussain I (2006) Degradation and persistence of cotton pesticides in sandy loam soils from Punjab, Pakistan. Environ Res 100:184–196

Terry AV, Stone JD, Buccafusco JJ, Sickles DW, Sood A, Prendergast MA (2003) Repeated exposure to subthreshhold doses of chlorpyrifos in rats: hippocampal damage, impaired axonal transport and deficits in spatial learning. J Pharmacol Exp Ther 305:375–384

Turgut C, Ornek H, Cutright TJ (2011) Determination of pesticide residues in Turkey's table grapes: the effect of integrated pest management, organic farming, and conventional farming. Environ Monit Assess 173:315–323

Wang W, Cai DJ, Shan ZJ, Chen WL, Poletika N, Gao XW (2007) Comparison of the acute toxicity for gamma-cyhalothrin and lambda-cyhalothrin to zebra fish and shrimp. Regul Toxicol Pharmacol 47:184–188

Wehner JM, Upchurch M (1989) The effects of chronic oxotremorine treatment on spatial learning and tolerance development in mice. Pharmacol Biochem Behav 32:543–551

Wolansky MJ, Harrill JA (2008) Neurobehavioral toxicology of pyrethroid insecticides in adult animals: a critical review. Neurotoxicol Teratol 30:55–78

Wolansky M, Gennings C, Crofton K (2006) Relative potencies for acute effects of pyrethroids on motor function in rats. Toxicol Sci 89:271–277

World Health Organisation (1990) Cyhalothrin, Environmental Health Criteria, 99; Geneva, Switzerland
Acknowledgments
The authors thank the Director, CSIR-Indian Institute of Toxicology Research, Lucknow for his keen interest in the present study. The authors appreciate Dr. Pramod Kumar for extending unconditional technical assistance. The authors also thank Professor (Ms). Madhu Mehrotra, Head, Department of English and Modern European Languages, University of Lucknow, Lucknow and Mr. B. D. Bhattacharji, Senior Principal Scientist, CSIR-IITR, Lucknow for painstakingly going through the manuscript and making the necessary changes in the language. The financial support by Indian Council of Medical Research, New Delhi for carrying out the study is acknowledged. The CSIR-IITR Communication No. is 2960.
About this article
Cite this article
Ansari, R.W., Shukla, R.K., Yadav, R.S. et al. Cholinergic Dysfunctions and Enhanced Oxidative Stress in the Neurobehavioral Toxicity of Lambda-Cyhalothrin in Developing Rats. Neurotox Res 22, 292–309 (2012). https://doi.org/10.1007/s12640-012-9313-z
Received:

Revised:

Accepted:

Published:

Issue Date:
Keywords
Lambda-cyhalothrin

Rat brain

Muscarinic–cholinergic receptors

Oxidative stress

ChAT immunoreactivity