Abstract
Although amyloid precursor protein (APP) due to the cytotoxicity of Aβ peptides, has been intensively studied, the physiological role of APP still remains wrapped up in veil. In this article, we propose that α-cleaved ectodomain of APP (sAPPα) stimulates the IL-6/gp130 signaling pathway for induction of gliogenesis within neural progenitor cells (NPCs). In our previous study, a high dose of APP differentiated NPCs into glial fibrillary acidic protein (GFAP) positive cells. In order to elucidate the mechanism of APP-induced glial differentiation, we examined the effects of sAPPα on the IL-6/gp130 signaling pathway. Application of sAPPα promoted mRNA expression of gp130, ciliary neurotrophic factor (CNTF), and Janus kinase 1 (JAK1). sAPPα stimulated the glial differentiation by upregulating the expression and phosphorylation of gp130. While mRNA expression of STAT3 was unchanged, phosphorylation of STAT3-Tyr705 gradually increased. Application of small interference RNA (siRNA) for STAT3 suppressed GFAP expression even in the presence of APP. Treatment with siRNA or inhibitor, AG490, of JAK1 efficiently suppressed STAT3 phosphorylation and GFAP expression. Upregulation of CNTF was observed in either short- or long-term treatment with sAPPα. RNA's interference of CNTF dose-dependently inhibited GFAP expression upregulated by treatment with sAPPα. This study suggests that the IL-6/gp130 signaling pathway is involved in sAPPα-induced glial differentiation of NPCs. Although further investigation is needed, this study may provide insight into the mechanism of glial differentiation of NPCs under pathological conditions in Alzheimer's disease or Down syndrome.
Access options
Buy single article
Instant access to the full article PDF.
US$ 39.95
Tax calculation will be finalised during checkout.
Subscribe to journal
Immediate online access to all issues from 2019. Subscription will auto renew annually.
US$ 79
Tax calculation will be finalised during checkout.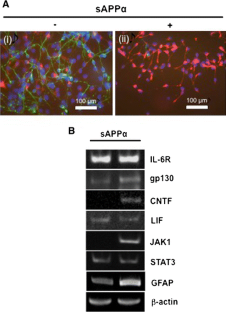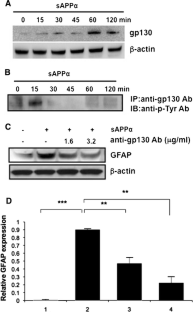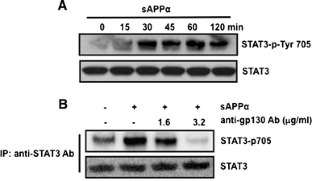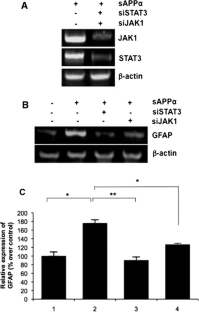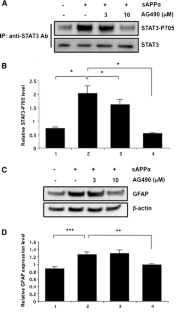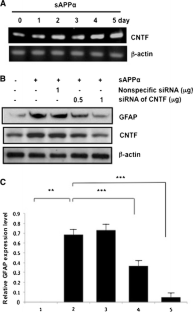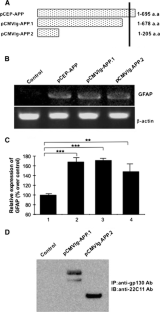 References
Bahn S, Mimmack M, Ryan M, Caldwell MA, Jauniaux E, Starkey M, Svendsen CN, Emson P (2002) Neuronal target genes of the neuron-restrictive silencer factor in neurospheres derived from fetuses with Down's syndrome: a gene expression study. Lancet 359:310–315

Barger SW, Mattson MP (1996) Induction of neuroprotective kappa B-dependent transcription by secreted forms of the Alzheimer's beta-amyloid precursor. Brain Res Mol Brain Res 40:116–126

Barnabe-Heider F, Wasylnka JA, Fernandes KJ, Porsche C, Sendtner M, Kaplan DR, Miller FD (2005) Evidence that embryonic neurons regulate the onset of cortical gliogenesis via cardiotrophin-1. Neuron 48:253–265

Brannen CL, Sugaya K (2000) In vitro differentiation of multipotent human neural progenitors in serum-free medium. Neuroreport 11:1123–1128

Eng LF, Ghirnikar RS, Lee YL (2000) Glial fibrillary acidic protein: GFAP-thirty-one years (1969–2000). Neurochem Res 25:1439–1451

Engele J, Bohn MC (1992) Effects of acidic and basic fibroblast growth factors (aFGF, bFGF) on glial precursor cell proliferation: age dependency and brain region specificity. Dev Biol 152:363–372

Engidawork E, Lubec G (2001) Protein expression in Down syndrome brain. Amino Acids 21:331–361

Greenberg SM, Koo EH, Selkoe DJ, Qiu WQ, Kosik KS (1994) Secreted beta-amyloid precursor protein stimulates mitogen-activated protein kinase and enhances tau phosphorylation. Proc Natl Acad Sci USA 91:7104–7108

Hammacher A, Wijdenes J, Hilton DJ, Nicola NA, Simpson RJ, Layton JE (2000) Ligand-specific utilization of the extracellular membrane-proximal region of the gp130-related signalling receptors. Biochem J 345(Pt 1):25–32

He F, Ge W, Martinowich K, Becker-Catania S, Coskun V, Zhu W, Wu H, Castro D, Guillemot F, Fan G, de Vellis J, Sun YE (2005) A positive autoregulatory loop of Jak-STAT signaling controls the onset of astrogliogenesis. Nat Neurosci 8:616–625

Hibi M, Murakami M, Saito M, Hirano T, Taga T, Kishimoto T (1990) Molecular cloning and expression of an IL-6 signal transducer, gp130. Cell 63:1149–1157

Hirabayashi Y, Gotoh Y (2005) Stage-dependent fate determination of neural precursor cells in mouse forebrain. Neurosci Res 51:331–336

Jin LW, Ninomiya H, Roch JM, Schubert D, Masliah E, Otero DA, Saitoh T (1994) Peptides containing the RERMS sequence of amyloid beta/A4 protein precursor bind cell surface and promote neurite extension. J Neurosci 14:5461–5470

Kwak YD, Brannen CL, Qu T, Kim HM, Dong X, Soba P, Majumdar A, Kaplan A, Beyreuther K, Sugaya K (2006a) Amyloid precursor protein regulates differentiation of human neural stem cells. Stem Cells Dev 15:381–389

Kwak YD, Choumkina E, Sugaya K (2006b) Amyloid precursor protein is involved in staurosporine induced glial differentiation of neural progenitor cells. Biochem Biophys Res Commun 344:431–437

Lee VM, Andrews PW (1986) Differentiation of NTERA-2 clonal human embryonal carcinoma cells into neurons involves the induction of all three neurofilament proteins. J Neurosci 6:514–521

Mabie PC, Mehler MF, Marmur R, Papavasiliou A, Song Q, Kessler JA (1997) Bone morphogenetic proteins induce astroglial differentiation of oligodendroglial-astroglial progenitor cells. J Neurosci 17:4112–4120

Maier J, Kincaid C, Pagenstecher A, Campbell IL (2002) Regulation of signal transducer and activator of transcription and suppressor of cytokine-signaling gene expression in the brain of mice with astrocyte-targeted production of interleukin-12 or experimental autoimmune encephalomyelitis. Am J Pathol 160:271–288

McCormick MK, Schinzel A, Petersen MB, Stetten G, Driscoll DJ, Cantu ES, Tranebjaerg L, Mikkelsen M, Watkins PC, Antonarakis SE (1989) Molecular genetic approach to the characterization of the "Down syndrome region" of chromosome 21. Genomics 5:325–331

McManus MT, Sharp PA (2002) Gene silencing in mammals by small interfering RNAs. Nat Rev Genet 3:737–747

Morrison SJ, Perez SE, Qiao Z, Verdi JM, Hicks C, Weinmaster G, Anderson DJ (2000) Transient Notch activation initiates an irreversible switch from neurogenesis to gliogenesis by neural crest stem cells. Cell 101:499–510

Muller-Newen G (2003) The cytokine receptor gp130: faithfully promiscuous. Sci STKE 2003, PE40

Narazaki M, Witthuhn BA, Yoshida K, Silvennoinen O, Yasukawa K, Ihle JN, Kishimoto T, Taga T (1994) Activation of JAK2 kinase mediated by the interleukin 6 signal transducer gp130. Proc Natl Acad Sci USA 91:2285–2289

Price DL, Sisodia SS, Borchelt DR (1998) Alzheimer disease–when and why? Nat Genet 19:314–316

Qian X, Shen Q, Goderie SK, He W, Capela A, Davis AA, Temple S (2000) Timing of CNS cell generation: a programmed sequence of neuron and glial cell production from isolated murine cortical stem cells. Neuron 28:69–80

Reinhard C, Hebert SS, De Strooper B (2005) The amyloid-beta precursor protein: integrating structure with biological function. EMBO J 24:3996–4006

Rossjohn J, Cappai R, Feil SC, Henry A, McKinstry WJ, Galatis D, Hesse L, Multhaup G, Beyreuther K, Masters CL, Parker MW (1999) Crystal structure of the N-terminal, growth factor-like domain of Alzheimer amyloid precursor protein. Nat Struct Biol 6:327–331

Sandhu JK, Sikorska M, Walker PR (2002) Characterization of astrocytes derived from human NTera-2/D1 embryonal carcinoma cells. J Neurosci Res 68:604–614

Santiago-Garcia J, Mas-Oliva J, Innerarity TL, Pitas RE (2001) Secreted forms of the amyloid-beta precursor protein are ligands for the class A scavenger receptor. J Biol Chem 276:30655–30661

Sauvageot CM, Stiles CD (2002) Molecular mechanisms controlling cortical gliogenesis. Curr Opin Neurobiol 12:244–249

Schumacher A, Arnhold S, Addicks K, Doerfler W (2003) Staurosporine is a potent activator of neuronal, glial, and "CNS stem cell-like" neurosphere differentiation in murine embryonic stem cells. Mol Cell Neurosci 23:669–680

Selkoe DJ (2001) Alzheimer's disease: genes, proteins, and therapy. Physiol Rev 81:741–766

Sun Y, Nadal-Vicens M, Misono S, Lin MZ, Zubiaga A, Hua X, Fan G, Greenberg ME (2001) Neurogenin promotes neurogenesis and inhibits glial differentiation by independent mechanisms. Cell 104:365–376

Taga T, Fukuda S (2005) Role of IL-6 in the neural stem cell differentiation. Clin Rev Allergy Immunol 28:249–256

Takizawa T, Nakashima K, Namihira M, Ochiai W, Uemura A, Yanagisawa M, Fujita N, Nakao M, Taga T (2001) DNA methylation is a critical cell-intrinsic determinant of astrocyte differentiation in the fetal brain. Dev Cell 1:749–758

Temple S (2001) The development of neural stem cells. Nature 414:112–117

Thoma B, Bird TA, Friend DJ, Gearing DP, Dower SK (1994) Oncostatin M and leukemia inhibitory factor trigger overlapping and different signals through partially shared receptor complexes. J Biol Chem 269:6215–6222

Wang Y, Fuller GM (1994) Phosphorylation and internalization of gp130 occur after IL-6 activation of Jak2 kinase in hepatocytes. Mol Biol Cell 5:819–828

Wijdenes J, Heinrich PC, Muller-Newen G, Roche C, Gu ZJ, Clement C, Klein B (1995) Interleukin-6 signal transducer gp130 has specific binding sites for different cytokines as determined by antagonistic and agonistic anti-gp130 monoclonal antibodies. Eur J Immunol 25:3474–3481

Zhong Z, Wen Z, Darnell JE Jr (1994) Stat3: a STAT family member activated by tyrosine phosphorylation in response to epidermal growth factor and interleukin-6. Science 264:95–98
Acknowledgments
We would like to thank Dr. Beth Ostaszewski, Harvard Medical School, and Dr. Thomas Suhduf, University of Texas Southwestern for providing pCEP-APP695, pCMVIg-APP.1 and pCMVIg-APP.2. This study is supported by NIH (R01 AG23472), and Alzheimer's Association (IIRG-03-5577).
About this article
Cite this article
Kwak, YD., Dantuma, E., Merchant, S. et al. Amyloid-β Precursor Protein Induces Glial Differentiation of Neural Progenitor Cells by Activation of the IL-6/gp130 Signaling Pathway. Neurotox Res 18, 328–338 (2010). https://doi.org/10.1007/s12640-010-9170-6
Received:

Revised:

Accepted:

Published:

Issue Date:
Keywords
Cytokine

STAT3

JAK1

GFAP

Neural stem cells

Alzheimer's disease

Down syndrome