Abstract
Amyotrophic lateral sclerosis (ALS) is a disease of the central nervous system characterized by loss of spinal motor neurons, for which no effective treatment exists. Epidermal growth factor (EGF) and growth hormone releasing peptide-6 (GHRP-6) have been considered as good candidates for the treatment of this disease, due to their well documented effects in eliciting pleiotrophic and cell survival mechanisms. The aim of the present work was to evaluate the separate and combined effects of both peptides in an experimental animal model of ALS, the proximal axonopathy induced by 1,2 diacetylbenzene (1,2 DAB) in mice. The evaluations were conducted by means of behavioral tests (trapeze, tail suspension, gait pattern, and open field) and by recording the complex muscle action potential (CMAP) in three different hind limb segments: proximal S1, medial S2, and distal S3. Intraperitoneal daily administration of 1,2 DAB produced significant reduction in body weight, muscle strength, extensor reflex, spontaneous activity, and changes in gait pattern parameters. In parallel 1,2 DAB produced significant prolongation of onset latency and decrease in amplitude of CMAP and in the integrated complex action potential index. Daily administration of the separate compounds did not accelerate the recovery of the affected parameters, except for the gait pattern. The combined treatment produced significant improvement in behavioral parameters, as well as in electrophysiological recovery, particularly in the proximal segment of CMAP. The latter results confirm the proximal character of 1,2 DAB neuropathy, and suggest that combined therapy with EGF and GHRP-6 might be a good therapeutic strategy for the treatment of ALS.
Access options
Buy single article
Instant access to the full article PDF.
USD 39.95
Price includes VAT (USA)
Tax calculation will be finalised during checkout.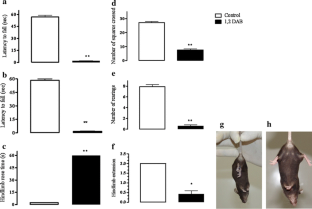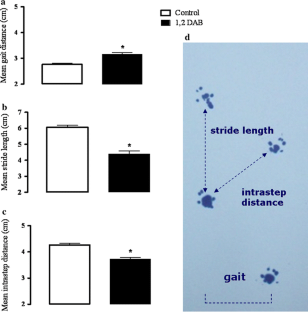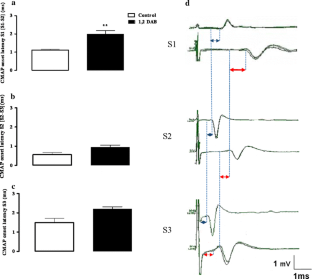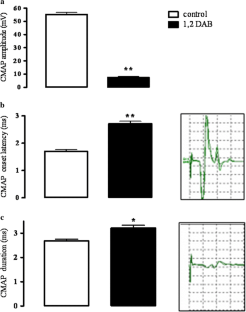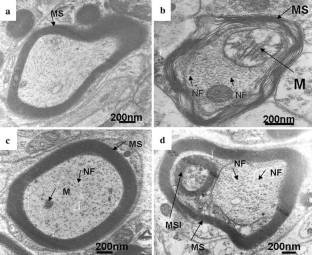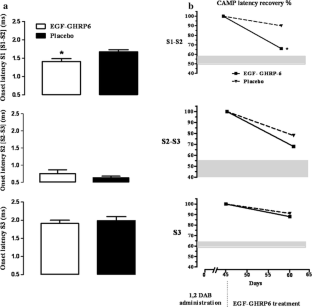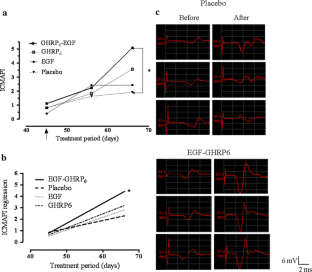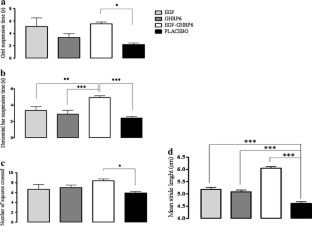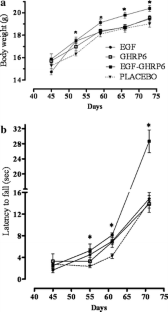 References
Acevedo ME, Leon N, Perez-Saad H, Garcia JD (2000) Protective effect of a mixture of gangliosides in acrylamide neuropathy in mice. Rev Neurol 30(11):1097–1098

Al-Chalabi A, Miller CC (2003) Neurofilaments and neurological disease. Bioessays 25(4):346–355

Archer J (2008) Tests for emotionality in rats and mice: a review. Anim Behav 21:205–235

Atkin JD, Farg MA, Turner BJ, Tomas D, Lysaght JA et al (2006) Induction of the unfolded protein response in familial amyotrophic lateral sclerosis and association of protein-disulfide isomerase with superoxide dismutase 1. J Biol Chem 281(40):30152–30165

Atkin JD, Farg MA, Walker AK, McLean C, Tomas D, Horne MK (2008) Endoplasmic reticulum stress and induction of the unfolded protein response in human sporadic amyotrophic lateral sclerosis. Neurobiol Dis 30(3):400–407

Atkinson T, Whitfield J, Chakravarthy B (2009) The phosphatase inhibitor, okadaic acid, strongly protects primary rat cortical neurons from lethal oxygen-glucose deprivation. Biochem Biophys Res Commun 378(3):394–398

Barber SC, Shaw PJ (2009) Oxidative stress in ALS: key role in motor neuron injury and therapeutic target. Free Radic Biol Med 48(5):629–641

Beghi E, Mennini T, Bendotti C, Bigini P, Logroscino G, Chio A et al (2007) The heterogeneity of amyotrophic lateral sclerosis: a possible explanation of treatment failure. Curr Med Chem 14(30):3185–3200

Berlanga J, Caballero ME, Ramirez D, Torres A, Valenzuela C, Lodos J et al (1998) Epidermal growth factor protects against carbon tetrachloride-induced hepatic injury. Clin Sci (Lond) 94(3):219–223

Berlanga J, Prats P, Remirez D, Gonzalez R, Lopez-Saura P, Aguiar J et al (2002a) Prophylactic use of epidermal growth factor reduces ischemia/reperfusion intestinal damage. Am J Pathol 161(2):373–379

Berlanga J, Lodos J, Lopez-Saura P (2002b) Attenuation of internal organ damages by exogenously administered epidermal growth factor (EGF) in burned rodents. Burns 28(5):435–442

Berlanga J, Cibrian D, Guevara L, Dominguez H, Alba JS, Seralena A et al (2007) Growth-hormone-releasing peptide 6 (GHRP6) prevents oxidant cytotoxicity and reduces myocardial necrosis in a model of acute myocardial infarction. Clin Sci (Lond) 112(4):241–250

Bruijn LI, Cleveland DW (1996) Mechanisms of selective motor neuron death in ALS: insights from transgenic mouse models of motor neuron disease. Neuropathol Appl Neurobiol 22(5):373–387

Caballero ME, Berlanga J, Ramirez D, Lopez-Saura P, Gozalez R, Floyd DN et al (2001) Epidermal growth factor reduces multiorgan failure induced by thioacetamide. Gut 48(1):34–40

Canali E, Chiari A, Sola P, Fioravanti V, Valzania F, Pentore R et al (2009) Rapidly progressive amyotrophic lateral sclerosis in a young patient with hereditary neuropathy with liability to pressure palsies. Amyotroph Lateral Scler 12:1–2

Casper D, Blum M (1995) Epidermal growth factor and basic fibroblast growth factor protect dopaminergic neurons from glutamate toxicity in culture. J Neurochem 65(3):1016–1026

Chand N, Pillar J, Diamantis W, Sofia RD (1988) Inhibition of allergic histamine release from rat peritoneal mast cells by azelastine. Interaction with selected antiasthmatic drugs. Int Arch Allergy Appl Immunol 86(3):256–260

Charnay Y, Paulin C, Dray F, Dubois P-M (2004) Distribution of enkephalin in human fetus and infant spinal cord: an immunofluorescence study. J Comp Neurol 223(3):415–423

Chen H, Liu B, Neufeld AH (2007) Epidermal growth factor receptor in adult retinal neurons of rat, mouse, and human. J Comp Neurol 500(2):299–310

Cibrian D, Ajamieh H, Berlanga J, Leon OS, Alba JS, Kim MJ et al (2006) Use of growth-hormone-releasing peptide-6 (GHRP-6) for the prevention of multiple organ failure. Clin Sci (Lond) 110(5):563–573

Cleveland DW, Rothstein JD (2001) From Charcot to Lou Gehrig: deciphering selective motor neuron death in ALS. Nat Rev Neurosci 2(11):806–819

Crow JP, Calingasan NY, Chen J, Hill JL, Beal MF (2005) Manganese porphyrin given at symptom onset markedly extends survival of ALS mice. Ann Neurol 58(2):258–265

de Alonso L, Gutierrez M, Roda JM, Carceller F, Diez-Tejedor E (2006) Effect of combined therapy with thrombolysis and citicoline in a rat model of embolic stroke. J Neurol Sci 247(2):121–129

de Delgado-Rubin CA, Chowen JA, Argente J, Frago LM (2006) Growth hormone releasing peptide-6 acts as a survival factor in glutamate-induced excitotoxicity. J Neurochem 99(3):839–849

De la Cruz JP, de la Sanchez CF (1991) Does the association dipyridamole-aspirin only act by a functional synergism? Gen Pharmacol 22(2):271–274

De Vos KJ, Grierson AJ, Ackerley S, Miller CC (2008) Role of axonal transport in neurodegenerative diseases. Annu Rev Neurosci 31:151–173

Delisle MB, Carpenter S (1984) Neurofibrillary axonal swellings and amyotrophic lateral sclerosis. J Neurol Sci 63(2):241–250

Dreyfus H, Sahel J, Heidinger V, Mohand-Said S, Guerold B, Meuillet E et al (1998) Gangliosides and neurotrophic growth factors in the retina. Molecular interactions and applications as neuroprotective agents. Ann N Y Acad Sci 845:240–252

Dunckley T, Huentelman MJ, Craig DW, Pearson JV, Szelinger S, Joshipura K et al (2007) Whole-genome analysis of sporadic amyotrophic lateral sclerosis. N Engl J Med 357(8):775–788

Echaniz-Laguna A, Degos B, Mohr M, Kessler R, Urban-Kraemer E, Tranchant C (2006) A study of three patients with amyotrophic lateral sclerosis and a polyneuropathy resembling CIDP. Muscle Nerve 33(3):356–362

Edelson SB (2000) Environmental toxicity in the possible etiology of sporadic amyotrophic lateral sclerosis. J Nutr Environ Med 10(4):311–320

Finkel DM, Capmourteres EM (1999) Combination of nondepolarizing muscle relaxants: synergism of potentiation. Rev Argent Anestesiol 57(3):145–154

Frago LM, Paneda C, Dickson SL, Hewson AK, Argente J, Chowen JA (2002) Growth hormone (GH) and GH-releasing peptide-6 increase brain insulin-like growth factor-I expression and activate intracellular signaling pathways involved in neuroprotection. Endocrinology 143(10):4113–4122

Frago LM, Paneda C, Argente J, Chowen JA (2005) Growth hormone-releasing peptide-6 increases insulin-like growth factor-I mRNA levels and activates Akt in RCA-6 cells as a model of neuropeptide Y neurones. J Neuroendocrinol 17(11):701–710

Gago N, Vellana-Adalid V, Evercooren AB, Schumacher M (2003) Control of cell survival and proliferation of postnatal PSA-NCAM(+) progenitors. Mol Cell Neurosci 22(2):162–178

Garruto RM, Yanagihara R, Gajdusek DC (1990) Models of environmentally induced neurological disease: epidemiology and etiology of amyotrophic lateral sclerosis and parkinsonism-dementia in the Western Pacific. Environ Geochem Health 12(1–2):137–151

Goto A, Wang YL, Kabuta T, Setsuie R, Osaka H, Sawa A et al (2009) Proteomic and histochemical analysis of proteins involved in the dying-back-type of axonal degeneration in the gracile axonal dystrophy (gad) mouse. Neurochem Int 54(5–6):330–338

Haginomori S, Wada S, Takamaki A, Nonaka R, Takenaka H, Takubo T (2008) A new method for measuring compound muscle action potentials in facial palsy: a preliminary study. Muscle Nerve 37(6):764–769

Hara MR, Agrawal N, Kim SF, Cascio MB, Fujimuro M, Ozeki Y et al (2005) S-nitrosylated GAPDH initiates apoptotic cell death by nuclear translocation following Siah1 binding. Nat Cell Biol 7(7):665–674

Harms C, Bosel J, Lautenschlager M, Harms U, Braun JS, Hortnagl H et al (2004) Neuronal gelsolin prevents apoptosis by enhancing actin depolymerization. Mol Cell Neurosci 25(1):69–82

Heck S, Lezoualc'h F, Engert S, Behl C (1999) Insulin-like growth factor-1-mediated neuroprotection against oxidative stress is associated with activation of nuclear factor kappaB. J Biol Chem 274(14):9828–9835

Henderson RD, Daube JR (2004) Decrement in surface-recorded motor unit potentials in amyotrophic lateral sclerosis. Neurology 63(9):1670–1674

Henderson R, Baumann F, Hutchinson N, McCombe P (2009) CMAP decrement in ALS. Muscle Nerve 39(4):555–556

Hicks D, Heidinger V, Mohand-Said S, Sahel J, Dreyfus H (1998) Growth factors and gangliosides as neuroprotective agents in excitotoxicity and ischemia. Gen Pharmacol 30(3):265–273

Hirano A, Donnenfeld H, Sasaki S, Nakano I (1984) Fine structural observations of neurofilamentous changes in amyotrophic lateral sclerosis. J Neuropathol Exp Neurol 43(5):461–470

Holzbaur EL (2004) Motor neurons rely on motor proteins. Trends Cell Biol 14(5):233–240

Hosback S, Hardiman O, Nolan CM, Doyle MA, Gorman G, Lynch C et al (2007) Circulating insulin-like growth factors and related binding proteins are selectively altered in amyotrophic lateral sclerosis and multiple sclerosis. Growth Horm IGF Res 17(6):472–479

Jankovic BD, Radulovic J (1992) Enkephalins, brain and immunity: modulation of immune responses by methionine-enkephalin injected into the cerebral cavity. Int J Neurosci 67(1–4):241–270

Jaworski DM, Soloway P, Caterina J, Falls WA (2006) Tissue inhibitor of metalloproteinase-2(TIMP-2)-deficient mice display motor deficits. J Neurobiol 66(1):82–94

Julien JP, Kriz J (2006) Transgenic mouse models of amyotrophic lateral sclerosis. Biochim Biophys Acta 1762(11–12):1013–1024

Kaspar BK, Llado J, Sherkat N, Rothstein JD, Gage FH (2003) Retrograde viral delivery of IGF-1 prolongs survival in a mouse ALS model. Science 301(5634):839–842

Kim MS, Sabri MI, Miller VH, Kayton RJ, Dixon DA, Spencer PS (2001) 1,2-diacetylbenzene, the neurotoxic metabolite of a chromogenic aromatic solvent, induces proximal axonopathy. Toxicol Appl Pharmacol 177(2):121–131

Kim MS, Hashemi SB, Spencer PS, Sabri MI (2002) Amino acid and protein targets of 1,2-diacetylbenzene, a potent aromatic gamma-diketone that induces proximal neurofilamentous axonopathy. Toxicol Appl Pharmacol 183(1):55–65

Kim MK, Kim KS, Chung JH, Kim JH, Kim JR, Chung HY et al (2007) Environmental metabolite, 1,2-diacetylbenzene, produces cytotoxicity through ROS generation in HUVEC cells. J Toxicol Environ Health A 70(15–16):1336–1343

Kim MS, Kim MK, Kim KS, Chung JH, Kim SJ, Kim JH et al (2008) Cytotoxicity of 1,2-diacetylbenzene in human neuroblastoma SHSY5Y cells is mediated by oxidative stress. Toxicology 243(1–2):216–223

Kriz J, Gowing G, Julien JP (2003) Efficient three-drug cocktail for disease induced by mutant superoxide dismutase. Ann Neurol 53(4):429–436

Lai EC, Felice KJ, Festoff BW, Gawel MJ, Gelinas DF, Kratz R et al (1997) Effect of recombinant human insulin-like growth factor-I on progression of ALS. A placebo-controlled study. The North America ALS/IGF-I Study Group. Neurology 49(6):1621–1630

Lepore AC, Haenggeli C, Gasmi M, Bishop KM, Bartus RT, Maragakis NJ et al (2007) Intraparenchymal spinal cord delivery of adeno-associated virus IGF-1 is protective in the SOD1G93A model of ALS. Brain Res 1185:256–265

Letournel F, Bocquet A, Dubas F, Barthelaix A, Eyer J (2003) Stable tubule only polypeptides (STOP) proteins co-aggregate with spheroid neurofilaments in amyotrophic lateral sclerosis. J Neuropathol Exp Neurol 62(12):1211–1219

Lin S, Fan LW, Rhodes PG, Cai Z (2009) Intranasal administration of IGF-1 attenuates hypoxic-ischemic brain injury in neonatal rats. Exp Neurol 217(2):361–370

Lipton SA (2007) Pathologically-activated therapeutics for neuroprotection: mechanism of NMDA receptor block by memantine and S-nitrosylation. Curr Drug Targets 8(5):621–632

Liu XX, Zhang J, Zheng JY, Zhang S, Xu YS, Kang DX et al (2009) Stratifying disease stages with different progression rates determined by electrophysiological tests in patients with amyotrophic lateral sclerosis. Muscle Nerve 39(3):304–309

LoPachin RM, Jortner BS, Reid ML, Das S (2003) Gamma-diketone central neuropathy: quantitative morphometric analysis of axons in rat spinal cord white matter regions and nerve roots. Toxicol Appl Pharmacol 193(1):29–46

Matthieu JM, Comte V, Tosic M, Honegger P (1992) Myelin gene expression during demyelination and remyelination in aggregating brain cell cultures. J Neuroimmunol 40(2–3):231–234

Mitchell V, Mazzuca M, Beauvillain JC (1995) The fetal expression of proenkephalin mRNAs and Met-enkephalin immunoreactivity in the hypothalamoseptal tract and adjacent hypothalamic areas of the guinea pig brain. Brain Res Dev Brain Res 86(1–2):67–80

Mitne-Neto M, Ramos CR, Pimenta DC, Luz JS, Nishimura AL, Gonzales FA et al (2007) A mutation in human VAP-B-MSP domain, present in ALS patients, affects the interaction with other cellular proteins. Protein Expr Purif 55(1):139–146

Motil J, Dubey M, Chan WK, Shea TB (2007) Inhibition of dynein but not kinesin induces aberrant focal accumulation of neurofilaments within axonal neurites. Brain Res 1164:125–131

Nakajima H, Amano W, Fujita A, Fukuhara A, Azuma YT, Hata F et al (2007) The active site cysteine of the proapoptotic protein glyceraldehyde-3-phosphate dehydrogenase is essential in oxidative stress-induced aggregation and cell death. J Biol Chem 282(36):26562–26574

Niidome T, Morimoto N, Iijima S, Akaike A, Kihara T, Sugimoto H (2006) Mechanisms of cell death of neural progenitor cells caused by trophic support deprivation. Eur J Pharmacol 548(13):1–8

Okamoto K, Hirai S, Shoji M, Senoh Y, Yamazaki T (1990) Axonal swellings in the corticospinal tracts in amyotrophic lateral sclerosis. Acta Neuropathol 80(2):222–226

Paneda C, Arroba AI, Frago LM, Holm AM, Romer J, Argente J et al (2003) Growth hormone-releasing peptide-6 inhibits cerebellar cell death in aged rats. Neuroreport 14(12):1633–1635

Peng H, Wen TC, Tanaka J, Maeda N, Matsuda S, Desaki J et al (1998) Epidermal growth factor protects neuronal cells in vivo and in vitro against transient forebrain ischemia- and free radical-induced injuries. J Cereb Blood Flow Metab 18(4):349–360

Pierce A, Mirzaei H, Muller F, De WE, Taylor AB, Leonard S et al (2008) GAPDH is conformationally and functionally altered in association with oxidative stress in mouse models of amyotrophic lateral sclerosis. J Mol Biol 382(5):1195–1210

Rajabally YA, Jacob S (2008) Chronic inflammatory demyelinating polyneuropathy-like disorder associated with amyotrophic lateral sclerosis. Muscle Nerve 38(1):855–860

Reuhl KR, Lagunowich LA, Brown DL (1994) Cytoskeleton and cell adhesion molecules: critical targets of toxic agents. Neurotoxicology 15(1):133–145

Rico M, Lorenzo MT, Pazo JA, Vega FV, De la Cruz LF (1999) GHRP-6 in heifer and cow adenohypophisial cells separated by elutriation. J Physiol Biochem 55(1):33–39

Rothstein JD (2009) Current hypotheses for the underlying biology of amyotrophic lateral sclerosis. Ann Neurol 65(Suppl 1):S3–S9

Rowland LP, Shneider NA (2001) Amyotrophic lateral sclerosis. N Engl J Med 344(22):1688–1700

Sabri MI, Hashemi SB, Lasarev MR, Spencer PS (2007) Axonopathy-inducing 1,2-diacetylbenzene forms adducts with motor and cytoskeletal proteins required for axonal transport. Neurochem Res 32(12):2152–2159

Satoh T, Enokido Y, Kubo T, Yamada M, Hatanaka H (1998) Oxygen toxicity induces apoptosis in neuronal cells. Cell Mol Neurobiol 18(6):649–666

Seigel GM, Chiu L, Paxhia A (2000) Inhibition of neuroretinal cell death by insulin-like growth factor-1 and its analogs. Mol Vis 6:157–163

Serdiuk AV, Levitskii GN, Miasoedov NF, Skvortsova VI (2007) The study of chronic partial denervation and quality of life in patients with motor neuron disease treated with semax. Zh Nevrol Psikhiatr Im S S Korsakova 107(4):29–39

Shaw CA, Hoglinger GU (2008) Neurodegenerative diseases: neurotoxins as sufficient etiologic agents? Neuromol Med 10(1):1–9

Siddique N, Siddique T (2008) Genetics of amyotrophic lateral sclerosis. Phys Med Rehabil Clin N Am 19(3):429–439 vii

Simpson CL, Al-Chalabi A (2006) Amyotrophic lateral sclerosis as a complex genetic disease. Biochim Biophys Acta 1762(11–12):973–985

Sirover MA (1999) New insights into an old protein: the functional diversity of mammalian glyceraldehyde-3-phosphate dehydrogenase. Biochim Biophys Acta 1432(2):159–184

Strong MJ (2003) The basic aspects of therapeutics in amyotrophic lateral sclerosis. Pharmacol Ther 98(3):379–414

Sunaga K, Takahashi H, Chuang DM, Ishitani R (1995) Glyceraldehyde-3-phosphate dehydrogenase is over-expressed during apoptotic death of neuronal cultures and is recognized by a monoclonal antibody against amyloid plaques from Alzheimer's brain. Neurosci Lett 200(2):133–136

Tesseur I, Van DJ, Bruynseels K, Bronfman F, Sciot R, Van LA et al (2000) Prominent axonopathy and disruption of axonal transport in transgenic mice expressing human apolipoprotein E4 in neurons of brain and spinal cord. Am J Pathol 157(5):1495–1510

Thrall KD, Gies RA, Cartmell AM, Wu H, Soelberg JJ, Klein JA (2007) A liquid chromatographic-mass spectrometric method to evaluate the distribution kinetics of 1,2-diethylbenzene and its metabolite 1,2-diacetylbenzene in the F344 male rat. J Toxicol Environ Health A 70(1):67–72

Torres-Aleman I, Barrios V, Berciano J (1998) The peripheral insulin-like growth factor system in amyotrophic lateral sclerosis and in multiple sclerosis. Neurology 50(3):772–776

Tortarolo M, Grignaschi G, Calvaresi N, Zennaro E, Spaltro G, Colovic M et al (2006) Glutamate AMPA receptors change in motor neurons of SOD1G93A transgenic mice and their inhibition by a noncompetitive antagonist ameliorates the progression of amytrophic lateral sclerosis-like disease. J Neurosci Res 83(1):134–146

Tshala-Katumbay DD, Palmer VS, Kayton RJ, Sabri MI, Spencer PS (2005) A new murine model of giant proximal axonopathy. Acta Neuropathol 109(4):405–410

Tshala-Katumbay DD, Palmer VS, Lasarev MR, Kayton RJ, Sabri MI, Spencer PS (2006) Monocyclic and dicyclic hydrocarbons: structural requirements for proximal giant axonopathy. Acta Neuropathol 112(3):317–324

Tshala-Katumbay D, Monterroso V, Kayton R, Lasarev M, Sabri M, Spencer P (2008) Probing mechanisms of axonopathy. Part I: protein targets of 1,2-diacetylbenzene, the neurotoxic metabolite of aromatic solvent 1,2-diethylbenzene. Toxicol Sci 105(1):134–141

Tshala-Katumbay D, Desjardins P, Sabri M, Butterworth R, Spencer P (2009a) New insights into mechanisms of gamma-diketone-induced axonopathy. Neurochem Res 34(11):1919–1923

Tshala-Katumbay D, Monterroso V, Kayton R, Lasarev M, Sabri M, Spencer P (2009b) Probing mechanisms of axonopathy. Part II: protein targets of 2, 5-hexanedione, the neurotoxic metabolite of the aliphatic solvent n-hexane. Toxicol Sci 107(2):482–489

Wang Q, Johnson JL, Agar NY, Agar JN (2008) Protein aggregation and protein instability govern familial amyotrophic lateral sclerosis patient survival. PLoS Biol 6(7):e170

Watanabe T, Kaji R, Oka N, Bara W, Kimura J (1994) Ultra-high dose methylcobalamin promotes nerve regeneration in experimental acrylamide neuropathy. J Neurol Sci 122(2):140–143

Williamson TL, Cleveland DW (2001) Mechanism of motoneurone death in ALS. In: Neurodegenerative disorders: loss of function through gain of function. Springer, New York, pp 23–40

Wu XH, Yang SH, Duan DY, Cheng HH, Bao YT, Zhang Y (2007) Anti-apoptotic effect of insulin in the control of cell death and neurologic deficit after acute spinal cord injury in rats. J Neurotrauma 24(9):1502–1512

Xian CJ, Zhou XF (2004) EGF family of growth factors: essential roles and functional redundancy in the nerve system. Front Biosci 9:85–92

Yamada M, Enokido Y, Ikeuchi T, Hatanaka H (1995) Epidermal growth factor prevents oxygen-triggered apoptosis and induces sustained signalling in cultured rat cerebral cortical neurons. Eur J Neurosci 7(10):2130–2138

Zausinger S, Westermaier T, Plesnila N, Steiger HJ, Schmid-Elsaesser R (2003) Neuroprotection in transient focal cerebral ischemia by combination drug therapy and mild hypothermia: comparison with customary therapeutic regimen. Stroke 34(6):1526–1532

Zhang Y, Wang L, Fu Y, Song H, Zhao H, Deng M et al (2008) Preliminary investigation of effect of granulocyte colony stimulating factor on amyotrophic lateral sclerosis. Amyotroph Lateral Scler 4:1–2
Acknowledgments
The authors are grateful to Dr Lila Castellano Serra from the Center for Genetic Engineering and Biotechnology (Havana, Cuba) for extensive advice and critical review of the manuscript.
Additional information
Diana García del Barco and Héctor Pérez-Saad authors equally contributed to this work.
About this article
Cite this article
García del Barco, D., Pérez-Saad, H., Rodríguez, V. et al. Therapeutic Effect of the Combined Use of Growth Hormone Releasing Peptide-6 and Epidermal Growth Factor in an Axonopathy Model. Neurotox Res 19, 195–209 (2011). https://doi.org/10.1007/s12640-010-9160-8
Received:

Revised:

Accepted:

Published:

Issue Date:
Keywords
1,2 diacetylbenzene

Amyotrophic lateral sclerosis

Compound muscle action potential

Epidermal growth factor

Growth hormone releasing peptide-6

Behavioral test