Abstract
Previous studies suggest that sodium fluoride (NaF) can impair performance in some memory tasks, such as open-field habituation and two-way active avoidance. In the present study, we evaluated the effect of NaF intake (100 ppm in drinking water for 30 days) and its short-term (15 days) withdrawal on open-field habituation and brain monoamine level. Adult male rats were allocated to three groups: tap water (NaF 1.54 ppm) for 45 days (control group); 15 days of tap water followed by NaF for 30 days; and NaF for 30 days followed by 15 days of tap water. The results showed that NaF impairs open-field habituation and increases noradrenaline (NA) and serotonin (5-HT) in the striatum, hippocampus and neocortex. Dopamine (DA) increase was restricted to the striatum. Short-term NaF withdrawal did not reverse these NaF-induced changes, and both NaF treatments led to a mild fluorosis in rat incisors. No treatment effect was seen in body weight or fluid/water consumption. These results indicate that sodium fluoride induces memory impairment that outlasts short-term NaF withdrawal (2 weeks) and may be associated with NA and 5-HT increases in discrete brain regions.
Access options
Buy single article
Instant access to the full article PDF.
US$ 39.95
Tax calculation will be finalised during checkout.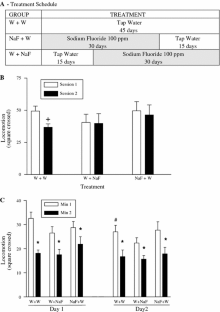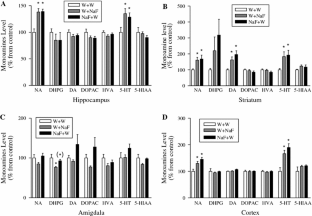 Abbreviations
DA:

Dopamine

NA:

Noradrenaline

NaF:

Sodium fluoride

DHPG:

3,4-Dihydroxyphenylglycol

DOPAC:

Dihydroxyphenylacetic acid

5-HIAA:

5-Hydroxyindoleacetic acid

5-HT:

Serotonin

HVA:

Homovanilic acid
References
Beck KD, Luine VN (1999) Food deprivation modulates chronic stress effects on object recognition in male rats: role of monoamines and amino acids. Brain Res 830:56–71

Bera I, Sabatini R, Auteri P, Flace P, Sisto G, Montagnani M, Potenza MA, Marasciulo FL, Carratu MR, Coluccia A, Borracci P, Tarullo A, Cagiano R (2007) Neurofunctional effects of developmental sodium fluoride exposure in rats. Eur Rev Med Pharmacol Sci 11(4):211–224

Bhatnagar M, Rao P, Saxena A, Bhatnagar R, Meena P, Barbar S, Chouhan A, Vimal S (2006) Biochemical changes in brain and other tissues of young adult female mice from fluoride in their drinking water. Fluoride 39(4):280–284

Boulton IC, Cooke JA, Johnson MS (1995) Fluoride accumulation and toxicity in laboratory populations of wild small mammals and white mice. J Appl Toxicol 15:423–431

Brudevold F, Bakhos Y, Aasenden R (1978) Dental fluorosis as related to the concentration of fluoride in teeth and bone. JADA 96:459–463

Buhot HC, Martin S, Segu L (2000) Role of serotonin in memory impairment. Ann Med 32:210–221

Buzalaf MA, Granjeiro JM, Duarte JL, Taga ML (2002) Fluoride content of infant foods in Brazil and risk of dental fluorosis. ASDC J Dent Child 69(2):196–200, 125–126

Buzalaf MA, de Almeida BS, Cardoso VE, Ollympio KP, de Furlani TA (2004) Total and acid soluble fluoride content of infant cereals, beverages and biscuits from Brazil. Food Addit Contam 21:210–215

Canal CE, Chang Q, Gold PE (2008) Intra-amygdala injections of CREB antisense impair inhibitory avoidance memory: role of norepinephrine and acetylcholine. Learn Mem 15:677–686

Carey RJ, Dai H, Gui J (1998) Effects of dizocilpine (MK-801) on motor activity and memory. Psychopharmacology (Berl) 137(3):241–246

Chamberlain SR, Muller U, Blackwell AD, Robbins TW, Sahakian BJ (2006) Noradrenergic modulation of working memory and emotional memory in humans. Psychopharmacology 188:397–407

Chioca LR, Raupp IM, da Cunha C, Losso EM, Andreatini R (2008) Subchronic fluoride intake induces impairment in habituation and active avoidance tasks in rats. Eur J Pharmacol 579(1–3):196–201

Chirumari K, Reddy PK (2007) Dose-dependent effects of fluoride on neurochemical milieu in the hippocampus and neocortex of rat brain. Fluoride 40(2):101–110

Da Cunha C, Wietzikoski EC, Dombrowski P, Santos LM, Bortolanza M, Boschen SL, Miyoshi E (2009) Learning processing in the basal ganglia: a mosaic of broken mirrors. Behav Brain Res 199:156–169

Degroot A, Salhoff C, Davis RJ, Nomikos GG (2005) Genetic deletion of CB1 receptors improves non-associative learning. Behav Brain Res 162(1):161–164

Ekambaram P, Paul V (2001) Calcium preventing locomotor behavioral and dental toxicities of fluoride by decreasing serum fluoride level in rats. Environ Toxicol Pharmacol 9:141–146

Ekambaram P, Paul V (2003) Effect of vitamin D on chronic behavioral and dental toxicities of sodium fluoride in rats. Fluoride 36:189–197

Gevaerd MS, Miyoshi E, Silveira R, Canteras NS, Takahashi RN, da Cunha C (2001) L-Dopa restores striatal dopamine level but fails to reverse MPTP-induced memory deficits in rats. Int J Neuropsychopharmacol 4:361–370

Izquierdo I, Da Cunha C, Rosat R, Jerusalinsky D, Ferreira MBC, Medina JH (1992) Neurotransmitter receptors involved in post-training memory processing by the amygdala, medial septum, and hippocampus of the rat. Behav Neural Biol 58:16–26

Kawahara H, Yoshida M, Yokoo H, Nishi M, Tanaka M (1993) Psychological stress increases serotonin release in the rat amygdala and prefrontal cortex assessed by in vivo microdialysis. Neurosci Lett 162:81–84

Leussis MP, Bolivar VJ (2006) Habituation in rodents: a review of behavior, neurobiology, and genetics. Neurosci Biobehav Rev 30:1045–1064

Levy SM (1994) Review of fluoride exposures and ingestion. Community Dent Oral Epidemiol 22(3):173–180

Long YG, Wang YN, Chen J, Jiang SF, Nordberg A, Guana ZZ (2002) Chronic fluoride toxicity decreases the number of nicotinic acetylcholine receptors in rat brain. Neurotoxicol Teratol 24:751–757

McGaugh JL (2004) The amygdale modulates the consolidation of memories of emotionally arousing experiences. Annu Rev Neurosci 27:1–28

McGaugh JL, Roozendaal B (2009) Drug enhancement of memory consolidation: historical perspective and neurobiological implications. Psychopharmacology 202:3–14

Mello e Souza T, Rohden A, Meinhardt M, Goncalves CA, Quillfeldt JA (2000) S100B infusion into the rat hippocampus facilitates memory for the inhibitory avoidance task but not for the open-field habituation. Physiol Behav 71:29–33

Mendl M (1999) Performing under pressure: stress and cognitive function. Appl Anim Behav Sci 65:221–244

Pedrazza EL, Riboldi GP, Pereira GS, Izquierdo I, Bonan CD (2007) Habituation to an open field alters ecto-nucleotidase activities in rat hippocampal synaptosomes. Neurosci Lett 413(1):21–24

Perez-Garcia G, Meneses A (2008) Memory formation, amnesia, improved memory and reversed amnesia: 5-HT role. Behav Brain Res 195:17–29

Roozendaal B, Castello NA, Vedana G, Barsegyan A, McGaugh JL (2008) Noradrenergic activation of the basolateral amygdala modulates consolidation of object recognition memory. Neurobiol Learn Mem 90:576–579

Sarri E, Claro E (1999) Fluoride-induced depletion of polyphosphoinositides in rat brain cortical slices: a rationale for the inhibitory effects on phospholipase C. Int J Dev Neurosci 17:357–367

Segovia G, Del Arco A, de Blas M, Garrido P, Mora F (2008) Effects of an enriched environment on the release of dopamine in the prefrontal cortex produced by stress and on working memory during aging in the awake rat. Behav Brain Res 187:304–311

Shan KR, Qi XL, Long YG, Nordberg A, Guan ZZ (2004) Decreased nicotinic receptors in PC12 cells and rat brains influenced by fluoride toxicity: a mechanism relating to a damage at the level in post-transcription of the receptor genes. Toxicology 200(2–3):169–177

Smith CE, Nanci A, Denbesten PK (1993) Effects of chronic fluoride exposure on morphometric parameters defining the stages of amelogenesis and ameloblast modulation in rat incisors. Anat Rec 237:243–258

Spittle B (1994) Psycopharmacology of fluoride: a review. Int Clin Psychopharmacol 9:79–82

Thiel CM, Huston JP, Schwarting RKW (1998) Hippocampal acetylcholine and habituation learning. Neuroscience 4:1253–1262

Tsunoda M, Aizawa Y, Nakano K, Liu Y, Horiuchi T, Itai K, Tsunoda H (2005) Changes in fluoride levels in the liver, kidney, and brain and in neurotransmitters of mice after subacute administration of fluoride. Fluoride 38(4):284–292

Vianna MR, Alonso M, Viola H, Quevedo J, de Paris F, Furman M, de Stein ML, Medina JH, Izquierdo I (2000) Role of hippocampal signaling pathways in long-term memory formation of a nonassociative learning task in the rat. Learn Mem 7(5):333–340

Wang J, Ge Y, Ning H, Wang S (2004) Effects of high fluoride and low iodine on biochemical indexes of the brain and learning-memory of offspring rats. Fluoride 37:201–208

Watt MJ, Burke AR, Renner KJ, Forster GL (2009) Adolescent male rats exposed to social defeat exhibit altered anxiety behavior and limbic monoamines as adults. Behav Neurosci 123:564–576

Wu C, Gu X, Ge Y, Zhang J, Wang J (2006) Effects of high fluoride and arsenic on brain biochemical indexes and learning-memory in rats. Fluoride 39(4):274–279

Yuan SD, Xie QW, Lu FY (1993) Changes of serotonin content and turnover rate in hypothalamus of female rat during fluorosis. Fluoride 26(1):57–60
Acknowledgements
This research was partially supported by Fundação Araucária. MP, RA and CC are recipient of CNPq fellowships; PAD and LRC are recipients of CAPES fellowships.
About this article
Cite this article
Pereira, M., Dombrowski, P.A., Losso, E.M. et al. Memory Impairment Induced by Sodium Fluoride is Associated with Changes in Brain Monoamine Levels. Neurotox Res 19, 55–62 (2011). https://doi.org/10.1007/s12640-009-9139-5
Received:

Revised:

Accepted:

Published:

Issue Date:
Keywords
Cognitive impairment

Dopamine

Memory

Monoamines

Open-field habituation

Serotonin

Sodium fluoride