Abstract
The amyloodiniosis outbreak was documented with high mortality of percula clownfish (Amphiprion percula) and subsequently, various therapeutics were evaluated to control the infection. The affected fish exhibited symptoms such as discoloration of the skin and jerky movement with severe respiratory stress. Microscopic examination of the gill and body surface of the infested moribund fish showed the presence of brown coloured spherical shaped trophonts with the size range of 150–300 µM. Copper sulphate (10 ppm) and hydroxychloroquine phosphate (10 ppm) treatment with 14 days of continuous bath showed 76 ± 5.3 and 66 ± 4.3% survival rates. However, formalin (10 ppm) and malachite green (10 ppm) treated groups showed a survival of 41 ± 1.7 and 32.7 ± 1.2% respectively. The present results suggest that, use of copper sulphate to treat amyloodiniosis in clownfish will relatively more effective than other treatment options. The findings will be helpful to mitigate amyloodiniosis in marine finfish aquaculture, particularly marine ornamentals.
Access options
Buy single article
Instant access to the full article PDF.
USD 39.95
Price excludes VAT (USA)
Tax calculation will be finalised during checkout.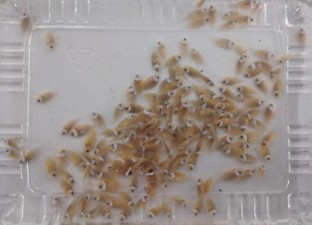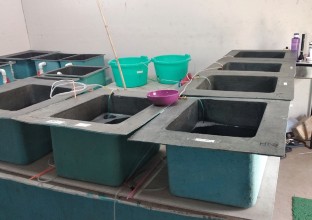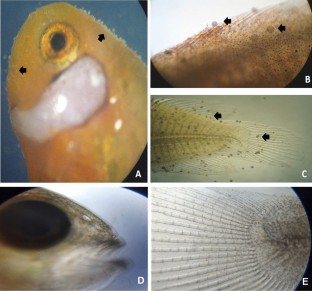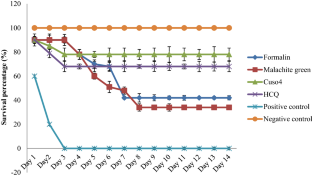 References
Abowei JFN, Briyai OF, Bassey SE (2011) A review of some basic parasite diseases in culture fisheries flagellids, dinoflagellides and ichthyophthriasis, ichtyobodiasis, coccidiosis trichodiniasis, heminthiasis, hirudinea infestation, crustacean parsite and ciliates. Br J Pharmacol Toxicol 2(5):213–226

Ajithkumar TT, Balasubramanian T (2009) Broodstock development, spawning and larval rearing of the false clown fish, Amphiprion ocellaris in captivity using estuarine water. Cur Sci 97(10):1483–1486

Andersen WC, Turnipseed SB, Karbiwnyk CM, Lee RH, Clark SB, Rowe WD et al (2009) Multiresidue method for the triphenylmethane dyes in fish: malachite green, crystal (gentian) violet, and brilliant green. Anal Chim Acta 637(1–2):279–289

Assefa A, Abunna F (2018) Maintenance of fish health in aquaculture: review of epidemiological approaches for prevention and control of infectious disease of fish. Vet Med Int 2018:1–10

Archana Sinha (2020) Ornamental fish trade in India. Smart Agri Post. 6–10

Bessat M, Fadel A (2018) Amyloodiniosis in cultured Dicentrarchus labrax: parasitological and molecular diagnosis, and an improved treatment protocol. Dis Aqu Org 129:41–51. https://doi.org/10.3354/dao03237

Bray PG, Mungthin M, Ridley RG, Ward SA (1998) Access to hematin: the basis of chloroquine resistance. Mol Pharmacol 54(1):170–179. https://doi.org/10.1124/mol.54.1.170

Buchmann K (2015) Impact and control of protozoan parasites in maricultured fishes. Parasitol 142:168–177

Dhayanithi NB, Ajithkumar TT, Arockiaraj J, Balasundaram C, Harikrishnan R (2015) Immune protection of Rhizophora apiculata in clownfish against Vibrio alginolyticus. Aquaculture 446:1–6. https://doi.org/10.1016/j.aquaculture.2015.04.013

Fajer-Avila EJ, Abdo-de la P I, Aguilar-Zarate G, Contreras-Arce R, Zaldıvar-Ramırez J, Betancourt-Lozano M, (2003) Toxicity of formalin to bullseye puffer fish (Sphoeroides annulatus Jenyns, 1843) and its effectiveness to control ectoparasites. Aquaculture 223(1):41–50

Fajer-Avila EJ, Abdo-de-la-Parra I, Aguilar-Zarate G, Contreras-Arce R, Zald-ivar-Ram irez J, Betancourt-Lozano M (2003) Toxicity of formalin to bullseye puffer fish (Sphoeroides annulatus Jenyns, 1843) and its effectiveness to control ectoparasites. Aquaculture 223(1):41–50

FAO (2014) Fisheries and aquaculture statistics and information branch. Global production and trade 1976–2011. http://www.fao.org/fishery/statistics/en

Francis-Floyd R, Floyd MR (2011) Amyloodinium ocellatum an important parasite of cultured marine fish, Southern regional aquaculture center, SRAC Publication No. 4705, pp 1–12

Jung SH, Kim JW, Jeon IG, Lee YH (2001) Formaldehyde residues in formalin-treated olive flounder (Paralichthys olivaceus), black rockfish (Sebastes schlegeli), and seawater. Aquaculture 194(3–4):253–262

Levy MG, Poore MF, Colorni A, Noga EJ, Vandersea MW, Litaker RW (2007) A highly specific PCR assay for detecting the fish ectoparasite Amyloodinium ocellatum. Dis Aqu Org 73:219–226

Lieke T, Meinelt T, Hoseinifar SH et al (2020) Sustainable aquaculture requires environmental-friendly treatment strategies for fish diseases. Rev Aqua 12:943–965

Masson I, Blaylock RB, Lotz JM (2011) Susceptibility and tolerance of spotted seatrout, Cynoscion nebulosus, and red snapper, Lutjanus campechanus to experimental infections with Amyloodinium ocellatum. J Parasitol 97:577–585

Molteni C, Abicht HK, Solioz M (2010) Killing of bacteria by copper surfaces involves dissolved copper. Appl Environ Microbiol 76:4099–4101. https://doi.org/10.1128/AEM.00424-10

Moreira M, Schrama D, Soares F, Wulff T, Pousao-Ferreira P, Rodrigues P (2017) Physiological responses of reared sea bream (Sparus aurata Linnaeus, 1758) to an Amyloodinium ocellatum outbreak. J Fish Dis 40:1545–1560

Noga EJ (2011) Fish disease: diagnosis and treatment. Wiley, Hoboken

Noga EJ (2012) Amyloodinium ocellatum. In: Woo PTK (ed) Fish Parasites, Pathobiology and Protection. CABI, UK, pp 19–29

Noga EJ, Levy MG (1995) Dinoflagellate parasites of fish. In: Woo PTK (ed) Fish diseases I: protozoan and metazoan infections, vol 1. CAB International, Oxfordshire, pp 1–25

Noga EJ (2010) Fish disease: diagnosis and treatment. 2nd ed. Iowa, Willey-Blackwell

Palmtag MR (2017) The marine ornamental species trade. In: Calado R, Olivotto I, Oliver MP, Holt GJ (eds) Marine ornamental species aquaculture. Wiley, Chichester, pp 3–14

Paperna I (1984) Chemical control of Amyloodinium ocellatum (Brown 1931) (Dinoflagellida) infections: in vitro tests and treatment trials with infected fishes. Aquaculture 38(1):1–18

Pereira JC, Abrantes I, Martins I, Barata J, Frias P, Pereira I (2010) Ecological and morphological features of Amyloodinium ocellatum occurrences in cultivated gilthead seabream Sparus aurata L.: A case study. Aquaculture 310:289–297

Ramesh Kumar P, Abdul Nazar AK, Jayakumar R, Tamilmani G, Sakthivel M, Kalidas C, Balamurugan V, Sirajudeen S, Thiagu R, Gopakumar G (2015) Amyloodinium ocellatum infestation in the broodstock of silver pompano Trachinotus blochii (Lacepede, 1801) and its therapeutic control. Indian J Fish 62(1):131–134

Ranjbar HR, Khoramian S (2019) First Report of Amyloodinium ocellatum (E. Brown) E. Brown & Hovasse, 1946 (Dinoflagellate, Blastodiniales, Ooodiniaceae) from Sobaity Seabream, Sparidentex hasta (Valenciennes, 1830) Cultured in Persian Gulf of Iran. Aquac Stu 19(1):77–80

Global Ornamental Fish Market Size Report, 2022–2030, Market analysis report. (https://www.grandviewresearch.com/industry-analysis/ornamental-fish-market)

San K, Long J, Michels CA, Gadura N (2015) Antimicrobial copper alloy surfaces are effective against vegetative but not sporulated cells of Gram-positive Bacillus subtilis. Microbiologyopen 4:753–763. https://doi.org/10.1002/mbo3.276

Seoud SS, Zaki VH, Ahmed GE, Abd El-Khalek NK (2017) Studies on Amyloodinium infestation in European seabass (Dicentrarchus labrax.) fishes with special reference for treatment. Am J Mar Sci 5(1):18–33

Soares BV, Neves LR, Oliveira MSB, Chaves FCM, Dias MKR, Chagas EC et al (2016) Antiparasitic activity of the essential oil of Lippia alba on ectoparasites of Colossoma macropomum (tambaqui) and its physiological and histopathological effects. Aquaculture 452:107–114

Srivastava S, Sinha R, Roy D (2004) Toxicological effects of malachite green. Aquat Toxicol 66(3):319–329

Sudova E, Machova J, Svobodova Z, Vesely T (2007) Negative effects of malachite green and possibilities of its replacement in the treatment of fish eggs and fish: a review. Vet Med 52(12):527–539

Willford WA (1966) Toxicity of 22 therapeutic compounds to six fishes. Investigations in fish control

Yin F, Bao P, Liu X, Yu Y, Wang L, Wang L (2019) Antiparasitic Effect of copper alloy surface on Cryptocaryon irritans in aquaculture of Larimichthys crocea. Appl Environ Microbiol 85(3):1–11
Acknowledgements
The authors are thankful to Prof. Ruth Francis-Floyd, College of Veterinary Medicine and Program in Fisheries and Aquatic Sciences, University of Florida, USA for his contribution to the identification part. Extending the gratitude to Mangrove Cell & Mangrove Foundation, Government of Maharashtra for the financial support. Thanks to the Director, ICAR—National Bureau of Fish Genetic Resources, Lucknow for the encouragement.
Funding
This study was financially supported by Mangrove Cell & Mangrove Foundation, Government of Maharashtra, India (Grant number: F.No.1/42/2020-Admin./Mangrove).
Ethics declarations
Conflict of interest
The authors declare that they have no conflict of interest.
Ethics approval
The ethical guidelines have been consistent during the designing of the project, data collection, and preparation of results.
Consent to participate
All authors consented to their participation.
Consent for publication
We agree.
Informed consent
All of the authors gave their informed consent prior to their inclusion in the research. We also hereby declare all ethical standards respected in the submitted article.
Additional information
Publisher's Note
Springer Nature remains neutral with regard to jurisdictional claims in published maps and institutional affiliations.
Rights and permissions
Springer Nature or its licensor holds exclusive rights to this article under a publishing agreement with the author(s) or other rightsholder(s); author self-archiving of the accepted manuscript version of this article is solely governed by the terms of such publishing agreement and applicable law.
About this article
Cite this article
Dhayanithi, N.B., Sudhagar, A., Kumar, T.T.A. et al. Study on amyloodiniosis outbreak in captive-bred percula clownfish (Amphiprion percula) and improved control regimens. J Parasit Dis 46, 1103–1109 (2022). https://doi.org/10.1007/s12639-022-01530-1
Received:

Accepted:

Published:

Issue Date:

DOI: https://doi.org/10.1007/s12639-022-01530-1
Keywords