Abstract
The present paper describes two new species of cercariae infecting the freshwater snail, Paludomus (Paludomus) tanschauricus from Malabar, Kerala. Paludomus tanschauricus collected from the hill streams at Vattakkundu in the Wayanad district of Kerala harboured a macrocercous cercaria, Cercaria sp. XX Malabar n. sp. characterized by a disproportionately large tail. Developmental stages were recovered from the hepatopancreatic tissues of the snail host. Cercariae encysted on the gills of the fish, Haludaria melanampyx. Snails collected from Papanashini rivulet at Thirunelli, also from Waynad district were infected with a megalurous cercaria, Cercaria sp. XXI Malabar n. sp. possessing an elongated tail with an adhesive cup-like sucker at its tip. Redial stages developed in the hepatopancreas while the cercariae were found to encyst on any available substrate. The morphology and morphometry of these two cercariae along with their developmental stages are studied in detail and compared with related species to establish their systematic positions.
Access options
Buy single article
Instant access to the full article PDF.
USD 39.95
Price excludes VAT (USA)
Tax calculation will be finalised during checkout.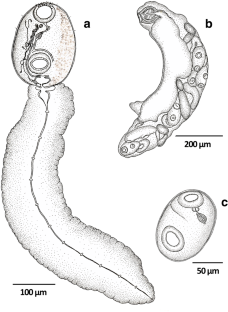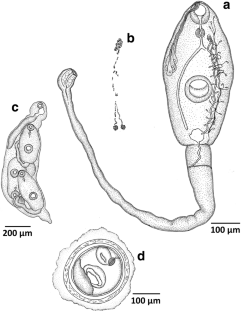 References
Ostrowski de Núñez M, Quintana MG (2008) The life cycle of Stephanoprora aylacostoma n.sp. (Digenea: Echinostomatidae), parasite of the threatened snail Aylacostoma chloroticum (Prosobranchia, Thiaridae), in Argentina. Parasitol Res 102(4):647–655

Ditrich O, Scholz T, Aguirre-Macedo L, Vargas-Vazquez J (1997) Larval stages of trematodes from freshwater mollusks of the Yucatan Peninsula, Mexico. Folia Parasitol 44:109–127

Ismail N, Hafez SA (1984) Two new cercariae from Melanopsis praemorsa (L., 1758) (Thiaridae) snails in Azraq oasis, Jordan. Jpn J Parasitol 33(4):353–359

Køie M (1986) The life-history of Mesorchis denticulatus (Rudolphi, 1802) Dietz, 1909 (Trematoda, Echinostomatidae). Z Parasitenk 72:335–343

Nasir P, Diaz MT (1973) Freshwater larval trematodes XXXII. Twenty new species of Venezuelan cercariae. Riv Parassit 34(1):1–44

Ostrowski de Núñez M (2007) Life-cycle of Stephanoprora uruguayense (Digenea, Echinostomatidae) in Argentina. J Parasitol 93:1090–1096

Peter CT, Srivastava HD (1955) Cercaria ratnagiriensis n. sp., a megalurous cercaria from Paludomus obesa (Philippi). In: 42nd Proceedings of the Indian science congress, Part III, pp 284–285

Premvati G (1954) Three new species of cercariae from the snail Melanoides tuberculatus (Müller). J Zool Soc India 6:43–50

Ramakrishna, Dey A (2007) Handbook on Indian freshwater molluscs. Zool. Surv. India, Kolkata, pp 1–399

Sewell RBS (1922) Cercariae indicae. Indian J. Med. Res. 10:1–370

Subba Rao NV (1989) Handbook of freshwater molluscs of India. Zool. Surv. India, Calcutta, pp 1–289

Vasandakumar MV, Janardanan KP (2005) Two new species of cercariae from thiarid snails in Malabar, Kerala. Geobios 32(4):233–236

Vasandakumar MV, Janardanan KP (2006) Two new species of xiphidiocercaria from the thiarid snail, Paludomus tanschauricus in Malabar, Kerala. Zoos' Print J 21(3):2183–2185

Velasquez CC (1969) Life Cycle of Cloacitrema philippinum sp. n. (Trematoda: digenea: Philophthalmidae). J Parasitol 55(3):540–543
Acknowledgements
The authors are grateful to the Head, Department of Zoology, University of Calicut for providing necessary facilities. One of the authors (NKS) is grateful to the Council of Scientific and Industrial Research (CSIR) for financial support in the form of a Senior Research Fellowship.
Ethics declarations
All the required ethical standards were complied with.
Conflict of interest
The authors declare that that there is no conflict of interest between them.
About this article
Cite this article
Sanil, N.K., Janardanan, K.P. New species of macrocercous and megalurus cercariae infecting the freshwater snail, Paludomus (Paludomus) tanschauricus (Gmelin, 1771) in Malabar, Kerala. J Parasit Dis 42, 582–588 (2018). https://doi.org/10.1007/s12639-018-1038-3
Received:

Accepted:

Published:

Issue Date:

DOI: https://doi.org/10.1007/s12639-018-1038-3
Keywords
Macrocercous

Megalurous

Cercaria

Sporocyst

Paludomus (Paludomus) tanschauricus

Malabar

Kerala