Abstract
Toxoplasmosis is an infectious zoonotic disease caused by protozoan Toxoplasma gondii. Detection of T. gondii infection with touchy and particular strategies is a key advance to control and prevent toxoplasmosis. Genotyping can explain the virulence, epidemiology and setting up new methodologies for diagnosis and control in human and animals. The point of this study was to assess the seroprevalence of T. gondii in sheep and goat in Egypt and to comprehend the genetic variety of T. gondii isolates circling in Egypt. Blood samples were gathered from 113 ewes and 95 she-goats from three Egyptian governorates (Cairo, Giza and Al-Sharkia). Also blood and tissue samples were gathered from 193 sheep and 51 goats from Cairo and Giza abattoirs. All samples were assayed serologically utilizing ELISA and OnSite Toxo IgG/IgM Rapid test cassettes (OTRT) tests and the tissue samples of the seropositive animals were digested and microscopically examined then bio-assayed in mice as viability test. All the T. gondii isolates undergo molecular identification using PCR and genotyped utilizing nPCR/RFLP analysis of SAG2 gene. The total seropositivity of live sheep and goat was 47.15 and 39.2% utilizing ELISA and OTRT respectively. Concerning abattoirs, seropositivity, positive microscopic examination, mice viability from sheep samples were 47.1%, 37.3% and 44.1% respectively while that of goats were 45.5%, 33.3% and 48.6% respectively. Eighteen T. gondii isolates were affirmed utilizing PCR. Genotyping confirmed 10 isolates (55.5%) as type II, 6 (33.3%) as type III and 2 (11.1%) as atypical genotypes. Type II and III are the genotypes mostly circling among small ruminants in Egypt and this is most significance for the public health in Egypt.
Access options
Buy single article
Instant access to the full article PDF.
USD 39.95
Price includes VAT (USA)
Tax calculation will be finalised during checkout.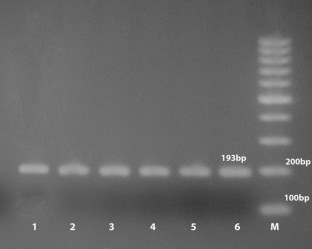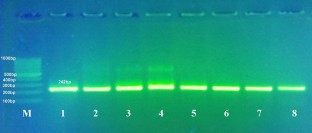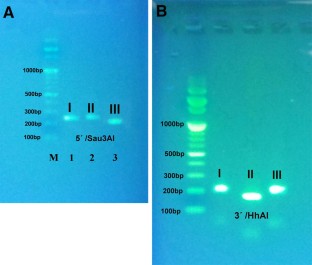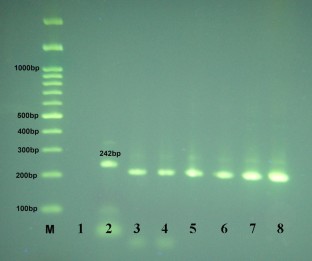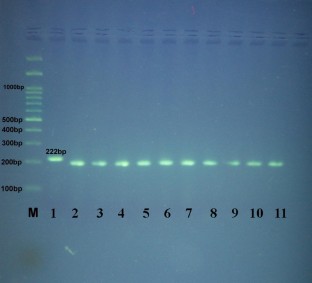 References
Abd El-Razik KA, El Fadally HA, Barakat AMA, Abu Elnaga ASM (2014) Zoonotic hazards T. gondii viable cysts in ready to eat Egyptian meat-meals. World J Med Sci 11:510–517

Abdel-Hameed DM, Hassanein OM (2008) Genotyping of Toxoplasma gondii strains from female patients with toxoplasmosis. J Egypt Soc Parasitol 38:511–520

Abdel-Rahman MAM, EL-Manyawe SM, Khateib AM, Saba S (2012) Occurrence of Toxoplasma antibodies in caprine milk and serum in Egypt. Assiut Vet Med J 58:145–152

Abu-Madi MA, Al-Molawi N, Behnke JM (2008) Seroprevalence and epidemiological correlates of Toxoplasma gondii infections among patients referred for hospital-based serological testing in Doha, Qatar. Parasite Vector 1:39–43

Ahmed HA, Shafik SM, Ali MEM, Elghamry ST, Ahmed AA (2014) Molecular detection of Toxoplasma gondii DNA in milk and risk factors analysis of seroprevalence in pregnant women at Sharkia. Egypt Vet World 7:594–600

Ajzenberg D, Banuls AA, Tibayrenc M, Darde ML (2002) Microsatellite analysis of T. gondii shows considerable polymorphism structured into main clonal groups. Int J Parasitol 32:27–38

Alazemi MS (2014) Prevalence of anti-Toxoplasma gondii antibodies in aborted ewes in Kuwait. J Egypt Soc Parasitol 44:393–396

Alghamdi J, Elamin MH, Alhabib S (2015) Prevalence and genotyping of Toxoplasma gondii among Saudi pregnant women in Saudi Arabia. Saudi Pharm J 82:1–7

Anastasia D, Elias P, Nikolaos P, Charilaos K, Nektarios G (2013) T. gondii and N. caninum seroprevalence in dairy sheep and goats mixed stock farming. Vet Parasitol 198:387–390

Andrade MMC, Carneiro M, Medeiros AD, Neto VA, Vitor RWA (2013) Seroprevalence and risk factors associated with ovine toxoplasmosis in northeast Brazil. Parasite 20:1–6

Armand B, Solhjoo K, Kordshooli MS, Davami MH, Pourahmad M, Orfaee V (2017) T. gondii type I, predominant genotype isolated from sheep in South of Iran. Vet World 10:386–392

Aspinall TV, Marlee D, Hyde JE, Sims PF (2002) Prevalence of Toxoplasma gondii in commercial meat products as monitored by polymerase chain reaction—food for thought? Int J Parasitol 32:1193–1199

Bahrieni M, Fasihi Harandi M, Beigzadeh M, Kamyabi H, Zia-Ali N (2008) Risk factors analysis associated with seropositivity to Toxoplasma gondii in sheep and goats in southeastern Iran using modified agglutination test (MAT). Iran J Parasitol 3:38–43

Berger-Schoch A, Herrmann D, Schares G, Müller N, Bernet D, Gottstein B, Frey C (2011) Prevalence and genotypes of Toxoplasma gondii in feline faeces (Oocysts) and meat from sheep, cattle and pigs in Switzerland. Vet Parasitol 177:290–297

Burg JL, Grover CM, Pouletty P, Boothroyd JC (1989) Direct and sensitive detection of a pathogenic protozoan, T. gondii, by polymerase chain reaction. J Clin Microbiol 27:1787–1792

Chessa G, Chisu V, Porcu R, Masala G (2014) Molecular characterization of Toxoplasma gondii type II in sheep abortion in Sardinia, Italy. Parasite 21:1–3

Cosendey-KezenLeite RI, De Oliveira FC, Fraz ~ ao-Teixeira E, Dubey JP, De Souza GN, Ferreira AM, Lilenbaum W (2014) Occurrence and risk factors associated to T. gondii infection in sheep from Rio de Janeiro, Brazil. Trop Anim Health Prod 46:1463–1466

Dubey JP, Sundar N, Hill D, Velmurugan GV, Bandini LA (2008) High prevalence and abundant atypical genotypes of Toxoplasma gondii isolated from lambs destined for human consumption in the USA. Int J Parasitol 38:999–1006

El Bolaky HAE, Hassanain MEA, Younis AIH, Abu Sarea EY, El Fadaly HA, Abd El Wahab WM (2015) Bio-typing of Toxoplasma gondii isolates from complicated pregnant Egyptian women. MRJMMS 3:453–458

Eldeek HEM, Ahmad AA, El-Mokhtar MA, Abdel Kader AMM, Mandour AM, Mounib MEM (2017) Toxoplasma genotyping in congenital toxoplasmosis in Upper Egypt: evidence of type I strain. J Parasitol Res 116:2393–2406

Elfadaly HA, Hasanain MA, Shapan RM, Hasanain NA, Barakat AM (2015) Corticosteroids opportunist higher T. gondii brain cysts in latent infected mice. Int J Zool Res 11:169–176

Elfadaly HA, Hassanan NA, Shaapan RM, Hassanain MA, Barakat AM, Abdelrahman KA (2017a) Molecular detection and genotyping of Toxoplasma gondii from Egyptian isolates. Asian J Epidemiol 10:7–44

Elfadaly HA, Hassanain MA, Shaapan RM, Hassanain NA, Barakat AM (2017b) Detection of Toxoplasma gondii from wastage nourished small ruminant and poultry: zoonotic significance. Int J Zool Res 13:6–11

Fereig RM, Mahmoud HYAH, Mohamed SGA, AbouLaila MR, Abdel-Wahab A, Ahmed Osman S, Zidan SA, El-Khodary SA, Mohamed AA, Nishikawa Y (2016) Seroprevalence and epidemiology of Toxoplasma gondii in farm animals in different regions of Egypt. Vet Parasitol Reg Stud Rep. https://doi.org/10.1016/j.vprsr.2016.05.002

Fortes MS, Lopes-Mori FMR, Caldart ET, Constantino C, Evers F, Pagliari S, de Almeida JC, Barros LD, Freire RL, Garcia JL, Headley SA, Navarro IT (2017) Caprine toxoplasmosis in Southern Brazil: a comparative seroepidemiological study between the indirect immunofluorescence assay, the enzyme-linked immunosorbent assay, and the modified agglutination test. Trop Anim Health Prod. https://doi.org/10.1007/s11250-017-1450-1

Gebremedhin EZ, Abdurahaman M, Tessema TS, Tilahun G, Cox E, Goddeeris B, Dorny P, De Craeye S, Dardé M, Ajzenberg D (2014) Isolation and genotyping of viable T. gondii from sheep and goats in Ethiopia destined for human consumption. Parasite Vector 7:1–8

Gharbi M, Zribi L, Jedidi M, Chakkhari H, Hamdi S, Rhayem S (2013) Prevalence of T. gondii infection in Tunisian sheep. Bull Soc Pathol Exot 106:184–187

Ghoneim NH, Shalaby SI, Hassanain NA, Zeedan GS, Soliman YA, Abdalhamed AM (2010) Comparative study between serological and molecular methods for diagnosis of toxoplasmosis in women and small ruminants in Egypt. Foodborne Pathog Dis 7:17–22

Halos L, Thébault A, Aubert D, Thomas M, Perret C, Geers R, Alliot A, Escotte-Binet S, Ajzenberg D, Dardé ML, Durand B (2010) An innovative survey underlining the significant level of contamination by T. gondii of ovine meat consumed in France. Int J Parasitol Parasites 40:193–200

Halova D, Mulcahy G, Rafter P, Turcekova L, Grant T, De Waal T (2013) Toxoplasma gondii in Ireland: seroprevalence and novel molecular detection method in sheep, pigs, deer and chickens. Zoonoses Public Health 60:168–173

Hamed AMR, Omar SH, Basyoni MMA, El Antably AS, El Khateeb EA, El Kateb Y (2017) Comparative and analytical study on active toxoplasmosis to assess the IgG avidity in correlation to serological profile in a cohort of Egyptian patients. Comp Clin Path 26:1157–1163

Hamilton CM, Kelly PJ, Bartley PM, Burrells A, Porco A, Metzler D, Crouch K, Ketzis JK, Innes EA, Katzer F (2015) Toxoplasma gondii in livestock in St. Kitts and Nevis, West Indies. Parasite Vector 8:166

Hammond-Aryee K, van Helden LS, van Helden PD (2015) The prevalence of antibodies to Toxoplasma gondii in sheep in the Western Cape, South Africa. Res Commun. https://doi.org/10.4102/ojvr.v82i1.993

Hasanain MA, El-Fadally HA, Hassanain NA, Shapan RM, Barakat AM, Abd El-Razik KA (2013) Serological and molecular diagnosis of toxoplasmosis in human and animals. WJMS 9:243–247

Hossain B, Ali Y, Rahman H, Munsi N, Talukder H (2018) Sero-diagnosis of toxoplasmosis by using lateral flow chromatographic assay. Int J Nat Soc Sci 5:25–29

Hove T, Lind P, Mukaratirwa S (2005) Seroprevalence of T. gondii infection in goats and sheep in Zimbabwe. Onderstepoort J Vet Res 72:267–272

Innes EA, Bartley PM, Buxton D, Katzer F (2009) Ovine toxoplasmosis. Parasitology 136:1887–1894

Issa NA (2017) Infection rate of toxoplasmosis in angora goats of duhok province-Iraq. BASJVET 16:144–158

Jungersen G, Jensen L, Rask M, Lind P (2002) Non-lethal infection parameters in mice separate sheep type II Toxoplasma gondii isolates by virulence. Comp Immunol Microbiol Infect Dis 25:187–195

Khalil MM, Elrayah IE (2011) Seroprevalence of Toxoplasma gondii antibodies in farm animals (camels, cattle, and sheep) in Sudan. Vet Med Anim Health 3:36–39

Khayeche M, Mhadhbi M, Gharbi M, Nasfi I, Darghouth MA (2014) Detection of Toxoplasma gondii infection of sheep slaughtered in the governorate of Sousse on the occasion of the Muslim sacrifice feast (Eid Al-Adha) and analysis of risk factors. Bull Soc Pathol Exot 107:60–63

Kompalic-Cristo A, Frotta C, Suárez-Mutis M, Fernandes O, Britto C (2007) Evaluation of a real-time PCR assay based on the repetitive B1 gene for the detection of Toxoplasma gondii in human peripheral blood. J Parasitol Res 101:619–625

Liu Q, Wang Z, Huang S, Zhu X (2009) Diagnosis of toxoplasmosis and typing of Toxoplasma gondii. Parasite Vector 20158:292

Mancianti F, Nardoni S, D'Ascenzi C, Pedonese F, Mugnaini L, Franco F, Papini R (2013) Seroprevalence, detection of DNA in blood and milk, and genotyping of Toxoplasma gondii in a goat Sadek population in Italy. Biomed Res Int 1–20

Matsuo K, Kamai R, Uetsu H, Goto H, Takashima Y, Nagamune K (2014) Seroprevalence of Toxoplasma gondii infection in cattle, horses, pigs and chickens in Japan. Parasitol Int 63:638–639

McLeod R, Frenkel JK, Estes RG, Mack DG, Eisenhauer PB, Gibori G (1988) Subcutaneous and intestinal vaccination with tachyzoites of Toxoplasma gondii and acquisition of immunity to peroral and congenital toxoplasma challenge. J Immunol 140:1632–1637

Mor N, Arslan MO (2007) Kars yoresindeki koyunlarda Toxoplasma gondii in seroprevalansi'. Kafkas Univ Vet Fak Derg 13:165–170

Nassef NE, Abd El-Ghaffara MM, El-Nahasa NS, Hassanainb MA, Shams El-Dina SA, Ammar AIM (2015) Seroprevalence and genotyping of Toxoplasma gondii in Menoufia governorate. Menoufia Med J 28:617–626

Pal M (2007) Zoonoses, 2nd edn. Satyam Publishers, Jaipur

Prince JB, Auer KL, Huskinson J, Parmley SF, Araujo FG, Remington JS (1990) Cloning, expression, and cDNA sequence of surface antigen p22 from Toxoplasma gondii. Mol Biochem Parasitol 43:97–106

Ragozo AMA, Yai LEO, Oliveira LN, Dias RA, Dubey JP, Gennari SM (2008) Seroprevalence and isolation of Toxoplasma gondii from sheep from Sao Paulo State, Brazil. J Parasitol 94:1259–1263

Ragozo AM, Yai LE, Oliveira LN, Dias RA, Goncalves HC, Azevedo SS, Dubey JP, Gennari SM (2009) Isolation of Toxoplasma gondii from goats from Sao Paulo State, Brazil. J Parasitol 95:323–326

Rahman M, Azad MT, Nahar L, Rouf SM, Ohya K, Chiou SP (2014) Age-specificity of Toxoplasma gondii seroprevalence in sheep, goats and cattle on subsistence farms in Bangladesh. J Vet Med Sci 76:1257–1259

Reischl U, Bretagne S, Kruger D, Ernault P, Costa JM (2003) Comparison of two DNA targets for the diagnosis of toxoplasmosis by real-time PCR using fluorescence resonance energy transfer hybridization probes. BMC Infect Dis 3:7

Remington JS, McLeod R, Thulliez P, Desmonts G (2001) Toxoplasmosis. In: Remington JS, Klein J (eds) Infectious diseases of the fetus and newborn infant, 5th edn. W.B. Saunders, Philadelphia, pp 205–346

Robert-Gangneux F, Dardé ML (2012) Epidemiology of and diagnostic strategies for toxoplasmosis. Clin Microbiol Rev 25:264–296

Sadek OA, AbdeL-Hameed ZM, Kuraa HM (2015) Molecular detection of Toxoplasma gondii DNA in raw goat and sheep milk with discussion of its public health importance in Assiut governorate. Assiut Vet Med J 61:166–177

Sanad MM, Al-Ghabban AJ (2007) Serological survey on toxoplasmosis among slaughtered sheep and goats in Tabouk, Saudi Arabia. J Egypt Soc Parasitol 37:329–340

Shaapan RM, El-Nawawi FA, Tawfik MA (2008) Sensitivity and specificity of various serological tests for the detection of Toxoplasma gondii infection in naturally infected sheep. Vet Parasitol 153:359–362

Shaapan RM, Elfadally HA (2015) Latency in toxoplasmosis. LAP Lambert Academic Publishing, Saarbrücken, p 72. ISBN 13:978-3659761348

Sharif M, Gholami S, Ziaei H, Daryani A, Laktarashi B (2017) Seroprevalence of Toxoplasma gondii in cattle, sheep and goats slaughtered for food in Mazandaran province, Iran, during 2005. Vet J 174:422–424

Sibley LD, Khan A, Ajioka JW, Rosenthal BM (2009) Genetic diversity of Toxoplasma gondii in animals and humans. Philos Trans R Soc Lond B Biol Sci 364(1530):2749–2761

SPSS: Statistical package for social science, PC software, version16 for Windows Inc, Chicago, IL, USA Copyright© SPSS 2007

Sroka J, Kusyk P, Bilska-Zając E, Karamon J, Dutkiewicz J, Wójcik-Fatla A, Zając V, Stojecki K, Różycki M, Cencek T (2017) Seroprevalence of Toxoplasma gondii infection in goats from the south-west region of Poland and the detection of T. gondii DNA in goat milk. Folia Parasitol 64:023

Su C, Shwab EK, Zhou P, Zhu XQ, Dubey JP (2010) Moving towards an integrated approach to molecular detection and identification of T. gondii. Parasitology 137:1–11

Tavakoli Kareshk A, Mahmoudvand H, Keyhani A, Tavakoli Oliaee R, Mohammadi MA, Babaei Z, Hajhosseini MA, Zia-Ali N (2017) Molecular detection and genetic diversity of T. gondii in different tissues of sheep and goat in Eastern Iran. Trop Biomed 34:681–690

Tavassoli M, Esmaeilnejad B, Malekifard F, Soleimanzadeh A, Dilmaghani M (2013) Detection of Toxoplasma gondii DNA in sheep and goat milk in northwest of Iran by PCR-RFLP. Jundishapur J Microbiol 6:e8201

Tenter AM, Heckeroth AR, Weiss LM (2000) Toxoplasma gondii: from animals to humans. Int J Parasitol 30:1217–1258

Van der Puije WN, Bosompem KM, Canacoo EA, Wastling JM, Akanmori BD (2000) The prevalence of anti-T. gondii antibodies in Ghanaian sheep and goats. Acta Trop 76:21–26

Younis EE, Abou-Zeid NZ, Zakaria M, Mahmoud MR (2015) Epidemiological studies ontoxoplasmosis in small ruminants and equines in Dakahlia governorate, Egypt. Assiut Vet Med J 61:22–31

Zhou P, Zhang H, Lin RQ, Zhang DL, Song HQ, Su C, Zhu XQ (2009) Genetic characterization of Toxoplasma gondii isolates from China. Parasitol Int 58:193–195

Zou F, Yu X, Yang Y, Hu S, Chang H, Yang J, Duan G (2015) Seroprevalence and risk factors of Toxoplasma gondii infection in buffaloes, sheep and goats in Yunnan Province, south western China. Iran J Parasitol 10:648–651
Acknowledgements
The authors acknowledge financial support from the Science and Technology Development Fund (STDF), Egyptian Ministry of Higher Education and Scientific Research (Project No. 24196).
Ethics declarations
Conflict of interest
We confirm that there are no known conflicts of interest associated with this publication. The authors also declare that the trials conducted in this work fulfill with the existing country laws.
Ethical statement
The study was approved Ethically by the Medical Research Ethical Committee, National Research Centre, Egypt under registration number 1-2 /0- 2 -1-0.2012.
About this article
Cite this article
Abd El-Razik, K.A., Barakat, A.M.A., Hussein, H.A. et al. Seroprevalence, isolation, molecular detection and genetic diversity of Toxoplasma gondii from small ruminants in Egypt. J Parasit Dis 42, 527–536 (2018). https://doi.org/10.1007/s12639-018-1029-4
Received:

Accepted:

Published:

Issue Date:
Keywords
Toxoplasma gondii

SAG2 gene

Genotyping

Sheep

Goat

Egypt