Abstract
Two new species of furcocercous cercariae, Cercaria sp. XVI Malabar n. sp. and Cercaria sp. XVII Malabar n. sp. were recovered from the freshwater snail, Thiara tuberculata in the Malabar region of Kerala. Cercaria sp. XVI Malabar n. sp., a pharyngeate, longifurcate furcocercous cercaria with two pairs of penetration glands and 10 pairs of flame cells was recovered from T. tuberculata collected from Kundayithode in Kozhikode district and Nilambur in Malappuram district of Kerala. Cercaria sp. XVII Malabar n. sp., another pharyngeate, longifurcate cercaria with a rudimentary ventral sucker was recovered from the same snail host collected from Nilambur in Malappuram district. Sporocysts of Cercaria sp. XVI Malabar n. sp. developed in the hepatopancreas, while that of Cercaria sp. XVII Malabar n. sp. were found developing in both hepatopancreas and stomach wall. The present paper describes the new species of cercariae in detail and compares them with related species to establish their systematic position.
Access options
Buy single article
Instant access to the full article PDF.
USD 39.95
Price excludes VAT (USA)
Tax calculation will be finalised during checkout.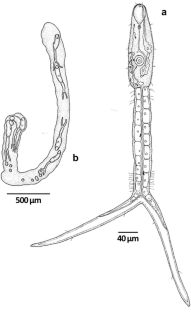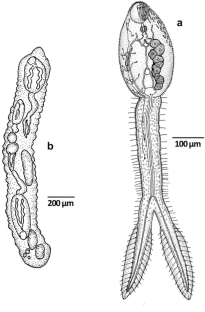 References
Baugh SC (1954) Studies on larval flukes of Vivipara bengalensis Part I. On a new furcocercous cercaria of the vivax type. J Zool Soc India 6(2):124–128

Faust EC (1924) Notes on larval flukes from China. II. Studies on some larval flukes from the central and south coast provinces of China. Am J Hyg 4:241–300

Ito J (1977) Studies on the freshwater cercariae in Leyte Island, Philippines. 4. Cercariae from Viviparidae and Pilidae. Jpn Exp Med 47(5):351–368

Ito J (1978) Studies on six species of cercariae from Austropeplea ollula in Shizuoka prefecture, Japan. Jpn J Parasitol 273:171–184

Ito J, Yasuraoka K, Santos AT, Blas BL (1977) Studies on the fresh water cercariae in Leyte Island, Philippines. 1. Collection of snails. Jpn J Exp Med 47(3):141–150

Probert AJ (1966) Studies on larval trematodes infecting the freshwater molluscs of Llangorse Lake, South Wales. III. The furcocercariae. J Helminthol 40:91–114

Sewell RBS (1922) Cercariae indicae. Indian J Med Res 10:1–370

Srivastava S, Saxena V (1992) Two new cercariae from the snail Bellamya bengalensis. Indian Vet Med J 16:27–135

Vasandakumar MV, Janardanan KP (2005) Two new species of furcocercous cercariae from freshwater snails in Malabar, Kerala. Uttar Pradesh J Zool 25(1):93–96
Acknowledgements
The authors are grateful to the Head, Department of Zoology, University of Calicut for providing necessary facilities. One of the authors (NKS) is grateful to the Council of Scientific and Industrial Research (CSIR) for financial support in the form of a Senior Research Fellowship.
Author's contribution
Dr. K. P. Janardanan designed and guided the study. Dr. N. K. Sanil carried out the survey, collected and studied the cercariae in detail. The manuscript was written by both the authors.
Ethics declarations
Conflict of interest
The authors declare that that there is no conflict of interest between them.
About this article
Cite this article
Sanil, N.K., Janardanan, K.P. Two new species of furcocercous cercariae infecting the fresh water snail, Thiara tuberculata (Müller) in Kozhikode and Malappuram districts of Kerala. J Parasit Dis 41, 1147–1152 (2017). https://doi.org/10.1007/s12639-017-0951-1
Received:

Accepted:

Published:

Issue Date:

DOI: https://doi.org/10.1007/s12639-017-0951-1
Keywords