Abstract
Aphanius sophiae (Heckel, 1849) or soffia tooth-carp is endemic species to the endorheic Kor River basin, Fars Province, Southwest of Iran. In spite of importance of this species as a biologic control of anopheles larvae, little attention has been paid to its diseases particularly parasitic infections. A total of 24 A. Sophiae (12 males and 12 females) in Safashahr spring, Kor River basin, were collected by using dip net in February 2012. Surface of all fish were gross examined and screened for any swelling and blisters. All of the examined specimens (100 %) were infected with Ichthyophthirius multifiliis. Infected fish typically developed small blister-like raised lesions on the body surface. The current study presents infection of A. sophiae with I. multifiliis for the first time from Iran. Hence, owing to considerable unexplored area of Iran further studies are required to increase our knowledge about parasitic infections of this fish.
This is a preview of subscription content, log in to check access.
Access options
Buy single article
Instant access to the full article PDF.
US$ 39.95
Price includes VAT for USA
Subscribe to journal
Immediate online access to all issues from 2019. Subscription will auto renew annually.
US$ 99
This is the net price. Taxes to be calculated in checkout.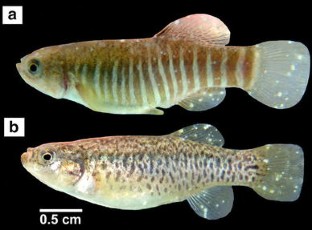 References
Aihua L, Buchmann K (2001) Temperature and salinity dependent development of a Nordic strain of Ichthyophthirius multifiliis from rainbow trout. J App Ichthyol 17:273–276

Buchmann K, Sigh J, Nielsen CV, Dalgaard M (2001) Host responses against the fish parasitizing ciliate Ichthyophthirius multifiliis. Vet Parasitol 100:105–116

Esmaeili HR, Teimori A, Gholami Z, Reichenbacher B (2014) Two new species of the tooth-carps Aphanius (Teleostei: cyprinodontidae) and the evolutionary history of the Iranian inland and inland-related Aphanius species. Zootaxa 37:246–268

Fernando CH, Furtado JI, Gussev AV, Hanek G, Kakong SA (1972) Methods for the study of freshwater fish parasites. 1st Edn. University of Waterloo, Biology Series

Ferrito V, Pappalardo AM, Canapa A, Barucca M, Doadrio I, Olmo E, Tigano C (2013) Mitochondrial phylogeography of the killifish Aphanius fasciatus (Teleostei, Cyprinodontidae) reveals highly divergent mediterranean populations. Mar Biol 160:3193–3208

Garcia F, Fujimoto RY, Martins ML, Mand Moraes FR (2009) Protozoan parasites of Xiphophorus spp. (Poeciliidae) and their relation with water characteristics. Arq Brasil Med Vet Zootec 61:156–162

Gholami Z, Akhlaghi M, Mobedi I, Esmaeili HR (2011) First report of Aphanius sophiae (Heckel, 1849) (Actinoptrygii: cyprinodontidae) with Tetracotyle sp. in Cheshmeh-Ali Damghan, Semnan, Province North of Iran. Vet Res Forum 2:605–608

Gholami Z, Esmaeili HR, Reichenbacher B (2014a) Phylogenetic analysis of Aphanius from the endorheic Kor River Basin in the Zagros mountains, South-western Iran (Teleostei: cyprinodontiformes: Cyprinodontidae). J Zoo Sys EvolRes 52:130–141

Gholami Z, Rahimi MT, Zarei R, Kia EB, Mobedi I, Vatandoost S (2014b) First report of Ichthyophthirius multifiliis (Ciliophora: oligohymenophorea) from Aphanius dispar (Cyprinodontidae) in Iran. J Coastal Life Med 2:490–495

Jalali B, Barzegar M, Nezamabadi H (2008) Parasitic fauna of the spiny eel, Mastacembelus mastacembelus banks et Solander (Teleostei: mastacembelidae) in Iran. Iran J Vet Res 9(2):23–25

Kuperman BI (2002) Matey VE, Warburton ML, Fisher RN. Introduced parasites of freshwater fish in southern California. The tenth international congress of parasitology. Vancouver, Canada, August

Malek M, Mobedi I (2001) Occurrence of clinostomum complanatum (Rudolphi, 1819) (Digenea:clinostomatidae) in capoeta capoeta gracilis (Osteichthys: Cyprinidae) from Shiroud River Iran. Iranian J Publ Health 30:95–98

Masoumian M, Pazooki J, Yahyazadeh M, Teymornezhad A (2005) Protozoan (sic) from fresh water fishes of northwest Iran. Iran J Fish Sci 4:31–42

Nigrelli RF, Pokorny KS, Ruggieri GD (1976) Notes on Ichthyophthirius multifiliis, a ciliate parasitic on freshwater fishes, with some remarks on possible physiological races and species. Trans Am Micro Soc 95:607–613

Raissy M, Fadaeifard F, Ansari M, Tajizadegan H, Hosseini R (2010) Parasites of fish in Sooleghan Lagoon. Vet. J. Islam. Azad Uni. Garmsar Branch 5:143–148

Steven WSR (1913) Report on an investigation in regard to the prevalence of malaria amongst the troops stationed at Karachi. J R Arm Med Corps 24:251–261

Swennes G, Findly R, Dickerson W (2007) Cross-immunity and antibody responses to different immobilization serotypes of Ichthyophthirius multifiliis. Fish Shellfish Immunol 22:589–597

Teimori A, Esmaeili HR, Gholami Z, Zarei N, Reichenbacher B (2012) Aphanius arakensis, a new species of tooth-carp (Actinopterygii, Cyprinodontidae) from the endorheic Namak Lake basin in Iran. Zookeys 215:55–76

Wahli T, Meier W, Schmitt M (1991) Affinity of Ichthyophthirius multifiliis theronts to light and/or fish. J Appl Ichthyol 7:244–248
Acknowledgments
Financial support has been provided by the DAAD (Deutscher Akademischer Austauschdienst) to the first author. We would like to thank Prof. Hamid Reza Esmaeili (Department of Biology, College of Science, Shiraz University, Iran) for his assistance, and also very special thanks to S. Babaei, B. Parsi and M. Tahami (Department of Biology, Shiraz University, Iran) for their kind help in fish collection.
Conflict of interest
We declare that we have no conflict of interest.
About this article
Cite this article
Gholami, Z., Youssefi, M.R., Marhaba, Z. et al. Aphanius sophiae (Actinoptrygii, Cyprinodontidae), a new host for Ichthyophthirius multifiliis (Ciliophora) reported from Iran. J Parasit Dis 40, 1030–1032 (2016). https://doi.org/10.1007/s12639-014-0628-y
Received:

Accepted:

Published:

Issue Date:
Keywords
Fish

Aquatic

Aphanius sophiae
Ichthyophthirius multifiliis

Protozoan parasite

Endemic

Iran