Abstract
Cryptosporidium is a significant cause of diarrhea worldwide especially in children. Infection may end fatally in immunocompromised patients. Multi-attribute analysis was used to determine the lab utility of 4 diagnostics; coproscopy of AF stained fecal smear, fecal immunoassays by ICT and ELISA and copro-nPCR assay targeting Hsp90 gene, for detection of Cryptosporidium in stool of 250 Egyptian children (150 diarrheic and 100 non-diarrhaeic children). Also, to determine Cryptosporidium molecular prevalence. Cryptosporidium was an important enteric pathogen among both diarrheic and non-diarrheic study children with a clearly high prevalence of 16.4 % (n = 41). Conventional methods had perfect specificity (100 %) but couldn`t be used as a consistent single detection method due to their lowered sensitivities. Multi-attribute analysis ranked nPCR the highest test for lab use. Being the test with the best diagnostic yield, nPCR is a reliable diagnostic test and is going to replace conventional methods for reliable detection of Cryptosporidium.
Access options
Buy single article
Instant access to the full article PDF.
US$ 39.95
Tax calculation will be finalised during checkout.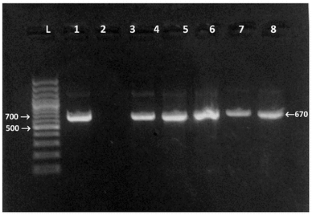 References
Abdel-Baki M, Younis T, Habib K, Ramadan NI, Metwally DM, Ismail KA, Saber MM (2004) Molecular identification of coproantigen of Cryptosporidium parvum compared to conventional staining techniques. J Egypt Soc Parasitol 34:967–978

AL-Hindi AI, EL Manama AA, Elnabris KJ (2007) Cryptosporidiosis among children attending Al-Nasser Pediatric Hospital, Gaza, Palestine. Turk J Med Sci 37:367–372

Caccio SM, Thompson RC, McLauchlin J, Smith HV (2005) Unravelling Cryptosporidium and Giardia epidemiology. Trends Parasitol 21:430–437

Chalmers RM, Robinson G, Elwin K, Hadfield SJ, Xiao L, Ryan U, Modha D, Mallaghan C (2009) Cryptosporidium sp. rabbit genotype, a newly identified human pathogen. Emerg Infect Dis 15:829–830

Chrisp CE, Suckow MA, Fayer R, Arrowood MJ, Healey MC, Sterling CR (1991) Comparison of the host ranges and antigenicity of Cryptosporidium parvum and Cryptosporidium wairi from Guinea pigs. J Protozool 39:406–409

Current WL, Garcia LS (1991) Cryptosporidiosis. Clin Microbiol Rev 4:325–328

Dolan JG (1989) Medical decision making using the analytic hierarchy process: choice of initial antimicrobial therapy for acute pyelonephritis. Med Decis Making 9:51–56

Elgun G, Koltas IS (2011) Cryptosporidium spp. antigen by ELISA method in stool specimens obtained from patients with diarrhea. Parasitol Res 108:395–397

El-Hamshary EM, El-Sayed HF, Hussein EM, Rayan HZ, Rasha H, Soliman RH (2008) Comparison of polymerase chain reaction, immunochromatographic assay and staining techniques in diagnosis of cryptosporidiosis. PUJ 1:77–86

El-Mohamady H, Abdel-Messih I, Youssef F, Said M, Farag H, Shaheen HI, Rockabrand DM, Luby SB, Hajjeh R, Sanders JW, Monteville MR, Klena JD, Frenck RW (2006) Enteric pathogens associated with diarrhea in children in Fayoum, Egypt. Diag Microbiol Infect Dis 56:1–5

El-Settawy MA, Fathy GM (2012) Evaluation and comparison of PCR, coproantigen ELISA and microscopy for diagnosis of Cryptosporidium in human diarrheic specimens. J Am Sci 8:1385

El-Shazly AM, Soltan DM, El-Sheikha HM, Sadek GS, Morsy AT (2007) Correlation of ELISA coproantigen and oocysts count to the severity of cryptosporidiosis parvum in children. J Egypt Soc Parasitol 37:107–120

Feng Y, Dearen T, Cama V,  Xiao L (2009) 90-kilodalton heat shock protein, Hsp90, as a target for genotyping Cryptosporidium spp. known to infect humans. Eukaryot cell 8(4):478–482

Garcia LS (2007) Diagnostic Medical Parasitology, 5th edn. ASM Press, Washington D. C

Garcia LS, Shimizu RY (1997) Evaluation of nine immunoassay kits (enzyme immunoassay and direct fluorescence) for detection of Giardia lamblia and Cryptosporidium parvum in human fecal specimens. J Clin Microbiol 35:1526–1529

Hassan S, Sabry H, Amer N, Shalaby MA, Mohamed NA, Gaballah H (2002) Incidence of cryptosporidiosis in immunodeficient cancer patients in Egypt. J Egypt Soc Parasitol 32:33–46

Jex AR, Smith HV, Monis PT, Campbell BE, Gasser RB (2008) Cryptosporidium - biotechnological advances in the detection, diagnosis and analysis of genetic variation. Biotechnol Adv 26:304–317

Kehl KSC, Cicirello H, Havens PL (1995) Comparison of four different methods for the detection of Cryptosporidium species. J Clin Microbiol 33:416–418

Khurana S, Sharma P, Sharma A, Malla N (2012) Evaluation of Ziehl-Neelsen staining, auramine phenol staining, antigen detection enzyme linked immunosorbent assay and polymerase chain reaction, for the diagnosis of intestinal cryptosporidiosis. Trop Parasitol 2:20–23

Mac Pherson DW, Mc Queen R (1993) Cryptosporidiosis: multi-attribute evaluation of six diagnostic methods. J Clin Microbiol 31:198–202

McDonald V, McCross MV, Petry F (1995) Localisation of parasite antigens in Cryptosporidium parvum infected epithelial cells using monoclonal antibodies. Parasitology 110:259–268

Morgan UM, Pallant L, Dwyer BW, Forbes DA, Rich G, Thompson RCA (1998) Comparison of PCR and microscopy for detection of Cryptosporidium parvum in human fecal specimens: clinical trial. J Clin Microbiol 36:995–998

Nina JMS, McDonald V, Deer RMA, Wright SE, Dyson DA, Chiodini PL, McAdam KPWJ (1992) Comparative study of the antigenic compositin of oocyst isolates of Cryptosporidium parvum from different hosts. Parasite Immunol 14:227–232

Ortega-Mora LM, Tronsco JM, Rojo-Vazquez FA, Gonzalez-Bautista M (1992) Cross reactivity of polyclonal serum antibodies generated against Cryptosporidium parum oocysts. Infect Immun 60:3442–3445

Robert B, Antoine H, Dreze F, Coppe P, Collard A (1994) Characterization of a high molecular weight antigen of Cryptosporidium parvum micronemes possessing epitopes that are cross-reactive with all parasitic life cycle stages. Vet Res 25(4):384–398

Salyer S, Gillespie T, Rwego I, Chaman C, Goldberg T (2012) Epidemiology and molecular relationships of Cryptosporidium spp. in people, primates, and livestock from Western Uganda. PLoS 6:1–6

Smith HV (2008) Diagnostics. In: Fayer R, Xiao L (eds) Cryptosporidiosis of man and animals. CRC Press and IWA Publishing, Boca Raton, pp 173–208

Tahira F, Khan HM, Shukla I, Shujatullah F, Malik MA, Shahid M (2012) Prevalence of Cryptosporidium in children with diarrhoea in north Indian tertiary care hospital. J Community Med Health Edu 2:1–3

Tzipori S, Rand W, Theodos C (1995) Evaluation of a two-phase scid mouse model preconditioned with anti-interferon-g monoclonal antibody for drug testing against Cryptosporidium parvum. J Infect Dis 172:1160–1164

Weitzel T, Dittrich S, Mo¨hl I, Adusu E, Jelinek T (2006) Evaluation of seven commercial antigen detection tests for Giardia and Cryptosporidium in stool samples. Clin Microbiol Infect 12:656–659

Youssef FG, Adib I, Riddle MS, Schlett CDA (2008) Review of cryptosporidiosis in Egypt. J Egypt Soc Parasitol 38:9–28
Conflict of interest
The authors declare that they have no Conflict of interests.
About this article
Cite this article
Ghallab, M.M.I., Aziz, I.Z.A., Shoeib, E.Y. et al. Laboratory utility of coproscopy, copro immunoassays and copro nPCR assay targeting Hsp90 gene for detection of Cryptosporidium in children, Cairo, Egypt. J Parasit Dis 40, 901–905 (2016). https://doi.org/10.1007/s12639-014-0601-9
Received:

Accepted:

Published:

Issue Date:
Keywords
Cryptosporidium

Hsp90

Copro-DNA

Nested PCR

Multi-attribute

Fecal immunoassay

ELISA

ICT

AF stain