Abstract
Intestinal parasites are important enteric pathogens. Poverty, low quality of food and water supply and poor sanitation systems are the important factors associated with intestinal parasitic infections. These kinds of infections can be a good index for hygienic and sanitation status of the society. This study aimed to determine the prevalence of intestinal parasitic infections among humans referred to Dr. Sharifi Clinical Laboratory, Isfahan, Iran, 2014. In this cross sectional study, 652 fecal samples (286 males and 366 females) from humans who had stool examination test from January to August 2014 were chosen. Microscopic examination for parasitic infections has been carried out using wet mount method. Indistinguishable samples underwent trichrome staining method for accurate identification of protozoa. Intestinal parasitic infections were observed in 68 (10.42 %) out of 652 studied humans. Forty eight Blastocystis hominis (7.36 %), thirteen Endolimax nana (1.99 %), nine Giardia lamblia (1.38 %), five Entamoeba coli (0.76 %), four Chilomastix mesnili (0.61 %) and two Iodamoeba butschlii (0.15 %) were the observed protozoa in the studied population. B. hominis, E. nana and C. mesnili were found to be significantly more prevalent in people with loose stool specimen. Considering the helminthic infections, only one case (0.15 %) that was excreted Taenia saginata proglottids has been documented among 652 studied humans. Based on the findings of the present study intestinal parasitic infections in Isfahan city has been dramatically decreased over the past years and shows a good hygienic and sanitation status of the city.
Access options
Buy single article
Instant access to the full article PDF.
USD 39.95
Price includes VAT (USA)
Tax calculation will be finalised during checkout.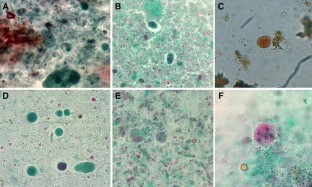 References
Arfaa F, Ghadirian E (1977) Epidemiology and mass-treatment of ascariasis in six rural communities in central Iran. Am J Trop Med Hyg 26:866–871

Fallah M, Mirarab A, Jamalian F, Ghaderi A (2002) Evaluation of two years of mass chemotherapy against ascariasis in Hamadan, Islamic Republic of Iran. Bull World Health Organ 80:399–402

Goncalves ML, Araujo A, Ferreira LF (2003) Human intestinal parasites in the past: new findings and a review. Mem Inst Oswaldo Cruz 98(Suppl 1):103–118

Haque R (2007) Human intestinal parasites. J Health Popul Nutr 25:387–391

Jafari R, Fallah M, Yousofi Darani H, Yousefi HA, Mohaghegh MA, Latifi M et al (2014) Prevalence of intestinal parasitic infections among rural inhabitants of Hamadan City, Iran, 2012. Avicenna J Clin Microb Infec 1:e21445

Maizels RM, McSorley HJ, Smyth DJ (2014) Helminths in the hygiene hypothesis: sooner or later? Clin Exp Immunol 177:38–46. doi:10.1111/cei.12353

Mehraj V, Hatcher J, Akhtar S, Rafique G, Beg MA (2008) Prevalence and factors associated with intestinal parasitic infection among children in an urban slum of Karachi. PloS One 3:e3680. doi:10.1371/journal.pone.0003680

Montresor A, Crompton D, Hall A, Bundy D, Savioli L (1998) Guidelines for the evaluation of soil-transmitted helminthiasis and schistosomiasis at community level. World Health Organization, Geneva

Nadim A, Faghih M (1968) The epidemiology of cutaneous leishmaniasis in the Isfahan province of Iran. I. The reservoir. II. The human disease. Trans R Soc Trop Med Hyg 62:534–542

Nezamabadi M, Aali A, Stöllner T, Mashkour M, Le Bailly M (2013) Paleoparasitological analysis of samples from the Chehrabad salt mine (Northwestern Iran). Int J Paleopathol 3:229–233. doi:10.1016/j.ijpp.2013.03.003

Norhayati M, Fatmah MS, Yusof S, Edariah AB (2003) Intestinal parasitic infections in man: a review. Med J Malays 58:296–305; quiz 306

Roberts T, Stark D, Harkness J, Ellis J (2014) Update on the pathogenic potential and treatment options for Blastocystis sp. Gut Pathog 6:17. doi:10.1186/1757-4749-6-17

Sayyari A, Imanzadeh F, Bagheri Yazdi S, Karami H, Yaghoobi M (2005) Prevalence of intestinal parasitic infections in the Islamic Republic of Iran. East Mediterr Health J 11:377–383

Yazdanbakhsh M, Kremsner PG, van Ree R (2002) Allergy, parasites, and the hygiene hypothesis. Science 296:490–494. doi:10.1126/science.296.5567.490
Acknowledgments
The authors would like to acknowledge the personnel of Dr. Sharifi Clinical Laboratory for their contribution.
Conflict of interest
The authors have no conflict of interest.
Funding
There was no financial support for this study.
About this article
Cite this article
Jafari, R., Sharifi, F., Bagherpour, B. et al. Prevalence of intestinal parasites in Isfahan city, central Iran, 2014. J Parasit Dis 40, 679–682 (2016). https://doi.org/10.1007/s12639-014-0557-9
Received:

Accepted:

Published:

Issue Date:
Keywords
Parasitic infections

Protozoa

Helminthes

Iran