Abstract
The efficacy of eprinomectin and ivermectin pour-on was evaluated against Sarcoptes scabiei in naturally infested buffaloes. Eighteen animals were allocated into three groups (A, B and C) of six animals each. Animals in group A were treated with eprinomectin (pour-on) @ 0.5 mg/kg; group B with ivermectin (pour-on) @ 0.2 mg/kg while group C served as untreated controls. Skin scrapings were examined on days 0, 7, 14, 21, 28 and 42 post-treatment (PT). Skin scrapings were found free for mites on day 21 PT, with marked clinical improvement in the lesions after day 28 of treatment. Untreated control group continued to show severe progressive lesions throughout the study period. No clinical side-effects of the tested drugs were observed after treatment. This preliminary report on the efficacy of eprinomectin (pour-on) against S. scabiei in buffaloes is encouraging and results could be of considerable importance.
Access options
Buy single article
Instant access to the full article PDF.
USD 39.95
Price excludes VAT (USA)
Tax calculation will be finalised during checkout.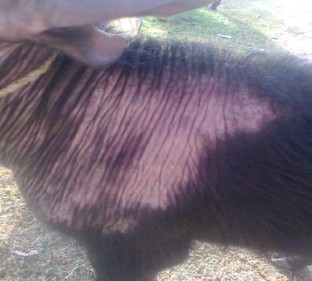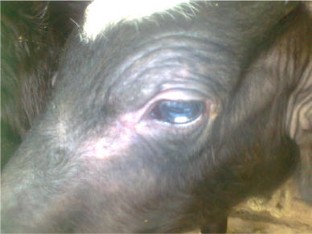 References
Aguirre DH, Gaido AB, Cafrune MM, Castelli ME, Mangold AJ, Guglielmone AA (2005) Eprinomectin pour-on for control of Boophilus microplus (Canestrini) ticks (Acari: Ixodidae) on cattle. Vet Parasitol 127:157–163

Alvinerie M, Sutra JF, Galtier P, Mage C (1999) Pharmacokinetics of eprinomectin in plasma and milk following topical administration to lactating dairy cattle. Res Vet Sci 67:229–232

Barth D, Hair JA, Kunkle BN, Langholff WK, Lowenstein M, Rehbein S, Smith LL, Eagleson JS, Kutzer E (1997) Efficacy of eprinomectin against mange-mites in cattle. Am J Vet Res 58:1257–1259

Chhabra MB, Pathak KLM (2011) Sarcoptic mange in domestic animals and human scabies in India. J Vet Parasitol 25:1–10

Eagleson JS, Holste JE, Pollmeier M (1997) Efficacy of topically applied eprinomectin against the biting louse Damalinia (Bovicola) bovis. In: Proceedings of the 16th international conference of the world association for the advancement of veterinary parasitology, Aug, pp 10–15

Gill BS, Singh J, Gill BS, Singh A, Khehra SS, Rai A, Hussain O (1989) Efficacy of ivermectin against mange and gastrointestinal nematodes of buffalo (Bubalus bubalis). Vet Parasitol 31:141–147

Gogolewski RP, Allerton GR, Pitt SR (1997a) Effect of simulated rain, coat length and exposure to natural climatic conditions on the efficacy of a topical formulation of eprinomectin against endoparasites of cattle. Vet Parasitol 69:95

Gogolewski RP, Slacek B, Familton AS (1997b) Efficacy of a topical formulation of eprinomectin against endoparasites of cattle in New Zealand. N Z Vet J 45:1

Naresh R, Swaroop D, Sharma MC, Ranjan R (2005) Clinical management of sarcoptic mange in Indian buffalo calves with the botanical ointment. Vet Rec 156:684–685

Nazir T (2011) Epidemiological and chemotherapeutic studies of parasites of buffaloes. M.V.Sc thesis, (submitted) Sher-e-Kashmir University of Agricultural Sciences and Technology, Jammu, India, pp 1–94

Nazir T, Katoch R, Godara R, Yadav A, Borkataki S (2013a) Therapeutic efficacy of pour-on preparations of eprinomectin and ivermectin against strongylosis in buffaloes. Indian Vet J 90(1):112–113

Nazir T, Katoch R, Godara R, Yadav A (2013b) Comparative efficacy of pour-on preparations of eprinomectin and ivermectin against ascarids in buffalo calves. Indian Vet J 90(6):79–80

Nazir T, Katoch R, Godara R, Yadav A (2013c) Efficacy of eprinomectin pour-on against Rhipicephalus (Boophilus) microplus on buffaloes. J Parasit Dis 37:166–167

Patel JS, Patel PR, Panchasara HH (2002) Economic losses due to sarcoptic mange in buffalo calves. Vet Pract 3:186–189

Snedecor GW, Cochran WG (1967) Statistical methods, 6th edn. Oxford and IBH Publishing Com, New Delhi

Soulsby EJL (1982) Helminths, arthropods and protozoa of domesticated animals, 7th edn. ELBS and Bailliere Tindall, London, UK

Tikaram SM, Ruprah NS (1986) Incidence of sarcoptic mange in buffaloes in India. Trop Anim Health Prod 18:86–90

Wapennar W, Barkema HW, Fysker M, O'Handley RM (2007) An outbreak of dictyocaulosis in lactating cows on a dairy farm. J Am Vet Med Assoc 231:1715–1718
Acknowledgments
The authors are thankful to Indian Immunologicals for supplying eprinomectin pour-on for clinical trial.
About this article
Cite this article
Nazir, T., Katoch, R., Yadav, A. et al. Comparative efficacy of pour-on eprinomectin and ivermectin against Sarcoptes scabiei in buffaloes. J Parasit Dis 40, 359–361 (2016). https://doi.org/10.1007/s12639-014-0507-6
Received:

Accepted:

Published:

Issue Date:

DOI: https://doi.org/10.1007/s12639-014-0507-6
Keywords