Abstract
The genus Hyalomma comprises the most ixodid tick species that parasitize camels in Egypt. Although the immature stages of tick species play an important role in distribution of ticks and tick-borne diseases, the identification depends mainly on the adult stage. Therefore, this study tries to identify the specific characteristics of both nymph and larva of Hyalomma rufipes Koch, 1844 using scanning electron microscopy and morphometric analysis in order to differentiate them easily from those of other Hyalomma spp. described before in Egypt. Results showed that the nymph and larva of H. rufipes can be easily identified from those of H. excavatum Koch, 1844, H. dromedarii Koch, 1844 and H. impressum Koch, 1844 but they are strongly close to H. marginatum Koch, 1844. The nymph of H. rufipes can be distinguished from H. marginatum by the number and distribution of dorsal and ventral idiosomal setae and the distribution of sternal setae. All morphological characteristics of H. rufipes larva resemble those of H. marginatum larva. The measurements of nymph and larva structures of H. rufipes are significantly lower than those of H. marginatum.
Access options
Buy single article
Instant access to the full article PDF.
US$ 39.95
Tax calculation will be finalised during checkout.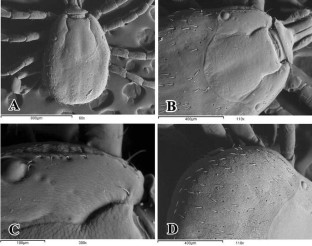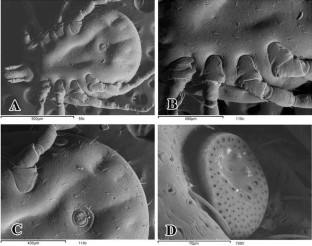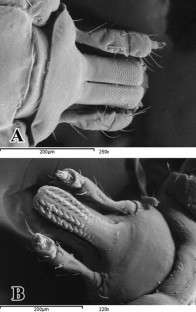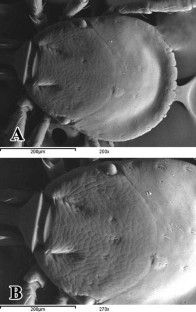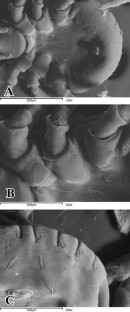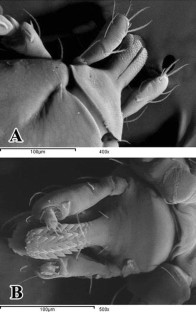 References
Abdel-Shafy S (2008a) Scanning electron microscopy and comparative morphology of Hyalomma anatolicum excavatum, H. dromedarii and H. marginatum marginatum (Acari: Ixodidae) based on nymphs. Acarologia 48(1–2):3–18

Abdel-Shafy S (2008b) Scanning electron microscopy and comparative morphology of Hyalomma anatolicum excavatum, H. dromedarii and H. marginatum marginatum (Acari: Ixodidae) based on larvae. Acarologia 48(1–2):19–31

Abdel-Shafy S, El Namaky AH, Khalil FHM (2011) Scanning electron microscopy and morphometrics of nymph and larva of the tick Hyalomma impressum (Acari: Ixodidae). Parasitol Res 109(6):1509–1518

Adham FK, Abd-El-Samie EM, Gabre RM, Hussein HE (2009) Detection of tick blood parasites in Egypt using PCR assay I-Babesia bovis and Babesia bigemina. Parasitol Res 105(3):721–730

Aktas M, Altay K, Dumanli N, Kalkan A (2009) Molecular detection and identification of Ehrlichia and Anaplasma species in ixodid ticks. Parasitol Res 104(5):1243–1248

Apanaskevich DA, Horak IG (2008) The genus Hyalomma koch, 1844: V. re-evaluation of the taxonomic rank of taxa comprising the H. (Euhyalomma) marginatum koch complex of species (Acari: Ixodidae) with redescription of all parasitic stages and notes on biology. Int J Acarol 34(1):13–42

Arthur DR (1975a) The nymphs of some ixodid ticks (Acarina) from the eastern cape province of South Africa. Bull Entomol Res 65:423–431

Arthur DR (1975b) The larvae of some ixodid ticks (Acarina) from the eastern cape province of South Africa. Bull Entomol Res 65:405–421

Brody AR, Wharton GW, Brody AR, Wharton GW (1971) The use of glycerol-kcl in scanning electron microscopy of Acari. Ann Entomol Soc Am 64:528–530

Diab FM, El-Kady GA, Shoukry A (2001) Bionomics of ticks collected from Sinai Peninsula: 2-abundance, attachment sites, and density estimators of ticks infesting Arabian camels. J Egypt Soc Parasitol 31(2):479–489

El Kammah KM, Oyoun LM, El Kady GA, Abdel-Shafy S (2001) Investigation of blood parasites in livestock infested with argasid and ixodid ticks in Egypt. J Egypt Soc Parasitol 31(2):365–371

Estrada-Peña A, Bouattour A, Camicas JL, Walker AR (2004) Ticks of domestic animals in the Mediterranean region. A guide to identification of species, 1st edn. Bioscience Reports, Edinburgh, p 131

Famadas KM, Serra-Freire NM, Landfredi RM (1997) Redescription of the larvae of Amblyomma cajennense (Fabricius) (Acari: Ixodidae) using optical and scanning electron microscopy. Acarologia 38:100–109

Ghosh S, Bansal GC, Gupta SC, Ray D, Khan MQ, Irshad H, Shahiduzzaman M, Seitzer U, Ahmed JS (2007) Status of tick distribution in Bangladesh, India and Pakistan. Parasitol Res 101(suppl 2):S207–S216

Hartelt K, Pluta S, Oehme R, Kimmig P (2008) Spread of ticks and tick-borne diseases in Germany due to global warming. Parasitol Res 103(suppl 1):S109–S116

Homsher PJ, Sonenshine DE (1975) Scanning electron microscopy of ticks for systemic studies: fine structure of Haller's organ in ten species of Ixodes. Trans Am Microsc Soc 94(3):368–374

Homsher PJ, Sonenshine DE (1977) Scanning electron microscopy of ticks for systematic studies. 2. Structure of Haller's organ in Ixodes brunneus and Ixodes frontalis. J Med Entomol 14(1):93–97

Hoogstraal H (1956) African Ixodoidea, ticks of the Sudan. NAMRU-3, Cairo, p 1, 1101

Hubalek Z, Halouzka J (1998) Prevalence rates of Borrelia burgdorferi sensu into in host-seeking Ixodes ricinus ticks in Europe. Parasitol Res 84(3):167–172

Ica A, Inci A, Vatansever Z, Karaer Z (2007) Status of tick infestation of cattle in the Kayseri region of Turkey. Parasitol Res 101(suppl 2):S167–S169

Keirans JE, Clifford CM, Corwin D (1976) Ixodes sigelos, n. sp. (Acarina: Ixodidae), parasite of rodents in Chile, with a method for preparing ticks for examination by scanning electron microscopy. Acarologia 18(2):217–225

Kiffner C, Vor T, Hagedorn P, Niedrig M, Rühe F (2011) Factors affecting patterns of tick parasitism on forest rodents in tickborne encephalitis risk areas, Germany. Parasitol Res 108(2):323–335

Literak I, Kocianova E, Dusbabek F, Martinu J, Podzemny P, Sychra O (2007) Winter infestation of wild birds by ticks and chiggers (Acari: Ixodidae, Trombiculidae) in the Czech Republic. Parasitol Res 101(6):1709–1711

Murrell A, Dobson SJ, Yang X, Lacey E, Barker SC (2003) A survey of bacterial diversity in ticks, lice and fleas from Australia. Parasitol Res 89(4):326–334

Ogrzewalska M, Uezu A, Labruna MB (2010) Ticks (Acari: Ixodidae) infesting wild birds in the Atlantic Forest in northeastern Brazil, with notes on rickettsial infection in ticks. Parasitol Res 106(4):809–816

Rahbari S, Nabian S, Shayan P (2007) Primary report on distribution of tick fauna in Iran. Parasitol Res 101(suppl 2):S175–S177

Ramos R, Ramos C, Araújo F, Oliveira R, Souza I, Pimentel D, Galindo M, Santana M, Rosas E, Faustino M, Alves L (2010) Molecular survey and genetic characterization of tick-borne pathogens in dogs in metropolitan Recife (north-eastern Brazil). Parasitol Res 107(5):1115–1120
About this article
Cite this article
Abdel-Shafy, S., El Namaky, A.H., Allam, N.A.T. et al. Scanning electron microscopy and morphometrics of nymph and larva of the tick Hyalomma rufipes Koch, 1844 (Acari: Ixodidae). J Parasit Dis 40, 1–10 (2016). https://doi.org/10.1007/s12639-014-0450-6
Received:

Accepted:

Published:

Issue Date:
Keywords
Morphology

Systematic

Hyalomma excavatum
Hyalomma dromedarii
Hyalomma marginatum
Hyalomma impressum
Hyalomma rufipes