Abstract
Incidence of Buxtonella sulcata was recorded as 20.9 % in bovines (n = 374) of R.S. Pura, Jammu with cattle showing higher infection rate (23.6 %) than the buffaloes (18.5 %). The infection was significantly (p < 0.0001) higher in young animals (33.1 %) than the adults (13.9 %). Animals with diarrhoeic faeces had a significantly higher (p < 0.0001) infection rate (38.5 %) than the animals with normal faeces (9.9 %), suggesting the influence of protozoan on the incidence of diarrhoeal symptoms in bovines.
Access options
Buy single article
Instant access to the full article PDF.
USD 39.95
Price excludes VAT (USA)
Tax calculation will be finalised during checkout.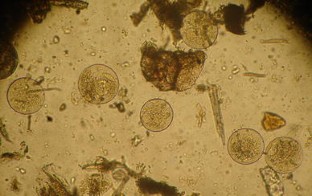 References
Al-Saffar TM, Suliman EG, Al-Bakri HS (2010) Prevalence of intestinal ciliates Buxtonella sulcata in cattle in Mosul. Iraqi J Vet Sci 24:27–30

Al-Zubaidi MT, Al-Mayah KS (2011) Prevalence of Buxtonella sulcata in neonatal and young calves in Al-Nasir station and some regions in Baghdad (Al-Shuala and Gazaliya). Iraqi J Sci 52(4):420–424

Al-Zubaidi MT, Al-Zubaidi KS (2011) Prevalence of Buxtonella sulcata in neonatal and young calves in Al-Nasir station and some regions in Baghdad (Al-Shuala and Gazaliya). Iraqi J Sci 52:420–424

Bhatia BB (2000) Textbook of veterinary protozoology, 1st edn. Indian Council of Agricultural Research, Pusa, pp 336–337

Fox MT, Jacops DE (1984) Patterns of infection with Buxtonella sulcata in British cattle. Res Vet Sci 41:135–138

Goz Y, Altug N, Yuksek N, Ozkan C (2006) Parasite detected in neonatal and young calves with diarrhea. Bull Vet Inst Pulawy 5:345–348

Hong KO, Youn HJ (1995) Incidence of Buxtonella sulcata from cattle in Kyonggi-do. Korean J Parasitol 33:135–138

Levine ND (1985) Veterinary Protozoology. Lowa State University, Ames, IA, p 414

Mamatha GS, Placid EDS (2006) Gastrointestinal parasitism of cattle and buffaloes in and around Bangalore. J Vet Parasitol 20:846–874

Soulsby EJL (1982) Helminths, arthropods and protozoa of domesticated animals, 7th edn. ELBS and Bailliere Tindal, London

Tomczuk K, Kurek L, Stec A, Studzinska M, Mochal J (2005) Incidence and clinical aspects of colon ciliate Buxtonella sulcata infection in cattle. Bull Vet Inst Pulawy 49:29–33

Urquhart GM, Armour J, Duncan JL, Dunn AM, Jennings FW (2003) Veterinary Parasitology, 2nd edn. Blackwell Science LTD, Osney Mead 276
About this article
Cite this article
Ganai, A., Parveen, S., Kaur, D. et al. Incidence of Buxtonella sulcata in bovines in R.S. Pura, Jammu. J Parasit Dis 39, 446–447 (2015). https://doi.org/10.1007/s12639-013-0363-9
Received:

Accepted:

Published:

Issue Date:

DOI: https://doi.org/10.1007/s12639-013-0363-9
Keywords