Abstract
Haemoproteus columbae is the major protozoan infection reported in pigeon and appeared in the erythrocyte of the peripheral circulation. Incidence and parasitaemia of H. columbae in pigeon was studied in different localities of Jammu, India for a period from April to September 2010 using thin blood smear examination. Of the 150 pigeons (wild: 70, domestic: 80), 92 (61.33 %) were found to be infected with H. columbae. Domestic pigeon showed higher incidence rate (74.28 %) than the wild (50 %). Mature and immature gametocyte encircled the erythrocyte nucleus to form a halter shaped appearance were characteristic feature of the parasite. Pseudolynchia canariensis, the vector for H. columbae was also recovered from beneath the feathers of pigeons. No other haemoprotozoan parasite was observed in the blood smear of examined pigeon. Counting of infected erythrocyte revealed higher affection of 1–2 erythrocytes indicative of milder infection in the birds. A long term study within bird population is essential in order to disclose seasonal variation in parasite, vector density and age of infection such as nesting area.
This is a preview of subscription content,
to check access.
Access this article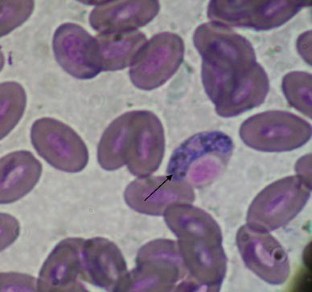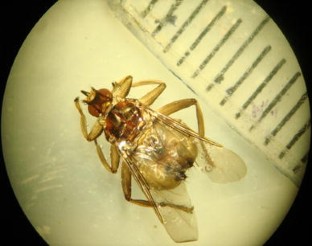 Similar content being viewed by others
References
Allander K (1997) Reproductive investment and parasite susceptibility in the great fit. Funct Ecol 11:348–364

Ashford RW (1971) Blood parasites and migratory fat at Lake Chand. Ibis 113:100–101

Benett GF, Caines JR, Bishop MA (1988) The influenza of blood parasites on the body mass of passeriform birds. J Wildlife Dis 24:339–343

Dranzoa C, Ocaido M, Katete P (1999) The ecto-, gastro-intestinal and haemo-parasites of live pigeons (Columbia) in Kampala. Uganda Avian Pathol 28(2):119–124

Gicik Y, Arslan M (2001) Blood parasites of wild pigeons in Ankara District. Turk J Vet Anim Sci 25:169–172

Mandal PI (2002) Haemoproteus columbae infection of feral pigeons in Singapore and Israel. Raf Bull Zool 50:281–286

Mclaughlin ET (1968) Pigeon malaria in San Juan, Puerto Rico. Cari J Sci 8:101–102

Merino SJ, Moreno J, Sanz J, Arriero E (2000) Are avian blood parasites pathogenic in the wild? A medication experiment in blue tits. Proc Roy Soc London 267:2507–2510

Moller AP (1998) Evidence of larger impact of parasites on hosts in tropics: investment in immune function within and outside tropics. Oikos 82:265–270

Msoffe PLM, Muhairwa AP, Chiwanga GH (2010) A study of ecto- and endoparasites of domestic pigeon in Morogoro Municipality. Tanz Afr J Agri Res 5:264–267

Mushi EZ, Binta MG, Chaba Ndebele RG, Panzirah RR (2000) Parasites of domestic pigeon (Columbia livia domestica) in Sebele, Gaborone, Botswana. J South Afr Vet Assoc 7:249–250

Shinde GN, Gantne ML, Singh A (2008) Prevalence of parasites in pigeons (Columbia livia domestica) of Mumbai. J Vet Parasitol 22:65–66

Soulsby EJL (1982) Helminths, arthropods and protozoa of domesticated animals, 7th edn. ELBS and Bellaire Tindall and Casael Ltd., London, pp 256–259

Tolgay NK, Cesitli (1972) Plasmodium, Haemoproteus ve Leucocytozoon enfeksiyonlari uzerinde arastirmalar. Ank Uni Vet Fak Derg 19:271–286

Youssefi RM, Sadeghian AG, Esfandiari B (2010) Prevalence of H. columbae infection in Columbia livia in North of Iran. World J Zoo 5:275–277
Acknowledgments
The authors are highly thankful to Dean, Faculty of Veterinary Sciences and Animal Husbandry, SKUAST-Jammu for providing necessary facilities for carrying out the study.
About this article
Cite this article
Borkataki, S., Katoch, R., Goswami, P. et al. Incidence of Haemoproteus columbae in pigeons of Jammu district. J Parasit Dis 39, 426–428 (2015). https://doi.org/10.1007/s12639-013-0356-8
Received:

Accepted:

Published:

Issue Date:

DOI: https://doi.org/10.1007/s12639-013-0356-8
Keywords