Abstract
To determine the prevalence of ticks, 960 bovines (cattle 480, buffaloes 480) were examined from organised and unorganised dairy units of Jammu district during March 2012 to February 2013. The overall infestation rate was found to be 42.18 %. The infestation rate in cattle was found to be 47.08 % while 37.29 % of examined buffaloes were infested with ixodid ticks. Among the ixodid ticks, only one species i.e. Rhipicephalus (Boophilus) microplus was recorded. A significantly (p < 0.05) higher prevalence was recorded in monsoon season as compared to other seasons. Agewise, the animals aged <6 months showed the highest prevalence and the lowest was found in animals >1 year of age. Sexwise, the males had higher infestation rate than the females.
Access options
Buy single article
Instant access to the full article PDF.
USD 39.95
Price excludes VAT (USA)
Tax calculation will be finalised during checkout.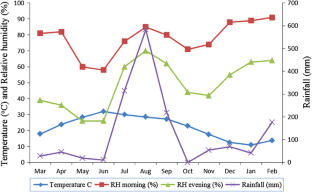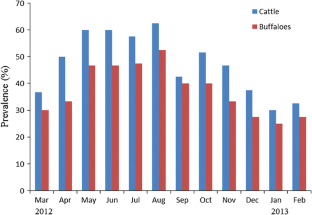 References
Das SS (1994) Prevalence of ixodid tick infestation on farm animals in Pantnagar tarai of Uttar Pradesh. J Parasit Appl Anim Biol 3:71–73

Davey RB (1988) Effect of temperature on the ovipositional biology and egg viability of the cattle tick Boophilus annulatus (Acari: Ixodidae). Exp Appl Acarol 5:1–14

Ghai JK, Singh M, Singh A (2008) Population dynamics of ixodid ticks infesting cattle in Bathinda and Hoshiarpur districts in the Punjab state. Ann Biol 24:95–100

Ghosh S, Azahaianambi P, Yadav MP (2007) Upcoming and Future strategies for tick control: a review. J Vector Borne Dis 6:305–314

Gray JS (1991) The development and seasonal activity of the tick Ixodes ricinus: a vector of Lyme borreliosis. Med Vet Entomol 79:323–333

Haque M, Jyoti SinghNK, Rath SS (2011a) Population dynamics of ticks infesting dairy animals. Indian Vet J 88(10):130–131

Haque M, Jyoti SinghNK, Rath SS, Ghosh S (2011b) Epidemiology and seasonal dynamics of ixodid ticks of dairy animals of Punjab state. Indian J Anim Sci 81(7):661–664

Khan MH (1986) Biology of Boophilus microplus (Can.) in Andamans. Indian J Anim Health 25:7–10

Khan MH (1994) Effect of abiotic factors on the cattle tick Boophilus microplus. Paper presented at 6th national congress of veterinary parasitology, Jabalpur, abstract no. 2

Latha BR, Aiyasami AA, Pattabiraman G, Sivaraman T, Rajavelu G (2004) Seasonal activity of ticks on small ruminants in Tamil Nadu State, India. Trop Anim Health Prod 36:121–133

Manan A, Khan Z, Ahmed B, Abdullah (2007) Prevalence and identification of ixodid tick genera in frontier region, Peshawar. J Agric Biol Sci 2:21–25

Minjauw B, McLeod A (2003) Tick-borne diseases and poverty. The impact of ticks and tick-borne diseases on the livelihood of small scale and marginal livestock owners in India and eastern and southern Africa. Research report, DFID Animal Health Programme, Centre for Tropical Veterinary Medicine, University of Edinburgh, UK, pp 59–60

Miranpuri GS (1988) Ticks parasitising the Indian buffalo (Bubalus bubalis) and their possible role in disease transmission. Vet Parasitol 27:57–62

Mishra SC (1984) A note on the incidence and control of ixodid ticks at Bhuvaneshwar. Cheiron 13:5–8

Ouhelli H, Pandey VS, Choukri M (1982) The effects of temperature, humidity, photoperiod and weight of the engorged female on oviposition of Boophilus annulatus (Say 1821). Vet Parasitol 11:231–239

Ram H, Yadav CL, Banerjee PS, Kumar V (2004) Tick associated mortality in crossbred cattle calves. Indian Vet J 81:1203–1205

Sangwan AK, Sangwan N, Goel MC (2000) Progressive displacement of Hyalomma ticks by Boophilus microplus in Haryana. J Parasit Dis 24:95–96

Singh NK (2012) Epidemiology of ixodid ticks in dairy animals and detection of resistance against synthetic pyrethroids in Rhipicephalus microplus in Punjab. Ph.D thesis submitted to Guru Angad Dev Veterinary and Animal Science University, Ludhiana

Snedecor GW, Cochran WG (1967) Statistical methods, 6th edn. Oxford and IBH Publishing Co, New Delhi

Solis SS (1991) Boophilus ticks ecology: perspectives of a panorama. Proceedings of II international seminar on animal parasitology and tick-borne diseases, Morelos, Mexico, pp 19–30

Soulsby EJL (1982) Helminths, Arthropods and Protozoa of Domesticated Animals, 7th edn. Bailliere Tindall, London, pp 461–462

Sutherst RW, Kerr JD, Maywald GF (1983) Effect of season and nutrition on the resistance of cattle to the tick Boophilus microplus. Aust J Agric Res 34:329–339

Urquhart GM, Armour J, Duncan JL, Dunn AM, Jennings FW (2003) Veterinary parasitology. Blackwell Science LTD, Oxford 186

Vatsya S, Yadav CL, Kumar RR, Garg R (2007) Seasonal activity of Boophilus microplus on large ruminants at an organised livestock farm. J Vet Parasitol 21:125–128

Vatsya S, Yadav CL, Kumar RR, Garg R (2008) Prevalence of ixodid ticks on bovines in foothills of Uttarakhand state: a preliminary report. Indian J Anim Sci 78:40–42

Walker A (1994) The arthropods of humans and domestic animals, 1st edn. Chapman and Hall, London, pp 34–36
About this article
Cite this article
Khajuria, V., Godara, R., Yadav, A. et al. Prevalence of ixodid ticks in dairy animals of Jammu region. J Parasit Dis 39, 418–421 (2015). https://doi.org/10.1007/s12639-013-0354-x
Received:

Accepted:

Published:

Issue Date:

DOI: https://doi.org/10.1007/s12639-013-0354-x
Keywords