Abstract
Epidemiology of paramphistomosis in sheep and goats was studied using field and abattoir samples at Jammu, India. Abattoir examination revealed that 36.2 % of sheep and 30.9 % of goats were positive for paramphistomosis. The mean worm counts (±SEM) were 23.5 ± 5.7 in sheep and 19.9 ± 3.5 in goats. On coprological examination, 16.3 % of sheep and 13.6 % of goats were found positive for paramphistomosis. The mean egg counts (±SEM) were 4.4 ± 2.6 in sheep and 3.6 ± 2.1 in goats. Season was found to have a significant (p < 0.05) influence on the prevalence of paramphistomosis. A higher percentage of animals were found positive in rainy and post-rainy seasons as compared with summer and winter seasons. The distributions of eggs and adult flukes were significantly (p < 0.01) different among seasons. The prevalences observed according to age and sex of sheep and goats were not significant. The study conclude that the late summer months are major risk period for paramphistomosis in the pasture grazing sheep and goats and the administration of an efficient anthelmintic in May–June and September–October should be strongly recommended to reduce the infection and minimise the perpetuating financial losses to animal owners in the region.
Access options
Buy single article
Instant access to the full article PDF.
USD 39.95
Price includes VAT (USA)
Tax calculation will be finalised during checkout.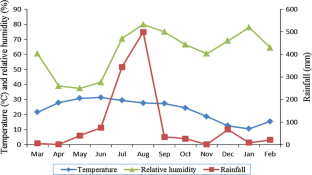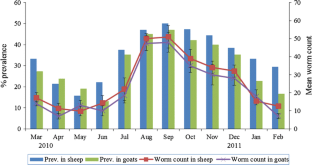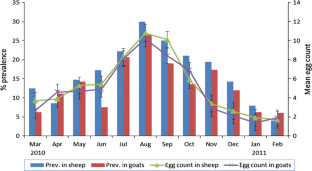 References
Agrawal MC (2003) Epidemiology of fluke infections. In: Sood ML (ed) Helminthology in India, 1st edn. International Book Distributors, Dehradun, pp 511–542

Anish Yadav, Khajuria JK, Raina AK (2006) Seasonal prevalence of gastrointestinal parasites in sheep and goats of Jammu. J Vet Parasitol 20:65–68

Arambulo PV, Moran M (1981) The tropics and parasitic diseases of animals-their impact on animal and human health. Int J Zoonoses 8:5–19

Choudhury N (1994) Helminths of domesticated animals in Indian subcontinent. In: Chowdhury N, Tada I (eds) Helminthology, 1st edn. Narosa, New Delhi, pp 73–120

Coyle TJ (1958) Experiments in the diagnosis and treatment of fascioliasis in Uganda cattle. Bull of Epizoot Dis Afr 6:255–272

Dutt SC (1980) Paramphistomes and paramphistomiasis of domestic ruminants in India. Monograph, Punjab Agricultural University, Ludhiana, pp 1–162

Duwell W, Reisenleiter R (1984) Fasciola hepatica: coproscopic diagnosis compared with the worm burden in the sheep. Helminthologia 21:151–159

Fegbemi BO (1984) The effect of environmental factors on the development, behaviour and survival of Paramphistomum microbothrium miracidia. Vet Parasitol 16:71–81

Hanna REB, Williamson DS, Mattison RG, Nizami WA (1988) Seasonal reproduction in Paramphistomum epiclitum and Gastrothylax crumenifer, rumen paramphistomes of Indian water buffalo and comparison with biliary paramphistome Gigantocotyle explanatum. Int J Parasitol 18:513–521

Hassan SS, Kaur K, Joshi K, Juyal PD (2005) Epidemiology of paramphistomosis in domestic ruminants in different districts of Punjab and other adjoining areas. J Vet Parasitol 19:43–46

Horak IC (1971) Paramphistomiasis of domestic ruminants. Adv Parasitol 9:3–72

Lima WS, Coelho LH, Nunes RF, Guimaraes MP (2001) The epidemiology of fasciolosis in Minas Gerais State, south-east of Brazil. In: proceedings of the 18th international conference of the World association for the advancement of veterinary parasitology, Stressa, p 58

Patel MD, Nauriyal DS, Hasnani JJ, Gupta RS (2001) Prevalence of gastrointestinal parasitism in goats maintained under semi-intensive and field management systems. Indian J Vet Med 21:99–101

Phiri AM, Phiri IK, Monrad J (2006) Prevalence of amphistomiasis and its association with Fasciola gigantica infections in Zambian cattle from communal grazing areas. J Helminthol 80:65–68

Phiri AM, Chota A, Phiri IK (2007) Seasonal pattern of bovine amphistomosis in traditionally reared cattle in the Kafue and Zambezi catchment areas of Zambia. Trop Anim Health Prod 39:97–102

Prasad A, Varma TK (1999) On the prevalence and community dominance among paramphistomes infecting domestic ruminants. J Vet Parasitol 13:129–133

Rangel-Ruiz LJ, Albores-Brahms ST, Gamboa-Aguilar J (2003) Seasonal trends of Paramphistomum cervi in Tabasco, Mexico. Vet Parasitol 116:217–222

Singh RP, Sahai BN, Jha GJ (1984) Histopathology of the duodenum and rumen of goats during experimental infection with Paramphistomum cervi. Vet Parasitol 15:39–46

Soulsby EJL (1982) Helminths, arthropods and protozoa of domesticated animals, 7th edn. Bailliere and Tindal, London, pp 771–773

Tariq KA, Chishti MZ, Ahmad F, Shawl AS (2008) The epidemiology of paramphistomosis of sheep (Ovis aries L) in the north-west temperate Himalayan region of India. Vet Res Commun 32:383–391

Winks R, Bremner KC, Barger IA (1983) Epidemiology and control of parasitic gastroenteritis of cattle in the tropical/sub-tropical zone. In: Anderson N, Waller PJ (eds) The epidemiology and control of gastrointestinal parasites of cattle in Australia. Commonwealth Scientific and Industrial Research Organisation, Australia, pp 65–72
About this article
Cite this article
Godara, R., Katoch, R., Yadav, A. et al. Epidemiology of paramphistomosis in sheep and goats in Jammu, India. J Parasit Dis 38, 423–428 (2014). https://doi.org/10.1007/s12639-013-0264-y
Received:

Accepted:

Published:

Issue Date:
Keywords
Egg counts

Epidemiology

Paramphistomosis

Sheep and goats

Worm burden