Abstract
Cutaneous myiasis caused by the Old World screw-worm fly, Chrysomya bezziana, is a commonly occurring infestation of livestock and man in Southeast Asian and African countries. A buffalo, aged five years was presented with traumatic wound in the abnormal growth at the base of tail, housing maggots in it. Based on morphological features, the collected larvae were identified as C. bezziana larvae. The first ever occurrence of C. bezziana in a buffalo from this part of country and its public health significance have been discussed.
Access options
Buy single article
Instant access to the full article PDF.
USD 39.95
Price includes VAT (USA)
Tax calculation will be finalised during checkout.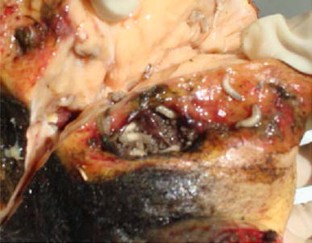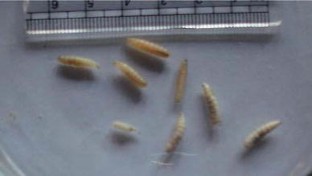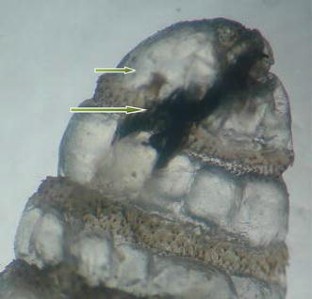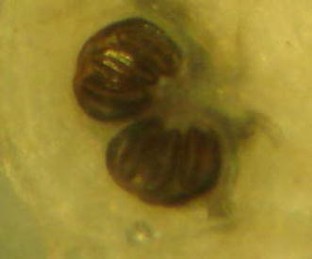 References
Hall MJR, Edge W, Testa JM, Adams ZJO, Ready PD (2001) Old World screwworm fly, Chrysomya bezziana, occurs as two geographical races. Med Vet Entomol 15:393–402

Kour R (2011) Seasonal prevalence of cutaneous myiasis in animals in Jammu. M.V.Sc thesis submitted to Sher-e-Kashmir University of Agricultural Sciences and Technology of Jammu, p 1–77

Mahon RJ, Ahmad H, Wardhaugh KG (2004) Factors affecting abundance and oviposition rates of a field population of the old world screw-worm fly, Chrysomya bezziana (Diptera: calliphoridae). Bull Entomol Res 94:359–368

Nacapunchai D, Laohavichit K (1999) Human myiasis caused by Chrysomya bezziana larvae in gangrenous wound following snake bite. Mahidol Med J 6:81–83

Ng KH, Yip KT, Choi CH, Yeung KH, Auyeung TW, Tsang AC, Chow L, Que TL (2003) A case of oral myiasis due to Chrysomya bezziana. Hong Kong Med J 9:454–456

Papasarathorn T, Chularerk P, Limcharoen C, Rojanapremsook J (1967) Human myiasis caused by Chrysomya bezziana Villeneuve. J Med Assoc Thai 50:761–766

Prasad S, Kumarasinghe W, Karunaweera ND, Ihalamulla RL (2000) A study of cutaneous myiasis in Sri Lanka. Int J Dermatol 39:689–694

Singh I, Gathwala G, Yadav SPS, Wig U, Jakhar KK (1993) Myiasis in children: the Indian perspective. Int J Pediatr Otorhinolaryngol 25:127–131

Sood VP, Kakkar PK, Wattal BL (1976) Myiasis in otorhinolaryngology with entomological aspects. J Larynagolotol 90:393–399

Sood S, Vohra S, Yadav A, Bashir AD, Katoch R, Srivastava AK (2008) An overview of myiasis in domestic animals of India. Vet Pract 9:1–5

Soulsby EJL (1982) Helminths, arthropods and protozoa of domesticated animals, 7th edn. Bailliere and Tindal, London, p 419

Sukontason KL, Piangjai S, Boonsriwong W, Bunchu N, Ngern-klun R, Vogtsberger RC, Sukontason K (2006) Observations of the third instar larva and puparium of Chrysomya bezziana (Diptera: calliphoridae). Parasitol Res 99:669–674

Vitavasiri A, Charoenchasri P, Kaewmanee S, Bhaibulaya M (1995) Subdermal myiasis caused by maggots of Chrysomya bezziana. Siriraj Hosp Gaz 47:419–422

Zumpt F (1965) Myiasis in man and animals in the old world. Butterworths, London, pp 99–102
About this article
Cite this article
Katoch, R., Godara, R., Yadav, A. et al. Occurrence of Chrysomya bezziana in a buffalo in Jammu. J Parasit Dis 38, 420–422 (2014). https://doi.org/10.1007/s12639-013-0263-z
Received:

Accepted:

Published:

Issue Date:
Keywords
Buffalo

Chrysomya bezziana

Jammu

Morphology

Myiasis