Abstract
This study was performed for the purpose of investigating the prevalence and the species composition of Sarcocystis spp. in buffaloes in Assiut province, Egypt. Macroscopically we reported the infection of buffaloes with Sarcocystis fusiformis, while microscopically three Sarcocystis species (Sarcocystis cruzi, Sarcocystis levinei and Sarcocystis hominis) cysts were recognized, and were differentiated by their morphological features using both histopathological sections and electron microscope scanning. Regarding the prevalence of Sarcocystis species among buffaloes in Assiut province, we reported that, using gross examination of 90 buffaloes' esophagus, only 23 samples out of 90 (25.5 %) were found to be infected; on the other hand, by using microscopical examination, the prevalence was 27.7 % (25 samples out of 90 samples were found to be infected). Using ELISA, 85 samples out of 90 (94.4 %) were found positive, an overall prevalence of 94.4 %. In this work we concluded that customary meat inspection methods in abattoirs in Egypt are insufficient for detecting Sarcocystis infection. Due to the presence of hidden or microscopic cysts, we strongly recommend the use of combined microscopical examination and ELISA for Sarcocystis diagnosis, to avoid human infection of such zoonotic parasite and to control the consequent disease. In addition, this study introduced the first report of S. cruzi in buffaloes in Egypt, and proved the hypothesis that S. cruzi is able to use animals such as water buffalo as intermediate hosts.
Access options
Buy single article
Instant access to the full article PDF.
US$ 39.95
Tax calculation will be finalised during checkout.
Subscribe to journal
Immediate online access to all issues from 2019. Subscription will auto renew annually.
US$ 79
Tax calculation will be finalised during checkout.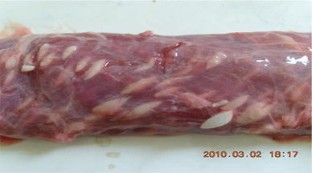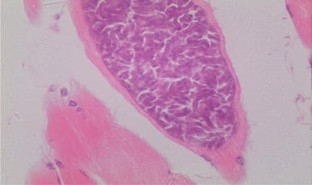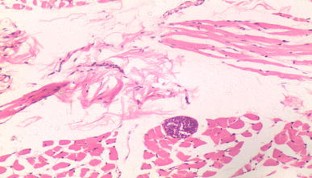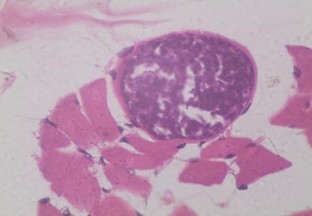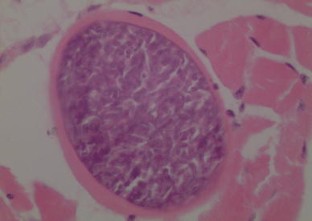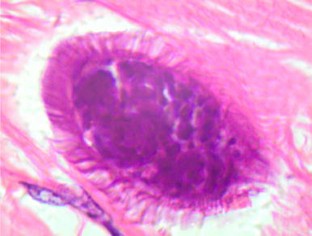 References
Abdel Rahman SM (2001) Serodiagnosis of two zoonotic parasites (Toxoplasma & Sarcocystis) in cattle. First Congress of Food Hygiene & Human Health, Faculty of Veterinary Medicine, Assiut, Egypt

Bancroft JD, Stevens A (1993) Theory and practice of histological techniques, 3rd edn. Long Man Group Limited, London

Bhatia BB (2000) Textbook of veterinary protozoology, 1st edn. ICAR, New Delhi

Coles EH (1986) Veterinary clinical pathology, 4th edn. Saunders Company, Philadelphia

Collier L, Balows A, Sussman M (1998) Sarcocystis, Isospora and Cyclospora. In: Gransden WR (ed) Topley and Welson's: microbiology and microbial infections, vol 5, 9th edn. Oxoford University Press Inc., New York, pp 319–326

Dubey JP, Speer CA, Fayer R (1989) Sarcocystosis of animals and man. C.A.B. Press, Boca Raton, p 105

Dubey JP, Hamir AN, Niezgoda M, Rupperch CE (1996) A Sarcocystis neurona-like organism associated with encephalitis in a stripped stuck (Mephitis mephitis). J Parasitol 82:172–174

El-Dakhly KM, El-Nesr KA, El-Nahass el-S, Hirata A, Sakai H, Yanai T (2011) Prevalence and distribution patterns of Sarcocystis spp. in buffaloes in Beni-Suef, Egypt. Trop Anim Health Prod 43:1549–1554

El-Nazer M, Abdel-Azim AH (2000) Seropositivity to Sarcocystis antigen in attendants of rheumatology clinic in Sohag University Hospital. South Valley Med J 4(2):145–155

Fatma GS, Maha SIS, Mohsen IA, Hoda MK (2008) Sarcocystis infection in cattle at Assiut abattoir: microscopical and serological studies. Ass Univ Bull Environ Res 11:47–58

Fawaz AA (1998) Incidence of Toxoplasma and Sarcosporidia in slaughtered animals in Qena Governorate. PhD thesis. Faculty of Veterinary Medicine, Assiut University

Habeeb YS, Selim MA, Ali MM, Mahmoud LA, Abdel-Hady AM, Shfei A (1996) Serological diagnosis of extra-intestinal sarcocystosis. J Egypt Soc Parasitol 26(2):393–400

Huong LT (1999) Prevalence of Sarcocystis spp. in water buffaloes in Vietnam. Vet Parasitol 86:33–39

Jain PC, Shah HL (1985) Cross-transmission studies of Sarcocystis cruzi of the cattle to the buffalo calves. Indian J Anim Sci 55:27–28

Jehle C, Dinkel A, Sander A, Morent M, Romig T, Luc PV, De TV, Thai VV, Mackenstedt U (2009) Diagnosis of Sarcocystis spp. Vet Parasitol 166:314–320

Juyal PD, Bhatia BB (1989) Sarcocystosis: an emerging zoonosis. Indian Vet Med J 13:66–69

Khalifa RM, El-Nadi NA, Sayed FG, Omran EK (2008) Comparative morphological studies on three Sarcocystis species in Sohag, Egypt. J Egypt Soc Parasitol 38(2):599–608

Latif BM, Al-Delim JK, Mohamed BS, Al-Bayati SM, Al-Amiry AM (1999) Prevalence of Sarcocystis spp. in meat producing animals in Iraq. Vet Parasitol 84:85–90

Mohanty BN, Misra SC, Panda DN, Panda MR (1995) Prevalence of Sarcocystis infection in ruminants in Orissa. Indian Vet J 72:1026–1030

Morsy TA, Abdel-Mawla MM, Salama MM, Hamdi KN (1994) Assessment of intact Sarcocystis cystozoite as an ELISA antigen. J Egypt Soc Parasitol 24(1):85–91

Mowafy NM (1993) Sarcosporidiosis in rodents. Ph.D. Thesis in Medical Science, Faculty of Medicine, Minia University, Egypt

Said MS (1996) Muscular parasites in slaughtered animals in Assiut Governorate. PhD thesis, Faculty of Veterinary Medicine Assiut University

Soulsby EJL (1982) Helminths, Arthropods and Protozoa of domesticated animals, 6th edn. Baillier, Tindall and Casell, London

Wang MQ, Lin QW, Liu HH, Xiao NB, Zhang GC, Gong FZ (1992) Comparative ultrastructural studies on the cysts of Sarcocystis cruzi in cattle and buffalo after cross-infections. Acta Veterinaria ET Zootechnica Sinica 23:347–353

Xiao NB, Zeng ND, Zhang CG, Wang M, Li Y, Gong FZ (1993) Development of Sarcocystis cruzi in buffalo (Bubalus bubalis) and cattle (Bos Taurus). Acta Veterinaria et Zootechnica Sinica 24:185–192
About this article
Cite this article
Metwally, A.M., Abd Ellah, M.R., AL-Hosary, A.A. et al. Microscopical and serological studies on Sarcocystis infection with first report of S. cruzi in buffaloes (Bubalus bubalis) in Assiut, Egypt. J Parasit Dis 38, 378–382 (2014). https://doi.org/10.1007/s12639-013-0257-x
Received:

Accepted:

Published:

Issue Date:
Keywords
Buffaloes

Sarcocystis

ELISA

Assiut

S. cruzi