Abstract
The prevalence of dicrocoeliosis was estimated by the examination of liver of slaughtered goats (n = 228) brought from two major goat rearing regions (Kandi and R.S. Pura) of Jammu province of India. Dicrocoelium dendriticum was found in 18.9 % of the goats, with mean fluke count (±SEM) of 24.9 ± 4.4 (ranged from 0 to 478). A significant seasonal variation (p < 0.01) was recorded with maximum prevalence in winter (28.9 %), followed by post-rainy (22.2 %) and minimum in rainy season (9.4 %). The highest fluke count was observed in January (47.8 ± 24.6) while none of the examined animals was found positive in May and June. The origin of the goats had a significant association (p < 0.0001) with prevalence rates and the goats from Kandi region (27.3 %) showed higher prevalence rates as compare to R.S. Pura (8.0 %). However, the age and sex had no significant effect on the prevalence of dicrocoeliosis in goats. The histopathological examination of infected livers revealed excessive thickening and proliferation of bile duct glandular epithelium with inflammatory exudates. Also, intense mononuclear cells infiltration with young fibroblasts was observed in the surroundings of bile ducts in portal areas along with atrophy of hepatocytes.
Access options
Buy single article
Instant access to the full article PDF.
USD 39.95
Price excludes VAT (USA)
Tax calculation will be finalised during checkout.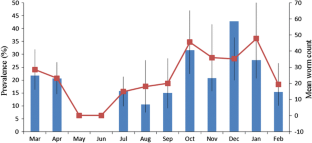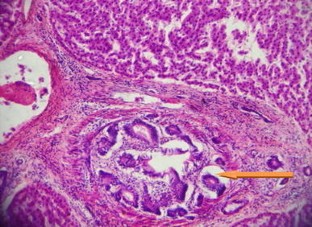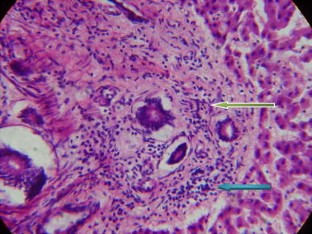 References
Ambrosi M, Grelloni V (1991) Use of mebendazole on the field against gastro-intestinal, hepatic and respiratory helminths in sheep. Documenti Veterinari 12:89–91

Arambulo PV, Moran M (1981) The tropics and parasitic diseases of animals-their impact on animal and human health. Int J Zoonoses 8:5–19

Fegbemi BO (1984) The effect of environmental factors on the development, behaviour and survival of Paramphistomum microbothrium miracidia. Vet Parasitol 16:71–81

Gonzalez-Lanza C, Manga-Gonzalez MY, Del-Pozo-Camero P (1993) Coprological study of the Dicrocoelium dendriticum (Digenea): egg elimination by cattle in highland areas in Leon province, northwest Spain. Parasitol Res 79:488–491

Jithendran KP, Bhat TK (1996) Prevalence of Dicrocoelium dendriticum in sheep and goats in Himachal Pradesh, India. Vet Parasitol 61:265–271

Khajuria JK, Kapoor PR (2003) Prevalence of parasites in sheep and goats at Kathua, Jammu. J Vet Parasitol 17:121–126

Kirkwood AC, Peirce MA (1971) The longevity of Dicrocoelium dendriticum in sheep. Res Vet Sci 12:588–589

Luna LG (1968) Manual of histologic staining methods of the armed forces, 3rd edn. Institute of Pathology, Mc Graw Hill Book Co, New York

Otranto D, Traversa D (2002) A review of dicrocoeliosis of ruminants including recent advances in the diagnosis and treatment. Vet Parasitol 107:317–335

Otranto D, Traversa D (2003) Dicrocoeliosis of ruminants: a little known fluke disease. Trends Parasitol 19:12–15

Sanz F, Tarazana JM, Jurado R, Friag R, Tarozana JV, Duncan JC (1987) An evaluation of the efficacy of netobimin against Dicrocoelium dendriticum in sheep. Vet Rec 120:57–58

Sharma RL, Godara R (2010) Metazoan diseases of livestock of greater himalayan region and their diagnosis: an overview. J Vet Parasitol 24:1–10

Somvanshi R, Kaul GL (1989) Dicrocoeliosis in pashmina goats. Indian Vet Med J 13:42–43

Soulsby EJL (1982) Helminths, Arthropods and Protozoa of Domesticated Animals, 7th edn. ELBS and Bailliere Tindal, London

Yadav A, Khajuria JK, Raina AK (2006) Seasonal prevalence of gastrointestinal parasites in sheep and goats of Jammu. J Vet Parasitol 20:65–68
About this article
Cite this article
Godara, R., Katoch, R., Yadav, A. et al. Dicrocoeliosis in goats in Jammu, India. J Parasit Dis 38, 201–204 (2014). https://doi.org/10.1007/s12639-012-0212-2
Received:

Accepted:

Published:

Issue Date:

DOI: https://doi.org/10.1007/s12639-012-0212-2
Keywords