Abstract
The prevalence of hydatidosis was carried out in slaughtered goats (n = 177) by liver and lung examination at Jammu. The prevalence rate of hydatidosis was 19.8 %. A total of 14.1 % goats had cysts in both the livers and lungs while 2.3 and 3.4 % goats had cysts in the livers or lungs, respectively. A total of 9.1 % goats had fertile cysts. The adult goats (>4 years) had a significantly higher (p = 0.01) prevalence rate as compared to the young goats (<2 years). Sex had no significant effect on the prevalence of hydatidosis in goats. The histopathological section of the affected lungs revealed a thick coat of granulation tissue causing fibrosis. The cysts caused progressive focal pressure atrophic lesions at the sites of predilection, resulting in atelectasis, desquamation of bronchial epithelium and interalveolar haemorrhages. It may be concluded that the slaughter of food animals at an early age would help to reduce the infection prevalence in dogs and subsequently in the food animals.
Access options
Buy single article
Instant access to the full article PDF.
USD 39.95
Price excludes VAT (USA)
Tax calculation will be finalised during checkout.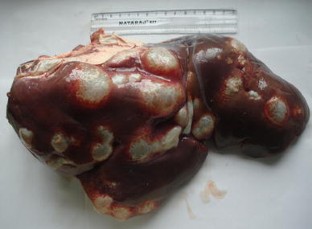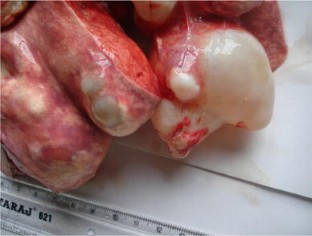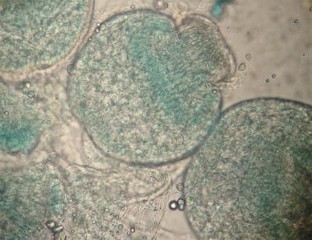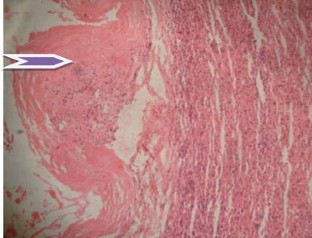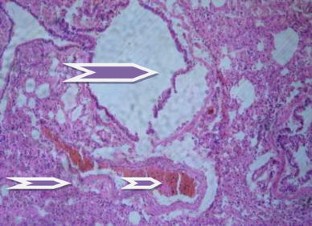 References
Ahmadi NA, Meshkehkar M (2011) An abattoir-based study on the prevalence and economic losses due to cystic echinococcosis in slaughtered herbivores in Ahwaz, south-western Iran. J Helminthol 85:33–39

Amman RR, Eckert J (1995) Clinical diagnosis and treatment of echinococcosis in humans. In: Thomson RCA, Lymbery AJ (eds) Echinococcosis and hydatid disease. CAB International, Oxon, pp 411–463

Bhalerao GD (1935) Helminth parasites of domestic animals in India, monograph no 6. Imperial Council of Agricultural Research, New Delhi, pp 106–111

Das SS, Kumar D, Sreekrishnan R (2003) Hydatidosis in animals and man. In: Sood ML (ed) Helminthology in India. International Book Distributors, Dehradun, pp 467–509

Erbeto K, Zewde G, Kumsa B (2010) Hydatidosis of sheep and goats slaughtered at Addis Ababa Abattoir: prevalence and risk factors. Trop Anim Health Prod 42:803–805

Gemmell MA, Roberts MG (1998) Cystic echinococcosis (Echinococcus granulosus). In: Palmer SR, Soulsby EJL, Simpson DIH (eds) Zoonoses. Oxford University Press, New York, pp 665–688

Godara R, Borah MK, Sharma RL, Jangir BL (2011) Caprine coenurosis with special reference to hepatic coenurosis. Comp Clin Pathol 20:277–280

Gupta RK, Kakkar AK, Bhagat R, Pant K (1990) Phrenomediastinal echinococcosis. Chest 98:1528–1530

Luna LG (1968) Manual of histologic staining methods of the Armed Forces, Institute of Pathology, 3rd edn. McGraw Hill Book Co, New York

Matto MR, Bali HS, Gupta PP (1990) Pathological changes in echinococcosis and coenuriasis in buffaloes. J Res 27:488–490

Parija SC, Rao RS, Badrinath S, Sengupta DN (1983) Hydatid disease in Pondicherry. J Trop Med Hyg 83:113–115

Soulsby EJL (1982) Helminths, arthropods and protozoa of domesticated animals, 7th edn. Bailliere and Tindal, London, pp 119–125

Varma TK, Ahluwalia SS (1990) Prevalence of Echinococcus granulosus infection in domestic animals of western and central Uttar Pradesh. J Vet Parasitol 4:67–69

Varma TK, Malviya HC (1986) Unusual occurrence of secondary echinococcosis in goat. Indian J Parasitol 10:235–236
About this article
Cite this article
Godara, R., Katoch, R. & Yadav, A. Hydatidosis in goats in Jammu, India. J Parasit Dis 38, 73–76 (2014). https://doi.org/10.1007/s12639-012-0191-3
Received:

Accepted:

Published:

Issue Date:

DOI: https://doi.org/10.1007/s12639-012-0191-3
Keywords