Abstract
An exhaustive exploratory survey on helminth parasite fauna of anuran frogs was carried out in several localities falling under 5 districts of western region of Nagaland state. Altogether 34 parasite species were recovered from a total of 29 host species surveyed. The parasite spectrum (represented in all the localities by at least one or more parasite species) comprises 2 monogenean, 15 trematode (13 adult and 2 metacercaria stages), 4 cestode (3 adult and 1 larval stages), 12 nematode and 1 acanthocephalan taxa. A checklist of both the parasite and host species with short remarks for each parasite species is provided herein.
Access options
Buy single article
Instant access to the full article PDF.
USD 39.95
Price includes VAT (USA)
Tax calculation will be finalised during checkout.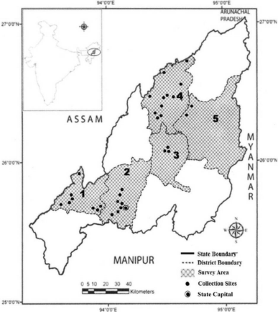 References
Agarwal V (1966) Studies on some trematode parasites of frogs from Lucknow. Indian J Helminthol 18(1):82–90

Andre E (1915) Mesocoelium carli n. sp. Trématodes parasitaires d'un tortue africaine. Rev Suisse Zool 23:91–93

Ao JM, Bordoloi S, Ohler A (2003) Amphibian fauna of Nagaland with nineteen new records from the state including five new records for India. Zoos Print J 18(6):1117–1125

Arora BM (1994) Wildlife disease in India: infectious and parasitic diseases of mammals, reptiles and amphibians. Periodical Expert Book Agency, New Delhi, p 183

Ash LR, Beaver PC (1963) Redescription of Ophidascaris labiatopapillosa Walton, 1927, an ascarid parasite of North American snakes. J Parasitol 49:765–770

Ballesteros MA (1945) Revision de la familia Cosmocercidae Travassos, 1925. Rev Iberica Parasitol Tomo extraordin 150–180

Baugh SC (1956) Contribution to our knowledge of digenetic trematodes I. Proc Natl Acad Sci India 26(6):417–430

Baylis HA (1920) On the classification of the Ascaridae. II. The polydelphis group, with some account of other ascarids parasitic in snakes. Parasitology 12:411–426

Bhalerao GD (1927) A new species of trematode from Mabuia dissimilis. Ann Mag Nat Hist Ser 9(20):611–615

Bhalerao GD (1936) Studies on the helminthes of India. Trematoda I. J Helminthol 14:163–180

Bodri MS (1994) Comparative parasitic diseases of reptiles and amphibians. Proc Am Assoc Vet Anim Conf Pittsbg USA 10:22–27

Chanda SK (1994) Anuran (Amphibia) fauna of North-East India. Mem Zool Surv India 18(2):143

Chanda SK, Das I, Dubois A (2001) Catalogue of amphibian types in the collection of the Zoological Survey of India. Hamadryad 25(2):100–128

CIH Keys to the Nematode Parasites of Vertebrates (1974–1983) In: Anderson RC, Chabaud AG, Willmott S (eds) Nos 1–9; In: Anderson RC, Chabaud AG (eds) No. 10. Commonwealth Institute of Helminthology, St. Albans

Cochran DM (1961) Living amphibians of the world. Double Day and Company Inc., New York, p 199

Dayal J, Gupta SP (1953) A new trematode, Ganeo gobindis n. sp. (Lecithodendriidae Odhner, 1911) from the intestine of a fresh fish, Wallago attu (Bloch). In: Dayal J, Singh KS (eds) Thapar Commemoration Volume. A collection of articles presented to Prof Thapar GS on his 60th birthday, pp 63–68

Diengdoh CR (1989) Helminth parasite spectrum of amphibian hosts in Meghalaya. PhD Thesis, North-Eastern Hill University, Shillong, p 129

Diengdoh CR, Tandon V (1991) A new species of Polystoma (Monogenea) parasites in rhacophorid amphibians in Meghalaya, India. Helminthologia 28:173–178

Diesing KM (1836) Monographie der Gattengen Amphistoma and Diplodiscus. Annln wien Mus Naturg 1:235–260

Dollfus RP (1929) Helmintha I. Trematoda et Acanthocephala. Faune des Colon Franc 3(2):73–114

Dollfus RP (1950) Trématodes récoltés au Congo belge par Professor Paul Brien (mai-aout 1937). Ann Mus Belg Congo C-Derk R 5 1:136

Dollfus RP (1951) Sur Distomum polyoon von Linstow, parasite mal connu de Ralliforme Dollfus, R.P. 19 Gallinulla chloropus. Ann Parasitol Hum Comp 26(1–2):128–131

Dollfus RP (1954) Miscellanea helminthological maroccana ZVII. Distribution géographique des disstomes du genre Mesocoelium avec description d'especies récolte 'es au maroc. Arch Inst Pasteur Maroc (Casablanca) 4:636–656

Dollfus RP, Williams (1966) Recherches de affinitiés naturelles d'un distome parasite de Batracien anoure de Serra-Leone. Bull Mus Nat Hist Nat 2s 38(2):201–207

Dutta M (1991) Studies on the cestode and monogenean components of the helminth parasites spectrum of anuran host in Meghalaya, India. MPhil Thesis, North-Eastern Hills University, Shillong, p 40

Dutta M (1995) Studies on the monogenean and cestode parasites of anuran amphibian hosts in Meghalaya, India. Morphological, ecological and biological aspects. PhD Thesis, North-Eastern Hill University, Shillong, p 98

Dutta S (1997) Amphibians of India and Sri Lanka (checklist and bibliography). Odyssey Publishing House, Bhubaneswar, p 342

Dwivedi MP (1968) Three new species of Gorgoderina Looss, 1902. Indian J Helminthol 19(2):32–172

Fernando W (1933) Contribution to Ceylon Helminthology Mesocoelium burti sp. nov. Mesocoelium marrsi sp. nov. Hahlorchis pearsoni sp. nov. Ceylon J Sci 18(1):9–18

Fotedar DN (1959) On a new species of the genus Ganeo Klein, 1905 and some notes on the genus. J Helminthol 33:151–160

Freitas JFT (1958) Bereve Nota sobreo Distoma monas Rud., 1819. Rev Bras Biol Rio de Janeiro 18(2):171–174

Freitas JFT, Lent H (1939) Consideracoes sobre algumes especies americanas do genero Haematloechus Looss, 1899 (Plagioichoidea). Livr Hom Prof Alvario Miguel Ozpris Almeida 246–256

Goeze JAE (1782) Versuch einer Naturgeschichte der Eingeweidewürmer thierischer Körper. PA Pape, Blankenburg, p 471

Gupta NK (1954a) On Pleurogenes (Telogonella) sawanenesis, n. sp. Parasitic in the intestine of Rana cyanophlyctis with a discussion on the systematic position of the genus Pleurogenes Looss, 1886. Res Bull Panjab Univ 58:143–148

Gupta NK (1954b) On a new species of the genus Ganeo Klein, 1905 from the intestine of Rana cyanophlyctis. Res Bull Panjab Univ 55:125–129

Gupta SP (1960) Nematode parasites of vertebrates of East Pakistan VI. Amplicaecum cacopi, Thelandros sp., Rhabdias ranae and Oswaldocruzia melanosticti sp. nov. from frogs. Can J Zool 38:745–750

Gupta PD (1970) Fauna of Rajasthan. Part 8. Trematoda. Rec Zool Surv India 62:171–190

Gupta V, Jahan A (1976) On two new trematode parasites of amphibia from Lucknow. Indian J Helminthol 28(2):141–147

Gupta NK, Arora S (1979) On a new species of the genus Gangesia Woodland, 1924 (Cestoda: Proteocephaloidea) from a freshwater fish Wallago attu, along with a survey of its related forms. Res Bull Panjab Univ 30(1–4):27–36

Gupta NK, Duggal CL (1980) On Paracosmocerca indica, a new nematode parasite (Oxyuridae) in the digestive tract of frog at Chandigarh. Helminthologia 17(3):159–163

Hafeezullah M, Dutta IB (1985) Studies on Trematoda (Lecithodendriidae) of Pisces and Amphibia from east coast of India. Bull Zool Surv India 7:69–82

Hardwood PD (1932) The helminths parasitic in the amphibia and reptilia of Houston, Texas and Vicinity. Proc U S Nat Mus 81:1–71

Hsu HF (1935) Contribution a l'étude des cestodes de chine. Rev Suisse Zool 42:450–477

Husain M (1988) Nagaland—habitat, society and shifting cultivation. Rima Publishing House, New Delhi, p 212

Imkongwapang R (1997) A study on the helminth parasite spectrum in anuran Amphibia in Nagaland, Northeast India. MPhil Thesis, North-Eastern Hills University, Shillong, p 71

Imkongwapang R, Tandon V (2010) Neoriojatrema mokokchungensis n. g., n. sp. (Monogenea: Polystomatidae: Polystomatinae) from the urinary bladder of a pelobatid frog, Megophrys glandulosa from Nagaland, Northeast India. J Helminthol 8:1–6

Jewell ME (1916) Cylindrotaenia americana nov. spec. from the cricket frog. J Parasitol 2:181–192

Johnston SJ (1912) On some trematodes of Australian frogs. Proc Linn Soc N S W 37(2):285–362

Jones MK (1987) A taxonomic revision of the Nematotaeniidae Lühe, 1910 (Cestode: Nematotaeniidae). Syst Parasitol 10:165–245

Jones A, Bray RA, Gibson DI (2005) Keys to the Trematoda, vol 2. CABI Publicating and The Natural History Museum, London

Karve JN (1927) A redescription of the species Oxysomatium macintoshii (Stewart, 1914) (Nematode). Annu Mag Nat Hist 20:620–628

Karyakarte PP (1967) On Proalarioides tropidonotis Vidyarthi, 1937 with a description of its metacercaria and juvenile form. Marathwada Univ J 7(1):50–55

Kaw BL (1950) Studies in helminthology; helminths parasites of Kashmir part 1. Trematode. Indian J Helminthol 2(2):67–126

Khalil LF, Jones A, Bray RA (1994) Keys to the cestode parasites of vertebrates. CAB International, Wallingford

Khan MM, Mohiddin A (1968) Notes on parasites of frog. Rana cyanophlyctis Schneider and Rana tigrina Daudin. In: Proceedings of the 20th Pakistan Science Congress Abstracts (3) Biology C, pp 35–36

Khera S (1956) Nematode parasites of some Indian vertebrates. Indian J Helminthol 6(2):27–133

Kiyasetuo (1986) Studies on survey of frogs and toads of Kohima, Nagaland and certain aspects of ecobiology and development of Rhacophorus leucomystax (Kuhl). PhD Thesis, North-Eastern Hill University, Shillong, p 256

Klein W (1905) Neue Distomen aus Rana hexadactyla. Zool Jahrb 22:1–22

Koelreuter JT (1771) Descriptio Cyprini rutili, quem halawel russi vocant, historico anatomica. Novi Comment. Acad Sci Petropol 15:494–503

Kung CC, Wu HW (1945) A new species of nematode, Paracosmocerca mucronata (Cosmocercidae) from anuran Amphibia of China, Fujian Province. Sinensia 2:112–114

Lal MB (1942) The occurrence of the nematode genus Oswaldocruzia in India. Curr Sci 11:345

Li LN (1996) Two new species of trematode of frogs in Yunnan Province. Annu Bull Soc Parasitol Guangdong Prov 18:60–63

Liang C, Ke XI (1988) Four new trematodes of mammals and amphibians from Guangdong Province. Annu Bull Soc Parasitol Guangdong Prov 10:129–133

Looss A (1899) Weitere Beitrage zur Kenntnis der Trematodenfauna Aegyptens, zugleich Versuch einer naturlichem Gliederung des Genus Distomum Retzius. Zool Jahrb Syst 12:521–784

Lühe M (1901) Uber Hemiuriden. Zool Anz 24:394–403, 473–488

Mastura AB, Ambu S, Chandra S, Kiew BH, Rosli R (1995) A preliminary survey of frogs for Spirometra sp. infection—a food-borne human parasite. Trop Biomed 12(1):81–84

Meggit FJ (1927) List of cestodes collected in Rangoon during the years 1923–26. J Burma Res Soc 16:200–210

Mehra HR, Negi PS (1928) Trematode parasites of the Pleurogenetinae from Rana tigrina, with a revision and synopsis of the subfamily. Allahabad Univ Stud 4:63–118

Molin R (1861) II sottordine degli acrofalli ordinato scientificamente secondo i risultamenti delle indagini anatomiche ed embriogeniche. Mem Reale Ist Veneto Sci Lett Arti Venezia 9:427–633

Morishita K (1926) Studies on nematodes parasites of frog and toads in Japan, with notes on their distribution and frequency. J Fac Sci Imp Univ Tokyo IV Zool 1(1):1–32

Mukherjee RP, Ghosh RK (1970a) Studies on some amphibian trematodes from Uttar Pradesh and West Bengal (part 1). Indian J Helminthol 22(1):61–78

Mukherjee RP, Ghosh RK (1970b) A note on some abnormal characters of Pleurogenoides gastroporus (Lühe, 1910) (Trematode: Lecithodendriidae). Sci Cult 36:561–562

Mukherjee RP, Ghosh RK (1972) Studies on some amphibian trematodes from West Bengal and Maharashtra (Part II). Rec Zool Surv India 66:273–276

Nama HS, Khichi PS (1973) A new trematode and a new nematode from the frog, Rana cynophylctis Schneider. Proc Zool Soc (Calcutta) 26:15–19

Nicolis W (1914) Trematode parasites from animals dying in the zoological societies gardens during 1911–1912. Proc Zool Soc Lond 1:139–154

Odhner T (1910) Nordostafrikanische Trematoden, grössenteils von Weissen Nil. 1. Fascioliden. Results of the Swedish Zoological Expedition to Egypt and the White Nile 1901 under the direction of Jagerskio LA 23A, p 170

Pande BP (1937a) On some digenetic trematodes from Rana cyanophyctis of Kumaon Hills. Proc Indian Acad Sci 69(2):109–120

Pande BP (1937b) Prosotocus himalayai n. sp., a frog trematode (Lecithodendriidae). Proc Indian Acad Sci 69(4):202–204

Pandey KC (1969) Studies on monogenetic trematodes of India I. On a new species of the gents Eupolystoma Kaw, 1950 from Bufo sp. Proc Nat Acad Sci India 39:l9l–193

Pandey KC, Agarwal N (2007) An encyclopaedia of India Monogenoidea. Visthasta Publishing Pvt Ltd, New Delhi, pp 285–293

Parona C (1890) L'elmintologia italiana dá suoi primi tempi all' anno 1890. Atti R Univ Genova 13:733. Abstr in Ctbl Bakt I Abt Orig 17(7–8):263–264

Pereira C, Cuoculo R (1940) Trematoides brasileiros do genero Mesocoelium Odhner. Arq Inst Biol (Sao Paulo) 11:399–412

Pillai RC, Chanda SK (1976) The distribution of Amphibia in North-East India. J Assam Sci Soc 19:52–56

Prudhoe S, Bray RA (1982) Platyhelminth parasites of the Amphibia. British Museum (Natural History). Oxford University Press, London

Railliet A, Henry A (1913) Sur les oesophagostomiens des ruminants. Bull Soc Pathol Exot 6:506–511

Railliet A, Henry A (1916) Nouvellas remarques sur les oscyrides. C R Chim 79:247–250

Rudolphi CA (1819) Entozoorum synopsis cui accendunt mantissa duplex et indices locupletissimi. August Rücker, Berolini, p 811

Schneider A (1866) Monographie der Nematoden. Berlin, p 357

Seurat LG (1917) Physaloptères des reptiles du nord-africain. Cr Soc Biol 80:43–52

Sewell RBS (1920) On Mesocoelium sociale (Lühe). Rec Indian Mus 9:81–95

Shen J (1988) Natural infection of sparganum in frogs and toads in suburbs of Gaungzhau. Chin J Parasitol Parasit Dis 6(2):120

Shipley AE (1903) On the ento-parasites collected by the "Skeat-Expedition" to lower Siam and the Malay Peninsula in the years 1899–1900. Proc Zool Soc Lond 2:145–156

Singh KS (1954) Some trematodes collected in India. T Am Microsc Soc 73:202–210

Singh M (1977) Studies on the amphibian trematodes from Tamil Nadu and Kerala. Rec Zool Surv India 72:291–294

Singh SN, Ratnamala R (1977) On a new genus and new species of rhabdiassid nematode Shorttia shortti n.g., n. sp. infesting lungs of amphibians. Indian J Helminthol 27:132–138

Sinha SS (1958) Studies on the trematode parasites of reptiles from Hyderabad state. Z Par 18:161–218

Sinha SU, Prasad D (1974) Studies on the digenetic trematodes of Bihar. Indian J Anim Res 8(1):39–44

Skrjabin KI, Schikobalova NP, Schulz RS, Popova TI, Boev SN, Delyamure SL (1952) Descriptive catalogue of parasite nematodes, vol 3. Strongylata (Russian text). Izdat Akad Nauk SSR, p 890

Southwell T, Macfie JWS (1925) On a collection of Acanthocephala in the Liverpool School of Tropical Medicine. Ann Trop Med Parasitol 19:141–184

Srivastava HD (1933a) On new trematodes of frogs and fishes of the United Provinces, India. Part I. Distomes of the family Hemiuridae from north Indian fishes and frogs with a systematic discussion on the family Halipegidae and the genus Vitelletrema Gubertet and Genarchopris Ozaki. Bull Acad Sci United Prov Agra Oudh 3(1):41–60

Srivastava HD (1933b) On new trematodes of frogs and fishes of the United Provinces, India. Part II. On a new genus Mehraorchis and two new species of Pleurogenes (Pleurogenetinae) with a systematic discussion and revision of the family Lecithodendriidae. Bull Acad Sci United Prov Agra Oudh 3(4):239–256

Srivastava HD (1934) On new trematodes of frogs and fishes of the United Provinces, India. Part IV. The occurrence and seasonal incidence of infection of certain trematodes in the above hosts. Bull Acad Sci United Prov Agra Oudh 4(1):113–119

Srivastava CB, Ghosh RK (1969) On the new hosts of Proalarioides tropidonotis Vidyarthi, 1937 (Proterodiplostomidae). Indian J Helminthol 20(2):13–17

Stewart FH (1914) Studies in Indian helminthology. No I. Rec Indian Mus 10:165–193

Stiles CW, Hassall A (1905) The determination of generic types and a list of roundworm genera, with their original and type species. U S Dept Agric Bur Anim Ind Bull 79:1–150

Suzuki N, Kumazawa H, Hosogi H (1982) A case of human infection with the adult of Spirometra erinacei (Rudolphi, 1819) Faust, Campbell and Kellog, 1929. Jpn J Parasitol 31:23–26

Tandon V, Imkongwapang R (1999) Natural infection of sparganum in frogs in Nagaland (Northeast India)—an amphibian-borne zoonosis? Zoos Print J 14(5):13–16

Tandon V, Imkongwapang R, Kar PK (2001) Helminth infra communities in anuran Amphibia of Nagaland, India. J Parasit Dis 25(1):8–20

Tandon V, Imkongwapang R, Prasad PK (2005) On two new species of the trematode genera, Opisthioparorchis Wang, 1980 (Opisthioparorchidae) and Batrachotrema Dollfus and Williams, 1966 (Batrachotrematidae), with a report of a Chinese species of Opisthioparorchis from anura amphibian hosts in India. Zoos Print J 20(6):1883–1887

Tickoo R (1970) On the morphology of Haematoloechus almorai (Pande, 1937) from the lungs of Rana cyanophlyctis in Kashmir. Part I. General morphology, cuticle and musculature. Kashmir Sci 7:156–167

Travassos LP (1917) Trichostrongylidae brazileiras. Oswaldocruzia n. gen. Mem Inst Oswalds Cruz 31:73

Travassos LP (1921) Contribuic~oes para O Conbecimento da fauna helmintholojika brasilieras XV. Sobre as especies brasileiras da familia. Lecithodendriidae Odhner 1911. Arch Esc Sup Agric Med Vet Nichtheory 5(1–2):73–79

Tubangui MA (1933) Trematode parasites of Philippine vertebrate. VI. Description of new species and classification. Philipp J Sci 52(2):167–197

Ulmer MJ, James HA (1976) Nematotaenoides ranae gen. et sp. n. (Cyclophyllidea: Nematotaeniidae) from the leopard frog (Rana pipiens) in Iowa. Proc Helminthol Soc Wash 43:185–191

Van Cleave HJ (1937) Acanthocephalus from Amphibia. Parasitology 29(3):395–398

Walton AC (1927) A revision of the nematodes of the Leidy collections. Proc Acad Natl Sci Phila 79:49–163

Walton AC (1929) Studies on some nematodes of North American frogs. J Parasitol 15:227–239

Wang PQ (1980) [Report on some trematodes from amphibians and reptiles in Fujian, South China] Fujian Shida Xuebao. J Fujian Norm Univ 1:81–92

Woodland WNF (1925) On three new Proteocephalids (Cestoda) and a revision of the genera of the family. Parasitology 17:370–394

Yamaguti S (1933) Studies on the helminth fauna of Japan. Trematodes of birds, reptiles and mammals. Jap J Zool 5(1):1–134

Yamaguti S (1943) Rhabdias (Ophiorhabdias) hrigutii n. subg. n. sp. (Nematoda) from the lung of a Japanese snake, Natrix tigrina. Annot Zool Jpn 22(1):8–10

Yamaguti S (1958) Systema Helmithum. Ι. The digenetic trematodes of vertebrates. Interscience Publishers Inc., New York

Yamaguti S (1959) Systema Helminthum. II. Cestodes of vertebrates. Interscience Publishers Inc., New York

Yamaguti S (1961) Systema Helminthum. III. The nematodes of vertebrates. Part I and II. Interscience Publishers Inc., New York

Yamaguti S (1963a) Systema Helminthum. IV. Monogenea and Aspidocotylea. Interscience Publishers Inc., New York

Yamaguti S (1963b) Systema Helminthum. V. Acanthocephala. Interscience Publishers Inc., New York

Yamaguti S (1971) Synopsis of digenetic trematodes of vertebrates. I. Keigaku Publishing Co., Tokyo

Zeder FGH (1800) Erster Nachtrag zur Naturgeschichte der Eingweidewürmer von F A C Goeze (Leipzig), p 320
Acknowledgments
The authors are thankful to Heads of the Department of Zoology at both Nagaland University and North-Eastern Hill University for providing infrastructural support. Partial support from AICOPTAX Project (Ministry of Environment & Forests, Government of India) to VT is gratefully acknowledged. Thanks are also due to Dr. J. Meren Ao for assisting in identification of anuran hosts in the study.
About this article
Cite this article
Imkongwapang, R., Jyrwa, D.B., Lal, P. et al. A checklist of helminth parasite fauna in anuran Amphibia (frogs) of Nagaland, Northeast India. J Parasit Dis 38, 85–100 (2014). https://doi.org/10.1007/s12639-012-0180-6
Received:

Accepted:

Published:

Issue Date:
Keywords
Anuran Amphibia

Helminth

Parasite

Monogenea

Trematoda

Cestoda

Nematoda

Acanthocephala

Nagaland

Northeast India