Abstract
The seasonality influence on the biology and distribution dynamics of Cephalogonimus yamunii n.sp. in Xenentodon cancilla (Teleostomi: Belonidae) was reflected during 2 years' investigations. The highest infection prevalence appeared to be in late summer. Size, weight, and sex-biased population dynamics of trematode was well marked in Gangetic riverine ecosystem. The biostatistical non-parametric Mann–Whitney χ 2 test values were significant for dissolved oxygen and magnesium. The distribution of infection data on Poisson series ruled out overdispersion because good agreement was observed (P < 0.01).
Access options
Buy single article
Instant access to the full article PDF.
USD 39.95
Price includes VAT (USA)
Tax calculation will be finalised during checkout.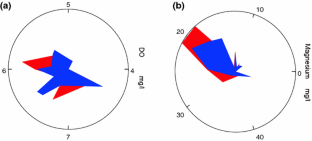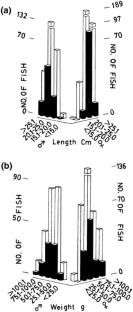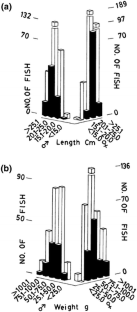 References
Al-Kandari WY, Abdul-Salam J, Meakins R (2000) Temporal variations in the infection of a population of Cerithidea cingulata by larval trematodes in Kuwait Bay. J Helminthol 74:17–22

Anderson RM, May RM (1979) Population biology of infectious diseases: part 1. Nature 280:361–367

Avtalion RR (1969) Temperature effect on antibody production and immunological memory, in carp Cyprinus carpio immunized against bovine serum albumin (BSA). Immunology 17:927–931

Banerjee SCN (1991) Populaion distribution and pathology of certain parasites in fishes of high altitude and Gangetic plains. D Phil Thesis, University of Allahabad, p 551

Bower SM, Woo PTK (1979) The prevalence of T. catostomi in white sucker (Catostomus commersoni) from Southern Ontario, Canada. J Wildl Dis 15:429–432

Chauhan RS, Malhotra SK, Capoor VN (1981) An analyses of parasitization index and certain ecological parameters of cestodes parasites infesting in hill stream fishes of district of Pauri–Garhwal, UP, India. Sci Env 3:47–56

Collard SB (1970) Some aspects of host-parasite relationship in mesopelagic fishes. In: Snieszko SF (ed) A symposium on disease of fishes and shellfishes. Spec Publ Am Fish Soc 5:41–56

Davis JR, Huffman DG (1978) Some factors associated with the distribution of helminths among individual mosquito fish, Gambusia affinis. Texas J Sci 30:43–53

De Leo GA, Dobson AP (1996) Allometry and simple epidemic models for microparasites. Nature 379:720–722

Dhole J, Jawale S, Waghmare S, Chavan R (2010) Survey of helminth parasites in freshwater fishes from Marathwada region, MS, India. J Fish Aquac 1:01–07

Dobson C (1961) Certain aspects of the host parasites relationships of nematodae Spiroides dubius (Baylis). (I) The effect of sex on experimental infections in mouse. Parasitology 51:173–179

Gairola DDN (1989) Population biology and taxometry of helminth parasites of certain economically important food fishes. D Phil Thesis, University of Allahabad, p 599

Gittleman JL (1993) Carnivore life histories: a re-analysis in the light of new models. In: Dunstone N, Gorman ML (eds) Mammals as predators. Oxford University Press, Oxford, pp 65–86

James BL, Llewellyn LC (1967) A quantitative analysis of helminth infections in some Passerine birds found dead on islands of Smoker. J Helminthol 12:19–44

Jhingran VG (1991) Fish and fisheries of India. Hindustan Pub Corp, India, p 727

Karvonen A, Cheng GH, Valtonen ET (2005) Within–lake dynamics in the similarity of parasite assemblages of perch (Perca fluviatilis). Parasitol 131:817–823

Kennedy CR (1968) Population biology of the cestode Caryophyllaeus laticeps (Pallas, 1781) in dace, Leuciscus leuciscus L. of the river Avon. J Parasitol 54:538–543

Kennedy CR (1969) Seasonal incidence and development of the cestodes Caryophyllaeus laticeps (Pallas, 1781) in the river Avon. Parasitology 59:782–794

Khalil LF (1971) Checklist of the helminth parasites of African freshwater fishes. Tech Comm 42, Comm Inst Helminthol CAB England, England, p 80

Loot G, Reyjol Y, Poulet N, Simkova A, Blanchet S, Lek S (2007) Effects of small weirs on fish parasite communities. Parasitol Res 101:1265–1276

Malhotra SK (1982) Bionomics of hill-stream cyprinids. III. Food parasites and length weight relationship of Garhwal mahaseer, Tor tor (Ham.). Proc Indian Acad Sci 91:493–499

Malhotra SK (1989) Ecological echthyoparasitology in India. Indian Rev Life Sci 9:253–296

Morand S, Cribb TH, Kulbicki M, Rigby MC, Chauvet C, Dufour V, Falix E, Galzin R, Lo CM, Lo Zet A, Pichelin S, Sasal P (2000) Endoparasite species richness of new Caledonain butterfly fishes: host density and diet matter. Parasitology 121:65–72

Olurin KB, Somorin CA (2006) Intestinal helminths of the fishes of Owa stream, South-West Nigeria. Res J fish Hydrobiol 1:6–9

Polyanski YI (1961) Ecology of parasites of marine fishes. In: Dogiel VA, Petrushevski GK, Polyanski YI (eds) Parasitology of fishes. Oliver and Boyd, Edinburgh, pp 230–245

Poulin R, Morand S (2004) Parasite biodiversity. Smithsonian Institution Press, Washington, DC

Poulin R, Rohde K (1997) Comparing the richness of metazoan communities of marine fishes; controlling for host phylogeny. Oecologia 110:278–283

Pulkkinen K, Valtonen ET, Niemi A, Poikola K (1999) The influence of food competition and host specificity on the transmission of Triaenophorus crassus (Cestoda) and Cystidicola farionis (Nematoda) to Coregonus lavaetus and Coregonus albula (Pisces: Coregonidae) in Finland. Int J Parasitol 29:1753–1763

Rijkers GT, Frederix-Woltersw EMH, van Muiswinkel WB (1980) The immune system of cyprinid fish. Kinetics and temperature dependence of antibody producing cells in carp (Cyprinus carpio). Immunology 41:91–97

Ryce EKN, Zale AV, Mac Connell E, Nelson M (2005) Effects of fish age versus size on the development of whirling disease in rainbow trout. Dis Aqua Org 63:69–76

Saha NR, Usami T, Suzuki Y (2002) Seasonal changes in the immune activities of common carp (Cyprinus carpio). Fish Physiol Biochem 26:379–387

Sanchez C, Babin M, Tomillo J, Ubeira FM, Dominguez J (1993) Quantification of low levels of rainbow trout immunoglobulins by enzyme immunoassay using two monoclonal antibodies. Vet Immunol Immunopathol 36:65–74

Simkova A, Morand S, Matejusova I, Jurajda P, Gelnar M (2001) Local and regional influences on patterns of parasite species richness of central European fishes. Biodiv Conserv 10:511–525

Suzuki Y, Orito M, Iigo M, Kenzuka M, Aida K (1996) Seasonal changes in blood IgM levels in goldfish, with special reference to water temperature and gonadal maturation. Fish Sci 62:754–759

Thrall PH, Antonovics J, Hall DW (1993) Host and pathogen coexistence in vector-borne and ventral diseases characterized by frequency-dependent disease transmission. Am Nat 142:543–552

Torres P, Contreras B, Figuerga l, Franjola R, Gonzaleh H, Martin R (1977) Research on Pseudophyllidea from the south Chile, I. Preliminary investigation on infection by plerocercoids of Diphyllobothrium sp. in Salmo gairdenerii from Calatquen lake. Chile Boletin Chileno de Parasitol 32:73–80

Upadhyay SK, Jaiswal N, Malhotra A, Malhotra SK (2012) Ecological morphotaxometry of newer trematodes of garfish (Teleostomi: Belonidae) from Gangetic riverine ecosystem in India. I. Morphology and taxometric assessment of Cephalogonimus yamunii n.sp. J Parasit Dis (in press)

Whitehurst IT, Lindsey BI (1990) The impact of organic enrichment on the benthic macro invertebrate communities of a low land river. Wat Res 24:625–630

Wishkovsky A, Avtalion RR (1987) Induction immunosuppression to bacterial antigens in carp, Cyprinus carpio. J Fish Biol 31(Suppl A):101–106
Acknowledgments
SKM is thankful to Department of Biotechnology for a research project Grant No. BT/PR9651/SPD/09/818/2007 and SKU is grateful for a fellowship under the DBT project.
Additional information
Sushil K. Upadhyay—Part of D.Phil. thesis awarded by the Allahabad Central University, UP, India.
About this article
Cite this article
Upadhyay, S.K., Jaiswal, N., Malhotra, A. et al. Ecological morphotaxometry of trematodes of garfish (Teleostomi: Belonidae) from Gangetic riverine ecosystem in India. II. Correlation of seasonality and host biology with distribution pattern of Cephalogonimus yamunii n.sp.. J Parasit Dis 37, 211–217 (2013). https://doi.org/10.1007/s12639-012-0168-2
Received:

Accepted:

Published:

Issue Date:
Keywords
Xenentodon cancilla
Cephalogonimus yamunii n.sp.

Seasonal impact

Poisson series

Overdispersion