Abstract
A total of 1920 faecal samples of sheep (960) and goats (960) of stationary flocks of the middle agro-climatic zone of Jammu province were examined, out of which 67.24 % animals were positive for helminthic infections. The different nematodes observed were strongyles (50.1 %), trichurids (12.1 %) and Strongyloides spp. (4.2 %). Trematode ova recorded were of amphistomes (8.3 %), Fasciola spp. (8.2 %) and Dicrocoelium spp. (5.4 %). No significant difference was observed between the infection level in sheep (68.54 %) and goats (65.94 %) which could be attributed to mixed grazing and sharing of pastures/sheds. Significantly (p < 0.05) higher infection was observed in monsoon as compared to winter. Strongyles were predominant during all the seasons, but significantly (p < 0.05) higher infection was observed in monsoon as compared to winter. Coproculture studies revealed that Haemonchus contortus (61.18 %) predominated during all the seasons, followed by Trichostrongylus spp. (13.67 %), Ostertagia spp. (12.17 %), Strongyloides spp. (4.14 %), Oesophagostomum spp. (3.84 %) and Bunostomum spp. (3.83 %). Eggs per gram of faeces (EPG) were the highest (sheep 1883.33 ± 117.6 and goats 1800 ± 110.21) during monsoon and the lowest during winter (sheep 640 ± 41.29 and goats 556.67 ± 33.01). Two peaks of EPG (the first in May and the second in August) were recorded during the 1 year study period. Infection was significantly (p < 0.05) higher in young (73.22 %) as compared to adults (61.25 %). Females showed a higher infection (73.33 %) as compared to males (61.14 %). The effect of prevailing agro-climatic conditions on the prevalence of gastrointestinal helminths has been discussed.
Access options
Buy single article
Instant access to the full article PDF.
USD 39.95
Price excludes VAT (USA)
Tax calculation will be finalised during checkout.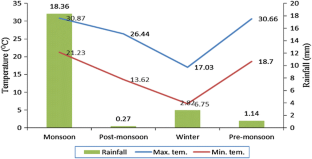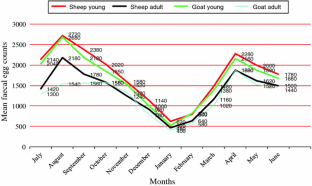 References
Coles GC, Bauer G, Borgsteede FHM, Geerts S, Klei TR, Taylor MA, Waller PJ (1992) World Association for the advancement of veterinary parasitology (WAAVP) methods for the detection of anthelmintic resistance in nematodes of veterinary importance. Vet Parasitol 44:35–44

Devina S (2004) Epidemiological studies on gastrointestinal helminths of sheep and chemotherapy of Haemonchus contours. MVSc thesis, CSK, Himachal Pradesh, Krishi Vishvavidyalaya, Palampur, pp 1–74

Devina S, Katoch R, Agnihotri RK (2007) Gastrointestinal helminths in Gaddi sheep. J Vet Parasitol 21:141–143

Godara R, Sharma RL (2010) Parasitic infections in livestock at Jaipur. J Vet Parasitol 24:193–195

Gupta JL (2006) Sheep production and management, 1st edn. CBS Publishers and Distributors, New Delhi, pp 1–239

Hawkins PA (1945) Studies of sheep parasites VI. Observations on weather in relation to untreated nematode infections. J Parasitol 31:17

Hutchinson GW, Lee EH, Fernando MA (1972) Effects of variation in temperature on infective larvae and their relationship to inhibited development of Obeliscoides cuniculi in rabbit. Parasitology 65:333–342

Jithendran KP (1998) Epidemiology of gastrointestinal nematodes in migratory sheep and goats in North-Western humid Himalayan region. Indian J Anim Sci 68:894–896

Katoch R (1998) Epidemiological, chemotherapeutic and immunological studies on Haemonchus Contortus in goats. PhD thesis, University of Agriculture and Technology, Kanpur

Katoch R, Mittra S, Agnihotri RK, Sharma AK (1998) Winter strongyloidosis in sheep and goats at high altitude, a sporadic occurrence. Indian Vet J 75:361–362

Katoch R, Mandial RK, Nagal KB (1999) Outbreak of Haemonchus contortus infection in sheep of Himachal Pradesh. Indian Vet J 76:932–933

Khajuria JK, Kapoor PR (2003) Prevalence of parasites in sheep and goats at Kathua-Jammu. J Vet Parasitol 17:121–126

Makhdoomi DM, Shagufta N, Bandey SD, Moulvi B (1995) Incidence of different ovine gastrointestinal parasites in Kashmir. Indian Vet J 72:898–900

Ollerenshaw CB, Rowland LP (1959) A method of forecasting the incidence of fascioliasis in Anglesey. Vet Rec 71:591–598

Perry BD, Randolph RFMC, Dermott JJ, Sones KR, Thornton PK (2002) Investing in animal health research to alleviate poverty. Research proceedings. International Livestock Research Institute (ILRI), Nairobi, p 148

Shahnawaz M, Shahardar RA, Wani ZA (2011) Seasonal prevalence of platyhelminthosis of sheep in Ganderbal area of Kashmir valley. J Vet Parasitol 25:59–62

Shugufta N, Jeelani SG, Hakeem M (2005) Incidence of gastrointestinal nematodes in sheep in Kashmir Valley. J Vet Parasitol 19:27–29

Singh D, Swarnkar CP, Khan FA, Srivastava CP, Bhagwan PSK (1997) Epidemiology of ovine gastrointestinal nematodes at a organized farm in Ranchi. Small Rum Res 26:31–37

Singla LD (1995) A note on subclinical intestinal parasitism in sheep and goats in Ludhiana and Faridkot districts of Punjab. Indian Vet Med J 19:61–62

Snedecor GW, Cochran WG (1989) Statistical methods, 8th edn. The Iowa State University Press, Ames

Soulsby EJL (1966) Biology of parasites. Academic Press, New York and London, pp 185–196

Soulsby EJL (1982) Helminths, arthropods and protozoa of domesticated animals, 7th edn. The English Language Book Society, London, pp 126–173

Swarnkar CP, Khan FA, Singh D, Bhagwan PSK (1996) Multiple anthelmintic resistance in Haemonchus contortus of sheep. Indian J Anim Sci 69:547–549

Thapar GS (1956) Systematic survey of helminth parasites of domesticated animals in India. Indian J Vet Sci 26:211–271

Wani ZA, Shahardar RA, Shahnawaz M (2011) Prevalence of nemathelminth parasites in sheep of Ganderbal district of Kashmir valley. J Vet Parasitol 25:26–29

Yadav Anish, Khajuria JK, Raina AK (2006) Seasonal prevalence of gastrointestinal parasites in sheep and goats of Jammu. Indian Vet J 20:65–68
Acknowledgments
The authors are highly thankful to the Director, Sheep Husbandry Department and the concerned staff for providing cooperation and facilities during the collection of faecal samples from different areas.
About this article
Cite this article
Khajuria, J.K., Katoch, R., Yadav, A. et al. Seasonal prevalence of gastrointestinal helminths in sheep and goats of middle agro-climatic zone of Jammu province. J Parasit Dis 37, 21–25 (2013). https://doi.org/10.1007/s12639-012-0122-3
Received:

Accepted:

Published:

Issue Date:

DOI: https://doi.org/10.1007/s12639-012-0122-3
Keywords