Abstract
Necropsy of gastrointestinal tract of 125 free-range chickens from a subtropical and humid zone of northwestern India revealed four nematode spp. (Ascaridia galli, Heterakis gallinarum, Capillaria spp. and Cheilospirura hamulosa) and four cestode spp. (Raillietina cesticillus, Raillietina echinobothrida, Raillietina tetragona and Amoebotaenia cuneata) The overall prevalence of the helminth parasites was 72.0%. Amongst various helminth species encountered in the region, A. galli emerged out as the most prevalent, followed by H. gallinarum, R. cesticillus and R. echinobothrida. The impact of helminthic infections on body weight gain in growing chickens was investigated. One hundred growing chickens, aged 40 days were randomly assigned to two groups (treated and untreated controls) of 50 birds each. The birds in treated group were given fenbendazole at 7.5 mg per kg body weight in drinking water, while the birds in other group served as untreated controls. At the end of the 90 days of the field trial, the mean body weight gain of untreated controls was 1232.2 ± 7.28 g (13.7 g/day) compared with 1617.6 ± 5.43 g (18.0 g/day) in the treated group. It was associated with a significantly (P < 0.05) higher mean worm burden (32.92 ± 6.12) in untreated controls than the treated group (2.46 ± 1.14). The prevalences of helminthic species and their impact on body weight gain in growing backyard chickens have been discussed.
Access options
Buy single article
Instant access to the full article PDF.
USD 39.95
Price excludes VAT (USA)
Tax calculation will be finalised during checkout.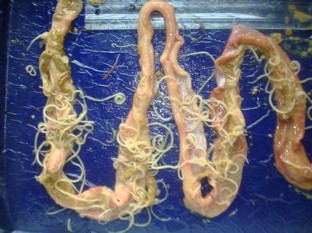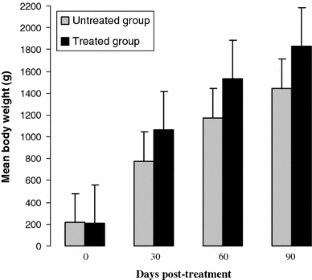 References
Kulkarni GM, Narladkar BW, Deshpande PD (2001) Helminthic infections in desi fowl (Gallus gallus domesticus) in Marathwada region. J Vet Parasitol 15:137–139

Malhotra KS (1983) Population distribution of Heterakis pusilla in Gallus gallus L. from India. J Helminthol 57:117–126

Matta SC, Ahluwalia SS (1981) Note on the survey of gastrointestinal helminths of domestic fowls in UP. Indian J Anim Sci 51:1013–1015

Negesse T (1991) Survey of internal parasites of local chickens of southern Ethiopia. Indian J Poult Sci 26:128–129

Pandey VS (1992) Epidemiology and economics of village poultry production in Africa: overview. In: Pandey VS, Demey S (eds) Village poultry production in Africa, Rabat, Morocco, pp 124–128

Permin A, Magwisha H, Kassuku AA, Nansen P, Biggaard M, Frandsen F, Gibbons L (1997) A cross-sectional study of helminths in rural scavenging poultry in Tanzania in relation to season and climate. J Helminthol 71:233–240

Phiri IK, Phiri AM, Ziela M, Chota A, Masuku M, Monrad J (2007) Prevalence and distribution of gastrointestinal helminths and their effects on weight gain in free-range chickens in central Zambia. Trop Anim Health Prod 39:309–315

Puttalakshmamma GC, Ananda KJ, Prathiush PR, Mamatha GS, Rao S (2008) Prevalence of gastrointestinal parasites of poultry in and around Bangalore. Vet World 1:201–202

Saad MB, El Sadig AA, Shammat AM (1989) Helminth parasites of the local breed of poultry in Kordofan region, Sudanese. J Vet Sci Anim Husb 28:54–55

Singh A, Anish Y, Khajuria JK, Borkataki S, Pande N, Konwar D, Katoch R (2009) Comparative evaluation of different breeds of backyard poultry under field conditions. Vet Pract 10:181–182

Soulsby EJL (1982) Helminths, arthropods and protozoa of domesticated animals, 7th edn. Bailliere Tindall, London
Acknowledgment
We thankfully acknowledged financial support from Department of Biotechnology, New Delhi, India, under the project titled 'Empowerment of rural women through backyard poultry farming in Jammu region' (No. BT/PR 9600/SPD/11/1076/2007).
About this article
Cite this article
Katoch, R., Yadav, A., Godara, R. et al. Prevalence and impact of gastrointestinal helminths on body weight gain in backyard chickens in subtropical and humid zone of Jammu, India. J Parasit Dis 36, 49–52 (2012). https://doi.org/10.1007/s12639-011-0090-z
Received:

Accepted:

Published:

Issue Date:

DOI: https://doi.org/10.1007/s12639-011-0090-z
Keywords