Abstract
A new acanthocephalan of the genus Neoechinorhynchus Hamman, 1892 (Acanthocephala: Neoaechinorhynchoidea Southwell et Macfie, 1925) parasitic on threadfin fish, Leptomelanosoma indicum Shaw, 1804 from Visakhapatnam coast, Andhra Pradesh, India is described. Neoechinorhynchus indicus sp. nov is characterized by an enormous body size, structural characteristics of the hooks on proboscis, presence of body annulations, two guard cells, unequal lemnisci, sub-terminal genital pore and the host. N. indicus sp.nov is included in the genus by the presence of three rows of six hooks each on the proboscis and a single layered proboscis receptacle.
Access options
Buy single article
Instant access to the full article PDF.
USD 39.95
Price excludes VAT (USA)
Tax calculation will be finalised during checkout.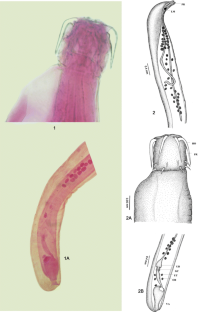 References
Amin OM (2002) Revision of Neoechinorhynchus Stiles & Hassall, 1905 (Acanthocephala: Neoechinorhynchidae) with keys to 88 species in two subgenera. Syst Parasitol 53:1–18

Amin OM, Christison WK (2005) Neoechinorhynchus (Neoechinorhynchus) dorsovaginatus n. sp. (Acanthocephala: Neoechinorhynchidae) from the dusky kob Argyrosomus japonicus (Sciaenidae) on the southern coast of South Africa. Syst Parasitol 61:173–179

Amin OM, Gunset M (1992) The pattern of giant nuclei in Neoechinorhynchus rutili (Acanthocephala: Neoechinorhynchidae). Transactions of the American Microscopical Society 111:65–69

Amin OM, Heckmann RA (2009) Description of Neoechinorhynchus (Neoechinorhynchus) buckneri n. sp. (Acanthocephala: Neoechinorhynchidae) from the Blacktail Redhorse Moxostoma poecilurum (Catostomidae) in the Tchoutacabouffa River, Mississippi, U.S.A., with a Key to species of neoechinorhynchus with different dorsoventral body wall thickness. Comp Parasitol 76(2):154–161

Amin OM, Muzzall PM (2009) Redescription of Neoechinorhynchus tenellus (Acanthocephala: Neoechinorhynchidae) from Esox lucius (Esocidae) and Sander vitreus (Percidae) among other percid and centrarchid fish in Michigan, USA. Comp Parasitol 76:44–50

Amin OM, Vignieri JC (1986a) Acanthocephala from lake fishes in Wisconsin: numerical and structural–functional relationships of the giant nuclei in Neoechinorhynchus cylindratus (Neoechinorhynchidae). J Parasitol 72:88–94

Amin OM, Vignieri JC (1986b) Acanthocephala from lake fishes in Wisconsin: the giant nuclei pattern in Neoechinorhynchus robertbaueri and N. prolixoides (Neoechinorhynchidae). Proc Helminthol Soc Wash 53:184–193

Amin OM, Saoud MFA, Alkuwari KSR (2002) Neoechinorhynchus qatarensis sp. n. (Acanthocephala: Neoechinorhynchidae) from the blue-barred flame parrot fish, Scarus ghobban Forsskål, 1775 in Qatari waters of the Arabian Gulf. Parasitol Int 51(2):171–176

Amin OM, Abdullah SM, Mhaisen FT (2003) Neoechinorhynchus (Neoechinorhynchus) zabensis sp. n. (Acanthocephala: Neoechinorhynchidae) from freshwater fish in northern Iraq. Folia Parasitol (Praha) 50(4):293–297

Bhalerao GD (1936) Studies on the helminths of India. Trematoda. IV. J Helminthol 14(4):181–206

Bhattacharya SB, Benarjee S (2003) New record of the genus Gorgorhynchoides Cable & Linderoth, 1963 (Acanthocephala: Paleoacanthocephala) with G. indicus n.sp. from Carangid fishes of Indian Coast. Rec Zool Surv India 10(3/4):49–54

Buckner RL, Buckner SC (1993) Description of Neoechinorhynchus carinatus n. sp. (Acanthocephala: Neoechinorhynchidae) from the sharpfin chubsucker, Erimyzon tenuis, of Louisiana and Mississippi. J Parasitol 79:32–36

Bullock WL (1963) Neoechinorhynchus prolixoides n. sp. (Acanthocephala) from North American fishes. Proc Helminthol Soc Wash 30:92–96

Chandra KJ, Hanumantha Rao K, Shyamasundari K (1984) On Neocehinorhynchus argentatus n.sp. An acanthocephalan parasite from a marine fish of waltair. Rivista Di Parassitologia vol. I (XLV): 49–52

Ching HL (1984) Description of Neoechinorhynchus salmonis sp.n. (Acanthocephala: Neoechinorhynchidae) from freshwater fishes of British Columbia. J Parasitol 70(2):286–291

Durborow RM, Rogers WA, Klesius PH (1988) Interaction of bass tapeworm, Proteocephalus ambloplitis, and Neoechinorhynchus sp. (Acanthocephala) in largemouth bass, Micropterus salmoides. J Parasitol 74:1056–1059

Elsayed Ehab, Faisal M (2008) Interactions between Proteocephalus ambloplitis and Neoechinorhynchus sp. in Largemouth Bass, Micropterus salmoides, collected from Inland Lakes in Michigan, USA. J Am Sci 4(4):50–57

Eure H (1976) Seasonal abundance of Neoechinorhynchus cylindratus taken from largemouth bass (Micropterus salmoides) in a heated reservoir. Parasitology 73:355–370

Golvan YJ (1969) Systematique des Acanthocephales (Acanthocephala Rudolphi, 1801), Lordre des Palaeacanthocephala Meyer, 1931, La super-families des Echinorhynchoidea (Cobbold, 1876) Golvan et Huin, 1963. Memoires du Museum National D 'histoire Naturelle 57:1–373

Gupta V, Fatma S (1987) On some acanthocephalan parasites (Rhadinorhynchidae) from fishes of Kerala, Puri and Tamil Nadu. Ind J Helm 39(1):1–26

Gupta PC, Kumar P (1987) Two new species of acanthocephalan parasites (Rhadinorhynchidae) of marine fishes off Puri coast. Kan Univ Res J (Science) 5:75–80

Hiware CJ, Jadhav BV, Mohekar AD (2003) Applied parasitology. A practical manual. Mangaldeep Publications, India

Hoffman GL (1999) Parasites of North American freshwater fishes, 2nd edn. Cornell University Press, Ithaca and London

Juan JA, Aguirre WE (2005) Scanning electron microscopy of Neoechinorhynchus sp.(Acanthocephala: Neoechinorhynchidae), a possible new species of intestinal parasite of the Tallfin croaker Micropogonias altipinnis (Günther, 1864). Parasitol Latinoam 60:48–53

Linton E (1889) Notes on metozoan of marine fishes of New England, with description of several new species. Rep US Fish Comm 14:453–511

Linton E (1932) On taxonomic position of Echinorhynchus sagittifer Linton. Science 76:193

Luhe M (1911) Acanthocephalan- Die Susswasse fauna Deutschlands 16:11–16

Madhavi R, Vijayalakshmi C, Shyamasundari K (2007) Collection, staining and identification of different helminth parasites. A manual of the workshop on fish parasites—Taxonomy Capacity Building. Andhra University Press, India

Nickol BB, Thatcher VE (1971) Two new acanthocephalans from Neotropical fishes: Neoechinorhynchus prochilodorum sp.n and Gorytocephalus plecostomorum gen. et. sp. n. J Parasitol 57(3):576–581

Podder TN (1937) A new species of Acanthocephala Neoechinorhynchus topseyi n.sp. from Calcutta fish, Polynemus heptadactylus (Cuv. andVal.). Parasitology 29(3):365–369

Rudolphi CA (1808) Entozoorum sive vermium intestinalium historia naturalis

Rueckert S, Wilhelm H, Asri TY, Palm HW (2008) Metazoan fish parasites of Segara Anakan Lagoon, Indonesia, and their potential use as biological indicators. Reg Environ Change 9(4):315–328

Salgado MG, Caspeta-Mandujano JM, Martínez-Ramírez E (2010) Neoechinorhynchus (Neoechinorhynchus) chimalapasensis n. sp. (Acanthocephala: Neoechinorhynchidae) from the freshwater fish Awaous banana (Valenciennes) (Gobiidae) in Mexico. Syst Parasitol 75(3):231–237

Santos RS, Martins ML, Marengoni NG, Francisco CJ, Piazza RS, Takahashi HK, Onaka EM (2005) Neoechinorhynchus curemai (Acanthocephala: Neoechinorhynchidae) in Prochilodus lineatus (Osteichthyes: Prochilodontidae) from the Paraná River, Brazil. Vet Parasitol 134(1–2):111–115

Tripathi YR (1956) Studies on parasites of Indian fishes V. Acanthocephalans. Rec Ind Mus 54(1/2):61–99

Yamaguti S (1939) Studies on the helminth fauna of Japan. Part 29. Acanthocephala-II. Jap J Zool 8:317–351

Yamaguti S (1963) Systema Helminthum. Vol. 5: Acanthocephala. Interscience Publish, New York, London, pp 1–423
Acknowledgments
The first author is grateful to the UGC for providing financial assistance under the Fellow Improvement Programme (FIP) and the third author is thankful to Council of Scientific & Industrial Research, New Delhi for providing the financial assistance as senior research fellow.
About this article
Cite this article
Gudivada, M., Chikkam, V. & Vankara, A.P. On a new species of Neoechinorhynchus Hamann, 1892 (Acanthocephala: Neoechinorhynchoidea Southwell et Macfie, 1925) from Indian threadfin fish, Leptomelanosoma indicum Shaw, 1804 from Visakhapatnam coast, Andhra Pradesh, India. J Parasit Dis 34, 89–93 (2010). https://doi.org/10.1007/s12639-010-0013-4
Received:

Accepted:

Published:

Issue Date:

DOI: https://doi.org/10.1007/s12639-010-0013-4
Keywords
Neoechinorhynchus indicus
Leptomelanosoma indicum

Proboscis

Lemnisci

Guard cells