Zusammenfassung
Ziel
Die vorliegende Arbeit untersucht die Präferenzen von Männern und Frauen in Bezug auf Ästhetik und Erotik des weiblichen Genitals. Zusätzlich wurden Faktoren wie die Anzahl von Sexualpartnern sowie das Persönlichkeitsmerkmal Offenheit für Erfahrungen hinzugezogen.
Methoden
Die Daten wurden innerhalb einer Online-Befragung erhoben. 202 weibliche und 114 männliche Personen nahmen teil (Durchschnittsalter 29 Jahre). Mittels 40 Abbildungen und eines Fragebogens wurden Ästhetik und Erotik im Erscheinungsbild der Vulva erfragt. Zusätzlich wurde die Skala "Offenheit" des NEO-FFI herangezogen.
Ergebnisse
Es konnten signifikante Unterschiede zwischen beiden Geschlechtern hinsichtlich der Beurteilung des weiblichen Genitals nachgewiesen werden. Insbesondere eine große Klitoris, große Labia minora sowie große Labia majora wurden von Männern positiver als von Frauen bewertet. Symmetrie spielte keine große Rolle. Die Zufriedenheit von Frauen mit dem eigenen Intimbereich zeigte einen signifikanten Zusammenhang mit der Anzahl der Sexualpartner. Bei der Präferenz bezüglich der Intimrasur wurde die Totalrasur am besten bewertet. Es konnte kein Zusammenhang zwischen der Beurteilung einer Vulva mit der Anzahl der Sexualpartner von Männern oder mit Offenheit für Erfahrungen bestätigt werden. Der Artikel beinhaltet Bilder der als am schönsten und der als weniger attraktiv beurteilten weiblichen Geschlechtsorgane. Frauen beurteilten anatomische Abweichungen dieses Körperteils deutlich kritischer als Männer, die aufgrund ihrer biologischen Prägung weibliche Geschlechtsteile insgesamt positiver beurteilten. Bei Frauen stieg die Toleranz für die Variabilität des Geschlechtsorgans mit der Anzahl von Sexualpartnern.
Abstract
Aim
The present article examines the preferences of men and women concerning the aesthetics and eroticism of the female genitalia. In addition, influencing factors, such as the number of sexual partners as well as the personality trait openness for experiences were analyzed.
Methods
The data were acquired by an on-line questionnaire with 202 female and 114 male participants (average age 29 years). Using a self-constructed questionnaire the preferences for the appearance of the vulva were documented. In addition, the scale "openness" of the NEO-FFI was investigated.
Results
Significant differences between both genders could be proved concerning the judgment of the female genitalia. In particular, a large clitoris, large labia minora as well as labia majora were more positively valued by men than by women. Symmetry had no major influence. The satisfaction with the own intimate area of women showed a significant connection with the number of sexual partners. Regarding the preference for shaving of the female intimate parts, a totally shaved pubic area was scored the highest. In addition, no associations were found between the judgment of a vulva with the number of sexual partners of men or with the personality trait openness for experiences. This article contains pictures of female genitalia which were judged as the most attractive and those which were assessed to be less attractive. Conclusion: Women judge anatomical divergences of this body part clearly more critically than men who due to their biological imprinting, judged female genitalia more positively. In women the tolerance for the variability of the vagina increased with the number of sexual partners.
This is a preview of subscription content, log in to check access.
Access options
Buy single article
Instant access to the full article PDF.
US$ 39.95
Price includes VAT for USA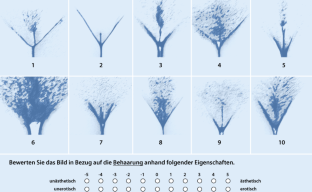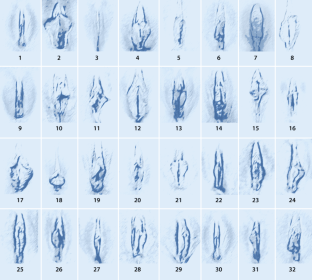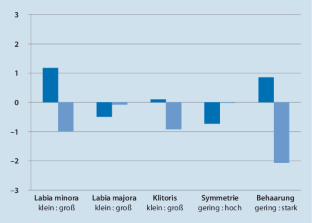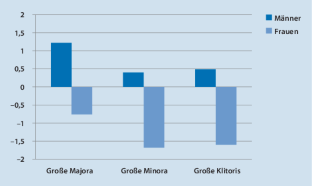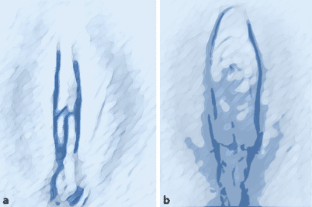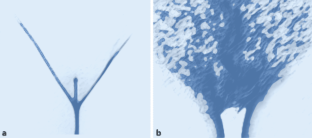 Literatur
1.

Adelberger S, Dörfler D (2015) Labienkorrekturen: Warum lassen sich Frauen heutzutage in unserer so westlichen Gesellschaft "Beschneiden"? Besteht ein Zusammenhang zwischen der allgemeinen Unzufriedenheit mit dem Genitale einer Frau und der Länge ihrer inneren Schamlippen? Geburtshilfe Frauenheilkd. https://doi.org/10.1055/s-0035-1555033

2.

Barbara G, Facchin F, Meschia M, Vercellini P (2015) "The first cut is the deepest": a psychological, sexological and gynecological perspective on female genital cosmetic surgery. Acta Obstet Gynecol Scand 94:915–920. https://doi.org/10.1111/aogs.12660

3.

Borkenau P, Ostendorf F (2008) NEO-Fünf-Faktoren Inventar nach Costa und McCrae (NEO-FFI) Manual, 2. Aufl. Hogrefe, Göttingen

4.

Borkenhagen A (2016) Das weibliche Genitale als öffentlicher Ort!? In: Wimmer-Puchinger B, Gutiérrez-Lobos K, Riecher-Rössler A (Hrsg) Irrsinnig weiblich – psychische Krisen im Frauenleben. Springer, Heidelberg, S 45–54

5.

Borkenhagen A (2013) Intimchirurgische Operationen. Kosmetische Genitalchirurgie. Geburtshilfe Frauenheilkd 73:1087–1090

6.

Borkenhagen A (2011) Intimmodifikationen bei Jugendlichen. BZgA Forum 3:20–24

7.

Brähler E (2009) Verbreitung von Tätowierungen, Piercing und Körperhaarentfernung in Deutschland. Ergebnisse einer Repräsentativerhebung. http://www.huber-verlag.de/daten/newspool/file/16946/presse_tattoo_piercing.pdf. Zugegriffen: 3. Juli 2016

8.

Braun V (2005) In search of (better) sexual pleasure: female genital "cosmetic" surgery. Sexualities 8:407–424. https://doi.org/10.1177/1363460705056625

9.

Braun V, Wilkinson S (2003) The vagina: liability or asset? Psychol Women Sect Rev 5:28–42

10.

Deutsche Gesellschaft der Plastischen, Rekonstruktiven und Ästhetischen Chirurgen (2013) Schönheit ist nicht alles! DGPRÄC veröffentlicht Statistik zu ästhetischen Operationen. http://www.dgpraec.de/uploads/media/2013-06-04-Statistik_2011_01.pdf. Zugegriffen: 19. Juli 2016

11.

Durex (2005) Global sex survey. http://data360.org/pdf/20070416064139.Global%20Sex%20Survey.pdf. Zugegriffen: 27. Juli 2016

12.

Gerrig RJ, Zimbardo PG (2008) Psychologie, 18. Aufl. Pearson, Hallbergmoos

13.

Gesellschaft für Konsum- und Marktforschung (2007) Repräsentativbefragung zum Thema "Körperbehaarung und Attraktivität". Wort & Bild Verlag, Baierbrunn

14.

Koning M, Zeijlmans IA, Bouman TK, Van der Lei B (2009) Female attitudes regarding labia minora appearance and reduction with consideration of media influence. Aesthet Surg J 29:65–71

15.

Lloyd J, Crouch NS, Minto CL, Liao L‑M, Creighton SM (2005) Female genital appearance: "normality" unfolds. BJOG 112:643–646. https://doi.org/10.1111/j.1471-0528.2004.00517.x

16.

Meßmer A‑K (2013) "Und gut, dann ändert man halt seinen Körper". Intimchirugie zwischen Medikalisierung und Rohstoffisierung. Gender 5(1):9–23. http://nbn-resolving.de/urn:nbn:de:0168-ssoar-396435

17.

Miklos JR, Moore RD (2008) Labiaplasty of the labia minora: patients' indications for pursuing surgery. J Sex Med 5:1492–1495. https://doi.org/10.1111/j.1743-6109.2008.00813.x

18.

Moran C, Lee C (2016) Everyone wants a vagina that looks less like a vagina": Australian women's views on dissatisfaction with genital appearance. J Health Psychol:1–11. https://doi.org/10.1177/1359105316637588

19.

Nappi RE, Liekens G, Brandenburg U (2006) Attitudes, perceptions and knowledge about the vagina: the International Vagina Dialogue Survey. Contraception 73:493–500. https://doi.org/10.1016/j.contraception.2005.12.007

20.

Renz U (2007) Schönheit – Eine Wissenschaft für sich. Verlag Taschenbuch, Berlin

21.

Rouzier R, Louis-Sylvestre C, Paniel BJ, Haddad B (2000) Hypertrophy of labia minora: experience with 163 reductions. Am J Obstet Gynecol 182:35–40

22.

Sieverding M (1993) Geschlecht und physische Attraktivität. In: Hassebrauck M, Niketta R (Hrsg) Physische Attraktivität. Hogrefe, Göttingen, S 235–269

23.

Turkof E, Sonnleitner E, Stirn A (2008) Schamlippenkorrektur. Wilhelm Maudrich Verlag, Wien

24.

Veale D, Eshkevari E, Ellison N, Costa A, Robinson D, Kavouni A, Cardozo L (2014) Psychological characteristics and motivation of women seeking labiaplasty. Psychol Med 44:555–566. https://doi.org/10.1017/S0033291713001025

25.

Weissenrieder N (2012) Jugendgynäkologie. Monatsschr Kinderheilkd 7:646–656. https://doi.org/10.1007/s00112-011-2610-4
Ethics declarations
Interessenkonflikt
E. Kasten und K. Hoffmann geben an, dass kein Interessenkonflikt besteht.
Alle beschriebenen Untersuchungen am Menschen wurden mit Zustimmung der zuständigen Ethik-Kommission, im Einklang mit nationalem Recht sowie gemäß der Deklaration von Helsinki von 1975 (in der aktuellen, überarbeiteten Fassung) durchgeführt. Von allen beteiligten Patienten liegt eine Einverständniserklärung vor.
About this article
Cite this article
Kasten, E., Hoffmann, K. Weibliche Genitalästhetik. J Ästhet Chir 12, 95–103 (2019). https://doi.org/10.1007/s12631-018-0123-x
Schlüsselwörter
Vagina

Vulva

Vaginalästhetik

Vaginale Schönheit

Attraktivitätsforschung
Keywords
Vagina

Vulva

Vaginal aesthetics

Vaginal beauty

Science of beauty