Zusammenfassung
Von ärztlicher Seite aus wird vorwiegend auf medizinische Risiken von Tätowierungen, Piercings und anderen Formen der Body-Modification hingewiesen. Abgesehen von medizinisch sinnvollen Tattoos, etwa einer auftätowierten Brustwarze nach Mammakarzinom, können gerade junge Menschen in ihrer Persönlichkeitsentwicklung von Körperschmuck profitieren. Beispiele sind das subjektive Gefühl gestiegener Attraktivität, Stolz auf die "Mutprobe" durch das Ertragen der Schmerzen und bessere Integration in die Gruppe der Gleichaltrigen. Bei Borderline-Patienten kann es sogar zum Rückgang selbstverletzender Verhaltensweisen kommen. Nicht selten verarbeiten Menschen traumatische Lebensereignisse, z. B. den Tod einer nahestehenden Person, durch ein Tattoo. Obwohl heute in Deutschland rund 8 Mio. Menschen tätowiert sind, zeigen aktuelle Studien, dass es weiterhin Vorurteile gibt. Die Entscheidung für ein tätowiertes Bild ist nicht zufällig, sondern spiegelt den Charakter des Trägers wider. Ein Mensch, der sich mit Tattoos wie z. B. Blumengirlanden schmückt, ist tatsächlich meist friedfertiger. Jemand, dessen Oberarm ein "Skull" ziert, muss aber nicht aggressiver sein; der Totenschädel kann ihn auch an die Begrenztheit des Lebens mahnen.
Abstract
From a physician's perspective the predominant aspects of tattoos, piercings and other forms of body modification are the medical risks. Apart from medically indicated tattoos, such as the tattoo of a nipple after breast carcinoma, young people in particular can benefit in their personality development from body jewelry. Examples are the subjective feeling of increased attractiveness, pride in the "courage test" by bearing the pain and better integration into the group of peers. Borderline patients may experience a reduction in self-injurious behavior. Not infrequently, people cope with traumatic life events, e. g. the death of a close person, by a tattoo. In spite of the fact that nowadays in Germany approximately 8 million people are tattooed, current studies show that tattoos are still subject to prejudice. The decision for a tattooed image is not accidental but reflects the character of the wearer. A person with tattoos, such as flower garlands is often actually more peaceful. Someone whose upper arm is graced by a "skull" must not necessarily be more aggressive; the skull can also be a reminder of the limitations of life.
Access options
Buy single article
Instant access to the full article PDF.
US$ 39.95
Tax calculation will be finalised during checkout.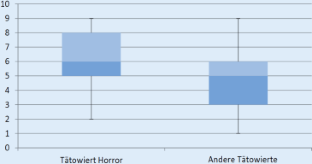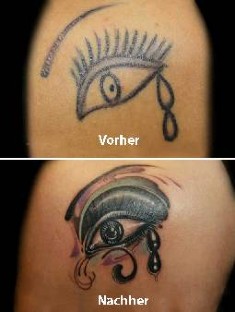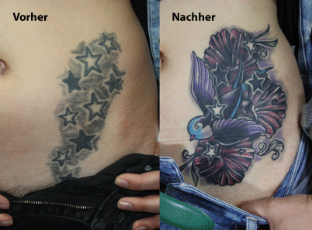 Literatur
1.

Acor AA (2001) A Employer's perceptions of persons with body art and an experimental test regarding eyebrow piercing. Dissertation-Abstracts

2.

Al-Rayess A (2015) Tattoos: Vorteile auf die Persönlichkeitsentwicklung? Unveröffentlichte Bachelorarbeit. Medical School Hamburg, Fakultät Psychologie,

3.

AWMF (2013) Leitlinien: Tätowieren – Anforderungen für die Hygiene. http://www.awmf.org/leitlinien/detail/ll/029-024.html.. Zugegriffen: 22.12.2016

4.

Brähler E, Stirn A, Brosig B (2006) Verbreitung von Körperschmuck und Inanspruchnahme von Lifestylemedizin in Deutschland. Ergebnisse zweier Repräsentativerhebungen. https://forum.sexualaufklaerung.de/index.php?docid=877. Zugegriffen: 22.12.2016

5.

Branscombe NR, Ellemers N, Spears R, Doosje B (2002) Intragroup and intergroup evaluation effects on group behavior. Pers Soc Psychol Bull 28:744–753

6.

Brunotte U (2000) Ritual und Erlebnis. Theorien der Initiation und ihre Aktualität in der Moderne. Z Relig Geistesgesch 52:349–367

7.

Cebula AS (2016) Persönlichkeitsmerkmale im Zusammenhang mit Tätowierungen. Unveröffentlichte Masterarbeit. Medical School Hamburg, Hamburg

8.

Eberhard I (2011) "Das blaue Weib" und andere Zirkusfrauen. Theoretische Aspekte von Tätowierungen unter besonderer Berücksichtigung von "Tätowierte Damen" in Zirkus und Schaubuden untersucht am Beispiel der Sammlung Walther Schönfeld. Mitt Anthropol Ges Wien 141:305–328

9.

Falkenhayn KV (2016) Tätowierungen und Vorurteile – Einflüsse von Extraversion, Offenheit für neue Erfahrungen und Bildungsgrad auf die Beurteilung tätowierter Erwachsener. Unveröffentlichte Bachelorarbeit. Medical School Hamburg, Hamburg

10.

Favazza A (1996) Bodies under siege – self-mutilation and body modification in culture and psychiatry. The Johns Hopkins University Press, Baltimore

11.

Feige M, Krause B (2004) Piercing intim – mein kleines Geheimnis. Schwarzkopf & Schwarzkopf, Berlin

12.

Hartig K, Oeft-Geffarth S (2016) Trauertattoo – unsere Haut als Gefühlslandschaft. conVela, Halle

13.

Jetten J, Branscombe MR, Schmitt MT, Spears R (2001) Rebels with a cause: group identification as a response to perceived discrimination from the mainstream. Pers Soc Psychol Bull 27(9):1204–1213

14.

Kaldera R, Schwartzstein T (2003) urban primitive – Heidentum in der Großstadt. Arun, Engerda

15.

Kaste E (2006) BodyModification. Psychologische und medizinische Aspekte von Piercing, Tattoo, Selbstverletzung und anderen Körperveränderungen. Reinhardt, München

16.

Kasten E (2007) Weibliche genitale BodyModification. Gynakologe 40(6):489–500

17.

Kasten E (2012) Zwischen Schmerz und Scham – Der Intimbereich als Kunstobjekt. GYN 17(2):104–119

18.

Kasten E (2008) BodyModification als modernes Mannbarkeitsritual. psychosozial 110:117–125

19.

Martino S (2008) Perceptions of a photograph of a woman with visible piercings. Psychol Rep 103:134–138

20.

Preti A, Pinna C, Nocco S, Mulliri E, Pilia S, Petretto DR, Masala C (2006) Body of evidence: tattoos, body piercing, and eating disorder symptoms among adolescents. J Psychosom Res 61(4):561–566

21.

Ramihi IA, Kasten E (submitted) Tattoo – What do people know about medical risks of body ink?

22.

Salluce S (2015) griefink. CreateSpace,

23.

Stirn A, Decker O, Brähler E (2003) Körperkunst und Körpermodifikation. Psychosozial, Gießen

24.

Stirn A, Hinz A, Brähler E (2006) Prevalence of tattooing and body piercing in Germany and perception of health, mental disorders and sensation seeking among tattooed and body pierced individuals. J Psychosom Res 60:531–534

25.

Stirn A, Hinz A (2008) Tattoos, body piercings, and self-injury: ls there a connection? Investigations on a core group of participants practicing body modification. Psychother Res 18(3):326–333

26.

Stirn A (2003) Body piercing: medical consequences and psychological motivations. Lancet 361:1205–1215

27.

Trampisch HJ, Brandau K (2014) Tattoos und Piercings in Deutschland – Eine Querschnittsstudie. Ruhr Universität Bochum, Bochum

28.

Wessel A, Kasten E (2014) Body-piercing and self-mulitation: A multifaceted relationship. Am J Appl Psychol 3(4):104–109

29.

Zeiler N, Kasten E (2016) Decisive is what the tattoo shows: differences in criminal behavior between tattooed and non-tattoed people. Soc Sci 5(6):26–20
Ethics declarations
Interessenkonflikt
E. Kasten gibt an, dass kein Interessenkonflikt besteht.
Dieser Beitrag beinhaltet keine vom Autor durchgeführten Studien an Menschen oder Tieren. Alle Patienten, die über Bildmaterial oder anderweitige Angaben innerhalb des Manuskripts zu identifizieren sind, haben hierzu ihre schriftliche Einwilligung gegeben. Im Falle von nicht mündigen Patienten liegt die Einwilligung eines Erziehungsberechtigten oder des gesetzlich bestellten Betreuers vor.
Additional information
Dieser Artikel basiert auf einem Vortrag bei der Jahrestagung 2016 der Gesellschaft für Ästhetische Chirurgie Deutschland (GÄCD) in Köln.
About this article
Cite this article
Kasten, E. Psychologische Aspekte von Tattoo & Co. J Ästhet Chir 10, 114–119 (2017). https://doi.org/10.1007/s12631-016-0069-9
Schlüsselwörter
Tätowierung

Piercing

Body-Modification

Risiken

Persönlichkeitsentwicklung
Keywords
Tattooing

Piercing

Body modification

Risks

Personality development