Abstract
Vaser® (vibration amplification of sound energy at resonance) lipoabdominoplasty was introduced in the author's practice in January 2014, and 50 cases have already been treated since then. The author has modified the lipoabdominoplasty introduced by Saldanha in 2006 by applying Vaser® LipoSelection instead of standard liposuction. The main advantage of the ultrasound-assisted device is its ability to target only fat cells, thereby sparing vessels, nerves, and supporting structures of the skin. This ensures a high degree of safety and viability of tissues during a standard body-contouring procedure. In contrast to standard liposuction, which involves blind suction and aspirates fat tissue at the subcutaneous level without differentiating between structures types, Vaser® ultrasound is selective. This is based on the ability of the ultrasound energy to achieve emulsification of only fat cells by means of the physical phenomenon referred to as "cavitation." In recent years, the author has honed the ability of Vaser® to perform well in superficial subcutaneous tissue; this helps thin the dermal fat layer, allowing the skin to retract to a greater extent than with standard liposuction. To obtain a high degree of skin retraction, the device should be able to perform a close defatting of the superficial fat layer without affecting tissue vascularization.
Zusammenfassung
Die Vaser®-Lipoabdominoplastik (Vaser: "vibration amplification of sound energy at resonance") wurde im Januar 2014 in der Praxis des Autors eingeführt. Seitdem wurden bereits 50 Fälle damit behandelt. Der Autor hat die 2006 von Saldanha eingeführte Lipoabdominoplastik durch Anwendung der Vaser® LipoSelection® anstelle der Standard-Liposuktion modifiziert. Der wesentliche Vorteil dieses ultraschallunterstützten Systems besteht in seiner Fähigkeit, nur auf Fettzellen zu zielen und somit Gefäße, Nerven und Stützstrukturen der Haut zu schonen. Das gewährt einen hohen Grad an Sicherheit und Schonung der verschiedenen Gewebe bei einer Körperformungs-Standardoperation. Im Gegensatz zur Standard-Liposuktion, bei die Absaugung blind erfolgt und Fettgewebe im Unterhautniveau ohne jegliche Unterscheidung zwischen den Arten von Gewebestrukturen abgesaugt wird, ist der Vaser®-Ultraschall selektiv. Grundlage dafür ist die Fähigkeit der Ultraschallenergie, durch das physikalische Phänomen der "Kavitation" eine Emulsifizierung allein von Fettzellen zu erzielen. In den letzten Jahren hat der Autor die Leistungsfähigkeit des Vaser®-Systems im oberflächlichen Subkutangewebe verbessert, was zur Verdünnung der dermalen Fettschicht beiträgt und die Hautstraffung in höherem Ausmaß als bei einer Standard-Liposuktion ermöglicht. Um ein hohes Maß an Hautstraffung zu erreichen, sollte das System in der Lage sein, die oberflächliche Fettschicht weitgehend zu entfernen, ohne die Gefäßversorgung des Gewebes zu schädigen.
Access options
Buy single article
Instant access to the full article PDF.
US$ 39.95
Tax calculation will be finalised during checkout.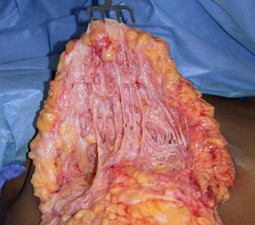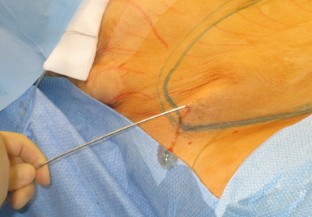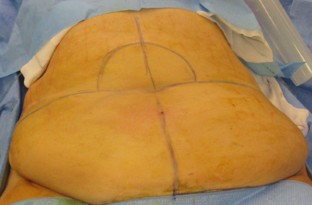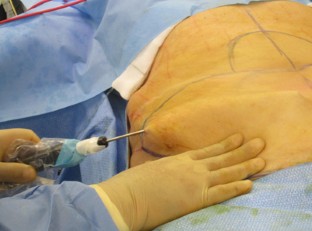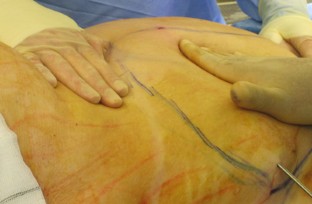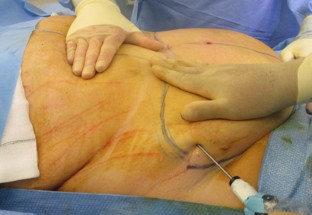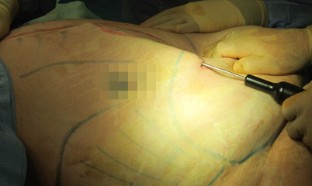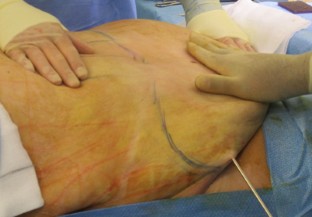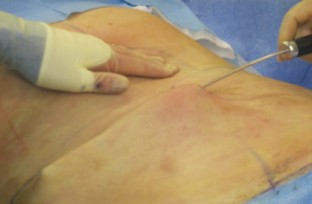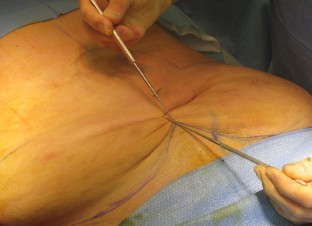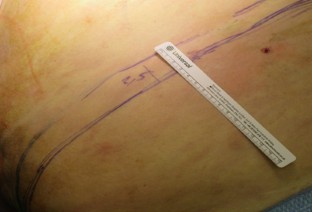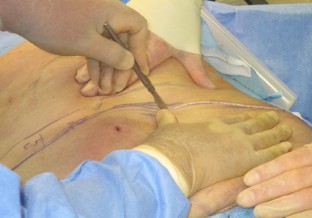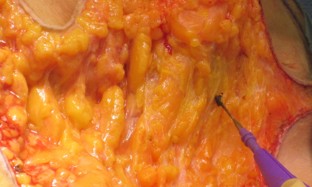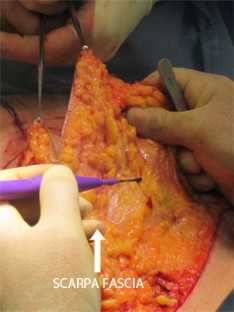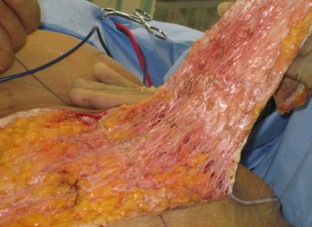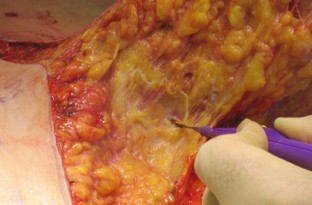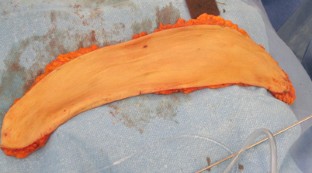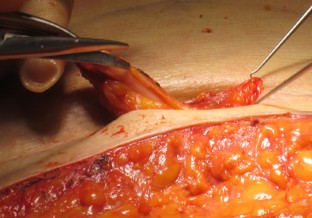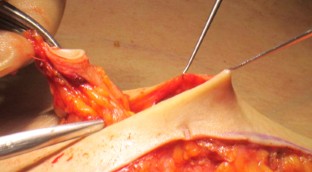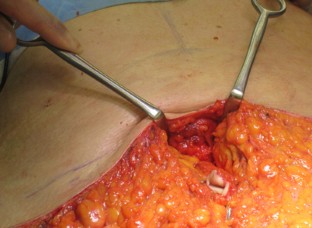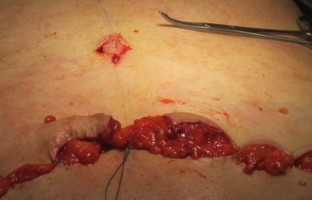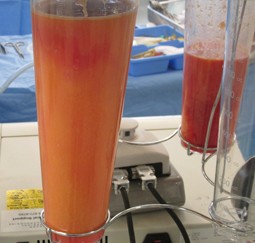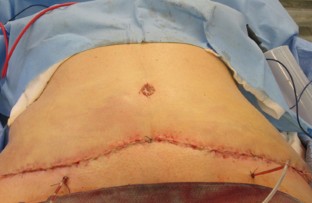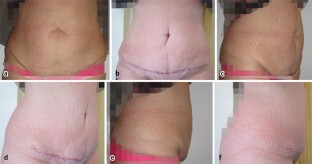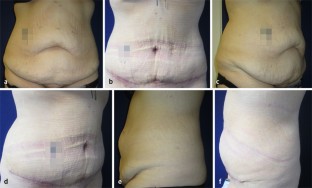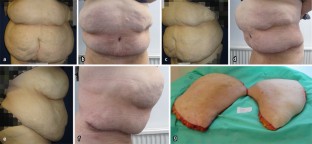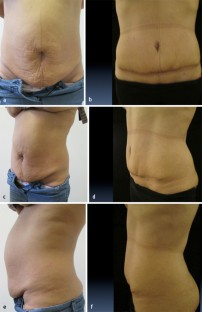 References
1.

Shiffman M, Di Giuseppe A (2006) Liposuction, principles and practice. Springer, Berlin

2.

Shiffman M, Di Giuseppe A (2010) Body contouring, art, science, and clinical practice. Springer, Berlin

3.

Shiffman M, Di Giuseppe A (2013) Cosmetic surgery, art and techniques. Springer, Berlin

4.

Shiffman M, Di Giuseppe A (2014) Stem Cells. Springer, Berlin

5.

Saldanha O (2006) Lipoabdominoplasty. CRC Press
Conflict of interests
A. Di Giuseppe states that there are no conflicts of interests.
All studies on humans described in the present manuscript were carried out with the approval of the responsible ethics committee and in accordance with national law and the Helsinki Declaration of 1975 (in its current, revised form). Informed consent was obtained from all patients included in studies.
Consent was obtained from all patients identifiable from images or other information within the manuscript. In the case of underage patients, consent was obtained from a parent or legal guardian.
Electronic supplementary material
About this article
Cite this article
Di Giuseppe, A. Vaser® lipoabdominoplasty. J Ästhet Chir 9, 67–73 (2016). https://doi.org/10.1007/s12631-015-0350-3
Keywords
Vaser®

LipoSelection®

Abdominoplasty

Superficial abdominal fat

Body contouring
Schlüsselwörter
Vaser®

LipoSelection®

Bauchstraffung

Subkutanes Bauchfett

Körperformung