Zusammenfassung
Hintergrund
Die Nachfrage nach ästhetisch-plastischen Eingriffen im weiblichen Genitalbereich hat in den letzten Jahren auch in Deutschland zugenommen.
Ziel der Arbeit
Es soll ein aktueller Überblick über Indikationen, Operationsmethoden, Risikoprofil und Resultate von ästhetischen Eingriffen an Vulva und Vagina gegeben werden.
Material und Methoden
Grundlagen sind eine aktuelle Literaturrecherche und eigene Erfahrungen hinsichtlich der häufigsten Eingriffe wie Schamlippenkorrektur, Vaginalplastik und Perineoplastik, Reduktion der Klitorisvorhaut und Hymenoplastik. Neben den plastisch-chirurgischen Prinzipien werden besondere medizinisch-rechtliche, ethische und soziokulturelle Aspekte diskutiert.
Ergebnisse
Die meisten veröffentlichen Studien geben eine postoperative Gesamtzufriedenheit von 90–95 % an, ein positiver Einfluss auf die sexuelle Zufriedenheit wird in 80–85 % berichtet. Vorübergehende Komplikationen, wie Wundheilungsstörungen, scheinen für die Patientinnen akzeptabel zu sein. Chronische Beschwerden wurden nur sehr selten, gravierende postoperative Störungen, z. B. des vaginalen Geburtsvorgangs, nicht berichtet.
Diskussion
Während die medizinische Indikation genitalchirurgischer Eingriffe in den Medien und auch unter Ärzten kontrovers diskutiert wird, wertet nach Angaben aus der Literatur die große Mehrheit der Patientinnen die erreichten Ergebnissen als sehr positiv und gibt eine subjektive Verbesserung ihres Körperbildes und sexuellen Empfindens an. Aufgrund spezieller medizinisch-rechtlicher, psychosozialer und ethischer Aspekte ist präoperativ eine besonders differenzierte Beratung, umsichtige Indikationsstellung und technische Detailkenntnis erforderlich. Das neue Gebiet der ästhetisch-plastischen Genitalchirurgie befindet sich in konstanter Entwicklung. Vorteile und Risiken für die Patientinnen sollten zukünftig in wissenschaftlich hochwertigen Studien anhand von Langzeitergebnissen hinsichtlich funktioneller Gesichtspunkte, Körperbild und sexuellem Empfinden differenziert untersucht werden.
Abstract
Background
The demand for aesthetic plastic surgery of the female genital area has increased in recent years also in Germany.
Objectives
The aim of this article is to give a current overview of the indications, surgical techniques, risk profiles and outcome of aesthetic surgery of the vulva and vagina.
Materials and methods
A review is presented based on the current literature and evaluation of own experiences regarding the most common procedures, such as labiaplasty, vaginoplasty and perineoplasty, clitoral hood reduction and hymenoplasty. In addition to the principles of plastic surgery, the specific medicolegal, ethical and sociocultural aspects of these interventions are discussed.
Results
The majority of published studies indicate an overall postoperative patient satisfaction of 90–95 % and a positive effect on sexual satisfaction was reported in 80–85 %. Temporary complications, such as wound healing problems, appear to be acceptable to the patients. Chronic complaints were only very rarely reported and serious postoperative complications, such as those affecting the vaginal birth process were not reported.
Discussion
While the medical indications for genital surgery are controversially discussed in the media and also among physicians, according to the data from the literature the vast majority of patients rate the postoperative results as very positive and feel a subjective improvement in their body image and sexuality. Due to the special medicolegal, psychosocial and ethical aspects, a particularly differentiated counseling, prudent indications as well as technical knowledge of details are required preoperatively. Aesthetic plastic genital surgery is a new field which is in a continuous process of development. The benefits and risks for the patients should be investigated in future by high quality scientific studies regarding long-term results in terms of functional aspects, body image and subjective sexual perception.
This is a preview of subscription content, log in to check access.
Access options
Buy single article
Instant access to the full article PDF.
US$ 39.95
Price includes VAT for USA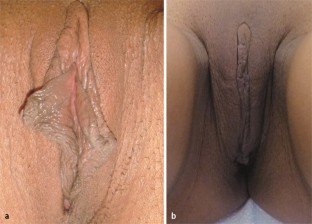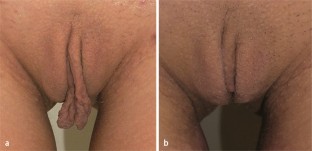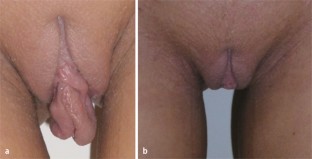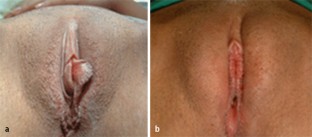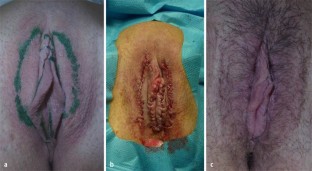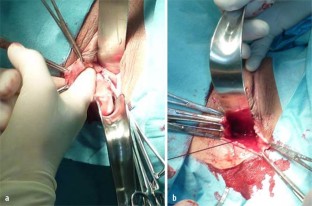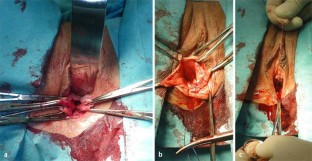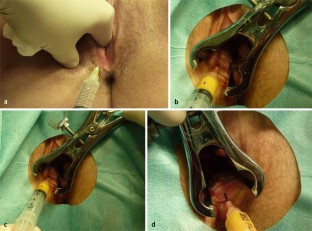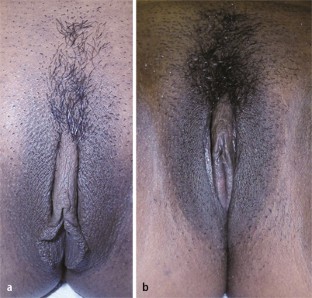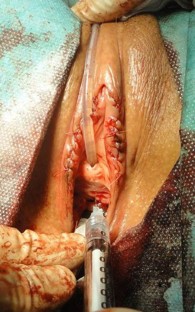 Literatur
1.

Alter GJ (1998) A new technique for aesthetic labia minora reduction. Ann Plast Surg 40:287–290

2.

Alter GJ (2008) Aesthetic labia minora and clitoral hood reduction using extended central wedge resection. Plast Reconstr Surg 122:1780–1789

3.

Bramwell R, Morland L, Garland AS (2007) Expectations and experience of labial reduction: a qualitative study. BJOG 1144:1493–1499

4.

Choi HY, Kim CT (2000) A new method for aesthetic reduction of labia minora (the deepithelialized reduction labiaplasty). Plast Reconstr Surg 105:419–422

5.

Davison SL, Bell RJ, LaChina M et al (2009) The relationship between self-reported sexual satisfaction and general well-being in women. J Sex Med 6:2690–2697

6.

DiGiorgi V, Salvini C, Mannone F et al (2004) Reconstruction of the vulvar labia minora with a wedge resection. Dermatol Surg 30:1583–1586

7.

Dobbeleir JM, Landuyt KV, Monstrey SJ (2011) Aesthetic surgery of the female genitalia. Semin Plast Surg 25:130–141

8.

Foldès P, Droupy S, Cuzin B (2013) Cosmetic surgery of the female genitalia. Prog Urol 23:601–611

9.

Giraldo F, González C, Haro F de (2004) Central wedge nymphectomy with a 90-degree Z-plasty for aesthetic reduction of the labia minora. Plast Reconstr Surg 113(6):1820–1825, discussion 1826–1827

10.

Girling VR, Salisbury M, Ersek RA (2005) Vaginal labiaplasty. Plast Reconstr Surg 115:1792–1793

11.

Gohla T (2011) Die ästhetische Verkleinerung der inneren Schamlippen. Arzt & Ästhetik 3/2011:6–11

12.

Goldman MP (2011) Female genital cosmetic and plastic surgery: a review. J Sex Med 8:1813–1825

13.

Goldstein AT, Romanzi LJ (2007) Z-plasty reduction labiaplasty. J Sex Med 4:550–553

14.

Goldstein G, Sklar S (2007) Is elective vulvar plastic surgery ever warranted, and what screening should be conducted preoperatively? J Sex Med 4:269–276

15.

Goodman MP, Placik OJ, Benson RH III et al (2010) A large multicenter outcome study of female genital plastic surgery. J Sex Med 7:1565–1577

16.

Goodman MP (2009) Female cosmetic genital surgery. Obstet Gynecol 113:154–159

17.

Heusse JL, Cousin-Verhoest S, Aillet S, Wattier E (2009) Refinements in labia minora reduction procedures. Ann Chir Plast Esthet 54:126–134

18.

Hodgkinson DJ, Hait G (1984) Aesthetic vaginal labioplasty. Plast Reconstr Surg 74:414–416

19.

Honore LH, O'Hara KE (1978) Benign enlargement of the labia minora: report of two cases. Eur J Obstet Gynecol Reprod Biol 8:61–64

20.

Jelovsek JE, Barber MD (2006) Women seeking treatment for advanced pelvic organ prolapse have decreased body image and quality of life. Am J Obstet Gynecol 194:1455–1461

21.

Kandela P (1996) Egypt's trade in hymen repair. Lancet 34:11

22.

Kuhn A, Brunnmayr G, Stadlmayr W et al (2009) Male and female sexual function after surgical repair of female organ prolapse. J Sex Med 6:1324–1334

23.

Lloyd J, Crouch NS, Minto CL et al (2005) Female genital appearance: "normality" unfolds. BJOG 112:643–646

24.

Lowder JL, Ghetti C, Moalli P et al (2010) Body image in women before and after reconstructive surgery for pelvic organ prolapse. Int Urogynecol J Pelvic Floor Dysfunct 21:919–925

25.

Maas SM, Hage JJ (2000) Functional and aesthetic labia minora reduction. Plast Reconstr Surg 105:1453–1456

26.

Miklos JR, Moore RD (2008) Labiaplasty of the labia minora: patient's indications for pursuing surgery. J Sex Med 5:1492–1495

27.

Munhoz AM, Filassi JR, Ricci MD et al (2006) Aesthetic labia minora reduction with inferior wedge resection and superior pedicle flap reconstruction. Plast Reconstr Surg 118:1237–1247

28.

O'Connor M (2008) Reconstructing the hymen: mutilation or restoration? J Law Med 1:161–175

29.

Pardo J, Solà V, Ricci P, Guilloff E (2006) Laser labioplasty of the labia minora. Int J Gynaecol Obstet 93:38–43

30.

Pardo J, Solà V, Ricci PA et al (2006) Colpoperineoplasty in women with a sensation of a wide vagina. Acta Obstet Gynecol Scand 85:1125–1128

31.

Pauls RN (2010) Impact of gynecological surgery on female sexual function. Int J Impot Res 22:105–114

32.

Pujols Y, Meston C, Seal BN (2010) The association between sexual satisfaction and body image in women. J Sex Med 7:905–916

33.

Rouzier R, Louis-Sylvestre C, Paniel BJ, Hadded B (2000) Hypertrophy of the labia minora; experience with 163 reductions. Am J Obstet Gynecol 182:35–40
Einhaltung ethischer Richtlinien
Interessenkonflikt. T. Gohla und A. Gohritz geben an, dass kein Interessenkonflikt besteht.
Dieser Beitrag beinhaltet keine Studien an Menschen oder Tieren.
About this article
Cite this article
Gohla, T., Gohritz, A. Ästhetisch-plastische Chirurgie der weiblichen Genitalregion. J. f. Ästhet. Chirurgie 7, 211–219 (2014). https://doi.org/10.1007/s12631-014-0299-7
Schlüsselwörter
Genitalchirurgie

Schamlippenverkleinerung

Vaginalplastik

Perineoplastik

Klitorisplastik
Keywords
Genital surgery

Labiaplasty

Vaginoplasty

Perineoplasty

Clitoroplasty