Zusammenfassung
Hintergrund
Die ersten Zeichen eines Elastizitäts- und Volumenverlusts entstehen im Mittelgesicht. In der Gesichtschirurgie hat dieses deshalb zunehmend an Bedeutung gewonnen.
Fragestellung
Mit welchen Mitteln und Techniken lässt sich das Mittelgesichtslifting optimieren?
Methode
Das temporal-endoskopische Mittelgesichtslifting ist eine neue Methode, mit deren Hilfe sich das bewährte endoskopische Stirn- und Schläfenlifting auf das ganze Gesicht ausdehnen lässt. Dabei ist das temporale subkutane muskuloaponeurotische System (temporales SMAS) als "Leitschiene" zu verstehen. Die Gesichtspartien werden über einen gemeinsamen endoskopisch-operativen Präparationsraum verbunden, sodass eine Zugwirkung bis hin zu Kiefer und Hals entstehen kann. Es werden spezielle Techniken zur temporalen Lappenbildung und -verankerung sowie des Liftings der malaren/submalaren Fettdepots angewendet. Ein unterstützendes Suspensionslift mit Fadenschlingen wird ergänzend eingesetzt.
Schlussfolgerungen
Mit der neuen Methode lassen sich durch einen kleineren temporalen Zugang, den kürzeren Präparationsvorgang und die operative Sicherheit in der nervenfreien Epi-SMAS-Ebene sichtbare Narben vermeiden, Risiken und Operationszeiten reduzieren und die Gesellschaftsfähigkeit der Patienten schnell zurückgewinnen. Das Gesicht wirkt jünger und sehr natürlich. Das endoskopische Verfahren ist ein anspruchsvoller, neuer Weg in der schnittvermeidenden atraumatischen Gesichtsverjüngung.
Abstract
Background
The first signs of elasticity and volume loss arise in the midface region which has, therefore, become increasingly more important in facial surgery.
Question
By which means and techniques can midface lifting be optimized?
Methods
Temporal endoscopic midface lifting is a new method by which the classical endoscopic forehead and temporal lobe lifting can be extended to the whole face. In this context the temporal subcutaneous musculoaponeurotic system (SMAS) should be seen as the "guiding rail". The facial areas are linked using a joint endoscopic operative preparation space so that a pulley system effect is formed down to the jaws and neck. Special techniques are used for temporal flap formation and anchorage as well as lifting of the malar/submalar fat deposits. A supporting suspension lift with suture loops is additionally installed.
Conclusion
Due to the short preparative approach and the operative safety in the nerve-free Epi-SMAS layer, using these new methods visible scars and risks can be avoided, operation times can be reduced and the social competence of patients can be restored. The face appears younger and very natural. The procedure is a sophisticated new approach to incisionless, atraumatic facial rejuvenation
Access options
Buy single article
Instant access to the full article PDF.
USD 39.95
Price excludes VAT (USA)
Tax calculation will be finalised during checkout.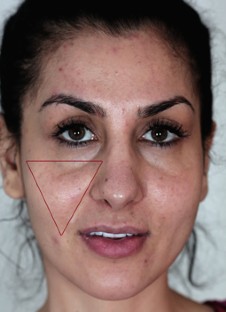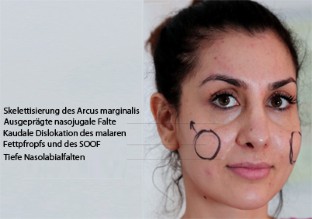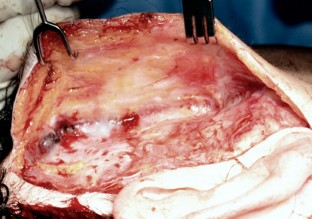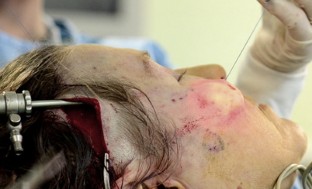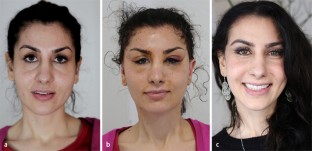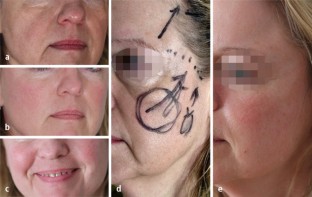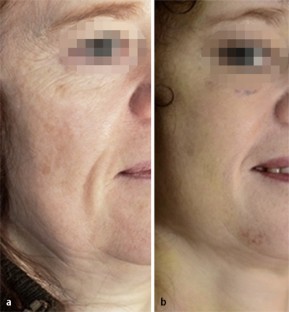 Literatur
Botti G, Pelle Ceravolo M (2012) Midface and neck aesthetic plastic surgery Vol I–II. SEE Editrice, Florenz

Graziani C, Panico C, Botti G, Collin RJ (2011) Subperiosteal midface lift: its role in static lower eyelid reconstruction after chronic facial nerve palsy. Orbit 30:140–144. doi:10.3109/01676830.2011.574770

LaFerriere KA, Kilpatrick JK (2003) Transblepharoplasty: subperiosteal approach to rejuvenation of the aging midface. Facial Plast Surg 19:157–170

Gunter JP, Hackney FL (1999) A simplified transblepharoplasty subperiosteal cheek lift. Plast Reconstr Surg 103:2029–2035, discussion 2036–2041

Fernandes JW (2007) The sling lift: an ancillary procedure for malar rejuvenation. Aesthetic Plast Surg 31:454–459, discussion 460–462

Laferriere KA, Castellano RD (2005) Experience with percutaneous suspension of the malar fat pad for midface rejuvenation. Facial Plast Surg Clin North Am 13:393–399

De Cordier BC, Torre JI de la, Al-Hakeem MS et al (2002) Rejuvenation of the midface by elevating the malar fat pad: review of technique, cases, and complications. Plast Reconstr Surg 110:1526–1536, discussion 1537–1540

Sasaki GH, Cohen AT (2002) Meloplication of the malar fat pads by percutaneous cable-suture technique for midface rejuvenation: outcome study (392 cases, 6 years' experience). Plast Reconstr Surg 110:635–654, discussion 655–657

Pontius AT, Williams EF III (2005) The extended minimal incision approach to midface rejuvenation. Facial Plast Surg Clin North Am 13:411–419

Malata CM, Abood A (2009) Experience with cortical tunnel fixation in endoscopic brow lift: the "bevel and slide" modification. Int J Surg 7:510–515

Hachach-Haram N, Kirkpatrick WN (2013) Midface-lifting: evolution, indications, and technique. Facial Plast Surg 29:289–294

Patrocinio LG, Patrocinio TG, Patrocinio JA (2013) Subperiosteal midface-lift. Facial Plast Surg 29:206–213

Correa BJ, Eisemann B, Eisemann M (2013) Transconjunctival midface lift: a "hole" different fixation. J Craniofac Surg 24:987–991

Chaiet SR, Williams EF III (2013) Understanding midfacial rejuvenation in the 21st century. Facial Plast Surg 29:40–45

Hoenig JF, Knutti D, Fuente A de la (2011) Vertical subperiosteal mid-face-lift for treatment of malar festoons. Aesthetic Plast Surg 35:522–529

Hönig J (2008) Cheek augmentation with Bio-Alcamid in facial lipoatrophy in HIV seropositive patients. J Craniofac Surg 19:1085–1088

Fuente A de la, Hönig JF (2005) Video-assisted endoscopic transtemporal multilayer upper midface lift (MUM-Lift). J Craniofac Surg 16:267–276

Albrecht P (2006) Trans-inferior orbital rim anchorage and fascia roll multi-loop temporal anchorage in midface rejuvenation. Aesthet Surg J 26:404–412

Noone RB (2006) Suture suspension malarplasty with SMAS plication and modified SMASectomy: a simplified approach to midface lifting. Plast Reconstr Surg 117:792–803

Tonnard PL, Verpaele A, Gaia S (2005) Optimising results from minimal access cranial suspension lifting (MACS-lift). Aesthetic Plast Surg 29:213–220, discussion 221

Lemperle G (1997) Das Midface-Lifting – eine erweiterte Unterlidplastik. Handchir Mikrochir plast Chir 29:30

Anderson RD, Lo MW (1998) Endoscopic malar/midface suspension procedure. Plast Reconstr Surg 102:2196–2208

Freeman MS (2003) Rejuvenation of the midface. Facial Plast Surg 19:223–236

Hönig JF (2000) Ästhetische Chirurgie. Steinkopf, Darmstadt

Cornette de Saint-Cyr B, Garey LJ, Maillard GF, Aharoni C (2007) The vertical midface lift. An improved procedure. J Plast Reconstr Aesthet Surg 60:1277–1286

Le Louarn C, Cornette de Saint-Cyr B (1994) [Cutaneous incision in facelift. Oblique cervicomalar SMAS flap and malar facelift. Technical notes]. Ann Chir Plast Esthet 39:756–764

Cornette de Saint Cyr B, Maillard GF, Scheflan M, Ramirez O (1993) The subperiosteal lift. Aesthetic Plast Surg 17:151–155

Ransom ER, Stong BC, Jacono AA (2012) Persistent improvement in lower eyelid-cheek contour after a transtemporal midface lift. Aesthetic Plast Surg 36:1277–1282

Jacono AA, Stong BC (2010) Anatomic comparison of the deep-plane face-lift and the transtemporal midface-lift. Arch Facial Plast Surg 12:339–341

Verpaele A, Tonnard P, Gaia S et al (2007) The third suture in MACS-lifting: making midface-lifting simple and safe. J Plast Reconstr Aesthet Surg 60:1287–1295

Haffner T (2013) Temporal endoscopic midface (TEM) lift in local anaesthesia – a new scarless approach to the midface - 1st AMWC EEU – AMWC Eastern Europe 2013 in Moskau Aesthetic Dermatology & Surgery – Preventive and Anti-Aging Medicine, June, 14th to 15th, 2013

Haffner T (2013) Temporal endoscopic midface (TEM) lift, approach to the midface without stigmas on the face. 26. Tagung der GÄCD vom 18.–20. Oktober 2013, München

Haffner T (2008) Combinations of minimal invasive rejuvenations of the face. 25th International Congress of the French Society of Aesthetic Surgery, Paris, May, 16 to 18, 2008

Haffner T (2012) Scar free rejuvenation of the face with anchored loops ("loop lift") - schnittfreie Gesichtsverjüngung mit Fadenschlingen – der Fadenschlingenlift. 7. Tagung des unabhängigen Arbeitskreises Ästhetik Mallorca – Illetas Mai 2012

Haffner T (2009) Scarfree rejuvenation of the face with anchored loops ECAAM – European Congress on Anti Aging Medicine Mainz – Frankfurt 15.–17. Oktober 2009 organised by the American Academy of Anti-Aging Medicine (A4M)

Haffner T (2012) Liposculptur – Gesichtmodellierung mit Eigenfett. Mallorca – 7. Tagung der Unabhängigen Arbeitskreis Ästhetik Mallorca, Mai 2012

Haffner T (2009) Facial rejuvenation without an incision. New technique: the double loop lift. 53rd World Congress of the IACS and IBCS, KACS, JACS – Seoul, Korea, November 7–8, 2009

Haffner T (2008) Fullface lift effected by endoscopic forehead lift plus adjuvant methods. 5th World Congress of the International Society of Aesthetic Surgery, November 15–17, 2008, Tokyo, Japan

Haffner T (2005) OFFIX – Occipitale Flap Fixation des Forehead Flaps without screws. Gesichtschirurgisches Symposion, Sylt 2005, Chairman: Prof. Bull

Rossell-Perry P (2013) The zygomatic ligament of the face: a critical review. OA Anatomy 1:3

Scheflan M, Maillar GE, Cornett de St Cyr (2000) Subperiostales Facelifting. In: Hönig F: Ästhetische Chirurgie. S 47–52
Einhaltung ethischer Richtlinien
Interessenkonflikt. T. Haffner gibt an, dass kein Interessenkonflikt besteht. Dieser Beitrag beinhaltet keine Studien an Menschen oder Tieren. Alle Patienten, die über Bildmaterial oder anderweitige Angaben innerhalb des Manuskripts zu identifizieren sind, haben hierzu ihre schriftliche Einwilligung gegeben. Im Falle von nicht mündigen Patienten liegt die Einwilligung eines Erziehungsberechtigten oder des gesetzlich bestellten Betreuers vor.
Additional information
Dieser Beitrag enthält ein Video zum TEM-Lift. Dieses Supplemental finden Sie unter dx.doi.org/10.1007/s12631-013-0275-7.
About this article
Cite this article
Haffner, T. Das temporal-endoskopische Mittelgesichtslift. J. f. Ästhet. Chirurgie 7, 98–105 (2014). https://doi.org/10.1007/s12631-013-0275-7
Published:

Issue Date:

DOI: https://doi.org/10.1007/s12631-013-0275-7
Schlüsselwörter
Narbenvermeidendes Gesichtslifting

Endoskopische Gesichtsstraffung

Subkutanes muskuloaponeurotisches System (SMAS)

Fadenlift

Elastizitäts- und Volumenverlust
Keywords
Scar sparing facelift

Endoscopic brow and midface lift

Subcutaneous musculoaponeurotic system (SMAS)

Cable lift

Elasticity and volume loss