Zusammenfassung
Das nichtchirurgische Facelifting, das Verfahren nach Woffles, steht Patienten zur Verfügung, die zwar den Effekt eines Lifting möchten, aber nicht bereit sind für einen chirurgischen Eingriff und die damit verbundene Auszeit. Das Ergebnis des Woffles-Lifting ist subtiler als das eines chirugischen Lifting, und es führt nicht zu gravierenden Veränderungen in der Erscheinung bzw. der Identität. Mithilfe des effektiven Einbringens von mit Widerhaken versehenen Fäden kann ein Lifting-Effekt erreicht werden. Schlüsselelemente für den Erfolg sind dabei die adäquate Technik, das Verständnis für die Funktion der intrafazialen Fäden und das Management von Patientenerwartungen. Die Effekte dieser Facelifting-Methode sind jedoch nicht von Dauer, zwei bis drei Jahre postinterventionell lassen sie allmählich nach. Dazu sind die Patienten sorgfältig aufzuklären, ferner darüber, dass von Zeit zu Zeit weitere Fäden einzubringen sind, um das Ergebnis zu sichern und um mit Alterungsprozessen im Gesichts- und Halsbereich Schritt zu halten. Für ein optimales Ergebnis − eine geliftete, entspannte und dreidimensionalere Erscheinung, sollten zusammen mit dem Woffles-Facelifting Botulinumtoxine und Fillersubstanzen eingesetzt werden werden.
Abstract
The nonsurgical technique, the Woffles lift, is available for patients wanting a lifting effect but not prepared for surgery and the downtime associated with an operation. A lift that is more subtle and does not significantly alter the patient's appearance or identity is the result. Using barbed sutures a face-lifting effect, if effectively deployed, can be achieved. The key to success is a proper technique, understanding the role of the threads in the face and managing patient expectations. The effects are, however, temporary. Thus, patients must be carefully informed that this procedure's effects wear off after 2–3 years and that additional threads need to be inserted periodically to maintain the result and keep pace with the ongoing ageing of the face and neck. For the best effect, the Woffles lift should be combined with botulinum toxins and fillers to achieve a lifted, relaxed and more 3-dimensional appearance. The technique is described.
The English full-text version of this article can be found at SpringerLink (under "Supplemental").
This is a preview of subscription content, log in to check access.
Access options
Buy single article
Instant access to the full article PDF.
US$ 39.95
Price includes VAT for USA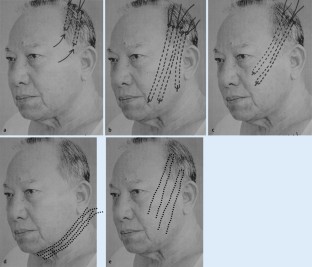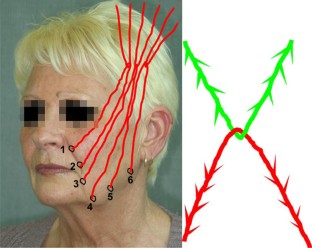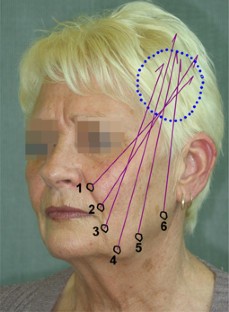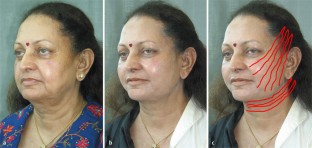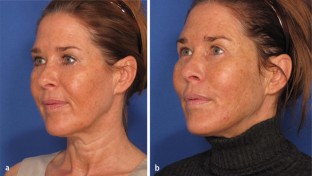 Literatur
1.

Wu WTL (2003) Facial rejuvenation using APTOS and WAPTOS (The Woffles lift): a novel approach. 13th International Congress of the International Confederation of Plastic and Reconstructive Surgery (IPRAS), Sydney

2.

Wu WTL (2004) The Woffles lift: a non surgical facelifting technique. Appearance Medicine Society of Australasia (AMSA) 3rd Annual Scientific Meeting, Wellington

3.

Wu WTL (2004) Non surgical faceliftiing with the Woffles lift. American Society of Aesthetic Plastic Surgeons (ASAPS) annual meeting, hot topics symposium. Vancouver Convention Centre, Vancouver

4.

Wu WTL (2004) Facial rejuvenation with a suture suspension technique: the Woffles threadlift. The Coupure Seminars 4th edn, controversies, art and technology in facial aesthetic surgery. Gent, Belgium

5.

Wu WTL (2004) Barbed sutures in facial rejuvenation: APTOS threads and the Woffles Lift. Aesthetic Surg J 24:582–587

6.

Wu WTL (2006) Innovative uses of Botox and the Woffles lift, aesthetic surgery of the facial mosaic. In: Panfilov D (ed) ch 72. Springer, Berlin Heidelberg New York Tokyo, pp 636–649

7.

Alcamo JH (1961) Surgeon's suturing device. US Patent 2,988,028

8.

Alcamo JH (1964) Surgical suture. US Patent 3,123,077

9.

Fukuda M (1984) Surgical barbed suture. US Patent 4,467,805

10.

Buncke HJ (1999) Surgical methods using one-way suture. US Patent 5,931,855

11.

Ruff GL (2001) Barbed bodily tissue connector. US Patent 6,241,747B1

12.

Sulamanidze MA, Fournier PF, Paikidz TG, Sulamanidze GM (2002) Removal of facial soft tissue ptosis with special threads. Dermatol Surg 28:367–371

13.

Sulamanidze MA, Sulamanidze GM (2005) Facial lifting with "APTOS" threads: featherlift. Otolaryngol Clin N Am 8:1109–1117

14.

Kress DW (2008) The history of barbed suture suspension: applications, and visions for the future. In: Shiffman MA, Mirrafati SJ, Lam SM (eds) Simplified facial rejuvenation, ch 33. Springer, Berlin Heidelberg New York Tokyo, pp  247–256

15.

Wu WTL (2012) Surgical thread.US Patent 8,236,027 B2. Priority date: 07 April 2004, Patent Issued 07 August 2012

16.

Sasaki GH, Komorowska-Timek ED, Bennett DC, Gabriel A (2008) An objective comparison of holding, slippage, and pull-out tensions for eight suspension sutures in the malar fat pads of fresh-frozen human cadavers. Aesthet Surg J 28:387–396
Interessenkonflikt
Der Autor weist auf folgende Beziehung/en hin: Der Autor ist Inhaber mehrerer Patente im Zusammenhang mit den im Beitrag erwähnten Fäden.
About this article
Cite this article
Wu, W. Nichtchirurgisches Facelifting durch lange, mit Widerhaken versehene Schlingennähte . J. f. Ästhet. Chirurgie 6, 13–20 (2013). https://doi.org/10.1007/s12631-012-0222-z
Schlüsselwörter
Rhytidoplastik

Verjüngung

Alterungsprozesse

Botulinumtoxine

Kosmetische Verfahren
Keywords
Rhytidoplasty

Rejuvenation

Aging

Botulinum toxins

Cosmetic techniques