Abstract
Purpose
Approximately one in five women will experience severe postoperative pain after Cesarean delivery (CD). Previously, a bedside three-item questionnaire (3-IQ) has shown to predict women experiencing higher evoked pain intensity after CD, with an area under the receiver operator characteristics (ROC) curve of 0.72. We hypothesized that the addition of psychophysical pain tests to the existing 3-IQ would improve the ability to predict severe pain in women undergoing elective CD under spinal anesthesia
Methods
This was a prospective cohort study on women undergoing elective CD under spinal anesthesia. Women were assessed preoperatively using the 3-IQ, pressure algometry (PA) and mechanical temporal summation (TS) response. All women received standard perioperative care, including a multimodal analgesia regimen that included intrathecal fentanyl and morphine. A 0–100 mm visual analogue scale (VAS) was used to assess the severity of pain at rest (VASr) and on movement (VASm) at 24 and 48 hr after surgery. Patient satisfaction and opioid consumption were also recorded. We performed ROC curve analyses to assess whether we could improve the ability to predict our primary outcome of severe pain on movement at 24 hr (VASm24 ≥ 70).
Results
We studied 195 women. Median [interquartile range] VASm24 was 53 [32–72] and 28% of patients experienced a VASm24 ≥ 70. The ability to predict a VASm24 ≥ 70 assessed by the area under the ROC curve was 0.64 using the 3-IQ and 0.67 using the 3-IQ combined with TS and PA.
Conclusion
The addition of PA and TS to the 3-IQ model resulted in a predictive model that performed similarly to the 3-IQ model alone. Further research is warranted in this area to better predict women at risk of severe pain post CD.
Résumé
Objectif
Environ une femme sur cinq souffrira de douleur postopératoire sévère après un accouchement par césarienne. Un questionnaire à trois critères (Q3C) administré au chevet de la patiente a déjà été utilisé pour prédire quelles femmes éprouveraient une intensité de douleur évoquée plus élevée après une césarienne, avec une aire sous la courbe ROC de 0,72. Nous avons émis l'hypothèse que l'ajout de tests psychophysiques de douleur au Q3C existant améliorerait notre capacité à prédire la douleur sévère chez les femmes bénéficiant d'une césarienne élective sous rachianesthésie.
Méthode
Il s'agissait d'une étude de cohorte prospective auprès de femmes bénéficiant d'une césarienne élective sous rachianesthésie. Les femmes ont été évaluées en préopératoire à l'aide du Q3C, de l'algométrie par pression (AP) et de la réponse à une sommation temporale (ST) mécanique. Toutes les femmes ont bénéficié des soins périopératoires standard, ainsi que d'un régime d'analgésie multimodal incluant fentanyl et morphine intrathécaux. Une échelle visuelle analogique (EVA) de 0 à 100 mm a été utilisée pour évaluer la sévérité de la douleur au repos (EVAr) et en mouvement (EVAm) à 24 et 48 heures après la chirurgie. La satisfaction des patientes et la consommation d'opioïdes ont également été enregistrées. Nous avons effectué des analyses de la courbe ROC pour déterminer s'il nous était possible d'améliorer notre capacité à prédire notre critère d'évaluation principal, soit la douleur sévère à la mobilisation à 24 heures (EVAm24 ≥ 70).
Résultats
Nous avons étudié 195 femmes. L'EVAm 24 médiane [écart interquartile] était de 53 [32-72] et 28 % des patientes ont noté un score sur l'EVAm24 ≥ 70. La capacité à prédire un score sur l'EVAm24 ≥ 70 tel qu'évalué par la surface sous la courbe ROC était de 0,64 en utilisant le Q3C et de 0,67 en utilisant le Q3C combiné à la ST et l'AP.
Conclusion
L'ajout de l'AP et de la ST au modèle de Q3C a résulté en un modèle prédictif présentant une performance similaire au modèle de Q3C seul. D'autres recherches sont nécessaires dans ce domaine pour mieux prédire les femmes à risque de douleur sévères après une césarienne.
Access options
Buy single article
Instant access to the full article PDF.
USD 39.95
Price includes VAT (USA)
Tax calculation will be finalised during checkout.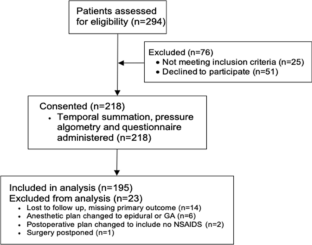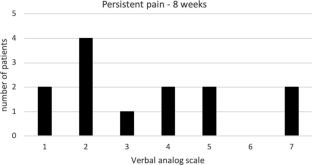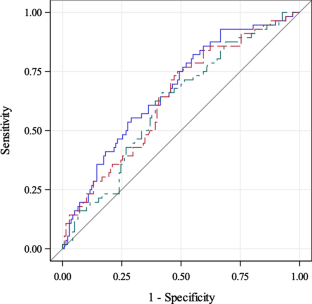 References
1.

Gamez BH, Habib AS. Predicting severity of acute pain after cesarean delivery: a narrative review. Anesth Analg 2018; 126: 1606-14.

2.

Eisenach JC, Pan PH, Smiley R, Lavand'homme P, Landau R, Houle TT. Severity of acute pain after childbirth, but not type of delivery, predicts persistent pain and postpartum depression. Pain 2008; 140: 87-94.

3.

Carvalho B, Butwick AJ. Postcesarean delivery analgesia. Best Pract Res Clin Anaesthesiol 2017; 31: 69-79.

4.

Pan PH, Tonidandel AM, Aschenbrenner CA, Houle TT, Harris LC, Eisenach JC. Predicting acute pain after cesarean delivery using three simple questions. Anesthesiology 2013; 118: 1170-9.

5.

Yarnitsky D, Granot M, Granovsky Y. Pain modulation profile and pain therapy: between pro- and antinociception. Pain 2014; 155: 663-5.

6.

Arendt-Nielsen L, Yarnitsky D. Experimental and clinical applications of quantitative sensory testing applied to skin, muscles and viscera. J Pain 2009; 10: 556-72.

7.

Weissman-Fogel I, Granovsky Y, Crispel Y, et al. Enhanced presurgical pain temporal summation response predicts post-thoracotomy pain intensity during the acute postoperative phase. J Pain 2009; 10: 628-36.

8.

Short J, Downey K, Bernstein P, Shah V, Carvalho JC. A single preoperative dose of gabapentin does not improve postcesarean delivery pain management: a randomized, double-blind, placebo-controlled dose-finding trial. Anesth Analg 2012; 115: 1336-42.

9.

Li KK, Harris K, Hadi S, Chow E. What should be the optimal cut points for mild, moderate, and severe pain? J Palliat Med 2007; 10: 1338-46.

10.

Hanley JA, McNeil BJ. A method of comparing the areas under receiver operating characteristic curves derived from the same cases. Radiology 1983; 148: 839-43.

11.

Obuchowski NA, McClish DK. Sample size determination for diagnostic accuracy studies involving binormal ROC curve indices. Stat Med 1997; 16: 1529-42.

12.

Efron B. Estimating the error rate of a prediction rule: Improvement on cross-validation. J Am Stat Assoc 1983; 78: 316-31.

13.

van Helmond N, Olesen SS, Wilder-Smith OH, Drewes AM, Steegers MA, Vissers KC. Predicting persistent pain after surgery: can predicting the weather serve as an example?. Anesth Analg 2018; 127: 1264-7.

14.

Carvalho B, Mhyre JM. Moving beyond the 0-10 scale for labor pain measurement. Anesth Analg 2016; 123: 1351-3.
Author contributions
Jennifer Guevara helped design and conduct the study, analyze the data, and write the manuscript. Jose C. A. Carvalho, Kristi Downey, Aidan M. Sharkey, and Cristian Arzola helped design and conduct the study, analyze the data, and write the manuscript. Xiang Y. Ye helped design the study, randomize the patients, provide statistical analyses, and write the manuscript
Disclosures
Dr. Jose Carvalho is supported by a Merit Award from the Department of Anesthesiology and Pain Medicine, University of Toronto.
Funding statement
Departmental funds only.
Editorial responsibility
This submission was handled by Dr. Alana M. Flexman, Associate Editor, Canadian Journal of Anesthesia/Journal canadien d'anesthésie.
Additional information
Publisher's Note
Springer Nature remains neutral with regard to jurisdictional claims in published maps and institutional affiliations.
Supplementary Information
Below is the link to the electronic supplementary material.
About this article
Cite this article
Guevara, J., Carvalho, J.C.A., Downey, K. et al. Predicting pain after Cesarean delivery: pressure algometry, temporal summation, three-item questionnaire. Can J Anesth/J Can Anesth 68, 1802–1810 (2021). https://doi.org/10.1007/s12630-021-02105-z
Received:

Revised:

Accepted:

Published:

Issue Date:
Keywords
pain prediction

Cesarean delivery

analgesia