Abstract
Background
Adequate illumination of the larynx is needed during laryngoscopy to facilitate tracheal intubation. The International Organization for Standardization (ISO) has established a minimum light intensity for direct laryngoscopy (DL) of over 500 lux for at least ten minutes, but no such standard exists for Macintosh geometry videolaryngoscope (Mac-VL) blades, which allow for both direct or indirect (videoscopic) viewing of the larynx. Using in situ bench and in vitro testing in a human cadaver, we determined illumination and luminance values delivered by various Mac-VLs and compared these with published minimum lighting benchmarks as well as a reference direct laryngoscope.
Methods
We tested six Mac-VLs (i-view™, McGRATH™ MAC, GlideScope® Spectrum™ [single-use] DVM S4, GlideScope® Titanium [reusable] Mac T4, C-MAC® S [single-use] Macintosh #4, C-MAC® [reusable] Macintosh #4) together with one direct laryngoscope (Heine LED). Each laryngoscope was assessed with three measurements, as follows: part 1: illuminance (lux) was measured in situ using a purpose-designed benchtop light intensity measurement apparatus; part 2: luminance (light reflected back to the eye) was measured (in candela m-2 [cd·m−2]) during videolaryngoscopy (VL) and DL in a human cadaver using a spot meter pointed at the interarytenoid notch; part 3: illuminance (lux) was measured during VL and DL in a human cadaver using a light meter surgically implanted just proximal to the vocal cords.
Results
Illuminance and luminance varied significantly among the Mac-VLs. Mean (standard devitation) illuminance among the six tested Mac-VLs ranged from 117 (11) to 2,626 (42) lux in the measurement apparatus and from 228 (11) to 2,900 (374) lux by the surgically implanted light meter in the cadaver. All values were less than the reference Heine direct laryngoscope and some fell below the published ISO standard of 500 lux for DL. Luminance testing by spot meter had a similarly wide range, varying from 3.78 (0.60) to 49.1 (10.4) cd·m−2, with some Mac-VLs delivering less luminance than the reference Heine direct laryngoscope.
Conclusions
Our results indicate that illuminance and luminance provided by Mac-VLs used for direct laryngeal viewing varies substantially between devices, with some falling below standards previously suggested as the minimum required for DL. While this may have no implications for the quality of image visible on a device's video monitor, the clinician should be aware that when Mac-VLs are used for direct viewing of the larynx, lighting may not be optimal. This might adversely affect ease or success of tracheal intubation.
Résumé
Contexte
L'éclairage adéquat du larynx est nécessaire pendant la laryngoscopie pour faciliter l'intubation trachéale. Pour la laryngoscopie directe (LD), l'Organisation internationale de normalisation (ISO) a établi une intensité lumineuse minimale de plus de 500 lux pendant au moins dix minutes. Toutefois, il n'existe aucune norme de ce type pour les lames de vidéolaryngoscope à géométrie Macintosh (VL-Mac), qui permettent une visualisation directe ou indirecte (vidéoscopique) du larynx. Par des études en laboratoire et in vitro sur un cadavre humain, nous avons déterminé les valeurs d'éclairage et de luminance fournies par divers VL-Mac et les avons comparées aux valeurs repères d'éclairage minimal publiées ainsi qu'aux valeurs obtenues avec un laryngoscope direct de référence.
Méthode
Nous avons testé six VL-Mac (i-view™, McGRATH™ MAC, GlideScope® Spectrum™ [à usage unique] DVM S4, GlideScope® Titanium [réutilisable] Mac T4, C-MAC® S [à usage unique] Macintosh #4, et C-MAC® [réutilisable] Macintosh #4) ainsi qu'un laryngoscope direct (Heine LED). Chaque laryngoscope a été évalué avec trois mesures, comme suit : partie 1: l'éclairage (lux) a été mesuré in situ à l'aide d'un appareil spécialement conçu de mesure de l'intensité lumineuse en laboratoire; partie 2 : la luminance (lumière réfléchie vers l'œil) a été mesurée (en candela m-2 [cd·m-2]) pendant la vidéolaryngoscopie (VL) et la LD sur un cadavre humain, à l'aide d'un posemètre pointé vers la commissure interaryténoïdienne; partie 3: l'éclairage (lux) a été mesuré pendant la VL et la LD sur un cadavre humain à l'aide d'un photomètre implanté chirurgicalement juste en amont des cordes vocales.
Résultats
L'éclairage et la luminance variaient considérablement entre les VL-Mac. L'éclairage moyen (écart type) parmi les six VL-Mac testés variait de 117 (11) à 2626 (42) lux avec l'appareil de mesure, et de 228 (11) à 2900 (374) lux lorsque mesuré par le photomètre implanté chirurgicalement dans le cadavre. Toutes les valeurs étaient inférieures au laryngoscope direct Heine de référence, et certaines étaient inférieures à la norme ISO publiée de 500 lux pour la LD. Les essais de luminance par posemètre ont rapporté une plage tout aussi large, variant de 3,78 (0,60) à 49,1 (10,4) cd·m-2, certains VL-Mac offrant moins de luminance que le laryngoscope direct Heine de référence.
Conclusion
Nos résultats indiquent que l'éclairage et la luminance fournis par les VL-Mac utilisés pour la visualisation directe du larynx varient considérablement d'un appareil à l'autre, certains tombant en dessous des normes précédemment suggérées comme minimalement requises pour la LD. Bien que cela puisse n'avoir aucune incidence sur la qualité de l'image visible sur le moniteur vidéo d'un appareil, le clinicien doit être conscient que lorsqu'un VL-Mac est utilisé pour la visualisation directe du larynx, l'éclairage pourrait ne pas être optimal. Cela pourrait nuire à la facilité ou au succès de l'intubation trachéale.
Access options
Buy single article
Instant access to the full article PDF.
US$ 39.95
Tax calculation will be finalised during checkout.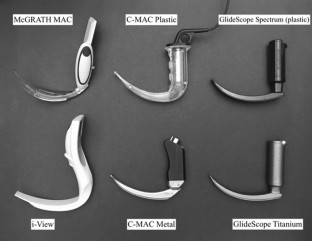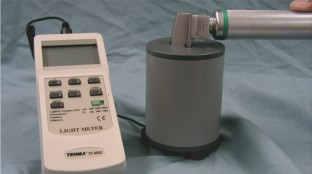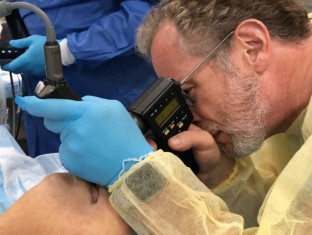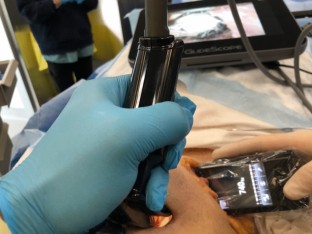 References
1.

International Organization for Standardization. Anaesthetic and respiratory equipment - laryngoscopes for tracheal intubation 7376:2020(E). Geneva, Switzerland: ISO; 2020.

2.

Milne AD, Brousseau P. What is an unacceptable light level for direct laryngoscopy? Can J Anesth 2009; DOI: https://doi.org/10.1007/s12630-009-9139-1.

3.

Skilton RW, Parry D, Arthurs GJ, Hiles P. A study of the brightness of laryngoscope light. Anaesthesia 1996; 51: 667-72.

4.

Baker PA, Raos AS, Thompson JM, Jacobs RJ. Visual acuity during direct laryngoscopy at different illuminance levels. Anesth Analg 2013; 116: 343-50.

5.

Cheung KW, Kovacs G, Law JA, Brousseau P, Hill W. Illumination of bulb-on-blade laryngoscopes in the out-of-hospital setting. Acad Emerg Med 2007; 14: 496-9.

6.

Arora G, Brousseau PA, Milne AD. Laryngoscope brightness determined by visual inspection and during mannequin laryngoscopy. Can J Anesth 2019; 66: 123-4.

7.

Dodd KW, Prekker ME, Robinson AE, Buckley R, Reardon RF, Driver BE. Video screen viewing and first intubation attempt success with standard geometry video laryngoscope use. Am J Emerg Med 2019; 37: 1336-9.

8.

Kovacs G, Levitan R, Sandeski R. Clinical cadavers as a simulation resource for procedural learning. AEM Educ Train 2018; 2: 239-47.

9.

Ludbrook J. Multiple inferences using confidence intervals. Clin Exp Pharmacol Physiol 2000; 27: 212-5.

10.

International Organization for Standardization. Anaesthetic and respiratory equipment - Laryngoscopes for tracheal intubation. Second edition 2009-08-15. Geneva, Switzerland: ISO; 2009.

11.

Baker PA, McQuoid S, Thompson JM, Jacobs RJ. An audit of laryngoscopes and application of a new ISO standard. Paediatr Anaesth 2011; 21: 428-34.

12.

Pieters BM, van Zundert AA. Videolaryngoscopes differ substantially in illumination of the oral cavity: a manikin study. Indian J Anaesth 2016; 60: 325-9.

13.

Milne AD, Brousseau PA, Brousseau CA. Effects of laryngoscope handle light source on the light intensity from disposable laryngoscope blades. Anaesthesia 2014; 69: 1331-6.

14.

Crosby E, Cleland M. An assessment of the luminance and light field characteristics of used direct laryngoscopes. Can J Anesth 1999; 46: 792-6.

15.

Cierniak M, Timler D, Wieczorek A, Sekalski P, Borkowska N, Gaszynski T. The comparison of the technical parameters in endotracheal intubation devices: the Cmac, the Vividtrac, the McGrath Mac and the Kingvision. J Clin Monit Comput 2016; 30: 379-87.

16.

Amalric M, Larcher R, Brunot V, et al. Impact of videolaryngoscopy expertise on first-attempt intubation success in critically ill patients. Crit Care Med 2020; DOI: https://doi.org/10.1097/CCM.0000000000004497.

17.

Galvez JA, Acquah S, Ahumada L, et al. Hypoxemia, bradycardia, and multiple laryngoscopy attempts during anesthetic induction in infants: a single-center, retrospective study. Anesthesiology 2019; 131: 830-9.

18.

Stinson HR, Srinivasan V, Topjian AA, et al. Failure of invasive airway placement on the first attempt is associated with progression to cardiac arrest in pediatric acute respiratory compromise. Pediatr Crit Care Med 2018; 19: 9-16.

19.

Engelhardt T, Virag K, Veyckemans F, Habre W; APRICOT Group of the European Society of Anaesthesiology Clinical Trial Network. Airway management in paediatric anaesthesia in Europe-insights from APRICOT (Anaesthesia Practice In Children Observational Trial): a prospective multicentre observational study in 261 hospitals in Europe. Br J Anaesth 2018; 121: 66-75.

20.

Fiadjoe JE, Nishisaki A, Jagannathan N, et al. Airway management complications in children with difficult tracheal intubation from the Pediatric Difficult Intubation (PeDI) registry: a prospective cohort analysis. Lancet Respir Med 2016; 4: 37-48.

21.

Bodily JB, Webb HR, Weiss SJ, Braude DA. Incidence and duration of continuously measured oxygen desaturation during emergency department intubation. Ann Emerg Med 2016; 67: 389-95.

22.

Kerslake D, Oglesby AJ, Di Rollo N, et al. Tracheal intubation in an urban emergency department in Scotland: a prospective, observational study of 3738 intubations. Resuscitation 2015; 89: 20-4.

23.

Goto T, Watase H, Morita H, et al. Repeated attempts at tracheal intubation by a single intubator associated with decreased success rates in emergency departments: an analysis of a multicentre prospective observational study. Emerg Med J 2015; 32: 781-6.

24.

Sakles JC, Chiu S, Mosier J, Walker C, Stolz U. The importance of first pass success when performing orotracheal intubation in the emergency department. Acad Emerg Med 2013; 20: 71-8.

25.

Hasegawa K, Shigemitsu K, Hagiwara Y, et al. Association between repeated intubation attempts and adverse events in emergency departments: an analysis of a multicenter prospective observational study. Ann Emerg Med 2012; 60: 749-54.e2.

26.

Martin LD, Mhyre JM, Shanks AM, Tremper KK, Kheterpal S. 3,423 emergency tracheal intubations at a university hospital: airway outcomes and complications. Anesthesiology 2011; 114: 42-8.

27.

Moore S, Dwyer D, Arendts G. Laryngoscope illumination grade does not influence time to successful manikin intubation. Emerg Med Australas 2009; 21: 131-5.

28.

Cormack RS, Lehane J. Difficult tracheal intubation in obstetrics. Anaesthesia 1984; 39: 1105-11.

29.

Cook TM. A new practical classification of laryngeal view. Anaesthesia 2000; 55: 274-9.

30.

Tousignant G, Tessler MJ. Light intensity and area of illumination provided by various laryngoscope blades. Can J Anaesth 1994; 41: 865-9.

31.

Goodwin N, Wilkes AR, Hall JE. Flexibility and light emission of disposable paediatric Miller 1 laryngoscope blades. Anaesthesia 2006; 61: 792-9.
Author contributions
Madeleine Harlow contributed to data acquisition and writing and critically revising the article. George Kovacs contributed to study conception and design and data acquisition, analysis and interpretation. Paul Brousseau contributed to testing of devices in table-top apparatus and writing and critically revising the article. J. Adam Law contributed to writing and critically revising the article.
Acknowledgements
The authors would like to acknowledge and thank Dr. Sean MacKinnon and Dr. Tiberiu Mahu for their help with statistical analysis.
Disclosures
Kovacs and Law: Course co-directors of Airway Interventions and Management in Emergenices (AIME) course and partner in parent company AIME Training Inc. Recipient of equipment as loan or donation from Verathon, Ambu, Karl Storz and Covidien.
Funding statement
Funding supported in part by the Departments of Emergency Medicine (Kovacs) and Anesthesia, Pain Management and Perioperative Medicine (Law), Dalhousie University.
Editorial responsibility
This submission was handled by Dr. Stephan K.W. Schwarz, Editor-in-Chief, Canadian Journal of Anesthesia/Journal canadien d'anesthésie.
Additional information
Publisher's Note
Springer Nature remains neutral with regard to jurisdictional claims in published maps and institutional affiliations.
Appendix: Identification numbers of tested devices
Appendix: Identification numbers of tested devices
About this article
Cite this article
Harlow, M., Kovacs, G., Brousseau, P. et al. An in vitro assessment of light intensity provided during direct laryngeal visualization by videolaryngoscopes with Macintosh geometry blades. Can J Anesth/J Can Anesth (2021). https://doi.org/10.1007/s12630-021-02099-8
Received:

Revised:

Accepted:

Published:
Keywords
Illumination

Illuminance

Laryngoscopy

Luminance

Light

Videolaryngoscope