Access options
Buy single article
Instant access to the full article PDF.
USD 39.95
Price includes VAT (USA)
Tax calculation will be finalised during checkout.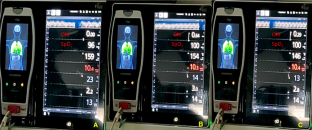 References
1.

Vieira E, Cabral MJ, Goncalves M. Esophageal perforation in children: a review of one paediatric surgery institution's experience (16 years) (Portuguese). Acta Med Port 2013; 26: 102-6.

2.

Weingart SD, Trueger NS, Wong N, Scofi J, Singh N, Rudolph SS. Delayed sequence intubation: a prospective observational study. Ann Emerg Med 2015; 65: 349-55.

3.

Applegate RL 2nd, Dorotta IL, Wells B, Juma D, Applegate PM. The relationship between oxygen reserve index and arterial partial pressure of oxygen during surgery. Anesth Analg 2016; 123: 626-33.

4.

Szmuk P, Steiner JW, Olomu PN, Ploski RP, Sessler DI, Ezri T. Oxygen reserve index: a novel noninvasive measure of oxygen reserve--a pilot study. Anesthesiology 2016; 124: 779-84.

5.

Ray S, Kulkarni KS, Dave NM, Chincholi I. The utility of the oxygen reserve index™ in a neonate undergoing re-exploration of a tracheoesophageal fistula. Indian J Anaesth 2018; 62: 233-4.
Disclosures
None.
Funding statement
None.
Editorial responsibility
This submission was handled by Dr. Stephan K.W. Schwarz, Editor-in-Chief, Canadian Journal of Anesthesia/Journal canadien d'anesthésie.
Additional information
Publisher's Note
Springer Nature remains neutral with regard to jurisdictional claims in published maps and institutional affiliations.
About this article
Cite this article
Kaur, A., Ray, S., Dias, R. et al. Facilitation of delayed sequence intubation with oxygen reserve index monitoring in a child with esophageal perforation. Can J Anesth/J Can Anesth 68, 1826–1827 (2021). https://doi.org/10.1007/s12630-021-02092-1
Received:

Revised:

Accepted:

Published:

Issue Date: