Abstract
Purpose
Our primary objective was to assess the difference in position of the ultrasound-guided landmark of the cricothyroid membrane (CTM) when performed with the supine patient positioned at different head of bed (HOB) elevations.
Methods
In this prospective observational study of patients presenting to the emergency department with non-life-threatening complaints, subjects underwent ultrasound-guided landmarking of the CTM with HOB elevation at 0°, 30°, and 90°. A linear mixed effects regression model was used to assess the change in the CTM landmark associated with head position. We used a second adjusted linear mixed effects model to assess possible confounding patient factors associated with these changes.
Results
One-hundred and ten patients were enrolled, with a median [interquartile range] age of 39 [29-59] yr and 51:49 female:male ratio. Head of bed elevation at 30° and 90° resulted in a cephalad change in the CTM landmark of 2.7 mm (99% confidence interval [CI], 1.7 to 3.8; P < 0.001) and 4.2 mm (99% CI, 3.2 to 5.3; P < 0.001) respectively compared with the landmark at 0°. Body mass index (BMI) was associated with a change of 4.6 mm (99% CI, 0.5 to 8.7; P = 0.004) for BMI ≥ 30 compared with < 18.5 kg·m−2 The impact of patient age on distance depended on HOB elevation, where patients > 70 yr had a change of 2.6 mm (99% CI, 0.01 to 5.1; P = 0.009) at 90° HOB elevation compared with 30°.
Conclusion
The location of the ultrasound-identified surface landmark of the CTM moves in a cephalad direction by changing the position of the HOB from supine 0° to elevation at 30° and 90°. This may be clinically important when attempting cricothyrotomy using a percutaneous (blind) technique, particularly when CTM identification and cricothyrotomy are performed at different head elevations.
Résumé
Objectif
Notre objectif principal était d'évaluer la différence de position de la membrane cricothyroïdienne en tant que repère échoguidé selon qu'elle est identifiée à différentes élévations de la tête du lit avec le patient en décubitus dorsal.
Méthode
Cette étude observationnelle prospective a inclus des patients se présentant à l'urgence pour des problèmes de santé ne mettant pas leur vie en danger. Les repères échoguidés de la membrane cricothyroïdienne ont été identifiés chez ces patients en positionnant la tête de lit à 0°, 30° et 90°. Un modèle de régression linéaire à effets mixtes a été utilisé pour évaluer les modifications du repère de la membrane cricothyroïdienne associés à la position de la tête. Nous avons utilisé un deuxième modèle linéaire à effets mixtes ajustés pour évaluer les facteurs confondants potentiels liés au patient et associés à ces changements.
Résultats
Cent dix patients ont été recrutés, d'un âge médian [écart interquartile] de 39 [29-59] ans et avec un ratio femmes : hommes de 51 : 49. L'élévation de la tête de lit à 30° et 90° a entraîné un glissement céphalade de 2,7 mm (intervalle de confiance [IC] 99 %, 1,7 à 3,8; P < 0,001) et de 4,2 mm (IC 99 %, 3,2 à 5,3; P < 0,001) du marquage de la membrane cricothyroïdienne, respectivement, comparativement au repère identifié à un angle de 0°. L'indice de masse corporelle (IMC) était associé à un changement de 4,6 mm (IC 99 %, 0,5 à 8,7; P = 0,004) pour un IMC ≥ 30, comparativement à < 18,5 kg·m−2. L'impact de l'âge du patient sur la distance dépendait de l'élévation de la tête de lit : chez les patients > 70 ans, le changement était de 2,6 mm (IC 99 %, 0,01 à 5,1; P = 0,009) à une élévation de la tête de lit de 90° comparativement à un angle de 30°.
Conclusion
L'emplacement du repère de surface identifié par échoguidage de la membrane cricothyroïdienne se déplace en direction céphalade lorsqu'on change la position de la tête de lit d'un décubitus dorsal à 0° à une élévation de 30° et 90°. Cela pourrait avoir une importance clinique lors d'une tentative de cricothyrotomie à l'aide d'une technique percutanée (en aveugle), particulièrement si l'identification de la membrane cricothyroïdienne et la cricothyrotomie sont réalisées à différentes élévations de la tête.
Access options
Buy single article
Instant access to the full article PDF.
US$ 39.95
Tax calculation will be finalised during checkout.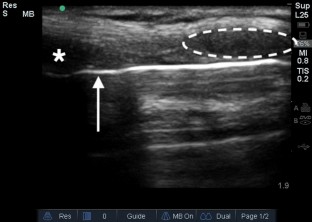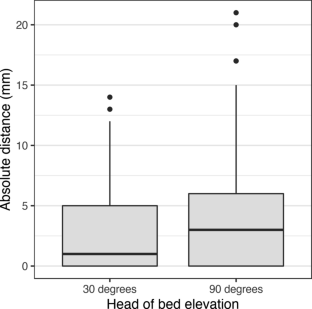 References
1.

Apfelbaum JL, Hagberg CA, Caplan RA, et al. Practice guidelines for management of the difficult airway: an updated report by the American Society of Anesthesiologists Task Force on Management of the Difficult Airway. Anesthesiology 2013; 118: 251-70.

2.

Frerk C, Mitchell VS, McNarry AF, et al. Difficult Airway Society 2015 guidelines for management of unanticipated difficult intubation in adults. Br J Anaesth 2015; 115: 827-48.

3.

Wong E, Ng YY. The difficult airway in the emergency department. Int J Emerg Med 2008; 1: 107-11.

4.

Brown CA 3rd, Bair AE, Pallin DJ, Walls RM, NEAR III Investigators. Techniques, success, and adverse events of emergency department adult intubations. Ann Emerg Med 2015; 65: 363-70.e1.

5.

Elliott DS, Baker PA, Scott MR, Birch CW, Thompson JM. Accuracy of surface landmark identification for cannula cricothyroidotomy. Anaesthesia 2010; 65: 889-94.

6.

Bair AE, Chima R. The inaccuracy of using landmark techniques for cricothyroid membrane identification: a comparison of three techniques. Acad Emerg Med 2015; 22: 908-14.

7.

Siddiqui N, Yu E, Boulis S, You-Ten KE. Ultrasound is superior to palpation in identifying the cricothyroid membrane in subjects with poorly defined neck landmarks: a randomized clinical trial. Anesthesiology 2018; 129: 1132-9.

8.

Sandoval M, Shestak W, Stürmann K, Hsu C. Optimal patient position for lumbar puncture, measured by ultrasonography. Emerg Radiol 2004; 10: 179-81.

9.

Adnet F, Baillard C, Borron SW, et al. Randomized study comparing the "sniffing position" with simple head extension for laryngoscopic view in elective surgery patients. Anesthesiology 2001; 95: 83641.

10.

Kristensen MS, Teoh WH, Rudolph SS. Ultrasonographic identification of the cricothyroid membrane: Best evidence, techniques, and clinical impact. Br J Anaesth 2016; 117(Suppl 1): i39-48.

11.

Cohen J. Statistical Power Analysis for the Behavioral Sciences. 2nd ed. Hillsdale, NJ: Lawrence Earlbaum Associates; 1988 .

12.

Dixit A, Ramaswamy KK, Perera S, Sukumar V, Frerk C. Impact of change in head and neck position on ultrasound localisation of the cricothyroid membrane: an observational study. Anaesthesia 2019; 74: 29-32.

13.

Kristensen MS, Teoh WH, Baker PA. Percutaneous emergency airway access; prevention, preparation, technique and training. Br J Anaesth 2015; 114: 357-61.

14.

Fennessy P, Drew T, Husarova V, Duggan M, McCaul CL. Emergency cricothyroidotomy: an observational study to estimate optimal incision position and length. Br J Anaesth 2019; 122: 263-8.

15.

Duggan LV, Brindley PG, Law JA. Improving communication, teamwork, and action during a "cannot intubate cannot oxygenate (CICO)" emergency: employing CICO as a cognitive aid mnemonic. Can J Anesth 2018; 65: 1087-92.
Acknowledgements
The authors would like to thank Dr. Jonathan Lee, Dr. Hao Chen, and Dr. Margaret Zhang for assistance with patient enrolment and data collection.
Author contributions
Daniel J. Kim conceived and designed the study, with input during the process from Shannon Erdelyi. Daniel J. Kim implemented the study and collected data. Shannon Erdelyi maintained and analyzed the data. Lauren Arthurs and Daniel J. Kim drafted the manuscript. All authors contributed substantially to its revision. Daniel J. Kim takes responsibility for the paper as a whole.
Disclosures
LA and SE do not report any conflicts of interest. DJK is on the medical advisory board of Clarius Mobile Health.
Funding statement
None.
Editorial responsibility
This submission was handled by Dr. Steven Backman, Associate Editor, Canadian Journal of Anesthesia.
Additional information
Publisher's Note
Springer Nature remains neutral with regard to jurisdictional claims in published maps and institutional affiliations.
Prior presentations: American Institute of Ultrasound in Medicine Annual Convention, New York, NY, 26 March 2018; Canadian Association of Emergency Physicians (CAEP) Annual Conference, Calgary, Alberta, 28 May 2018.
About this article
Cite this article
Arthurs, L., Erdelyi, S. & Kim, D.J. The effect of patient positioning on ultrasound landmarking for cricothyrotomy. Can J Anesth/J Can Anesth 68, 24–29 (2021). https://doi.org/10.1007/s12630-020-01826-x
Received:

Revised:

Accepted:

Published:

Issue Date:
Keywords
cricothyrotomy

cricothyroid membrane

ultrasound

airway

emergency department