Abstract
This article tests the role of traffic fines as predictors of crashes suffered by Powered-Two-Wheeler (PTW) riders in Barcelona, the city with the highest number of PTWs per inhabitant in Europe. Results show that traffic fines can work as predictors of road crashes, although not all sanctions have the same importance. Penalties associated with serious offences as running red lights or alcohol violations, are strongly correlated with the number of accidents. Thus, we argue governments are losing a valuable opportunity when using traffic fines only for punitive objectives. Traffic fines offer rich information already collected that can easily serve to identify road users at risk. This result have direct implications on the design of safety campaigns.
Resumen
Este artículo contrasta el papel de las multas de tráfico como instrumentos de predicción de los accidentes sufridos por vehículos de dos ruedas a motor (PTW) en Barcelona, ​​la ciudad con el mayor número de estos vehículos por habitante en Europa. Los resultados muestran que las multas de tráfico pueden funcionar como instrumentos de predicción de los accidentes, aunque no todas las sanciones tienen la misma importancia. Las penas asociadas a delitos graves como superar un semáforo en rojo o el consumo de alcohol, están fuertemente correlacionados con los accidentes. Por lo tanto, se sostiene quelos gobiernos están perdiendo una oportunidad valiosa cuando utilizan las multas sólo para objetivos punitivos. Las multas ofrecen una rica información ya disponible que pueden servir para identificar a los usuarios en situación de riesgo. Este resultado tiene implicaciones directas para el diseño de las campañas de seguridad vial.
This is a preview of subscription content, log in to check access.
Access options
Buy single article
Instant access to the full article PDF.
US$ 39.95
Price includes VAT for USA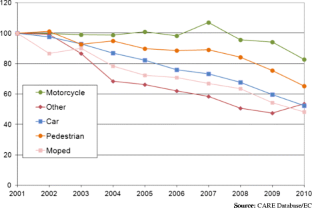 References
1.

Bar-Ilan, A., & Sacerdote, B. (2004). The response of criminals and noncriminals to fines. Journal of Law and Economics, 47(1), 1–17.

2.

Blais, E., & Gagné, M. (2010). The effect on collisions with injuries of a reduction in traffic citations issued by police officers. Injury Prevention, 16, 393–397.

3.

Castellà, J., & Perez, J. (2004). Sensitivity to punishment and sensitivity to reward and traffic violations. Accident Analysis and Prevention, 36(6), 947–952.

4.

Castillo-Manzano, J., Castro-Nuñez, M., & Pedregal, D. (2011). Can fear of going to jail reduce the number of road fatalities? The Spanish experience. Journal of Safety Research, 42(3), 223–228.

5.

Elander, J., West, R., & French, D. (1993). Behavioral correlates of individual differences in road-traffic crash risk: An examination of methods and findings. Psychological Bulletin, 113(2), 279–294.

6.

Evans, L. (2003). A new traffic safety vision for the United States. American Journal of Public Health, 93(9), 1384–1386.

7.

Figueiredo, P., Rasslan, S., Bruscagin, V., Cruz, R., & Rocha-Silva, M. (2001). Increases in fines and driver license withdrawal have effectively reduced immediate deaths from trauma on Brazilian roads: First-year report on the new traffic code. Injury, 32(2), 91–94.

8.

Goerke, L. (2002). Accident law: Efficiency may require an inefficient standard. German Economic Review, 3(1), 43–51.

9.

Goerke, L. (2003). Road traffic and efficient fines. European Journal of Law and Economics, 15, 65–84.

10.

Lagarde, E., Chiron, M., & Lafont, S. (2004). Traffic ticket fixing and driving behaviours in a large French working population. Journal of Epidemiology and Community Health, 58, 562–568.

11.

Lawpoolsri, S., Li, J., & Braver, E. R. (2007). Do speeding tickets reduce the likelihood of receiving subsequent speeding tickets? A longitudinal study of speeding violators in Maryland. Traffic Injury Prevention, 8(1), 26–34.

12.

Vereeck, L., & Vrolix, K. (2007). The social willingness to comply with the law: The effect of social attitudes on traffic fatalities. International Review of Law and Economics, 27, 385–408.
About this article
Cite this article
Albalate, D. Traffic fines for road safety programs: could they help?. Securitas Vialis 9, 29–34 (2017). https://doi.org/10.1007/s12615-016-9091-0
Keywords
Road safety

Traffic fines

Behavior

Crime

Motorcycles