Abstract
Objectives
Later-life cognitive impairment is an important health issue; however, little is known about the condition among diverse groups such as immigrants. This study aims to examine whether the healthy immigrant effect exists for verbal fluency, an indicator of cognitive functioning, among anglophone middle-aged and older adults in Canada.
Methods
Using from the baseline data of the Canadian Longitudinal Study on Aging (CLSA), multiple linear regression was employed to compare associations among immigrants (recent and long-term) and Canadian-born residents without dementia for two verbal fluency tests, the Controlled Oral Word Association Test (COWAT) and the Animal Fluency (AF) task. Covariates included socioeconomic, physical health, and dietary intake.
Results
Of 8,574 anglophone participants (85.7% Canada-born, 74.8% aged 45–65 years, 81.8% married, 81.9% with a post-secondary degree), long-term immigrants (settled in Canada >20 years) performed significantly better than Canadian-born residents for the COWAT (42.8 vs 40.9) but not the AF task (22.4 vs 22.4). Results of the multivariable adjusted regression analyses showed that long-term immigrants performed better than Canadian-born peers in both the COWAT (B=1.57, 95% CI: 0.80–2.34) and the AF test (B=0.57, 95% CI: 0.19–0.95), but this advantage was not observed among recent immigrants. Other factors associated with low verbal fluency performance included being single, socioeconomically disadvantaged, having hypertension, excess body fat, and consuming low amounts of pulses/nuts or fruit/vegetables.
Conclusions
Long-term immigrants had higher verbal fluency test scores than their Canadian-born counterparts. Immigration status, social, health and nutritional factors are important considerations for possible intervention and prevention strategies for cognitive impairment.
Access options
Buy single article
Instant access to the full article PDF.
USD 39.95
Price excludes VAT (USA)
Tax calculation will be finalised during checkout.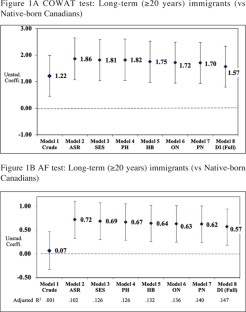 Availability of data and material: Data are available from the Canadian Longitudinal Study on Aging (https://www.clsa-elcv.ca) for researchers who meet the criteria for access to de-identified CLSA data.
References
Statistics Canada. 2017a. Immigrant population in Canada, 2016 Census of Population. [Data file]. Retrieved from https://www150.statcan.gc.ca/n1/pub/11-627-m/11-627-m2017028-eng.htm

Statistics Canada. 2016. 150 years of immigration in Canada. [Data file]. Retrieved from https://www150.statcan.gc.ca/n1/pub/11-630-x/11-630-x2016006-eng.htm Government of Canada

Statistics Canada. 2017b. Census Profile, 2016 Census -Canada. [Data file]. Retrieved from https://www12.statcan.gc.ca/census-recensement/2016/dp-pd/prof/details/page.cfm?Lang=E&Geol=PR&Codel=01&Geo2=&Code2=&Data=Count&SearchText=Canada&SearchType=Begins&SearchPR=01&B1=A11&TABID=1

Ng, E. The healthy immigrant effect and mortality rates. Health Reports / Statistics Canada, Canadian Centre for Health Information/ Rapports Sur La Sante / Statistique Canada, Centre Canadien D'information Sur La Sante, 2011;22(4), 25–29.

Gee, E. M., Kobayashi, K. M., & Prus, S. G. Examining the healthy immigrant effect in mid- to later life: findings from the Canadian Community Health Survey. Canadian Journal on Aging / La Revue Canadienne Du Vieillissement, 2004;23(5), S61–S69.

Vang, Z. M., Sigouin, J., Flenon, A., & Gagnon, A. Are immigrants healthier than native-born Canadians? A systematic review of the healthy immigrant effect in Canada. Ethnicity & Health, 2017;22(3), 209–241.

Prince, M., Ali, G.-C., Guerchet, M., Prina, A. M., Albanese, E., & Wu, Y.-T. Recent global trends in the prevalence and incidence of dementia, and survival with dementia. Alzheimer's Research & Therapy, 2016;8(1), 23.

Ienca, M., Shaw, D. M., & Elger, B. Cognitive enhancement for the ageing world: opportunities and challenges. Ageing & Society, 2019;39(10), 2308–2321.

Prince, M., Guerchet, M., & Prina, M. The epidemiology and impact of dementia: current state and future trends. Geneva: World Health Organization, 2015

Baumgart, M., Snyder, H. M., Carrillo, M. C., Fazio, S., Kim, H., & Johns, H. (2015). Summary of the evidence on modifiable risk factors for cognitive decline and dementia: A population-based perspective. Alzheimer's & Dementia: The Journal of the Alzheimer's Association, 2015;11(6),718–726.

Deal, J. A., Betz, J., Yaffe, K., Harris, T., Purchase-Helzner, E., Satterfield, S., … Health ABC Study Group. Hearing Impairment and Incident Dementia and Cognitive Decline in Older Adults: The Health ABC Study. The Journals of Gerontology. Series A, Biological Sciences and Medical Sciences, 2017;72(5), 703–709.

Tuokko, H., & Smart, C. Neuropsychology of Cognitive Decline: A Developmental Approach to Assessment and Intervention. New York, NY: Guilford Publications, 2018

Livingston, G., Sommerlad, A., Orgeta, V., Costafreda, S. G., Huntley, J., Ames, D., & Cooper, C. Dementia prevention, intervention, and care. The Lancet, 2017;390(10113), 2673–2734.

Tolea, M. I., Chrisphonte, S., & Galvin, J. E. Sarcopenic obesity and cognitive performance. Clinical interventions in aging, 2018;13, 1111.

Chang K, Hsu T, Wu W, Huang K, Han D. Association between sarcopenia and cognitive impairment: A systematic review and meta-analysis. Journal of the American Medical Directors Association, 2016;17(12), 1164.e7–1164.e15.

Solfrizzi, V., Custodero, C., Lozupone, M., Imbimbo, B. P., Valiani, V., Agosti, P., … & Guerra, V. Relationships of dietary patterns, foods, and micro-and macronutrients with Alzheimer's disease and late-life cognitive disorders: a systematic review. Journal of Alzheimer's Disease, 2017;59(3), 815–849.

McDonald, J. T., & Kennedy, S. Is migration to Canada associated with unhealthy weight gain? Overweight and obesity among Canada's immigrants. Social Science & Medicine, 2005;61(12), 2469–2481.

Goel, M. S., McCarthy, E. P., Phillips, R. S., & Wee, C. C. Obesity among US immigrant subgroups by duration of residence. JAMA, 2004;292(23), 2860–2867.

Abraido-Lanza, A. F., Chao, M. T., & Florez, K. R. Do healthy behaviors decline with greater acculturation? Implications for the Latino mortality paradox. Social Science and Medicine, 2005;61(6), 1243–1255.

Lear, S. A., Humphries, K. H., Hage-Moussa, S., Chockalingam, A., & Mancini, G. J. Immigration presents a potential increased risk for atherosclerosis. Atherosclerosis, 2009;205(2), 584–589.

Davison, K.M. & Gondara, L. A comparison of mental health, food insecurity, and diet quality indicators between foreign-born immigrants of Canada and native-born Canadians. Journal of Hunger & Environmental Nutrition, DOI: https://doi.org/10.1080/19320248.2019.1672601

Johnson, C. S., & Garcia, A. C. Dietary and activity profiles of selected immigrant older adults in Canada. Journal of Nutrition for the Elderly, 2003;23(1), 23–39.

Sanou, D., O'Reilly, E., Ngnie-Teta, I., Batal, M., Mondain, N., Andrew, C., … & Bourgeault, I. L. Acculturation and nutritional health of immigrants in Canada: a scoping review. Journal of Immigrant and Minority Health, 2014;16(1), 24–34.

Raina, P. S., Wolfson, C., Kirkland, S. A., Griffith, L. E., Oremus, M., Patterson, C,… & Wister, A. The Canadian longitudinal study on aging (CLSA). Canadian Journal on Aging/La Revue canadienne du vieillissement, 2009;28(3), 221–229.

Malek-Ahmadi, M., Small, B. J., & Raj, A. The diagnostic value of controlled oral word association test-FAS and category fluency in single-domain amnestic mild cognitive impairment. Dementia and Geriatric Cognitive Disorders, 2011;32(4), 235–240.

Arab, L., & Ang, A. A cross sectional study of the association between walnut consumption and cognitive function among adult US populations represented in NHANES. The Journal of Nutrition, Health & Aging, 2015;19(3), 284–290.

Andresen, E. M., Malmgren, J. A., Carter, W. B., & Patrick, D. L. Screening for depression in well older adults: Evaluation of a short form of the CES-D. American Journal of Preventive Medicine, 1994;10(2), 77–84.

Spreen, O., & Benton, A. L. Neurosensory Center Comprehensive Examination for Aphasia. Neuropsychological Laboratory. Retrieved from https://ci.nii.ac.jp/naid/10008101651.

Crossley, M., D'Arcy, C., & Rawson, N. S. Letter and category fluency in community-dwelling Canadian seniors: a comparison of normal participants to those with dementia of the Alzheimer or vascular type. Journal of Clinical and Experimental Neuropsychology, 1997;19(1), 52–62.

Tierney, M. C., Yao, C., Kiss, A., & McDowell, I. Neuropsychological tests accurately predict incident Alzheimer disease after 5 and 10 years. Neurology, 2005;64(11), 1853–1859.

Gourovitch, M. L., Kirkby, B. S., Goldberg, T. E., Weinberger, D. R., Gold, J. M., Esposito, G., … & Berman, K. F. (A comparison of rCBF patterns during letter and semantic fluency. Neuropsychology, 2000;14(3), 353.

Schmidt, C. S., Schumacher, L. V., Römer, P., Leonhart, R., Beume, L., Martin, M.,… & Kaller, C. P. Are semantic and phonological fluency based on the same or distinct sets of cognitive processes? Insights from factor analyses in healthy adults and stroke patients. Neuropsychologia, 2017;99, 148–155.

Tuokko, H., Griffith, L. E., Simard, M., & Taler, V. Cognitive measures in the Canadian longitudinal study on aging. The Clinical Neuropsychologist, 2017;31(1), 233–250.

Strauss, E., Sherman, E. M., & Spreen, O. A compendium of neuropsychological tests: Administration, norms, and commentary (3rd ed.). Toronto, ON: Oxford University Press, 2006.

Guerra, R. S., Fonseca, I., Pichel, F., Restivo, M. T., & Amaral, T. F. Handgrip strength cutoff values for undernutrition screening at hospital admission. European Journal of Clinical Nutrition, 2014;68(12), 1315.

Keller, H. H., Goy, R., & Kane, S. L. Validity and reliability of SCREEN II (Seniors in the community: risk evaluation for eating and nutrition, Version II). European Journal of Clinical Nutrition, 2005;59(10), 1149.

Shatenstein, B., & Payette, H. Evaluation of the relative validity of the Short Diet Questionnaire for assessing usual consumption frequencies of selected nutrients and foods. Nutrients, 2015;7(8), 6362–6374.

Davison, K. M., Lung, Y., Lin, S. L., Tong, H., Kobayashi, K. M., & Fuller-Thomson, E. Depression in middle and older adulthood: the role of immigration, nutrition, and other determinants of health in the Canadian longitudinal study on aging. BMC psychiatry, 2019;19(1), 329.

Davison, K. M., Lung, Y., Lin, S. L., Tong, H., Kobayashi, K. M., & Fuller-Thomson, E. Psychological distress in older adults linked to immigrant status, dietary intake, and physical health conditions in the Canadian Longitudinal Study on Aging (CLSA). Journal of Affective Disorders, 2020;265, 526–537.

Hahs-Vaughn, D. L. (A primer for using and understanding weights with national dataseis. The Journal of Experimental Education, 2005;73(3), 221–248.

Hill, T. D., Angel, J. L., Balistreri, K. S., & Herrera, A. P. Immigrant status and cognitive functioning in late-life: an examination of gender variations in the healthy immigrant effect. Social Science & Medicine, 2012;75(12), 2076–2084.

Graves, A. B., Rajaram, L., Bowen, J. D., McCormick, W. C., McCurry, S. M., & Larson, E. B. (Cognitive decline and Japanese culture in a cohort of older Japanese Americans in King County, WA: the Kame Project. The Journals of Gerontology. Series B, Psychological Sciences and Social Sciences, 1999;54(3), S154–S161.

Fuller-Thomson, E., & Kuh, D. The healthy migrant effect may confound the link between bilingualism and delayed onset of Alzheimer's disease. Cortex; a Journal Devoted to the Study of the Nervous System and Behavior, 2014;52, 128–130.

Fuller-Thomson, E., Brennenstuhl, S., Cooper, R., & Kuh, D. An investigation of the healthy migrant hypothesis: Pre-emigration characteristics of those in the British 1946 birth cohort study. Canadian Journal of Public Health/ Revue Canadienne de Sante Publique, 2016;106(8), e502–e508.

Luo, L., Luk, G., & Bialystok, E. Effect of language proficiency and executive control on verbal fluency performance in bilinguals. Cognition, 2010;114(1), 29–41.

Bialystok, E. Bilingualism: The good, the bad, and the indifferent. Bilingualism: Language and Cognition, 2009;12(1), 3–11.

Birn, R. M., Kenworthy, L., Case, L., Caravella, R., Jones, T. B., Bandettini, P. A., & Martin, A. Neural systems supporting lexical search guided by letter and semantic category cues: a self-paced overt response fMRI study of verbal fluency. Neurolmage, 2010;49(1), 1099–1107.

Kousaie, S., & Phillips, N. Ageing and bilingualism: Absence of a "bilingual advantage" in Stroop interference in a nonimmigrant sample. Quarterly Journal Of Experimental Psychology, 2012;65(2), 356–369. doi: https://doi.org/10.1080/17470218.2011.604788

Alladi, S., Bak, T. H., Duggirala, V., Surampudi, B., Shailaja, M., Shukla, A. K.,… & Kaul, S. Bilingualism delays age at onset of dementia, independent of education and immigration status. Neurology, 2013;81(22), 1938–1944.

Gu, Y., Luchsinger, J. A., Stern, Y., & Scarmeas, N. Mediterranean diet, inflammatory and metabolic biomarkers, and risk of Alzheimer's disease. Journal of Alzheimer's Disease, 2010;22(2), 483–492.

Corrêa Leite ML, Nicolosi A, Cristina S, Hauser WA, Nappi G. Nutrition and cognitive deficit in the elderly: a population study. European Journal of Clinical Nutrition, 2001;55(12), 1053–8.

Miller, J. W., Harvey, D. J., Beckett, L. A., Green, R., Farias, S. T., Reed, B. R.,… & DeCarli, C. Vitamin D status and rates of cognitive decline in a multiethnic cohort of older adults. JAMA neurology, 2015;72(11), 1295–1303.

Czyż, K., Bodkowski, R., Herbinger, G., & Librowski, T. Omega-3 fatty acids and their role in central nervous system-a review. Current medicinal chemistry, 23(8), 816–831.

Stephan, B. C. M., Hunter, S., Harris, D., Llewellyn, D. J., Siervo, M., Matthews, F. E., & Brayne, C. The neuropathological profile of mild cognitive impairment (MCI): a systematic review. Molecular Psychiatry, 2012;17(11), 1056.

Valenzuela, M. J., & Sachdev, P. Brain reserve and dementia: a systematic review. Psychological Medicine, 2006;36(4), 441–454.

Scarmeas, N., & Stern, Y. Cognitive reserve and lifestyle. Journal of Clinical and Experimental Neuropsychology, 2003;25(5), 625–633.

Luchsinger, J. A., & Gustafson, D. R. Adiposity and Alzheimer's disease. Current Opinion in Clinical Nutrition and Metabolic Care, 2009;12(1), 15.

Hersi M, Irvine B, Gupta P, Gomes J, Birkett N, Krewski D. Risk factors associated with the onset and progression of Alzheimer's disease: A systematic review of the evidence. Neurotoxicology 2017;61, 143–187.

Emmerzaal, T. L., Kiliaan, A. J., & Gustafson, D. R. 2003-2013: a decade of body mass index, Alzheimer's disease, and dementia. Journal of Alzheimer's Disease, 2015;43(3), 739–755.

Solfrizzi, V., Frisardi, V., Capurso, C., D'Tntrono, A., Colacicco, A. M., Vendemiale, G., … & Panza, F. Dietary fatty acids in dementia and predementia syndromes: epidemiological evidence and possible underlying mechanisms. Ageing Research Reviews, 2010; 9(2), 184–199.

Stephen, R., Liu, Y., Ngandu, T., Rinne, J. O., Kemppainen, N., Parkkola, R., … & Antikainen, R. Associations of CAIDE Dementia Risk Score with MRI, PIB-PET measures, and cognition. Journal of Alzheimer's Disease, 2017;59(2), 695–705.

Robitaille, A., Piccinin, A. M., Hofer, S. M., Johansson, B., & Muniz Terrera, G. An examination of the heterogeneity in the pattern and association between rates of change in grip strength and global cognition in late life. A multivariate growth mixture modelling approach. Age and Ageing, 2018;47(5), 692–697.
Acknowledgements
This research was made possible using the data collected by the Canadian Longitudinal Study on Aging (CLSA). Funding for the Canadian Longitudinal Study on Aging (CLSA) is provided by the Government of Canada through the Canadian Institutes of Health Research (CIHR) under grant reference: LSA 9447 and the Canada Foundation for Innovation. This research has been conducted using the CLSA Baseline Comprehensive Dataset version 4.0, under Application ID 170605. The CLSA is led by Drs. Parminder Raina, Christina Wolfson and Susan Kirkland. The development, testing and validation of the Short Diet Questionnaire (SDQ) were carried out among NuAge study participants as part of the CLSA Phase II validation studies, CIHR 2006–2008. The NuAge study was supported by the CIHR, Grant number M0P-62842, and the Quebec Network for Research on Aging, a network funded by the Fonds de Recherche du Québec-Santé. The opinions expressed in this manuscript are the authors' own and do not reflect the views of the Canadian Longitudinal Study on Aging.The authors declare that they have no competing interests.
Funding
Funding: Part of this study was funded through E.F.T.'s Sandra Rotman endowed chair funds and K.M.D.'s Fulbright Canada Research Chair.
Ethics declarations
Conflict of interest: We have no conflict of interest to declare.
Ethical Standards: The secondary analysis of CLSA data conducted in this paper was approved by the University of Toronto's Health Sciences Research Ethics Board (protocol number: 34065).
Additional information
Disclaimer: The opinions expressed in this manuscript are the author's own and do not reflect the views of the Canadian Longitudinal Study on Aging.
About this article
Cite this article
Fuller-Thomson, E., Saab, Z., Davison, K.M. et al. Nutrition, Immigration and Health Determinants are Linked to Verbal Fluency among Anglophone Adults in the Canadian Longitudinal Study on Aging (CLSA). J Nutr Health Aging 24, 672–680 (2020). https://doi.org/10.1007/s12603-020-1402-8
Received:

Accepted:

Published:

Issue Date:

DOI: https://doi.org/10.1007/s12603-020-1402-8
Key words