Abstract
Objective
Many people experience orthopaedic problems (OPPs), such as knee joint pain, hip joint pain, low back pain, and knee stiffness in their lifetimes. OPPs can impair lower extremity function, cause depression, and worsen quality of life. The aim of this study was to investigate the association between sedentary time (SDT) and OPPs.
Design
Retrospective cross-sectional study.
Setting
This study used data from the 2014–2015 Korea National Health and Nutrition Examination Survey. Survey participants with previous or current osteoarthritis or rheumatoid arthritis, as diagnosed by a doctor, were excluded. OPPs were defined as knee joint pain, hip joint pain, low back pain, and knee stiffness. The cut-off value for SDT was 7.5 hours/day. The study population comprised 3,671 people (1), 856 men and 1,815 women), all of whom were ≥50 years-old. Multiple logistic regression analyses were performed.
Results
A total of 328 men (17.7%) and 519 women (28.6%) had OPPs. Men with SDTs ≥7.5 hours had a greater risk of OPPs than did men with SDTs <7.5 hours (odds ratio [OR], 1.45; 95% confidence interval [CI], 1.08–1.93). A pink-collar job, physical inactivity during leisure time, and passive (e.g. riding in a car or train) versus active (e.g. walking or riding a bicycle) transportation predicted OPPs in men with SDTs ≥7.5 hours. SDT was a risk factor for knee joint pain in men (OR, 1.80; 95% CI, 1.11–2.92) and hip joint pain in women (OR, 2.05; 95% CI, 1.35–3.11).
Conclusions
In men, prolonged SDT is a risk factor for OPPs. More physical activity programmes should be launched at the community level for people ≥50 years-old to reduce the occurrence of OPPs.
This is a preview of subscription content, log in to check access.
Access options
Buy single article
Instant access to the full article PDF.
US$ 39.95
Tax calculation will be finalised during checkout.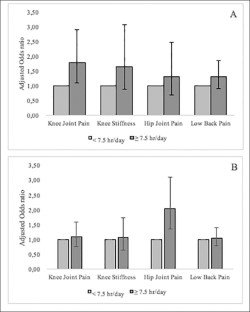 References
1.

H.J. Jhun, N.J. Sung, S.Y. Kim, Knee Pain and Its Severity in Elderly Koreans: Prevalence, Risk Factors and Impact on Quality of Life, J Korean Med Sci 2013; 28;1807–1813.

2.

N.H. Cho, Y.O. Jung, S.H. Lim, C.K. Chung, H.A. Kim, The Prevalence and Risk Factors of Low Back Pain in Rural Community Residents of Korea. Spine 2012;37;2001–2010, https://doi.org/10.1097/BRS.0b013e31825d1fa8.

3.

I.J. Kim, H.A. Kim, Y.I. Seo, Y.O. Jung, Y.W. Song, J.Y. Jeong, D.H. Kim, Prevalence of Knee Pain and Its Influence on Quality of Life and Physical Function in the Korean Elderly Population: A Community Based Cross-Sectional Study. J Korean Med Sci 2011;26;1140–1146.

4.

K.D. Brandt, D.K. Heilman, C. Slemenda, B.P. Katz, S. Mazzuca, E.M. Braunstein, D. Byrd, A comparison of lower extremity muscle strength, obesity, and depression scores in elderly subjects with knee pain with and without radiographic evidence of knee osteoarthritis, The Journal of rheumatology 2000;27;1937–1946.

5.

P. Creamer, M. Lethbridge-Cejku, P. Costa, J.D. Tobin, J.H Herbst, M.C. Hochberg, The relationship of anxiety and depression with self-reported knee pain in the community: Data from the Baltimore longitudinal study of aging. Arthritis Care & Research 1999;12;3–7, https://doi.org/10.1002/1529-0131(199902)12:l<3::Aid-art2>3.0.Co;2-k.

6.

M. Hopman-Rock, F.W. Kraaimaat, J.W.J. Bijlsma, Quality of life in elderly subjects with pain in the hip or knee, Quality of Life Research 1997;6;0, https://doi.org/10.1023/a:1026421629416.

7.

Sedentary Behaviour Research Network, Letter to the editor: standardized use of the terms" sedentary" and" sedentary behaviours", Applied physiology, nutrition, and metabolism= Physiologie appliquee, nutrition et métabolisme 2012;37;540.

8.

CE. Matthews, K.Y. Chen, P.S. Freedson, M.S. Buchowski, B.M. Beech, R.R. Pate, R.P. Troiano, Amount of time spent in sedentary behaviors in the United States. 2003–2004, American journal of epidemiology 2008;167;875–881.

9.

J.A. Harvey, S.F.M. Chastin, D.A. Skelton, Prevalence of Sedentary Behavior in Older Adults: A Systematic Review. International Journal of Environmental Research and Public Health 2013;10;6645–6661.

10.

J.H. Park, H.K. Joh, G.S. Lee, S.J. Je, S.H. Cho, S.J. Kim, S.W. Oh, H.T. Kwon, Association between Sedentary Time and Cardiovascular Risk Factors in Korean Adults. Korean J Fam Med 2018;39;29–36, https://doi.org/10.4082/kjfm.2018.39.1.29.

11.

S.M. Park, H.J. Kim, H.S. Jeong, H.M. Kim, B.S. Chang, C.K. Lee, J.S. Yeom, Longer sitting time and low physical activity are closely associated with chronic low back pain in population over 50 years of age: a cross-sectional study using the sixth Korea National Health and Nutrition Examination Survey. The Spine Journal 2018;18;2051–2058, https://doi.org/10.1016/j.spinee.2018.04.003.

12.

C.L. Ekegren, B. Beck, R.E. Climie, N. Owen, D.W. Dunstan, B.J. Gabbe, Physical activity and sedentary behavior subsequent to serious orthopedic injury: A systematic review. Archives of physical medicine and rehabilitation 2018;99;164–177. e166.

13.

S.C. Webber, S.M. Strachan, N.S. Pachu, Sedentary Behavior. Cadence, and Physical Activity Outcomes after Knee Arthroplasty, Medicine and science in sports and exercise 2017;49;1057–1065.

14.

E.Z. Zusman, M.G. Dawes, N. Edwards, M.C. Ashe, A systematic review of evidence for older adults' sedentary behavior and physical activity after hip fracture. Clinical Rehabilitation 2017;32;679–691, https://doi.org/10.1177/0269215517741665.

15.

J.Y. Nam, J.Y. Kim, K.H. Cho, J.W. Choi, J.Y. Shin, E.C. Park, The impact of sitting time and physical activity on major depressive disorder in South Korean adults: a cross-sectional study, BMC psychiatry 2017;17;274.

16.

J.Y. Nam, J. Kim, K.H. Cho, Y. Choi, J. Choi, J. Shin, E.-C. Park, Associations of sitting time and occupation with metabolic syndrome in South Korean adults: a cross-sectional study, BMC Public Health 2016;16;943, https://doi.org/10.1186/s12889-016-3617-5.

17.

E.G. Wilmot, C.L. Edwardson, F.A. Achana, M.J. Davies, T. Gorely, L.J. Gray, K. Khunti, T. Yates, S.J. Biddle, Sedentary time in adults and the association with diabetes, cardiovascular disease and death: systematic review and meta-analysis, Springer, 2012.

18.

J.Y. Chau, A.C. Grunseit, T. Chey, E. Stamatakis, W.J. Brown, C.E. Matthews, A.E. Bauman, H.P. van der Ploeg, Daily sitting time and all-cause mortality: a metaanalysis, PloS one 2013;8;e80000.

19.

Australian Government Department of Health, Australia's physical activity and sedentary behaviour guidelines, Australian Government Canberra, 2014.

20.

World Health Organization, Global recommendations on physical activity for health, World Health Organization, 2010.

21.

Korea Centers for Disease Control and Prevention, The 6th Korea National Health and Nutrition Examination Survey, 2015.

22.

J. Lakerveld, A. Loyen, N. Schotman, C.F.W. Peeters, G. Cardon, H.P. van der Ploeg, N. Lien, S. Chastin, J. Brug, Sitting too much: a hierarchy of socio-demographic correlates. Preventive medicine 2017;101;77–83.

23.

P. Elias, OECD, Occupational Classification (ISCO-88); doi: https://doi.org/10.1787/304441717388. 1997, https://doi.org/10.1787/304441717388.

24.

M.H. Seo, W.Y. Lee, S.S. Kim, J.H. Kang, J.H. Kang, K.K. Kim, B.Y. Kim, Y.H. Kim, W.J. Kim, E.M. Kim, H.S. Kim, Y. Shin, A, H.J. Shin, Korean Society for the Study of Obesity. Committee of Clinical Practice Guidelines, 2018 Korean Society for the Study of Obesity Guideline for the Management of Obesity in Korea, J Obes Metab Syndr 2019;28;40–45.

25.

A. Nachemson, G. Elfström, Intravital dynamic pressure measurements in lumbar discs. A study of common movements, maneuvers, and exercises, Scand. J. Rehab. Med. 1970; Suppl. 1, 1–40. See also authors article in Perspectives in Biomedical Engineering, (RM Kenedi, ed.), Proc. of a Symposium, 1973.

26.

L.L. Van Deursen, J. Patijn, J.R. Durinck, R. Brouwer, J.R. Van Erven-Sommers, B.J. Vortman, Sitting and low back pain: The positive effect of rotatory dynamic stimuli during prolonged sitting. European Spine Journal 1999;8;187–193, https://doi.org/10.1007/s005860050155.

27.

W.S. Marras, S.A. Lavender, S.E. Leurgans, F.A. Fathallah, S.A. Ferguson, W. Gary Allread, S.L. Rajulu, Biomechanical risk factors for occupationally related low back disorders. Ergonomics 1995;38;377–410.

28.

S.M. McGill, R.L. Hughson, K. Parks, Lumbar erector spinae oxygenation during prolonged contractions: implications for prolonged work. Ergonomics 2000;43;486–493.

29.

N.K. Kanakaris, C.S. Roberts, P.V. Giannoudis, Pregnancy-related pelvic girdle pain: an update, BMC Medicine 2011;9;15, https://doi.org/10.1186/1741-7015-9-15.

30.

V. Pennick, S.D. Liddle, Interventions for preventing and treating pelvic and back pain in pregnancy, Cochrane Database of Systematic Reviews, 2013.

31.

C.C.M. Röst, J. Jacqueline, A. Kaiser, A.P. Verhagen, B.W. Koes, Prognosis of women with pelvic pain during pregnancy: a long-term follow-up study. Acta Obstetricia et Gynecologica Scandinavica 2006;85;771–777, https://doi.org/10.1080/00016340600626982.

32.

W.Y. Bae, I.S. Young, J.S. Ryu, J.M. Heo, Physical activity levels and well-being in older adults. Psychological reports 2017;120;192–205.

33.

E.N. Ussery, J.E. Fulton, D.A. Galuska, P.T. Katzmarzyk, S.A. Carlson, Joint prevalence of sitting time and leisure-time physical activity among US Adults. 2015–2016, Jama 2018;320;2036–2038.

34.

C.L. Craig, A.L. Marshall, M. Sjöström, A.E. Bauman, M.L. Booth, B.E. Ainsworth, M. Pratt, U. Ekelund, A. Yngve, J.F. Sallis, International physical activity questionnaire: 12-country reliability and validity. Medicine & science in sports & exercise 2003;35;1381–1395.
Funding
Funding: This study was supported by a faculty research grant of Yonsei University College of Medicine(6-2018-0174 and 6-2017-0157).
Ethics declarations
Declarations of interest: none
Ethical approval: As this study analysed existing data, approval from an ethics review board was not required. The KNHANES, which was the source of the data used for this study, has been reviewed and approved annually by the Ethics Review Committee of the KCDC since 2007.
About this article
Cite this article
Kang, S.H., Joo, J.H., Park, E.C. et al. Effect of Sedentary Time on the Risk of Orthopaedic Problems in People Aged 50 Years and Older. J Nutr Health Aging 24, 839–845 (2020). https://doi.org/10.1007/s12603-020-1391-7
Received:

Accepted:

Published:

Issue Date:
Key words
Sedentary time

orthopedic problems

gerontology

Korea

regression analysis