Abstract
Objectives
To validate the SARC-F questionnaire for sarcopenia screening in musculoskeletal disease setting, and to assess improvements in diagnostic accuracy by adding "EBM" (elderly and body mass index information) to the SARC-F.
Design
Diagnostic accuracy study.
Setting and Participants
The center involved in this study was located in an urban area of Kobe City, Japan. People with musculoskeletal disease in the knee, hip, or spine who were scheduled for surgical treatment were included.
Measurements
Sarcopenia was evaluated using the Asian Working Group for Sarcopenia (AWGS) and the European Working Group on Sarcopenia in Older People (EWGSOP2), which included bioimpedance, handgrip strength, and gait speed. Patients answered the SARC-F questionnaire and their body mass index was measured. SARC-F and "EBM" information were combined into an original score. The sensitivities, specificities, and areas under the receiver operating characteristic curve (AUC) were estimated and compared to identify sarcopenia.
Results
A total of 959 patients were included. Sarcopenia by AWGS criteria was identified in 36 (3.8%) patients. SARC-F had a sensitivity of 41.7% and specificity of 68.5%. SARC-F+EBM had a sensitivity of 77.8% and specificity of 69.6%, with substantial improvement in sensitivity (P<0.001). The AUCs for SARC-F and SARC-F+EBM were 0.557 (95% confidence interval [CI] 0.452–0.662) and 0.824 (95% CI 0.762–0.886), respectively (P<0.001). Similar results were obtained when EWGSOP2 criteria were used as the reference standard.
Conclusion
The SARC-F alone is not adequate for finding cases in musculoskeletal disease settings. SARC-F+EBM significantly improved the sensitivity and overall diagnostic accuracy of the SARC-F for screening sarcopenia. SARC-F+EBM is potentially useful for screening sarcopenia in different ethnic and disease settings.
Access options
Buy single article
Instant access to the full article PDF.
US$ 39.95
Tax calculation will be finalised during checkout.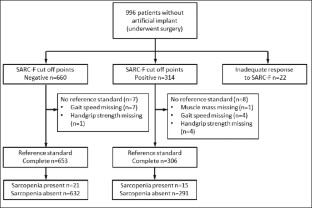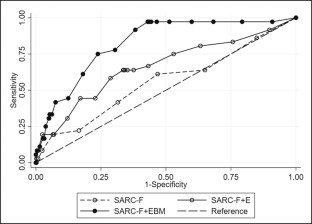 References
1.

Prince MJ, Wu F, Guo Y, Gutierrez Robledo LM, O'Donnell M, Sullivan R, Yusuf S. The burden of disease in older people and implications for health policy and practice. The Lancet 2015;385(9967):549–562. doi: https://doi.org/10.1016/S0140-6736(14)61347-7

2.

Brooks PM. The burden of musculoskeletal disease—a global perspective. Clinical Rheumatology 2006;25(6):778–781. doi:https://doi.org/10.1007/s10067-006-0240-3

3.

Cruz-Jentoft AJ, Bahat G, Bauer J, Boirie Y, Bruyere O, Cederholm T, Cooper C, Landi F, Rolland Y, Sayer AA, Schneider SM, Sieber CC, Topinkova E, Vandewoude M, Visser M, Zamboni M. Sarcopenia: revised European consensus on definition and diagnosis. Age and ageing 2019;48(1):16–31. doi:https://doi.org/10.1093/ageing/afy169

4.

Godziuk K, Prado CM, Woodhouse LJ, Forhan M. The impact of sarcopenic obesity on knee and hip osteoarthritis: a scoping review. BMC musculoskeletal disorders 2018;19(1):271. doi:https://doi.org/10.1186/s12891-018-2175-7

5.

Veronese N, Punzi L, Sieber C, Bauer J, Reginster J-Y, Maggi S. Sarcopenic osteoarthritis: a new entity in geriatric medicine? Eur Geriatr Med 2018;9(2):141–148. doi:https://doi.org/10.1007/s41999-018-0034-6

6.

Arai H. Sarcopenia diagnostic criteria update by EWGSOP: what has been changed? Eur Geriatr Med 2018;9(6):733–734. doi:https://doi.org/10.1007/s41999-018-0117-4

7.

Landi F, Cruz-Jentoft AJ, Liperoti R, Russo A, Giovannini S, Tosato M, Capoluongo E, Bernabei R, Onder G. Sarcopenia and mortality risk in frail older persons aged 80 years and older: results from ilSIRENTE study. Age and ageing 2013;42(2):203–209

8.

Landi F, Liperoti R, Russo A, Giovannini S, Tosato M, Capoluongo E, Bernabei R, Onder G. Sarcopenia as a risk factor for falls in elderly individuals: results from the ilSIRENTE study. Clin Nutr 2012;31(5):652–658

9.

Kemmler W, Teschler M, Goisser S, Bebenek M, von Stengel S, Bollheimer LC, Sieber CC, Freiberger E. Prevalence of sarcopenia in Germany and the corresponding effect of osteoarthritis in females 70 years and older living in the community: results of the FORMoSA study. Clin Interv Aging 2015;10:1565–1573. doi:https://doi.org/10.2147/CIA.S89585

10.

Chen LK, Liu LK, Woo J, Assantachai P, Auyeung TW, Bahyah KS, Chou MY, Chen LY, Hsu PS, Krairit O, Lee JS, Lee WJ, Lee Y, Liang CK, Limpawattana P, Lin CS, Peng LN, Satake S, Suzuki T, Won CW, Wu CH, Wu SN, Zhang T, Zeng P, Akishita M, Arai H. Sarcopenia in Asia: consensus report of the Asian Working Group for Sarcopenia. Journal of the American Medical Directors Association 2014;15(2):95–101. doi:https://doi.org/10.1016/j.jamda.2013.11.025

11.

Wada O, Kurita N, Kamitani T, Nakano N, Mizuno K. Influence of the severity of knee osteoarthritis on the association between leg muscle mass and quadriceps strength: the SPSS-OK study. Clinical Rheumatology 2019;38(3):719–725. doi:https://doi.org/10.1007/s10067-018-4337-2

12.

Malmstrom TK, Morley JE. SARC-F: a simple questionnaire to rapidly diagnose sarcopenia. Journal of the American Medical Directors Association 2013;14(8):531–532. doi:https://doi.org/10.1016/j.jamda.2013.05.018

13.

Ouchi Y, Rakugi H, Arai H, Akishita M, Ito H, Toba K, Kai I, Society obotJCoJG, definition JGSot, elderly cot. Redefining the elderly as aged 75 years and older: Proposal from the Joint Committee of Japan Gerontological Society and the Japan Geriatrics Society. Geriatrics & gerontology international 2017;17(7):1045–1047. doi:doi:https://doi.org/10.1111/ggi.13118

14.

Gaillard C, Alix E, Sallé A, Berrut G, Ritz P. Energy requirements in frail elderly people: A review of the literature. Clinical Nutrition 2007;26(1):16–24. doi:https://doi.org/10.1016/j.clnu.2006.08.003

15.

Volkert D, Beck AM, Cederholm T, Cruz-Jentoft A, Goisser S, Hooper L, Kiesswetter E, Maggio M, Raynaud-Simon A, Sieber CC, Sobotka L, van Asselt D, Wirth R, Bischoff SC. ESPEN guideline on clinical nutrition and hydration in geriatrics. Clinical Nutrition 2019;38(1):10–47. doi:https://doi.org/10.1016/j.clnu.2018.05.024

16.

Imai E, Horio M, Nitta K, Yamagata K, Iseki K, Tsukamoto Y, Ito S, Makino H, Hishida A, Matsuo S. Modification of the Modification of Diet in Renal Disease (MDRD) Study Equation for Japan. Am J Kidney Dis 2007;50(6):927–937. doi:https://doi.org/10.1053/j.ajkd.2007.09.004

17.

DeLong ER, DeLong DM, Clarke-Pearson DL. Comparing the Areas under Two or More Correlated Receiver Operating Characteristic Curves: A Nonparametric Approach. Biometrics 1988;44(3):837–845. doi:https://doi.org/10.2307/2531595

18.

Liu X. Classification accuracy and cut point selection. Statistics in medicine 2012;31(23):2676–2686

19.

Trajman A, Luiz RR. McNemar chi2 test revisited: comparing sensitivity and specificity of diagnostic examinations. Scandinavian journal of clinical and laboratory investigation 2008;68(1):77–80. doi:https://doi.org/10.1080/00365510701666031

20.

Woo J, Leung J, Morley JE. Validating the SARC-F: A Suitable Community Screening Tool for Sarcopenia? Journal of the American Medical Directors Association 2014;15(9):630–634. doi:https://doi.org/10.1016/j.jamda.2014.04.021

21.

Barbosa-Silva TG, Menezes AMB, Bielemann RM, Malmstrom TK, Gonzalez MC. Enhancing SARC-F: Improving Sarcopenia Screening in the Clinical Practice. Journal of the American Medical Directors Association 2016;17(12):1136–1141. doi:https://doi.org/10.1016/jjamda.2016.08.004

22.

Cohen JF, Korevaar DA, Altman DG, Bruns DE, Gatsonis CA, Hooft L, Irwig L, Levine D, Reitsma JB, de Vet HCW, Bossuyt PMM. STARD 2015 guidelines for reporting diagnostic accuracy studies: explanation and elaboration. BMJ open 2016;6(11):e012799–e012799. doi:https://doi.org/10.1136/bmjopen-2016-012799
Acknowledgments
The authors greatly thank the following research assistant and medical staff members for their assistance in collecting the clinical information used in this study Takehiro Kaga, Tomohiro Oka, Yoriko Tamura, Hiroshi Nishi, Yuichi Isaji, Yutaka Sato, Tomohiro Takagi, Kaho Shibata, Maho Wakai, Chisato Shindoh, Kenta Hirose, Takuma Ota, Tatsuya Arita, Yuuki Ikawa, Tsuyoshi Fukui, Riuji Nakagawa, Taisuke Hayashida, Shuto Fujii, Keisuke Yoneya, Kazuaki Mori (Anshin Hospital, Kobe), Asako Tamura, Yuka Masuda (St. Marianna Medical University), Lisa Shimokawa (Fukushima Medical University Hospital, Fukushima-city, Fukushima).
Funding
Funding sources: This study was supported by JSPS KAKENHI (Grant Number: JP15K16518). The JSPS had no role in the study, except for providing funding.
Ethics declarations
Conflicts of Interest: The authors have nothing to disclose.
Ethical Standards: The study was conducted in accordance with the Declaration of Helsinki and the ethical guidelines for Ethical Guidelines for Medical and Health Research Involving Human Subjects in Japan.
Electronic Supplementary Material
About this article
Cite this article
Kurita, N., Wakita, T., Kamitani, T. et al. SARC-F Validation and SARC-F+EBM Derivation in Musculoskeletal Disease: The SPSS-OK Study. J Nutr Health Aging 23, 732–738 (2019). https://doi.org/10.1007/s12603-019-1222-x
Received:

Accepted:

Published:

Issue Date:
Key words
Sarcopenia

muscle mass

diagnostic accuracy