Abstract
Background
Selenium has a wide range of pleiotropic effects, influencing redox homeostasis, thyroid hormone metabolism, and protecting from oxidative stress and inflammation. Serum selenium levels are reduced in the older population.
Objectives
to investigate the association of serum selenium levels with all-cause mortality in a sample of community-dwelling older adults.
Design and Setting
Data are from the 'Invecchiamento e Longevità nel Sirente' (Aging and Longevity in the Sirente geographic area, ilSIRENTE) study, a prospective cohort study that collected information on individuals aged 80 years and older living in an Italian mountain community (n=347). The main outcome was risk of death after ten years of follow-up.
Participants and measurements
Participants were classified according to the median value of selenium (105.3 μg/L) in two groups: high selenium and low selenium.
Results
A total of 248 deaths occurred during a 10-year follow-up. In the unadjusted model, low levels of selenium was associated with increased mortality (HR, 0.66; 95% CI 0.51-0.85). After adjusting for potential confounders the relationship remained significant (HR, 0.71; 95% CI 0.54-0.92).
Conclusions
Low serum levels of selenium are associated with reduced survival in elderly, independently of age and other clinical and functional variables.
This is a preview of subscription content, log in to check access.
Access options
Buy single article
Instant access to the full article PDF.
US$ 39.95
Price includes VAT for USA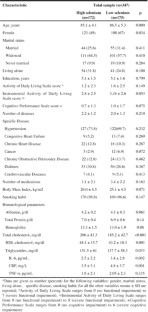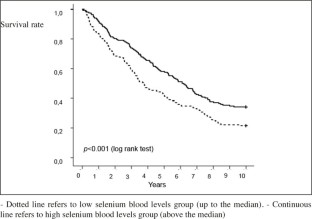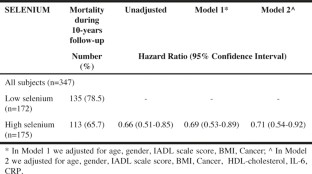 References
1.

Rayman MP. Selenium and human health. Lancet. 2012 Mar 31;379(9822):1256–68.

2.

Steinbrenner H, Speckmann B, Klotz LO. Selenoproteins: Antioxidant selenoenzymes and beyond. Arch Biochem Biophys. 2016 Apr 1;595:113–9.

3.

Sohal RS, Weindruch R. Oxidative stress, caloric restriction, and aging. Science. 1996;273:59–63.

4.

Arnaud J, Akbaraly TN, Hininger I, Roussel AM, Berr C. Factors associated with longitudinal plasma selenium decline in the elderly: the EVA study. J Nutr Biochem. 2007 Jul;18(7):482–7.

5.

Beleigoli AM, Diniz MDFH, Boersma E, Silva JL, Lima-Costa MF, Ribeiro AL. The Effects of Weight and Waist Change on the Risk of Long-Term Mortality in Older Adults-The Bambuí (Brazil) Cohort Study of Aging. J Nutr Health Aging. 2017;21(8):861–866.

6.

González S, Huerta JM, Fernández S, Patterson AM, Lasheras C. Life-quality indicators in elderly people are influenced by selenium status. Aging Clin Exp Res. 2007 Feb;19(1):10–5.

7.

Jiménez-Redondo S, Beltrán de Miguel B, Gavidia Banegas J, Guzmán Mercedes L, Gómez-Pavón J, Cuadrado Vives C. Influence of nutritional status on health-related quality of life of non-institutionalized older people. J Nutr Health Aging. 2014 Apr;18(4):359–64.

8.

Akbaraly TN, Hininger-Favier I, Carrière I, Arnaud J, Gourlet V, Roussel AM, Berr C. Plasma selenium over time and cognitive decline in the elderly. Epidemiology. 2007 Jan;18(1):52–8.

9.

Akbaraly TN, Arnaud J, Rayman MP, Hininger-Favier I, Roussel AM, Berr C, Fontbonne A. Plasma selenium and risk of dysglycemia in an elderly French population: results from the prospective Epidemiology of Vascular Ageing Study. Nutr Metab (Lond). 2010 Mar 18;7:21.

10.

Cardoso BR, Roberts BR, Bush AI, Hare DJ. Selenium, selenoproteins and neurodegenerative diseases. Metallomics. 2015 Aug;7(8):1213–28.

11.

Liu H, Xu H, Huang K. Selenium in the prevention of atherosclerosis and its underlying mechanisms. Metallomics. 2017 Jan 25;9(1):21–37.

12.

Outzen M, Tjønneland A, Larsen EH, Friis S, Larsen SB, Christensen J, Overvad K, Olsen A. Selenium status and risk of prostate cancer in a Danish population. Br J Nutr. 2016 May;115(9):1669–77.

13.

Hughes DJ, Fedirko V, Jenab M, Schomburg L, Méplan C, Freisling H, Bueno-de-Mesquita HB, Hybsier S, Becker NP, Czuban M, Tjønneland A, Outzen M, Boutron-Ruault MC, Racine A, Bastide N, Kühn T, Kaaks R, Trichopoulos D, Trichopoulou A, Lagiou P, Panico S, Peeters PH, Weiderpass E, Skeie G, Dagrun E, Chirlaque MD, Sánchez MJ, Ardanaz E, Ljuslinder I, Wennberg M, Bradbury KE, Vineis P, Naccarati A, Palli D, Boeing H, Overvad K, Dorronsoro M, Jakszyn P, Cross AJ, Quirós JR, Stepien M, Kong SY, Duarte-Salles T, Riboli E, Hesketh JE. Selenium status is associated with colorectal cancer risk in the European prospective investigation of cancer and nutrition cohort. Int J Cancer. 2015 Mar 1;136(5):1149–61.

14.

Beaglehole R, Jackson R, Watkinson J, Scragg R, Yee RL. Decreased blood selenium and risk of myocardial infarction. Int J Epidemiol. 1990;19(4):918–22.

15.

Nawrot TS, Staessen JA, Roels HA, Den Hond E, Thijs L, Fagard RH, Dominiczak AF, Struijker-Boudier HA. Blood pressure and blood selenium: a cross-sectional and longitudinal population study. Eur Heart J. 2007; 28(5):628–633.

16.

Parizadeh SM, Moohebati M, Ghafoori F, Ghayour-Mobarhan M, Kazemi-Bajestani SM, Tavallaie S, Azimi-Nezhad M, Ferns GA. Serum selenium and glutathione peroxidase concentrations in Iranian patients with angiography-defined coronary artery disease. Angiology. 2009 Apr-May;60(2):186–91.

17.

Su L, Jin Y, Unverzagt FW, Liang C, Cheng Y, Hake AM, Kuruppu D, Ma F, Liu J, Chen C, Bian J, Li P, Gao S. Longitudinal Association between Selenium Levels and Hypertension in a Rural Elderly Chinese Cohort. J Nutr Health Aging. 2016;20(10):983–988.

18.

Akbaraly NT, Arnaud J, Hininger-Favier I, Gourlet V, Roussel AM, Berr C. Selenium and mortality in the elderly: results from the EVA study. Clin Chem. 2005 Nov;51(11):2117–23.

19.

Ray AL, Semba RD, Walston J, et al. Low serum selenium and total carotenoids predict mortality among older women living in the community: the Women's Health and Aging Studies. J Nutr. 2006;136:172–176.

20.

Lauretani F, Semba RD, Bandinelli S, Ray AL, Ruggiero C, Cherubini A, Guralnik JM, Ferrucci L. Low plasma selenium concentrations and mortality among older community-dwelling adults: the InCHIANTI Study. Aging Clin Exp Res. 2008 Apr;20(2):153–8.

21.

Ducros V, Faure P, Ferry M, Couzy F, Biajoux I, Favier A. The sizes of the exchangeable pools of selenium in elderly women and their relation to institutionalization. Br J Nutr. 1997;78:379–96.

22.

Bates CJ, Thane CW, Prentice A, Delves HT. Selenium status and its correlates in a British national diet and nutrition survey: people aged 65 years and over. J Trace Elem Med Biol. 2002;16:1–8.

23.

Landi F, Russo A, Cesari M, et al. The ilSIRENTE study: a prospective cohort study on persons aged 80 years and older living in a mountain community of Central Italy. Aging Clin Exp Res. 2005;17:486–493.

24.

Morris JN, Fries BE, Bernabei R, et al. RAI–Home Care assessment manual. Washington, DC: InterRAI Coporation; 1996.

25.

Morris JN, Fries BE, Mehr DR, et al. MDS Cognitive Performance Scale. J Gerontol. 1994;49:M174–M182.

26.

Morris JN, Fries BE, Steel K, et al. Comprehensive clinical assessment in community setting: applicability of the MDS-HC. J Am Geriatr Soc. 1997;45:1017–1024.

27.

Landi F, Tua E, Onder G, et al. Minimum data set for home care: a valid instrument to assess frail older people living in the community. Med Care. 2000;38:1184–1190.

28.

Ferrucci L, Bandinelli S, Benvenuti E, et al. Subsystems contributing to the decline in ability to walk: bridging the gap between epidemiology and geriatric practice in the InCHIANTI study. J Am Geriatr Soc. 2000;48:1618–1625.

29.

Combs GF Jr. Essentiality and toxicity of selenium: a critique of the recommended dietary allowance and the reference dose. In: Mertz W, Abernathy CO, Olin SS, eds. Risk assessment of essential elements. Washington, DC: ILSI Press, 1994:167–83.

30.

Katz S, Ford AB, Moskowitz RW et al. Studies of illness in the aged: the index of ADL: a standardized measure of biological and psychosocial function. JAMA 1963;185:914–19.

31.

Lawton MP, Brody EM. Assessment of older people: self-maintaining and instrumental activities of daily living. Gerontologist 1969;9:179–86.

32.

Savarino L, Granchi D, Ciapetti G, Cenni E, Ravaglia G, Forti P, Maioli F, Mattioli R. Serum concentrations of zinc and selenium in elderly people: results in healthy nonagenarians/centenarians. Exp Gerontol. 2001 Feb;36(2):327–39.

33.

Alehagen U, Aaseth J, Johansson P. Reduced Cardiovascular Mortality 10 Years after Supplementation with Selenium and Coenzyme Q10 for Four Years: Follow-Up Results of a Prospective Randomized Double-Blind Placebo-Controlled Trial in Elderly Citizens. PLoS One. 2015 Dec 1;10(12):e0141641.

34.

Walston J, Xue Q, Semba RD, Ferrucci L, Cappola AR, Ricks M, Guralnik J, Fried LP. Serum antioxidants, inflammation, and total mortality in older women. Am J Epidemiol. 2006 Jan 1;163(1):18–26.

35.

Tseng CK, Ho CT, Hsu HS, Lin CH, Li CI, Li TC, Liu CS, Lin CC, Lin WY. Selenium is inversely associated with interleukin-6 in the elderly. J Nutr Health Aging. 2013 Mar;17(3):280–4.

36.

Burk R. F., Hill K. E., Motley A. K. Selenoprotein metabolism and function: evidence for more than one function for selenoprotein P. J Nutr. 2003 May;133(5 Suppl 1):1517S–20S.

37.

Arthur JR, McKenzie RC Beckett GJ. Selenium in the immune system. J Nutr 2003; 133: S1457–S1459.

38.

Rayman MP. The importance of selenium to human health. Lancet 2000;356:233–41.
About this article
Cite this article
Giovannini, S., Onder, G., Lattanzio, F. et al. Selenium Concentrations and Mortality Among Community-Dwelling Older Adults: Results from ilSIRENTE Study. J Nutr Health Aging 22, 608–612 (2018). https://doi.org/10.1007/s12603-018-1021-9
Received:

Accepted:

Published:

Issue Date:
Key words
Selenium

mortality

frail elderly