Abstract
Context
Several studies have demonstrated that physical activity can help limit decline in functional capacities of older adults. Nevertheless, many adults aged 65 and over are inactive.
Objective
To explore the feasibility, the acceptability and the effects of a home-based exercise program (HEP) using a motion capture gerontechnology in independent community-living older adults at risk of function decline.
Design
Interventionnal clinical trial.
Participants
Sixteen previously independent individuals aged 65 and older recruited at the Emergency Department after being treated for a minor injury and discharged home were assigned to a home-based exercise program group (HEP=8) or to a control group (CONTR=8). Twelve participants completed the study, 6 in each group
Setting
Canadian Community-dwelling in Montreal area.
Intervention
The HEP group engaged in a twelve-week physical activity intervention using a gerontechnology while the CONTR group continued with discharge plan from ED.
Measurements
Participants were evaluated for functional status using validated questionnaires and objective physical measures at baseline, three and six months later. Feasibility and acceptability of the HEP was assessed using data reports from the gerontechnology and from self-reported assessments.
Results
There was no differences between groups at baseline except for the fallrelated self-efficacy: HEP=8.33/28±1.51 vs CONTR=7/28±0 p=0.022. The HEP was found to be feasible and acceptable (adherence rate at 86% and average quality of movements at 87.5%). Significant improvement in walking speed on 4m was observed three months after baseline for HEP vs CONTR group (+0.25 vs +0.05 m/sec, p=0.025). Effects remained at follow-up. Only CONTR group resulted in a significant increase in SF-36 global score.
Conclusion
This twelve-week HEP intervention using the Jintronix® gerontechnology is feasible, acceptable and safe for community-living older adults who sustained a minor injury. This intervention could increase walking speed, the most important predictor of adverse events in the elderly population, and that the improvement could be maintained over time.
Access options
Buy single article
Instant access to the full article PDF.
US$ 39.95
Tax calculation will be finalised during checkout.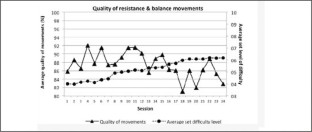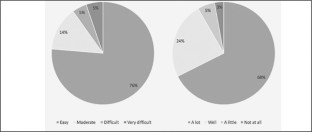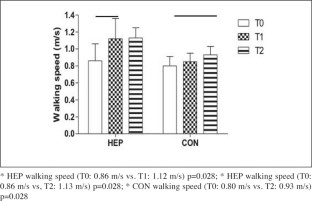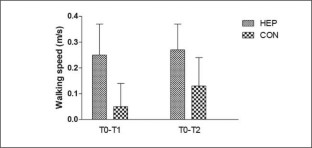 References
1.

Statistics Canada. Table 051-0001 - Estimates of population, by age group and sex for July 1, Canada, provinces and territories, annual (persons unless otherwise noted). CANSIM (database) Last updated September 29, 2015ai]; Available from: http://www5.statcan.gc.ca/cansim/a05?id=0510001&retrLang=eng&lang=eng. Accessed November 08, 2015.

2.

Hoover, M., et al., Validation d'un indice pour estimer la prévalence de la fragilité chez les personnes âgées vivant dans la collectivité. Rapport sur la santé - Statistique Canada, no 82-003-X au catalogue, 2013. 24.

3.

Latham, L.P. and S. Ackroyd-Stolarz, Emergency Department Utilization by Older Adults: a Descriptive Study. Canadian Geriatrics Journal, 2014. 17(4): p. 118–125.

4.

Sirois, M.-J., et al., Cumulative Incidence of Functional Decline After Minor Injuries in Previously Independent Older Canadian Individuals in the Emergency Department. Journal of the American Geriatrics Society, 2013. 61(10): p. 1661–1668.

5.

Sirois, M.-J., et al., Measuring Frailty Can Help Emergency Departments Identify Independent Seniors at Risk of Functional Decline After Minor Injuries. The Journals of Gerontology Series A: Biological Sciences and Medical Sciences, 2015.

6.

Liu, C.J. and N.K. Latham, Progressive resistance strength training for improving physical function in older adults. Cochrane Database Syst Rev, 2009(3): p. CD002759.

7.

Pahor, M., et al., Effect of structured physical activity on prevention of major mobility disability in older adults: The life study randomized clinical trial. JAMA, 2014. 311(23): p. 2387–2396.

8.

Buman, M.P., et al., Objective Light-Intensity Physical Activity Associations With Rated Health in Older Adults. American Journal of Epidemiology, 2010. 172(10): p. 1155–1165.

9.

Schutzer, K.A. and B.S. Graves, Barriers and motivations to exercise in older adults. Preventive Medicine, 2004. 39(5): p. 1056–1061.

10.

Lowensteyn, I., et al., The Cost-Effectiveness of Exercise Training for the Primary and Secondary Prevention of Cardiovascular Disease. Journal of Cardiopulmonary Rehabilitation and Prevention, 2000. 20(3): p. 147–155.

11.

Ferrucci, L., et al., Designing randomized, controlled trials aimed at preventing or delaying functional decline and disability in frail, older persons: a consensus report. Journal of the American Geriatrics Society, 2004. 52(4): p. 625–634.

12.

Carlson, J.J., et al., Program participation, exercise adherence, cardiovascular outcomes, and program cost of traditional versus modified cardiac rehabilitation. The American Journal of Cardiology, 2000. 86(1): p. 17–23.

13.

Ashworth, N.L., et al., Home versus center based physical activity programs in older adults. The Cochrane Library,2005.

14.

Bollen, J.C., et al., A systematic review of measures of self-reported adherence to unsupervised home-based rehabilitation exercise programmes, and their psychometric properties. BMJ Open, 2014. 4(6).

15.

McAvay, G.J., T.E. Seeman, and J. Rodin, A Longitudinal Study of Change in Domain-Specific Self-Efficacy among Older Adults. The Journals of Gerontology Series B: Psychological Sciences and Social Sciences, 1996. 51B(5): p. P243–P253.

16.

Dondzila, C.J., et al., Translating exercise interventions to an in-home setting for seniors: preliminary impact on physical activity and function. Aging Clin Exp Res, 2016.

17.

O'Brien, T., et al., Acceptability of wristband activity trackers among community dwelling older adults. Geriatric Nursing, 2015. 36(2, Supplement): p. S21–S25.

18.

Skjæret, N., et al., Exercise and rehabilitation delivered through exergames in older adults: An integrative review of technologies, safety and efficacy. International Journal of Medical Informatics, 2016. 85(1): p. 1–16.

19.

Rosenberg, D., et al., Adults: A Pilot Study of a Novel Intervention. The American Journal of Geriatric Psychiatry, 2010. 18(3): p. 221–226.

20.

Ray, C., et al., The effects of a 15-week exercise intervention on fitness and postural control in older adults. Activities, Adaptation & Aging, 2012. 36(3): p. 227–241.

21.

Gerling, K., et al. Full-body motion-based game interaction for older adults. in Proceedings of the SIGCHI Conference on Human Factors in Computing Systems. 2012. ACM.

22.

Van Diest, M., et al., Exergaming for balance training of elderly: state of the art and future developments. J Neuroeng Rehabil, 2013. 10(101): p. 0003–10.

23.

Bieryla, K.A. and N.M. Dold, Feasibility of Wii Fit training to improve clinical measures of balance in older adults. Clinical interventions in aging, 2013. 8: p. 775.

24.

Chang, C.-Y., et al. Towards pervasive physical rehabilitation using Microsoft Kinect. in Pervasive Computing Technologies for Healthcare (PervasiveHealth), 2012 6th International Conference on. 2012. IEEE.

25.

Saposnik, G., et al., Effectiveness of virtual reality using Wii gaming technology in stroke rehabilitation a pilot randomized clinical trial and proof of principle. Stroke, 2010. 41(7): p. 1477–1484.

26.

American College of Sports Medicine, ACSM's guidelines for exercise testing and prescription. 2013: Lippincott Williams & Wilkins.

27.

Van Norman, K., Exercise and Wellness for Older Adults-: Practical Programming Strategies. 2010: Human Kinetics.

28.

Picorelli, A.M.A., et al., Adherence to exercise programs for older people is influenced by program characteristics and personal factors: a systematic review. Journal of physiotherapy, 2014. 60(3): p. 151–156.

29.

Serafim, T.H., et al., Developement of the color scale of perceived exertion: preliminary validation. Perceptual & Motor Skills, 2014. 119(3): p. 884–900.

30.

Borg, G.A., Psychophysical bases of perceived exertion. Med sci sports exerc, 1982. 14(5): p. 377–381.

31.

Kendzierski, D. and K.J. DeCarlo, Physical activity enjoyment scale: two validation studies. Journal of Sport & Exercise Psychology, 1991. 13(1).

32.

Mullen, S.P., et al., Measuring enjoyment of physical activity in older adults: invariance of the physical activity enjoyment scale (paces) across groups and time. International Journal of Behavioral Nutrition and Physical Activity, 2011. 8(1): p. 1–9.

33.

Meldrum, D., et al., Virtual reality rehabilitation of balance: assessment of the usability of the Nintendo Wii® Fit Plus. Disability and rehabilitation: assistive technology, 2012. 7(3): p. 205–210.

34.

Katz, S., Assessing Self-maintenance: Activities of Daily Living, Mobility, and Instrumental Activities of Daily Living. Journal of the American Geriatrics Society, 1983. 31(12): p. 721–727.

35.

Lawton, M.P. and E.M. Brody, Assessment of older people: self-maintaining and instrumental activities of daily living. Gerontologist, 1969. 9(3): p. 179–86.

36.

Ensrud, K.E., et al., A comparison of frailty indexes for the prediction of falls, disability, fractures, and mortality in older men. Journal of the American Geriatrics Society, 2009. 57(3): p. 492–498.

37.

Kempen, G.I., et al., The Short FES-I: a shortened version of the falls efficacy scaleinternational to assess fear of falling. Age and ageing, 2008. 37(1): p. 45–50.

38.

Topolski, T.D., et al., Peer reviewed: the Rapid Assessment of Physical Activity (RAPA) among older adults. Preventing chronic disease, 2006. 3(4).

39.

Ware, J.E. and C.D. Sherbourne, The MOS 36-item short-form health survey (SF- 36): I. Conceptual framework and item selection. Medical care, 1992: p. 473–483.

40.

Leplege, A., et al., The French SF-36 Health Survey: translation, cultural adaptation and preliminary psychometric evaluation. J Clin Epidemiol, 1998. 51(11): p. 1013–23.

41.

Haywood, K.L., A.M. Garratt, and R. Fitzpatrick, Quality of life in older people: A structured review of generic self-assessed health instruments. Quality of Life Research, 2005. 14(7): p. 1651–1668.

42.

Lohman, T.G., A.F. Roche, and R. Martorell, Anthropometric standardization reference manual. 1988: Human Kinetics Books.

43.

Yates, B., Merriman's assessment of the lower limb. 2012: Elsevier Health Sciences.

44.

Lauretani, F., et al., Age-associated changes in skeletal muscles and their effect on mobility: an operational diagnosis of sarcopenia. Journal of Applied Physiology, 2003. 95(5): p. 1851–60.

45.

Mathiowetz, V., et al., Reliability and validity of grip and pinch strength evaluations. The Journal of hand surgery, 1984. 9(2): p. 222–226.

46.

Barbat-Artigas, S., et al., Clinical relevance of different muscle strength indexes and functional impairment in women aged 75 years and older. The Journals of Gerontology Series A: Biological Sciences and Medical Sciences, 2012: p. gls254.

47.

Podsiadlo, D. and S. Richardson, The timed "Up & Go": a test of basic functional mobility for frail elderly persons. Journal of the American geriatrics Society, 1991. 39(2): p. 142–148.

48.

Shumway-Cook, A., S. Brauer, and M. Woollacott, Predicting the probability for falls in community-dwelling older adults using the Timed Up & Go Test. Physical therapy, 2000. 80(9): p. 896–903.

49.

Guralnik, J.M., et al., A short physical performance battery assessing lower extremity function: association with self-reported disability and prediction of mortality and nursing home admission. Journal of gerontology, 1994. 49(2): p. M85–M94.

50.

Guralnik, J.M., et al., Lower-extremity function in persons over the age of 70 years as a predictor of subsequent disability. New England Journal of Medicine, 1995. 332(9): p. 556–562.

51.

Vasunilashorn, S., et al., Use of the Short Physical Performance Battery Score to predict loss of ability to walk 400 meters: analysis from the InCHIANTI study. The Journals of Gerontology Series A: Biological Sciences and Medical Sciences, 2009: p. gln022.

52.

Nasreddine, Z.S., et al., The Montreal Cognitive Assessment, MoCA: a brief screening tool for mild cognitive impairment. Journal of the American Geriatrics Society, 2005. 53(4): p. 695–699.

53.

Phillips, E.M., J.C. Schneider, and G.R. Mercer, Motivating elders to initiate and maintain exercise1. Archives of Physical Medicine and Rehabilitation, 2004. 85, Supplement 3: p. 52–57.

54.

Allender, S., G. Cowburn, and C. Foster, Understanding participation in sport and physical activity among children and adults: a review of qualitative studies. Health Education Research, 2006. 21(6): p. 826–835.

55.

Nelson, M.E., et al., Physical activity and public health in older adults: recommendation from the American College of Sports Medicine and the American Heart Association. Circulation, 2007. 116(9): p. 1094.

56.

Abellan Van Kan, G., et al., Gait speed at usual pace as a predictor of adverse outcomes in community-dwelling older people an International Academy on Nutrition and Aging (IANA) Task Force. The journal of nutrition, health & aging, 2009. 13(10): p. 881–889.

57.

Bohannon, R.W. and S.S. Glenney, Minimal clinically important difference for change in comfortable gait speed of adults with pathology: a systematic review. Journal of Evaluation in Clinical Practice, 2014. 20(4): p. 295–300.

58.

Vellas, B.J., et al., One-leg balance is an important predictor of injurious falls in older persons. Journal of the American Geriatrics Society, 1997. 45(6): p. 735–738.
About this article
Cite this article
Lauzé, M., Martel, D.D., Agnoux, A. et al. Feasibility, Acceptability and Effects of a Home-Based Exercise Program Using a Gerontechnology on Physical Capacities After a Minor Injury in Community-Living Older Adults: A Pilot Study. J Nutr Health Aging 22, 16–25 (2018). https://doi.org/10.1007/s12603-017-0938-8
Received:

Accepted:

Published:

Issue Date:
Key words
Gerontechnology

exergames

physical activity

home-based exercise program

functional capacities