Abstract
Background
Deficits in n-3 fatty acids may be associated with depression. However, data are scarce from older adults who are at greater risk of poor dietary intake and of developing depression.
Objective
To investigate proportion of plasma phospholipid fatty acids with respect to depressive symptoms and major depressive disorder in community dwelling older adults.
Methods
Cross-sectional analyses of 1571 participants in the Age, Gene/Environment Susceptibility (AGES)-Reykjavik Study aged 67-93 years. Depressive symptoms were measured using the 15-item Geriatric Depression Scale (GDS-15). Major depressive disorder was assessed according to Diagnostic and Statistical Manual of Mental Disorders (DSM-IV) criteria using the Mini-International Neuropsychiatric Interview (MINI).
Results
Depressive symptoms were observed in 195 (12.4%) subjects and there were 27 (1.7%) cases of major depressive disorder. Participants with depressive symptoms were less educated, more likely to be smokers, less physically active and consumed cod liver oil less frequently. Difference in GDS-15 scores by tertiles of n-3 fatty acid proportion was not significant. Proportion of long chain n-3 fatty acids (Eicosapentaenoic- + Docosahexaenoic acid) were inversely related to major depressive disorder, (tertile 2 vs. tertile 1) OR: 0.31 (95% CI: 0.11, 0.86); tertile 3 vs. tertile 1, OR: 0.45 (95% CI: 0.17, 1.21).
Conclusion
In our cross sectional analyses low proportions of long chain n-3 fatty acids in plasma phospholipids appear to be associated with increased risk of major depressive disorder. However, the results from this study warrant further investigation in prospective setting with sufficiently long follow-up.
This is a preview of subscription content, log in to check access.
Access options
Buy single article
Instant access to the full article PDF.
US$ 39.95
Price includes VAT for USA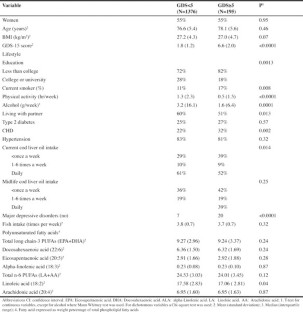 References
1.

Fiske A, Wetherell JL, Gatz M. Depression in older adults. Annu Rev Clin Psychol 2009;5, 363–389.

2.

Marshall TA, Stumbo PJ, Warren JJ et al. Inadequate nutrient intakes are common and are associated with low diet variety in rural, community-dwelling elderly. J Nutr 2001;131, 2192–2196.

3.

Licht-Strunk E, Van Marwijk HW, Hoekstra T et al. Outcome of depression in later life in primary care: longitudinal cohort study with three years' follow-up. BMJ 2009;338, a3079.

4.

Sontrop J, Campbell MK. Omega-3 polyunsaturated fatty acids and depression: a review of the evidence and a methodological critique. Prev Med 2006;2, 4–13.

5.

Kiecolt-Glaser JK, Belury MA, Porter K et al. Depressive symptoms, omega-6:omega-3 fatty acids, and inflammation in older adults. Psychosom Med 2007;69, 217–224.

6.

Feart C, Peuchant E, Letenneur L et al. Plasma eicosapentaenoic acid is inversely associated with severity of depressive symptomatology in the elderly: data from the Bordeaux sample of the Three-City Study. Am J Clin Nutr 2008;87, 1156–1162.

7.

Grosso G, Pajak A, Marventano S et al. Role of omega-3 fatty acids in the treatment of depressive disorders: a comprehensive meta-analysis of randomized clinical trials. PLoS One 2014;9, e96905.

8.

Bloch MH, Hannestad J. Omega-3 fatty acids for the treatment of depression: systematic review and meta-analysis. Mol Psychiatry 2012;17, 1272–1282.

9.

Kesse-Guyot E, Touvier M, Andreeva VA et al. Cross-sectional but not longitudinal association between n-3 fatty acid intake and depressive symptoms: results from the SU.VI.MAX 2 study. Am J Epidemiol 2012;175, 979–987.

10.

Murakami K, Sasaki S. Dietary intake and depressive symptoms: a systematic review of observational studies. Mol Nutr Food Res 2010;54, 471–488.

11.

Hakkarainen R, Partonen T, Haukka J et al. Is low dietary intake of omega-3 fatty acids associated with depression? Am J Psychiatry 2004;161, 567–569.

12.

Jacka FN, Pasco JA, Henry MJ et al. Dietary omega-3 fatty acids and depression in a community sample. Nutr Neurosci 2004;7, 101–106.

13.

Beydoun MA, Fanelli Kuczmarski MT, Beydoun HA et al. omega-3 fatty acid intakes are inversely related to elevated depressive symptoms among United States women. J Nutr 2013;143, 1743–1752.

14.

Tiemeier H, van Tuijl HR, Hofman A et al. Plasma fatty acid composition and depression are associated in the elderly: the Rotterdam Study. Am J Clin Nutr 2003;78, 40–46.

15.

Schiepers OJ, de Groot RH, Jolles J et al. Plasma phospholipid fatty acid status and depressive symptoms: association only present in the clinical range. J Affect Disord 2009;118, 209–214.

16.

Harris TB, Launer LJ, Eiriksdottir G et al. (Age, Gene/Environment Susceptibility-Reykjavik Study: multidisciplinary applied phenomics. Am J Epidemiol 2007;165, 1076–1087.

17.

van Ballegooijen AJ, Visser M, Cotch MF et al. Serum vitamin D and parathyroid hormone in relation to cardiac structure and function: the ICELAND-MI substudy of AGES-Reykjavik. J Clin Endocrinol Metab 2013;98, 2544–2552.

18.

Folch J, Lees M, Sloane Stanley GH. A simple method for the isolation and purification of total lipides from animal tissues. J Biol Chem 1957;226, 497–509.

19.

Schlierf G, Wood P. Quantitative Determination of Plasma Free Fatty Acids and Triglycerides by Thin-Layer Chromatography. Journal of lipid research 1965;6, 317–319.

20.

Lepage G, Roy CC. Direct transesterification of all classes of lipids in a one-step reaction. Journal of lipid research 1986;27, 114–120.

21.

Eysteinsdottir T, Gunnarsdottir I, Thorsdottir I et al. Validity of retrospective diet history: assessing recall of midlife diet using food frequency questionnaire in later life. J Nutr Health Aging 2011;15, 809–814.

22.

Eysteinsdottir T, Thorsdottir I, Gunnarsdottir I et al. Assessing validity of a short food frequency questionnaire on present dietary intake of elderly Icelanders. Nutr J 2012;11, 12.

23.

Geerlings MI, Sigurdsson S, Eiriksdottir G et al. Associations of current and remitted major depressive disorder with brain atrophy: the AGES-Reykjavik Study. Psychol Med 2013;43, 317–328.

24.

Valdimarsdottir M, Jonsson JE, Einarsdottir S et al. [Validation of an Icelandic version of the Geriatric Depression Scale (GDS).]. Laeknabladid 2000;86, 344–348.

25.

McNamara RK, Hahn CG, Jandacek R et al. (Selective deficits in the omega-3 fatty acid docosahexaenoic acid in the postmortem orbitofrontal cortex of patients with major depressive disorder. Biol Psychiatry 2007;62, 17–24.

26.

Grosso G, Galvano F, Marventano S et al. Omega-3 fatty acids and depression: scientific evidence and biological mechanisms. Oxid Med Cell Longev 2014, 313570.

27.

Wu A, Ying Z, Gomez-Pinilla F. Docosahexaenoic acid dietary supplementation enhances the effects of exercise on synaptic plasticity and cognition. Neuroscience 2008;155, 751–759.

28.

Laye S. Polyunsaturated fatty acids, neuroinflammation and well being. Prostaglandins Leukot Essent Fatty Acids 2010;82, 295–303.

29.

Suominen-Taipale AL, Partonen T, Turunen AW et al. Fish consumption and omega-3 polyunsaturated fatty acids in relation to depressive episodes: a cross-sectional analysis. PLoS One 2010;5, e10530.

30.

Simopoulos AP. Dietary omega-3 fatty acid deficiency and high fructose intake in the development of metabolic syndrome, brain metabolic abnormalities, and non-alcoholic fatty liver disease. Nutrients 2013;5, 2901–2923.

31.

Sekikawa A, Steingrimsdottir L, Ueshima H et al. Serum levels of marine-derived n-3 fatty acids in Icelanders, Japanese, Koreans, and Americans—a descriptive epidemiologic study. Prostaglandins Leukot Essent Fatty Acids 2012;87, 11–16.

32.

Gunnarsdottir I, Gunnarsdottir BE, Steingrimsdottir L et al. Iodine status of adolescent girls in a population changing from high to lower fish consumption. Eur J Clin Nutr 2010;64, 958–964.

33.

Thorgeirssdottir H VH, Gunnarsdottir I, Gisladottir E, Gunnarsdottir BE, Thorsdottir I, Stefansdottir J, Steingrimsdottir L. Hvad borda islendingar? Konnun a mataraedi islendinga 2010-2011. Helstu nidursdtodur: Embaetti Landlaeknis, Matvaelastofnun, Rannsofnarstofa i naeringarfraedi vid hashola islands og landspitala, 2011

34.

Raeder MB, Steen VM, Vollset SE et al. Associations between cod liver oil use and symptoms of depression: the Hordaland Health Study. J Affect Disord 2007;101, 245–249.

35.

Imai CM, Halldorsson TI, Eiriksdottir G et al. Depression and serum 25-hydroxyvitamin D in older adults living at northern latitudes-AGES-Reykjavik Study. Journal of nutritional science 2015;4, e37.

36.

Patrick RP, Ames BN. Vitamin D and the omega-3 fatty acids control serotonin synthesis and action, part 2: relevance for ADHD, bipolar, schizophrenia, and impulsive behavior. FASEB J, 2015.

37.

Reinders I, Murphy RA, Song X et al. Polyunsaturated fatty acids in relation to incident mobility disability and decline in gait speed; the Age, Gene/Environment Susceptibility-Reykjavik Study. Eur J Clin Nutr 2015;69, 489–493.

38.

Harris TB, Song X, Reinders I et al. Plasma phospholipid fatty acids and fish-oil consumption in relation to osteoporotic fracture risk in older adults: the Age, Gene/Environment Susceptibility Study. Am J Clin Nutr., 2015

39.

Haag M. Essential fatty acids and the brain. Can J Psychiatry 2003;48, 195–203.

40.

Penninx BW, Kritchevsky SB, Yaffe K et al. Inflammatory markers and depressed mood in older persons: results from the Health, Aging and Body Composition study. Biol Psychiatry 2003;54, 566–572.

41.

Calder PC. n-3 polyunsaturated fatty acids, inflammation, and inflammatory diseases. Am J Clin Nutr 2006;83, 1505S–1519S.

42.

Sublette ME, Ellis SP, Geant AL et al. Meta-analysis of the effects of eicosapentaenoic acid (EPA) in clinical trials in depression. J Clin Psychiatry 2011;72, 1577–1584.

43.

Mozaffarian D, Wu JH. Omega-3 fatty acids and cardiovascular disease: effects on risk factors, molecular pathways, and clinical events. J Am Coll Cardiol 2011;58, 2047–2067.

44.

Anderson RJ, Freedland KE, Clouse RE et al. The prevalence of comorbid depression in adults with diabetes: a meta-analysis. Diabetes Care 2001;24, 1069–1078.

45.

Arab L. Biomarkers of fat and fatty acid intake. J Nutr 133 Suppl 3, 925S-932S.

46.

Mamalakis G, Kalogeropoulos N, Andrikopoulos N et al. Depression and long chain n-3 fatty acids in adipose tissue in adults from Crete. Eur J Clin Nutr 2006;60, 882–888.
About this article
Cite this article
Imai, C.M., Halldorsson, T.I., Aspelund, T. et al. Associations between Proportion of Plasma Phospholipid Fatty Acids, Depressive Symptoms and Major Depressive Disorder. Cross-Sectional Analyses from the AGES Reykjavik Study. J Nutr Health Aging 22, 354–360 (2018). https://doi.org/10.1007/s12603-017-0929-9
Received:

Accepted:

Published:

Issue Date:
Key words
n-3 fatty acids

depression

docosahexaenoic acid

eicosapentaenoic acid

elderly