Abstract
Objectives
Undernutrition is a major health concern particularly in vulnerable older adults. The present study aimed to reveal the causes of undernutrition as reported by community-dwelling older adults.
Design
Twenty-five semi-structured interviews and two focus group discussions were performed and analyzed.
Setting
Community-dwelling.
Participants
Older adults.
Measurements
A questionnaire on demographics, Short Nutritional Assessment Questionnaire 65+ and interviews on the potential causes of undernutrition.
Results
33 older adults agreed to participate in the interviews and focus groups. Our findings indicate that a wide variety of causes of undernutrition, both modifiable and non-modifiable, were mentioned by the older adults. Many modifiable causes of undernutrition were reported in the mental, social or food & appetite theme, such as poor food quality provided by meal services, the inability to do groceries, loneliness and mourning. Non-modifiable causes included, forgetfulness, aging, surgery and hospitalization.
Conclusions
This study provides guidance to better understand the underlying causes of undernutrition from an older adult's perspective. The modifiable causes provide specific direction towards practical implications that might decrease or prevent undernutrition. Non-modifiable causes should raise awareness of an increased risk of undernutrition by health professionals in primary and secondary care, caregivers and family members.
Access options
Buy single article
Instant access to the full article PDF.
US$ 39.95
Tax calculation will be finalised during checkout.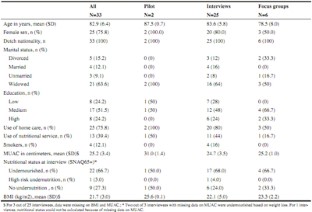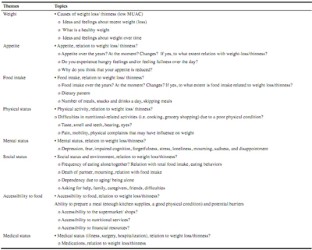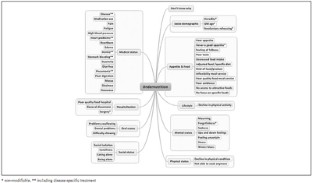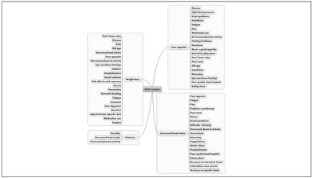 Abbreviations
SNAQ65+:

Short Nutritional Assessment Questionnaire

MUAC:

mid-upper arm circumference

MMSE:

Mini Mental State Exam
References
1.

Van Duin C, & Garssen, J. Bevolkingsprognose 2010-2060: sterkere vergrijzing, langere levensduur. In: CBS, editor. Den Haag 2010.

2.

Wong A, Kommer GJ, Polder JJ. Levensloop en zorgkosten, Zorg voor euro's-7. Bilthoven: 2008.

3.

Butler RN. Population aging and health. BMJ (Clinical research ed). 1997;315(7115):1082–4.

4.

Cereda E, Valzolgher L, Pedrolli C. Mini nutritional assessment is a good predictor of functional status in institutionalised elderly at risk of malnutrition. Clinical nutrition. 2008;27(5):700–5.

5.

Ritchie CS, Locher JL, Roth DL, Mc Vie T, Sawyer P, Allman R. Unintentional weight loss predicts decline in activities of daily living function and life-space mobility over 4 years among community-dwelling older adults. The journals of gerontology Series A, Biological sciences and medical sciences. 2008;63(1):67–75.

6.

Gombos T, Kertész K, Csíkos Á, Söderhamn U, Söderhamn O, Prohászka Z. Nutritional form for the elderly is a reliable and valid instrument for the determination of undernutrition risk, and it is associated with health-related quality of life. Nutrition Research. 2008;28(2):59–65.

7.

Keller HH, Ostbye T, Goy R. Nutritional risk predicts quality of life in elderly community-living Canadians. The journals of gerontology Series A, Biological sciences and medical sciences. 2004;59(1):68–74.

8.

Kvamme JM, Olsen JA, Florholmen J, Jacobsen BK. Risk of malnutrition and healthrelated quality of life in community-living elderly men and women: the Tromso study. Quality of life research: an international journal of quality of life aspects of treatment, care and rehabilitation. 2011;20(4):575–82.

9.

Cabrera MA, Mesas AE, Garcia AR, de Andrade SM. Malnutrition and depression among community-dwelling elderly people. Journal of the American Medical Directors Association. 2007;8(9):582–4.

10.

Kvamme JM, Gronli O, Florholmen J, Jacobsen BK. Risk of malnutrition is associated with mental health symptoms in community living elderly men and women: the Tromso study. BMC psychiatry. 2011;11:112.

11.

Correia M, Waitzberg DL. The impact of malnutrition on morbidity, mortality, length of hospital stay and costs evaluated through a multivariate model analysis. Clinical nutrition. 2003;22(3):235–9.

12.

Ferreira LS, do Amaral TF, Marucci Mde F, Nascimento LF, Lebrao ML, Duarte YA. Undernutrition as a major risk factor for death among older Brazilian adults in the community-dwelling setting: SABE survey. Nutrition. 2011;27(10):1017–22.

13.

Locher JL, Roth DL, Ritchie CS, Cox K, Sawyer P, Bodner EV, et al. Body mass index, weight loss, and mortality in community-dwelling older adults. The journals of gerontology Series A, Biological sciences and medical sciences. 2007;62(12):1389–92.

14.

Freijer K, Tan SS, Koopmanschap MA, Meijers JM, Halfens RJ, Nuijten MJ. The economic costs of disease related malnutrition. Clinical nutrition. 2013;32(1):136–41.

15.

Halfens RJG, Meijers JMM, Du Moulin MFMT, Van Nie NC, Neyens JCL, Schols JMGA. Landelijke Prevalentie Zorgproblemen, 2010. CAPHRI School for Public Health and Primary Care, Department of Health Care and Nursing Science. 2010.

16.

Cuervo M, Garcia A, Ansorena D, Sanchez-Villegas A, Martinez-Gonzalez M, Astiasaran I, et al. Nutritional assessment interpretation on 22,007 Spanish community-dwelling elders through the Mini Nutritional Assessment test. Public Health Nutr. 2009;12(1):82–90.

17.

Guigoz Y. The Mini Nutritional Assessment (MNA) review of the literature—What does it tell us? The journal of nutrition, health & aging. 2006;10(6):466–85; discussion 85-7.

18.

Soderhamn U, Dale B, Sundsli K, Soderhamn O. Nutritional screening of older homedwelling Norwegians: a comparison between two instruments. Clinical interventions in aging. 2012;7:383–91.

19.

Stula S. Living in Old Age in Europe -Current Developments and Challenges. June, 2012.

20.

Morilla-Herrera JC, Martin-Santos FJ, Caro-Bautista J, Saucedo-Figueredo C, Garcia-Mayor S, Morales-Asencio JM. Effectiveness of Food-Based Fortification in Older People. A Systematic Review and Meta-Analysis. The journal of nutrition, health & aging. 2016;20(2):178–84.

21.

Milne AC, Potter J, Vivanti A, Avenell A. Protein and energy supplementation in elderly people at risk from malnutrition. Cochrane Database Syst Rev. 2009(2):CD003288.

22.

Gosney M. Are we wasting our money on food supplements in elder care wards? J Adv Nurs. 2003;43(3):275–80.

23.

Pols-Vijlbrief RV, Wijnhoven HA, Molenaar H, Visser M. Factors associated with (risk of) undernutrition in community-dwelling older adults receiving home care: a cross-sectional study in the Netherlands. Public Health Nutr. 2016:1–12.

24.

Tomstad ST, Soderhamn U, Espnes GA, Soderhamn O. Living alone, receiving help, helplessness, and inactivity are strongly related to risk of undernutrition among older home-dwelling people. International journal of general medicine. 2012;5:231–40.

25.

van der Pols-Vijlbrief R, Wijnhoven HA, Schaap LA, Terwee CB, Visser M. Determinants of protein-energy malnutrition in community-dwelling older adults: A systematic review of observational studies. Ageing research reviews. 2014;18C:112–31.

26.

Callen BL, Wells TJ. Views of community-dwelling, old-old people on barriers and aids to nutritional health. Journal of nursing scholarship: an official publication of Sigma Theta Tau International Honor Society of Nursing/Sigma Theta Tau. 2003;35(3):257–62.

27.

Martin CT, Kayser-Jones J, Stotts N, Porter C, Froelicher ES. Factors contributing to low weight in community-living older adults. J Am Acad Nurse Pract. 2005;17(10):425–31.

28.

Schilp J, Kruizenga HM, Wijnhoven HA, van Binsbergen JJ, Visser M. Effects of a dietetic treatment in older, undernourished, community-dwelling individuals in primary care: a randomized controlled trial. Eur J Nutr. 2013;52(8):1939–48.

29.

Wijnhoven HA, Schilp J, van Bokhorst-de van der Schueren MA, de Vet HC, Kruizenga HM, Deeg DJ, et al. Development and validation of criteria for determining undernutrition in community-dwelling older men and women: The Short Nutritional Assessment Questionnaire 65+. Clinical nutrition. 2012;31(3):351–8.

30.

Folstein MF, Folstein SE, McHugh PR. «Mini-mental state». A practical method for grading the cognitive state of patients for the clinician. Journal of psychiatric research. 1975;12(3):189–98.

31.

Pucci E, Belardinelli N, Borsetti G, Rodriguez D, Signorino M. Information and competency for consent to pharmacologic clinical trials in Alzheimer disease: an empirical analysis in patients and family caregivers. Alzheimer disease and associated disorders. 2001;15(3):146–54.

32.

McLafferty I. Focus group interviews as a data collecting strategy. Journal of Advanced Nursing. 2004;48(2):187–94.

33.

Fisk AD, Rogers WA. Handbook of Human Factors and the Older Adults. Academis Press. 1997:55–86.

34.

Barrett JK, S. Running focus groups with elderly and disabled elderly. Applied Ergonomics. 2000;31(6):621–9.

35.

Evans RG, Stoddart GL. Producing health, consuming health care. Social science & medicine (1982). 1990;31(12):1347–63.

36.

Pope C, Ziebland S, Mays N. Qualitative research in health care. Analysing qualitative data. BMJ (Clinical research ed). 2000;320(7227):114–6.

37.

Guest G, Bunce A, Johnson L. How many interviews are enough?: An experiment with data saturation and variability. Field Methods. 2006;18(1):59–82.

38.

Johansson L, Sidenvall B, Malmberg B, Christensson L. Who will become malnourished? A prospective study of factors associated with malnutrition in older persons living at home. Journal of Nutrition, Health and Aging. 2009;13(10):855–61.

39.

Elia M, Zellipour L, Stratton RJ. To screen or not to screen for adult malnutrition? Clinical nutrition. 2005;24(6):867–84.

40.

De Castro JM. Socio-cultural determinants of meal size and frequency. Br J Nutr. 1997;77 Suppl 1:S39–54; discussion S-5.

41.

Visvanathan R, Chapman IM. Undernutrition and anorexia in the older person. Gastroenterology clinics of North America. 2009;38(3):393–409.

42.

Global Food Security Index [28-1-2016]. Available from: http://foodsecurityindex.eiu.com/Country/Details#Netherlands.

43.

Park D, Smith A, Lautenschlager G, Earles J. Mediators of long-term memory performance across the life span. Psychology and Aging. 1996;11:621–37.

44.

Charlton KE. Elderly men living alone: are they at high nutritional risk? The journal of nutrition, health & aging. 1999;3(1):42–7.
About this article
Cite this article
van der Pols-Vijlbrief, R., Wijnhoven, H.A.H. & Visser, M. Perspectives on the causes of undernutrition of community-dwelling older adults: A qualitative study. J Nutr Health Aging 21, 1200–1209 (2017). https://doi.org/10.1007/s12603-017-0872-9
Received:

Accepted:

Published:

Issue Date:
Key words
Perception

appetite

food intake

weight-loss

thinness