Abstract
Objectives
To determine the effects of increasing plant-based foods or dairy products on protein intake in older Americans by performing diet modeling.
Design
Data from What We Eat in America (WWEIA), the dietary component of the National Health and Nutrition Examination Survey (NHANES), 2007-2010 for Americans aged 51 years and older (n=5,389), divided as 51-70 years (n=3,513) and 71 years and older (n=1,876) were used.
Measurements
Usual protein intake was compared among three dietary models that increased intakes by 100%: (1) plant-based foods; (2) higher protein plant-based foods (i.e., legumes, nuts, seeds, soy); and (3) dairy products (milk, cheese, and yogurt). Models (1) and (2) had commensurate reductions in animal-based protein intake.
Results
Doubling intake of plant-based foods (as currently consumed) resulted in a drop of protein intake by approximately 22% for males and females aged 51+ years. For older males and females, aged 71+ years, doubling intake of plant-based foods (as currently consumed) resulted in an estimated usual intake of 0.83±0.02 g/kg ideal body weight (iBW))/day and 0.78±0.01 g/kg iBW/day, respectively. In this model, 33% of females aged 71+ years did not meet the estimated average requirement for protein. Doubling dairy product consumption achieved current protein intake recommendations.
Conclusion
These data illustrate that increasing plant-based foods and reducing animal-based products could have unintended consequences on protein intake of older Americans. Doubling dairy product intake can help older adults get to an intake level of approximately 1.2 g/kg iBW/day, consistent with the growing consensus that older adults need to consume higher levels of protein for health.
This is a preview of subscription content, log in to check access.
Access options
Buy single article
Instant access to the full article PDF.
US$ 39.95
Price includes VAT for USA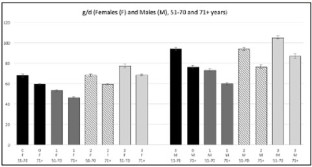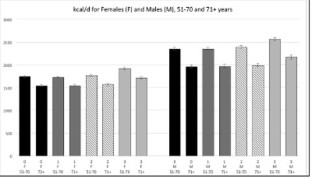 Abbreviations
U.S.:

United States

RDA:

Recommended Dietary Allowance

NHANES:

National Health and Nutrition Examination Survey

EAR:

Estimated Average Requirement

WWEIA:

What We Eat in America

NCI:

National Cancer Institute

DRI:

Dietary Reference Intake

USDA:

United States Department of Agriculture

BW:

body weight

iBW:

ideal body weight

aBW:

actual body weight

AMDR:

Acceptable Macronutrient Distribution Range

DGA:

Dietary Guidelines for Americans
References
1.

United Nations, Department of Economic and Social Affairs, Population Division. World Population Ageing 2015–Highlights (ST/ESA/SER.A/368). http://www. un.org/en/development/desa/population/publications/pdf/ageing/WPA2015_ Highlights.pdf. Accessed 11 January 2016

2.

Vincent GK and Velkoff VA, 2010. The Next Four Decades, The Older Population in the United States: 2010 to 2050, Current Population Reports, U.S. Census Bureau, Washington, D.C. https://www.census.gov/prod/2010pubs/p25-1138.pdf. Accessed 10 May 2016

3.

Deutz NE, Bauer JM, Barazzoni R, Biolo G, Boirie Y, Bosy-Westphal A, Cederholm T, Cruz-Jentoft A, Krznariç Z, Nair KS, Singer P, Teta D, Tipton K, Calder PC. Protein intake and exercise for optimal muscle function with aging: Recommendations from the ESPEN Expert Group. Clin Nutr. 2014;33: 929–936

4.

Goldspink G (2012). Age-related loss of muscle mass and strength. J Aging Re, 2012. doi: 10.1155/2012/158279

5.

Faulkner JA, Larkin LM, Claflin DR, Brooks SV. Age-related changes in the structure and function of skeletal muscles. Clin Exp Pharmacol Physiol. 2007;34: 1091–1096

6.

Janssen I, Heymsfield SB, Wang ZM, Ross R. Skeletal muscle mass and distribution in 468 men and women aged 18-88 yr. J Appl Physiol. 2000;89(1): 81–88. Erratum in: J Appl Physiol. 2014; 116:1342

7.

Wolfe RR. The underappreciated role of muscle in health and disease. Am J Clin Nutr. 2006;84: 475–482

8.

Anderson G, 2010. Chronic Care: Making the Case for Ongoing Care. Robert Wood Johnson Foundation. http://www.rwjf.org/content/dam/farm/reports/reports/2010/rwjf54583. Accessed 11 January 2016

9.

Ward BW, Schiller JS, 2013. Prevalence of Multiple Chronic Conditions Among US Adults: Estimates From the National Health Interview Survey, 2010. Prev Chronic Dis. doi: http://dx.doi.org/10.5888/pcd10.120203. Accessed 11 January 2016

10.

Institute of Medicine of the National Academies, 2005. Dietary reference intakes for energy, carbohydrate, fiber, fat, fatty acids, cholesterol, protein, and amino acids. National Academies Press, Washington DC.

11.

Campbell WW, Crim MC, Dallal GE, Young VR, Evans WJ. Increased protein requirements in elderly people: new data and retrospective reassessments. Am J Clin Nutr. 1994;60: 501–509

12.

Bauer J, Biolo G, Cederholm T, Cesari M, Cruz-Jentoft AJ, Morley JE, Phillips S, Sieber C, Stehle P, Teta D, Visvanathan R, Volpi E, Boirie Y. Evidence-based recommendations for optimal dietary protein intake in older people: a position paper from the PROT-AGE Study Group. J Am Med Dir Assoc. 2013;14: 542–559

13.

Volpi E, Campbell WW, Dwyer JT, Johnson MA, Jensen GL, Morley JE, Wolfe RR. Is the optimal level of protein intake for older adults greater than the recommended dietary allowance? J Gerontol A Biol Sci Med Sci. 2013;68: 677–681

14.

Wolfe RR, Miller SL, Miller KB. Optimal protein intake in the elderly. Clin Nutr. 2008;7: 675–84.

15.

Paddon-Jones D, Campbell WW, Jacques PF, Kritchevsky SB, Moore LL, Rodriguez NR, van Loon LJ. Protein and healthy aging. Am J Clin Nutr. 2015;101(Suppl1):1339S–1345S

16.

Pedersen AN, Cederholm T. Health effects of protein intake in healthy elderly populations: a systematic literature review. Food Nutr Res, 2014. doi: 10.3402/fnr. v58.23364

17.

Paddon-Jones D, Leidy H. Dietary protein and muscle in older persons. Cur Opin Clin Nutr Metab Care. 2014;17: 5–11

18.

Boirie Y, Morio B, Caumon E, Cano NJ. Nutrition and protein energy homeostasis in elderly. Mech Ageing Dev. 2014;136-137:76–84

19.

Houston DK, Nicklas BJ, Ding J, Harris TB, Tylavsky FA, Newman AB, Lee JS, Sahyoun NR, Visser M, Kritchevsky SB. Dietary protein intake is associated with lean mass change in older, community-dwelling adults: the Health, Aging, and Body Composition (Health ABC) Study. Am J Clin Nutr. 2008;87: 150–155

20.

Pannemans DL, Wagenmakers AJ, Westerterp KR, Schaafsma G, Halliday D. Effect of protein source and quantity on protein metabolism in elderly women. Am J Clin Nutr. 1998;68: 1228–35

21.

Campbell WW, Barton ML, Cyr-Campbell D, Davey SL, Beard JL, Parise G, Evans WJ. Effects of an omnivorous diet compared with a lactoovovegetarian diet on resistance-training-induced changes in body composition and skeletal muscle in older men. Am J Clin Nutr. 1999;70: 1032–9

22.

Haub MD, Wells AM, Tarnopolsky MA, Campbell WW. Effect of protein source on resistive-training-induced changes in body composition and muscle size in older men. Am J Clin Nutr. 2002;76: 511–517

23.

Institute of Medicine, 2014; Sustainable diets: Food for healthy people and a healthy planet. Workshop summary. National Academies Press, Washington DC.

24.

Department of Agriculture and U.S. Department of Health and Human Services. Scientific Report of the 2015 Dietary Guidelines Advisory Committee. http://health.gov/dietaryguidelines/2015-scientific-report/Accessed 8 February 2016

25.

Auestad N, Fulgoni VL. What Current Literature Tells Us About Sustainable Diets: Emerging Research Linking Dietary Patterns, Environmental Sustainability, and Economics. Adv Nutr. 2015;6: 19–36

26.

Eshel G, Martin PA. Diet, Energy, and Global Warming. Earth Interactions. 2006;10: 1–17.

27.

Centers for Disease Control and Prevention. About the National Health and Nutrition Examination Survey. http://www.cdc.gov/nchs/nhanes/about_nhanes.htm. Accessed 8 May 2015

28.

Tooze JA, Kipnis V, Buckman DW, Carroll RJ, Freedman LS, Guenther PM, Krebs-Smith SM, Subar AF, Dodd KW. A mixed-effects model approach for estimating the distribution of usual intake on nutrients: The NCI method. Stat Med., 2010; doi:10.1002/sim.4063

29.

Quann EE, Fulgoni VL, Auestad N. Consuming the daily recommended amounts of dairy products would reduce the prevalence of inadequate micronutrient intakes in the United States: diet modeling study based on NHANES 2007-2010. Nutr J. 2015;14:90. Doi: 10.1186/s12937-015-0057-5

30.

Canada Food Guide, 2011. http://www.hc-sc.gc.ca/fn-an/index-eng.php Accessed May 10, 2016.

31.

Australian Dietary Guidelines, 2015; https://www.eatforhealth.gov.au/food-essentials/how-much-do-we-need-each-day/recommended-number-serves-adults. Accessed 14 January 2016

32.

U.S. Department of Health and Human Services and U.S. Department of Agriculture. 2015-2020 Dietary Guidelines for Americans. 8th Edition. December 2015. Available at http://health.gov/dietaryguidelines/2015/guidelines/. Accessed 4 March 2016

33.

Food Agricultural Organization (FAO). Sustainable Diets and Biodiversity: Directions and Solutions for Policy, Research and Action. Proceedings of the International Scientific Symposium: Biodiversity and Sustainable Diets United Against Hunger. FAO Headquarters, Rome; 3-5 November 2010. http://www.fao.org/docrep/016/i3004e/i3004e.pdf. Accessed 9 April 2015

34.

Bowman SA, Clemens JC, Friday JE, Thoerig RC, Shimizu M, Barrows BR, and Moshfegh AJ, 2013; Food Patterns Equivalents Database 2007-08: Methodology and User Guide [Online]. Food Surveys Research Group, Beltsville Human Nutrition Research Center, Agricultural Research Service, U.S. Department of Agriculture, Beltsville, Maryland. Available at: http://www.ars.usda.gov/ba/bhnrc/fsrg Accessed January 2015

35.

Bowman SA, Clemens JC, Thoerig RC, Friday JE, Shimizu M, and Moshfegh AJ; 2013; Food Patterns Equivalents Database 2009-10: Methodology and User Guide [Online]. Food Surveys Research Group, Beltsville Human Nutrition Research Center, Agricultural Research Service, U.S. Department of Agriculture, Beltsville, Maryland. http://www.ars.usda.gov/ba/bhnrc/fsrg Accessed January 2015

36.

U.S. Department of Agriculture, Agricultural Research Service, 2015; What We Eat in America Food Categories 2011-2012. www.ars.usda.gov/nea/bhnrc/fsrg. Accessed 12 January 2015

37.

Usual Dietary Intakes: SAS Macros for Analysis of a Single Dietary Component, 2012; http://riskfactor.cancer.gov/diet/usualintakes/macros_single.html. Accessed 12 January 12 2015

38.

Berner LA, Becker G, Wise M, Doi J. Characterization of dietary protein among older adults in the United States: amount, animal sources, and meal patterns. J Acad Nutr Diet 2013;113: 809–15

39.

Devries MC, Phillips SM. Supplemental Protein in Support of Muscle Mass and Health: Advantage Whey. J Food Science 2015;80(S1):A8–14

40.

FAO/WHO Expert Consultation, 1991; Protein quality evaluation report of the Joint FAO/WHO Expert Consultation held in Bethesda, Md., USA, in 1989. FAO Food and Nutrition Paper 51, Rome.

41.

Miller GD, Jarvis JK, McBean LD, 2007; The Importance of Milk and Milk Products in the Diet In Handbook of Dairy Foods and Nutrition, 3rd edition, CRC Press, Boca Raton, FL.

42.

Mitchell CJ, McGregor RA, D'Souza RF, Thorstensen EB, Markworth JF, Fanning AC, Poppitt, SD, Cameron-Smith D. Consumption of Milk Protein or Whey Protein Results in a Similar Increase in Muscle Protein Synthesis in Middle Aged Men. Nutrients 2015;7: 8685–8699

43.

Gryson C, Ratel S, Rance M, Penando S, Bonhomme C, Le Ruyet P, Duclos M, Boirie Y, Walrand S. Four-month course of soluble milk proteins interacts with exercise to improve muscle strength and delay fatigue in elderly participants. J Am Med Dir Assoc 2014;15:958.e1-9

44.

Pennings B, Boirie Y, Senden JMG, Gijsen AP, Kuipers H, van Loon LJC. Whey protein stimulates postprandial muscle protein accretion more effectively than do casein and casein hydrolysate in older men. Am J Clin Nutr 2011;93: 997–1005

45.

Burd NA, Yang Y, Moore DR, Tang JE, Tarnopolsky MA, Phillips SM. Greater stimulation of myofibrillar protein synthesis with ingestion of whey protein isolate v. micellar casein at rest and after resistance exercise in elderly men. Br J Nut. 2012;108: 958–562

46.

Yang Y, Churchward-Venne TA, Burd NA, Breen L, Tarnopolsky MA, Phillips SM. Myofibrillar protein synthesis following ingestion of soy protein isolate at rest and after resistance exercise in elderly men. Nutr Metab 2012;9:57. doi: 10.1186/1743-7075-9-57

47.

Boirie Y, Dangin M, Gachon P, Vasson M-P, Maubois J-L, Beufrère B. Slow and fast dietary proteins differently modulate postprandial protein accretion. Proc Natl Acad Sci 1997;94: 14930–14935.

48.

Murphy CH, Oikawa SY, Phillips SM. Dietary protein to maintain muscle mass in aging: a case for per-meal protein recommendations. J Frailty Aging 2015;5: 49–58

49.

Kim I-Y, Schutzler S, Schrader A, Spencer H, Kortebein P, Deutz NEP, Wolfe RR, Ferrando AA. Quantity of dietary protein intake, but not pattern of intake, affects net protein balance primarily through differences in protein synthesis in older adults. Am J Physiol Endocrinol Metab 2015;308:E21–28

50.

Xu ZR, Ran ZJ, Zhang Q, Gui QF, Yang YM. The effectiveness of leucine on muscle protein synthesis, lean body mass and leg lean mass accretion in older people: a systematic review and meta-analysis. Br J Nutr 2014;19: 1–10

51.

Fakhouri TH, Ogden CL, Carroll MD, Kit BK, Flegal KM, 2012; Prevalence of Obesity Among Older Adults in the United States, 2007-2010. NCHS data brief, no 106. Hyattsville, MD: National Center for Health Statistics. http://www.cdc.gov/nchs/products/databriefs/db106.htm. Accessed 10 May 2016

52.

Abargouei AS, Janhorbani M, Salehi-Marzijarani M, Esmaillzadeh A. Effect of dairy consumption on weight and body composition in adults: a systematic review and meta-analsysis or randomized controlled clinical trials. Int J Obes (Lond) 2012;36: 1485–1493

53.

Mozaffarian D, Hao T, Rimm EB, Willett WC, Hu FB. Changes in Diet and Lifestyle and Long-Term Weigth Gain in Women and Men. N Engl J Med 2011;364: 2392–2404

54.

Chen M, Pan A, Malik VS, Hu FB. Effects of dairy intake on body weight and fat: a meta-analysis of randomized controlled trials. Am J Clin Nutr 2012;96: 735–747

55.

Rice BH, Quann EE, Miller GD. Meeting and exceeding dairy recommendations: effects of dairy consumption on nutrient intakes and risk of chronic disease. Nut Rev 2013;71: 209–223

56.

Huth PJ, Park KM. Influence of Dairy Product and Milk Fat Consumption on Cardiovascular Disease Risk: A Review of the Evidence. Ad Nutr 2012;3: 266–285

57.

German JB, Gibson RA, Krauss RM, Nestel P, Lamarch B, van Staveren WA, Steijns JM, de Groot LCPGM, Lock AL, Destaillats F. A reappraisal of the impact of dairy foods and milk fat on cardiovascular disease risk. Eur J Nutr 2009;48: 191–203

58.

Astrup A. Yogurt and dairy product consumption to prevent cardiometabolic diseases: epidemiologic and experimental studies. Am J Clin Nutr 2014;99(suppl):1235S–1242S

59.

U.S. Department of Health and Human Services and National Institutes of Health, 2010;National Institutes of Health Consensus Development Conference Statement. NIH Consensus Development Conference: Lactose Intolerance and Health. February 22-24, 2010. https://consensus.nih.gov/2010/docs/LI_CDC_2010_Final%20 Statement.pdf Accessed 8 February 2016

60.

Bailey RK, Fileti CP, Keith J, Tropez-Sims S, Price W, Allison-Ottey SD. Lactose Intolerance and Health Disparities Among African Americans and Hispanic Americans: An Updated Consensus Statement. J Natl Med Assoc 2013;105: 112–127

61.

Kesse-Guyot E, Assmann KE, Andreeva VA, Ferry M, Hercberg S, Galan P, The SU.VI. MAX 2 Research Group. Consumption of dairy products and cognitive functioning: findings from the SU.VI.MAX 2 study. J Nutr Health Aging 2016;20: 128–137

62.

Otsuka R, Kato Y, Nishita Y, Tange C, Nakamoto M, Tomida M, Imai T, Ando F, Shimokata H. Cereal Intake Increases and Dairy Products Decrease Risk of Cognitive Decline among Elderly Female Japanese. J Prev Alzheimers Di. 2014;1: 160–167
About this article
Cite this article
Houchins, J.A., Cifelli, C.J., Demmer, E. et al. Diet modeling in older Americans: The impact of increasing plant-based foods or dairy products on protein intake. J Nutr Health Aging 21, 673–680 (2017). https://doi.org/10.1007/s12603-016-0819-6
Received:

Accepted:

Published:

Issue Date:
Key words
Aging

muscle

protein

plant

dairy