Abstract
Objectives
To examine the longitudinal association between body mass index (BMI) and waist circumference (WC) with mortality and incident disability in Lc65+ cohort.
Design
Population-based cohort of non-institutionalized adults with up to 8.9 years of follow-up.
Setting
City of Lausanne, Switzerland.
Participants
1,293 individuals aged 65 to 70 at baseline (58% women).
Measurements
BMI, WC and covariates were measured at baseline in 2004-2005. Vital status was obtained up to the 31st December 2013 and difficulty with basic activities of daily living (BADL) was reported in a self-administered questionnaire sent to participants every year. Main outcomes were total mortality and disability, defined as difficulty with BADL for ≥2 years or institutionalization. Cox regression was used with BMI/WC quintiles 2 as the reference.
Results
130 persons died over a median follow-up of 8.47 years (crude mortality rate, men: 16.5/1,000 person-years, women: 9.7/1,000 person-years). In Cox regression adjusted for age, sex, education, financial situation, smoking and involuntary weight loss (IWL) at baseline, mortality was significantly associated with neither BMI nor WC, but there were trends towards non-significant J-curves across both BMI and WC quintiles. Disability (231 cases) tended to increase monotonically across both BMI and WC quintiles and was significantly associated with BMI quintile 5 (HR=2.44, 95% CI [1.65-3.63]), and WC quintiles 4 (HR=1.81 [1.15-2.85]) and 5 (HR=2.58, [1.67-4.00]).
Conclusion
Almost half of the study population had a substantially increased HR of disability, as compared to the reference BMI/WC categories. This observation emphasizes the need for life-long strategies aimed at preventing excess weight, muscle loss and functional decline through adequate nutrition and regular physical activity, starting at early age and extending throughout life.
This is a preview of subscription content, log in to check access.
Access options
Buy single article
Instant access to the full article PDF.
US$ 39.95
Price includes VAT for USA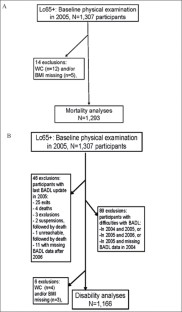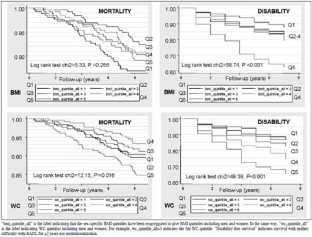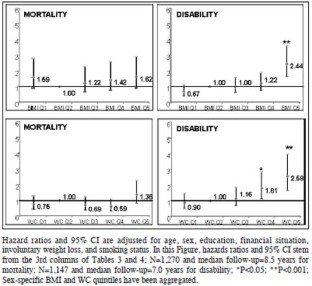 References
1.

Flegal KM, Carroll MD, Ogden CL, Johnson CL: Prevalence and trends in obesity among US adults, 1999-2000. JAMA 2002, 288(14): 1723–1727.

2.

Marques-Vidal P, Bochud M, Mooser V, Paccaud F, Waeber G, Vollenweider P: Prevalence of obesity and abdominal obesity in the Lausanne population. BMC Public Health 2008, 8:330.

3.

Flegal KM, Graubard BI, Williamson DF, Gail MH: Excess deaths associated with underweight, overweight, and obesity. JAMA 2005, 293(15): 1861–1867.

4.

Adams KF, Schatzkin A, Harris TB, Kipnis V, Mouw T, Ballard-Barbash R, Hollenbeck A, Leitzmann MF: Overweight, obesity, and mortality in a large prospective cohort of persons 50 to 71 years old. N Engl J Med 2006, 355(8): 763–778.

5.

Kuk JL, Ardern CI: Influence of age on the association between various measures of obesity and all-cause mortality. J Am Geriatr Soc 2009, 57(11): 2077–2084.

6.

Dolan CM, Kraemer H, Browner W, Ensrud K, Kelsey JL: Associations between body composition, anthropometry, and mortality in women aged 65 years and older. Am J Public Health 2007, 97(5): 913–918.

7.

Auyeung TW, Lee JS, Leung J, Kwok T, Leung PC, Woo J: Survival in older men may benefit from being slightly overweight and centrally obese—a 5-year followup study in 4,000 older adults using DXA. J Gerontol A Biol Sci Med Sci 2010, 65(1): 99–104.

8.

Oreopoulos A, Kalantar-Zadeh K, Sharma AM, Fonarow GC: The obesity paradox in the elderly: potential mechanisms and clinical implications. Clin Geriatr Med 2009, 25(4): 643–659, viii.

9.

Price GM, Uauy R, Breeze E, Bulpitt CJ, Fletcher AE: Weight, shape, and mortality risk in older persons: elevated waist-hip ratio, not high body mass index, is associated with a greater risk of death. Am J Clin Nutr 2006, 84(2): 449–460.

10.

Padwal R.L W.D., Lix, L.M., Majumdar, S.R.: Relationship among body fat percentage, body mass index, and all-cause mortality. Ann Intern Med 2016, 164.

11.

Kyle UG, Morabia A, Schutz Y, Pichard C: Sedentarism affects body fat mass index and fat-free mass index in adults aged 18 to 98 years. Nutrition 2004, 20(3): 255–260.

12.

Bouchard DR, Choquette S, Dionne IJ, Brochu M: Is fat mass distribution related to impaired mobility in older men and women? Nutrition as a determinant of successful aging: the Quebec longitudinal study. Exp Aging Res 2011, 37(3): 346–357.

13.

Zhang C, Rexrode KM, van Dam RM, Li TY, Hu FB: Abdominal obesity and the risk of all-cause, cardiovascular, and cancer mortality: sixteen years of follow-up in US women. Circulation 2008, 117(13): 1658–1667.

14.

Huxley R, Mendis S, Zheleznyakov E, Reddy S, Chan J: Body mass index, waist circumference and waist:hip ratio as predictors of cardiovascular risk—a review of the literature. Eur J Clin Nutr 2010, 64(1): 16–22.

15.

Houston DK, Stevens J, Cai J: Abdominal fat distribution and functional limitations and disability in a biracial cohort: the Atherosclerosis Risk in Communities Study. Int J Obes (Lond) 2005, 29(12): 1457–1463.

16.

Bannerman E: Anthropometric indices predict physical function and mobility in older Australians: the Australian Longitudinal Study of Ageing. Public Health Nutr 2002, 5(5):655–662.

17.

Woo J, Ho SC, Sham A: Longitudinal changes in body mass index and body composition over 3 years and relationship to health outcomes in Hong Kong Chinese age 70 and older. J Am Geriatr Soc 2001, 49(6): 737–746.

18.

Koenig J, Windham BG, Ferrucci L, Sonntag D, Fischer JE, Thayer JF, Jarczok MN: Association strength of three adiposity measures with autonomic nervous system function in apparently healthy employees. J Nutr Health Aging 2015, 19(9): 879–882.

19.

Losonczy KG, Harris TB, Cornoni-Huntley J, Simonsick EM, Wallace RB, Cook NR, Ostfeld AM, Blazer DG: Does weight loss from middle age to old age explain the inverse weight mortality relation in old age? Am J Epidemiol 1995, 141(4): 312–321.

20.

Visscher TL, Seidell JC, Molarius A, van der Kuip D, Hofman A, Witteman JC: A comparison of body mass index, waist-hip ratio and waist circumference as predictors of all-cause mortality among the elderly: the Rotterdam study. Int J Obes Relat Metab Disord 2001, 25(11): 1730–1735.

21.

Wannamethee SG, Shaper AG, Lennon L, Whincup PH: Decreased muscle mass and increased central adiposity are independently related to mortality in older men. Am J Clin Nutr 2007, 86(5): 1339–1346.

22.

Janssen I, Bacon E: Effect of current and midlife obesity status on mortality risk in the elderly. Obesity (Silver Spring) 2008, 16(11): 2504–2509.

23.

Ding J, Kritchevsky SB, Newman AB, Taaffe DR, Nicklas BJ, Visser M, Lee JS, Nevitt M, Tylavsky FA, Rubin SM et al: Effects of birth cohort and age on body composition in a sample of community-based elderly. Am J Clin Nutr 2007, 85(2): 405–410.

24.

Newman AB, Haggerty CL, Goodpaster B, Harris T, Kritchevsky S, Nevitt M, Miles TP, Visser M, Health A, Body Composition Research G: Strength and muscle quality in a well-functioning cohort of older adults: the Health, Aging and Body Composition Study. J Am Geriatr Soc 2003, 51(3): 323–330.

25.

Seematter-Bagnoud L, Paccaud F, Robine J: Le futur de la longévité en Suisse. In: Statistique de la Suisse. Edited by Federal Statistical Office S. Neuchâtel: Federal Statistical Office, Switzerland;2009.

26.

Walter S, Kunst A, Mackenbach J, Hofman A, Tiemeier H: Mortality and disability: the effect of overweight and obesity. Int J Obes (Lond) 2009, 33(12): 1410–1418.

27.

Reynolds SL, Saito Y, Crimmins EM: The impact of obesity on active life expectancy in older American men and women. Gerontologist 2005, 45(4): 438–444.

28.

Majer IM, Nusselder WJ, Mackenbach JP, Kunst AE: Life expectancy and life expectancy with disability of normal weight, overweight, and obese smokers and nonsmokers in Europe. Obesity (Silver Spring) 2011, 19(7): 1451–1459.

29.

Wong E, Woodward M, Stevenson C, Backholer K, Sarink D, Peeters A: Prevalence of disability in Australian elderly: Impact of trends in obesity and diabetes. Prev Med 2016, 82:105–110.

30.

Finucane MM, Stevens GA, Cowan MJ, Danaei G, Lin JK, Paciorek CJ, Singh GM, Gutierrez HR, Lu Y, Bahalim AN et al: National, regional, and global trends in body-mass index since 1980: systematic analysis of health examination surveys and epidemiological studies with 960 country-years and 9.1 million participants. Lancet 2011, 377(9765): 557–567.

31.

Artaud F, Singh-Manoux A, Dugravot A, Tavernier B, Tzourio C, Elbaz A: Body mass index trajectories and functional decline in older adults: Three-City Dijon cohort study. Eur J Epidemiol 2016, 31(1): 73–83.

32.

Alley DE, Chang VW: The changing relationship of obesity and disability, 1988-2004. JAMA 2007, 298(17): 2020–2027.

33.

Mahoney FI, Barthel DW: Functional Evaluation: The Barthel Index. Md State Med J 1965, 14:61–65.

34.

Fried LP, Ferrucci L, Darer J, Williamson JD, Anderson G: Untangling the concepts of disability, frailty, and comorbidity: implications for improved targeting and care. J Gerontol A Biol Sci Med Sci 2004, 59(3): 255–263.

35.

Katz S, Ford AB, Moskowitz RW, Jackson BA, Jaffe MW: Studies of Illness in the Aged. The Index of Adl: A Standardized Measure of Biological and Psychosocial Function. JAMA 1963, 185:914–919.

36.

Santos-Eggimann B, Karmaniola A, Seematter-Bagnoud L, Spagnoli J, Bula C, Cornuz J, Rodondi N, Vollenweider P, Waeber G, Pecoud A: The Lausanne cohort Lc65+: a population-based prospective study of the manifestations, determinants and outcomes of frailty. BMC Geriatr 2008, 8:20.

37.

Danon-Hersch N, Rodondi N, Spagnoli J, Santos-Eggimann B: Prefrailty and chronic morbidity in the youngest old: an insight from the Lausanne cohort Lc65+. J Am Geriatr Soc 2012, 60(9): 1687–1694.

38.

Camicioli R, Mizrahi S, Spagnoli J, Bula C, Demonet JF, Vingerhoets F, von Gunten A, Santos-Eggimann B: Handwriting and pre-frailty in the Lausanne cohort 65+ (Lc65+) study. Arch Gerontol Geriatr 2015, 61(1): 8–13.

39.

Danon-Hersch N, Santos-Eggimann B: Physical activity in daily life is associated with lower adiposity values than doing weekly sports in Lc65+ cohort at baseline. BMC Public Health 2013, 13:1175.

40.

Emerging Risk Factors C: Adult height and the risk of cause-specific death and vascular morbidity in 1 million people: individual participant meta-analysis. Int J Epidemiol 2012, 41(5): 1419–1433.

41.

French SA, Folsom AR, Jeffery RW, Williamson DF: Prospective study of intentionality of weight loss and mortality in older women: the Iowa Women's Health Study. Am J Epidemiol 1999, 149(6): 504–514.

42.

Flegal KM, Kit BK, Orpana H, Graubard BI: Association of all-cause mortality with overweight and obesity using standard body mass index categories: a systematic review and meta-analysis. JAMA 2013, 309(1): 71–82.

43.

Zamboni M, Mazzali G, Zoico E, Harris TB, Meigs JB, Di Francesco V, Fantin F, Bissoli L, Bosello O: Health consequences of obesity in the elderly: a review of four unresolved questions. Int J Obes (Lond) 2005, 29(9): 1011–1029.

44.

Dyer AR, Stamler J, Garside DB, Greenland P: Long-term consequences of body mass index for cardiovascular mortality: the Chicago Heart Association Detection Project in Industry study. Ann Epidemiol 2004, 14(2): 101–108.

45.

Fang J, Wylie-Rosett J, Cohen HW, Kaplan RC, Alderman MH: Exercise, body mass index, caloric intake, and cardiovascular mortality. Am J Prev Med 2003, 25(4): 283–289.

46.

Ritchie CS, Locher JL, Roth DL, McVie T, Sawyer P, Allman R: Unintentional weight loss predicts decline in activities of daily living function and life-space mobility over 4 years among community-dwelling older adults. The journals of gerontology Series A, Biological sciences and medical sciences 2008, 63(1): 67–75.

47.

Stokes A, Preston SH: Revealing the burden of obesity using weight histories. Proc Natl Acad Sci U S A 2016.

48.

Stevens J, Bradshaw PT, Truesdale KP, Jensen MD: Obesity Paradox should not interfere with public health efforts. Int J Obes (Lond) 2015, 39(1): 80–81.

49.

Rillamas-Sun E, LaCroix AZ, Waring ME, Kroenke CH, LaMonte MJ, Vitolins MZ, Seguin R, Bell CL, Gass M, Manini TM et al: Obesity and late-age survival without major disease or disability in older women. JAMA internal medicine 2014, 174(1): 98–106.

50.

Pischon T, Boeing H, Hoffmann K, Bergmann M, Schulze MB, Overvad K, van der Schouw YT, Spencer E, Moons KG, Tjonneland A et al: General and abdominal adiposity and risk of death in Europe. N Engl J Med 2008, 359(20): 2105–2120.

51.

Houston DK, Stevens J, Cai J, Morey MC: Role of weight history on functional limitations and disability in late adulthood: the ARIC study. Obes Res 2005, 13(10): 1793–1802.

52.

Friedmann JM, Elasy T, Jensen GL: The relationship between body mass index and self-reported functional limitation among older adults: a gender difference. J Am Geriatr Soc 2001, 49(4): 398–403.

53.

Macklai NS, Spagnoli J, Junod J, Santos-Eggimann B: Prospective association of the SHARE-operationalized frailty phenotype with adverse health outcomes: evidence from 60+ community-dwelling Europeans living in 11 countries. BMC Geriatr 2013, 13:3.

54.

Jensen GL, Friedmann JM: Obesity is associated with functional decline in community-dwelling rural older persons. J Am Geriatr Soc 2002, 50(5): 918–923.

55.

Merrill SS, Seeman TE, Kasl SV, Berkman LF: Gender differences in the comparison of self-reported disability and performance measures. J Gerontol A Biol Sci Med Sci 1997, 52(1):M19–26.

56.

Backholer K, Pasupathi K, Wong E, Hodge A, Stevenson C, Peeters A: The relationship between body mass index prior to old age and disability in old age. Int J Obes (Lond) 2012, 36(9): 1180–1186.

57.

Al SS, Ottenbacher KJ, Markides KS, Kuo YF, Eschbach K, Goodwin JS: The effect of obesity on disability vs mortality in older Americans. Arch Intern Med 2007, 167(8): 774–780.

58.

Nam S, Kuo YF, Markides KS, Al Snih S: Waist circumference (WC), body mass index (BMI), and disability among older adults in Latin American and the Caribbean (LAC). Arch Gerontol Geriatr 2012, 55(2):e40–47.

59.

Yin Z, Shi X, Kraus VB, Brasher MS, Chen H, Liu Y, Lv Y, Zeng Y: Genderdependent association of body mass index and waist circumference with disability in the Chinese oldest old. Obesity (Silver Spring) 2014, 22(8): 1918–1925.

60.

Backholer K, Wong E, Freak-Poli R, Walls HL, Peeters A: Increasing body weight and risk of limitations in activities of daily living: a systematic review and metaanalysis. Obes Rev 2012, 13(5): 456–468.

61.

Stenholm S, Mehta NK, Elo IT, Heliovaara M, Koskinen S, Aromaa A: Obesity and muscle strength as long-term determinants of all-cause mortality—a 33-year follow-up of the Mini-Finland Health Examination Survey. Int J Obes (Lond) 2014, 38(8): 1126–1132.

62.

Tell GS, Fried LP, Hermanson B, Manolio TA, Newman AB, Borhani NO: Recruitment of adults 65 years and older as participants in the Cardiovascular Health Study. Ann Epidemiol 1993, 3(4): 358–366.

63.

Jacobsen SJ, Mahoney DW, Redfield MM, Bailey KR, Burnett JC., Rodeheffer RJ: Participation bias in a population-based echocardiography study. Ann Epidemiol 2004, 14(8): 579–584.

64.

Galea S, Tracy M: Participation rates in epidemiologic studies. Ann Epidemiol 2007, 17(9): 643–653.

65.

Fried LP, Tangen CM, Walston J, Newman AB, Hirsch C, Gottdiener J, Seeman T, Tracy R, Kop WJ, Burke G et al: Frailty in older adults: evidence for a phenotype. J Gerontol A Biol Sci Med Sci 2001, 56(3):M146–M156.
About this article
Cite this article
Danon-Hersch, N., Fustinoni, S., Bovet, P. et al. Association between adiposity and disability in the Lc65+ cohort. J Nutr Health Aging 21, 799–810 (2017). https://doi.org/10.1007/s12603-016-0813-z
Received:

Accepted:

Published:

Issue Date:
Key words
Body mass index

waist circumference

adiposity

disability

mortality