Abstract
Introduction
Non-Alcoholic Fatty Liver Disease (NAFLD) is currently the most common form of liver disease worldwide affecting all ages and ethnic groups and it has become a consistent threat even in young people. Our aim was to estimate the effect of a Low Glycemic Index Mediterranean Diet (LGIMD) on the NAFLD score as measured by a Liver Ultrasonography (LUS).
Design
NUTRIzione in EPAtologia (NUTRIEPA) is a population-based Double-Blind RCT. Data were collected in 2011 and analyzed in 2013-14.
Setting/participants
98 men and women coming from Putignano (Puglia, Southern Italy) were drawn from a previous randomly sampled population-based study and identified as having moderate or severe NAFLD.
Intervention
The intervention strategy was the assignment of a LGIMD or a control diet.
Outcome measures
The main outcome measure was NAFLD score, defined by LUS.
Results
After randomization, 50 subjects were assigned to a LGIMD and 48 to a control diet. The study lasted six months and all participants were subject to monthly controls/checks. Adherence to the LGIMD as measured by Mediterranean Adequacy Index (MAI) showed a median of 10.1. A negative interaction between time and LGIMD on the NAFLD score (-4.14, 95% CI -6.78,-1.49) was observed, and became more evident at the sixth month (-4.43, 95%CI -7.15, -1.71). A positive effect of the interaction among LGIMD, time and age (Third month: 0.07, 95% CI 0.02, 0.12; Sixth month: 0.08, 95% CI 0.03,0.13) was also observed.
Conclusions
LGIMD was found to decrease the NAFLD score in a relatively short time. Encouraging those subjects who do not seek medical attention but still have NAFLD to follow a LGIMD and other life-style interventions, may reduce the degree of severity of the disease. Dietary intervention of this kind, could also form the cornerstone of primary prevention of Type 2 Diabetes Mellitus (T2DM) and cardiovascular disease.
This is a preview of subscription content,
to check access.
Access this article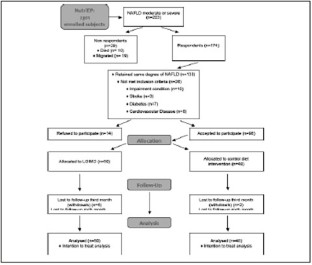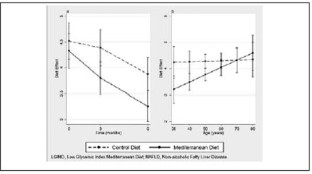 References
Loria P, Adinolfi LE, Bellentani S, et al. Practice guidelines for the diagnosis and management of nonalcoholic fatty liver disease. A Decalogue from the Italian Association for the Study of the Liver (AISF) Expert Committee. Dig Liver Dis 2010; 42: 272–282.http://dx.doi.org/10.1016/j.dld.2010.01.021

Bedogni G, Miglioli L, Masutti F, et al. Prevalence of and risk factors for nonalcoholic fatty liver disease: the Dionysos nutrition and liver study. Hepatology 2005:42,44–52.http://dx.doi.org/10.1002/hep.20734

Kotronen A, Juurinen L, Hakkarainen A, et al. Liver fat is increased in type 2 diabetes patients and underestimated by serum alanine aminotransferase compared with equally obese nondiabetic subjects. Diabetes Care 2008; 31: 165–169.http://dx.doi.org/10.2337/dc07-1463

Zoppini G, Fedeli U, Gennaro N, et al. Mortality from chronic liver diseases in diabetes. Am J Gastroenterol 2014; 109: 1020–1025. http://dx.doi.org/10.1038/ajg.2014.132

Angelico F, Del Ben M, Conti R, et al. Insulin resistance, the metabolic syndrome, and nonalcoholic fatty liver disease. J Clin Endocrinol Metab 2005; 90: 1578–1582. http://dx.doi.org/10.1210/jc.2004-1024

Charlton MR, Burns JM, Pedersen RA, et al. Frequency and outcomes of liver transplantation for nonalcoholic steatohepatitis in the United States. Gastroenterology 2011; 141: 1249–1253.http://dx.doi.org/10.1053/j.gastro.2011.06.061

Mahady SE & George J. Management of Nonalcoholic Steatohepatitis. Clin Liver Dis 2012; 16: 631–645. http://dx.doi.org/10.1016/j.cld.2012.05.003

Sofi F, Abbate R, Gensini GF, et al. Accruing evidence on benefits of adherence to the Mediterranean diet on health: an updated systematic review and meta-analysis. Am J Clin Nutr 2010; 92: 1189–1196.http://dx.doi.org/10.3945/ajcn.2010.29673

Galbete C, Toledo E, Toledo JB, et al. Mediterranean diet and cognitive function: the SUN project. J Nutr Health Aging 2015; 19: 305–312. http://dx.doi.org/10.1007/s12603-015-0441-z

Kontogianni MD, Tileli N, Margariti A, et al. Adherence to the Mediterranean diet is associated with the severity of non-alcoholic fatty liver disease. Clin Nutr 2014; 33: 678–683.http://dx.doi.org/10.1016/j.clnu.2013.08.014

Estruch R, Ros E, Salas-Salvadó J, et al. Primary prevention of cardiovascular disease with a Mediterranean diet. N Engl J Med 2013; 368: 1279–1290.http://dx.doi.org/10.1056/NEJMoa1200303

Kastorini CM, Milionis HJ, Esposito K, et al. The effect of Mediterranean diet on metabolic syndrome and its components: a meta-analysis of 50 studies and 534,906 individuals. J Am Coll Cardiol 2011; 57: 1299–1313.http://dx.doi.org/10.1016/j.jacc.2010.09.073

Salas-Salvadó J, Bulló M, Babio N, et al. Reduction in the incidence of type 2 diabetes with the Mediterranean diet: results of the PREDIMED-Reus nutrition intervention randomized trial. Diabetes Care 2011; 34: 14–19.http://dx.doi.org/10.2337/dc10-1288

Cozzolongo R, Osella AR, Elba S, et al. Epidemiology of HCV infection in the general population: a survey in a southern Italian town. Am J Gastroenterol 2009; 104: 2740–2746.http://dx.doi.org/10.1038/ajg.2009.428

Nestle M. Mediterranean diets: historical and research overview. Am J Clin Nutr 1995;61:Suppl, S1313–S1320.

Chiloiro M, Caruso MG, Cisternino AM, et al. Ultrasound evaluation and correlates of fatty liver disease: A population Study in a Mediterranean Area. Metab Syndr Relat Disord 2013; 11: 349–358.http://dx.doi.org/10.1089/met.2012.0169

Skinner HA & Sheu WJ. Reliability of alcohol use indices. The Lifetime Drinking History and the MAST. J Stud Alcohol 1982; 43: 1157–1170.

Chiloiro M, Misciagna G. (2012) Ultrasonographic Anthropometry: An Application to the Measurement of Liver and Abdominal Fat. In: Preedy VR, ed. Handbook of Anthropometry, Physical Measures of Human Form in Health and Disease. New York: Springer, pp 2227–2242.

INRAN (2003). Linee Guida per una sana alimentazione italiana. http://nut.entecra. it/649/Introduzione.html (accessed November 2013).

Alberti-Fidanza A, Fidanza F. Mediterranean Adequacy Index of Italian diets. Public Health Nutrition 2004; 7: 937–941.http://dx.doi.org/10.1079/PHN2004557

Oakes JM, Rossi PH. The measurement of SES in health research: current practice and steps toward a new approach. Soc Sci Med 2003; 56: 769–784.http://dx.doi. org/10.1016/S0277-9536(02)00073-4

Bedogni G, Bellentani S, Miglioli L, et al. The Fatty Liver Index: a simple and accurate predictor of hepatic steatosis in the general population. BMC Gastroenterology 2006;6:33 http://dx.doi.org/10.1186/1471-230X-6-33

Liang KY, Zeger SL. Longitudinal data analysis using generalized linear models. Biometrika 1986;73:13–22.

Hamaguchi M, Kojima T, Takeda N, et al. The metabolic syndrome as a predictor of nonalcoholic fatty liver disease. Ann Intern Med 2005; 143: 722–728.http://dx.doi. org/10.7326/0003-4819-143-10-200511150-00009

Bedogni G, Bellentani S. Fatty liver disease: how frequent is it and why? Ann Hepatol 2004; 3: 63–65.

Marchesini G, Brizi M, Morselli-Labate AM, et al. Association of nonalcoholic fatty liver disease with insulin resistance. Am J Med 1999; 107: 450–455.http://dx.doi. org/10.1016/S0002-9343(99)00271-5

Shah K, Stufflebam A, Hilton TN, et al. Diet and exercise interventions reduce intrahepatic fat content and improve insulin sensitivity in obese older adults. Obesity 2009; 17: 2162–2168.http://dx.doi.org/10.1038/oby.2009.126

Luyckx FH, Desaive C, Thiry A, et al. Liver abnormalities in severely obese subjects: effect of drastic weight loss after gastroplasty. Int J Obes Relat Metab Disord 1998; 22: 222–226.

Katan MB. Weight-loss diets for the prevention and treatment of obesity. N Engl J Med 2009; 360: 923–925.http://dx.doi.org/10.1056/NEJMe0810291

Inguaggiato R, Ferrara P. (2012) Alimenti della Dieta Mediterranea. In: Cisternino AM, Misciagna G, ed. La Dieta Mediterranea della Puglia. Bari (Italy): Tholos, pp 151–185.

Garg A. High-monounsaturated-fat diets for patients with diabetes mellitus: a metaanalysis. Am J Clin Nutr 1998;67:577S–582S.

Hussein O, Grosovski M, Lasri E, et al. Monounsaturated fat decreases hepatic lipid content in non-alcoholic fatty liver disease in rats. World J Gastroenterol 2007; 13: 361–368.http://dx.doi.org/10.3748/wjg.v13.i3.361

Storlien LH, Kraegen EW, Chisholm DJ, et al. Fish oil prevents insulin resistance induced by high-fat feeding in rats. Science 1987; 237: 885–888.http://dx.doi. org/10.1126/science.3303333

Levy JR, Clore JN, Stevens W. Dietary n-3 polyunsaturated fatty acids decrease hepatic triglycerides in Fischer 344 rats. Hepatology 2004; 39: 608–616.http://dx.doi.org/10.1002/hep.20093

Sekiya M, Yahagi N, Matsuzaka T, et al. Polyunsaturated fatty acids ameliorate hepatic steatosis in obese mice by SREBP-1 suppression. Hepatology 2003; 38: 1529–1539.http://dx.doi.org/10.1016/j.hep.2003.09.028

Cortez-Pinto H, Jesus L, Barros H, et al. How different is the dietary pattern in non-alcoholic steatohepatitis patients? Clin Nutr 2006; 25: 816–823.http://dx.doi. org/10.1016/j.clnu.2006.01.027

Zelber-Sagi S, Nitzan-Kaluski D, Goldsmith R, et al. Long term nutritional intake and the risk for non-alcoholic fatty liver disease (NAFLD): a population based study. J Hepatol 2007; 47: 711–717. http://dx.doi.org/10.1016/j.jhep.2007.06.020

Capanni M, Calella F, Biagini MR, et al. Prolonged n-3 polyunsaturated fatty acid supplementation ameliorates hepatic steatosis in patients with non-alcoholic fatty liver disease: a pilot study. Aliment Pharmacol Ther 2006; 23: 1143–1151.http://dx.doi. org/10.1111/j.1365-2036.2006.02885.x

Tanaka N, Sano K, Horiuchi A, et al. Highly purified eicosapentaenoic acid treatment improves nonalcoholic steatohepatitis. J Clin Gastroenterol 2008; 42: 413–418.http://dx.doi.org/10.1097/MCG.0b013e31815591aa

Omara-Alwala TR, Mebrahtu T, Prior DE, et al. Omega-three fatty acids in purslane (Portulaca oleracea) Tissues. J Am Oil Chem Soc 1991; 68: 198–199.http://dx.doi. org/10.1007/BF02657769

Westerbacka J, Lammi K, Häkkinen AM, et al. Dietary fat content modifies liver fat in overweight non-diabetic subjects. J Clin Endocrinol Metab 2005; 90: 2804–2809. http://dx.doi.org/10.1210/jc.2004-1983

van Herpen NA, Schrauwen-Hinderling VB, Schaart G, et al. Three weeks on a highfat diet increases intrahepatic lipid accumulation and decreases metabolic flexibility in healthy overweight men. J Clin Endocrinol Metab 2011;96:E691–E695.http://dx.doi.org/10.1210/jc.2010-2243

Utzschneider KM, Bayer-Carter JL, Arbuckle MD, et al. Beneficial effect of a weight-stable, low-fat/low-saturated fat/low-glycemic index diet to reduce liver fat in older subjects. Br J Nutr 2013; 109: 1096–1104.

Day CP & James OF. Steatohepatitis: a tale of two "hits"? Gastroenterology 1998; 114: 842–845. http://dx.doi.org/10.1016/S0016-5085(98)70599-2

Alberti A, Fruttini D, Fidanza F. The Mediterranean Adequacy Index: further confirming results of validity. Nutr Metab Cardiovasc Dis 2009; 19: 61–66.http://dx.doi.org/10.1016/j.numecd.2007.11.008

Middleton G, Keegan R, Smith MF, et al. Implementing a Mediterranean Diet Intervention into an RCT: Lessons Learned from a Non-Mediterranean Based Country. J Nutr Health Aging2015; 19: 1019–1022. http://dx.doi.org/10.1007/s12603-015-0522-z.

Montori VM and Guyatt GH. Intention-to-treat principle. CMAJ 2001; 165: 1339–1341.

Joy D, Thava VR, Scott B. Diagnosis of fatty liver disease: is biopsy necessary? Eur J Gastroenterol Hepatol 2003; 15: 539–543.http://dx.doi.org/10.1097/01. meg.0000059112.41030.2e

Wieckowska A, McCullough AJ, Feldstein AE. Noninvasive diagnosis and monitoring of nonalcoholic steatohepatitis: present and future. Hepatology 2007; 46: 582–589.http://dx.doi.org/10.1002/hep.21768

Saadeh S, Younossi ZM, Remer EM, et al. The utility of radiological imaging in nonalcoholic fatty liver disease. Gastroenterology 2002; 123: 745–750.http://dx.doi. org/10.1053/gast.2002.35354

Cameron SV & Heckman JJ. Life Cycle Schooling and Dynamic Selection Bias: Models and Evidence for Five Cohorts of American Males. The Journal of Political Economy 1998;106:262–333.

Bazzano LA, Hu T, Reynoldas K, et al. Effects of Low-Carbohydrate and Low-Fat Diets: A Randomized Trial. Ann Intern Med 2014; 161: 309–318.http://dx.doi. org/10.3390/nu7095377
About this article
Cite this article
Misciagna, G., del Pilar Díaz, M., Caramia, D.V. et al. Effect of a low glycemic index Mediterranean diet on non-alcoholic fatty liver disease. A randomized controlled clinici trial. J Nutr Health Aging 21, 404–412 (2017). https://doi.org/10.1007/s12603-016-0809-8
Received:

Accepted:

Published:

Issue Date:

DOI: https://doi.org/10.1007/s12603-016-0809-8
Key words