Abstract
Adequate protein intake and resistance training are effective strategies to maintain muscle mass, but the effect of their combination on metabolic profile during weight loss remains to be determined in older adults. The main objective of this study was to determine the effect of a 16-week high-protein caloric restriction combined with resistance training on chronic disease risk factors in obese older individuals with metabolic impairments. A total of 26 overweight adults aged between 60 and 75 years (BMI 32.4 ± 3.9 kg/m2) with at least 2 factors of the metabolic syndrome participated in this study and were randomized into two groups: 1) high-protein caloric restriction (HP; n= 12) and 2) high-protein caloric restriction combined with dynamic-resistance training (HP+RT; n=14). Caloric intake was reduced by 500 kcal/d in all participants and protein intake equated 25-30% of total calories (~1.4 g/kg/d). Exercise training consisted of 3 session/week of resistance training on pulley machines. Outcome measures included total and trunk fat mass (FM), total and appendicular lean body mass (LBM), fasting glucose level, lipid profile and blood pressure. Our results showed that total and trunk FM (all p<0.0001) as well as fasting glucose (p<0.0001), triglycerides (p=0.002) and total cholesterol (p=0.03) levels decreased similarly in both groups. However, total (p=0.04) and appendicular (p=0.02) LBM decreased in the HP group only. Our data show that high-protein energy restriction improves health profile of obese elderly at high risk of chronic disease but needs to be combined with resistance training to maintain LBM.
Access options
Buy single article
Instant access to the full article PDF.
US$ 39.95
Tax calculation will be finalised during checkout.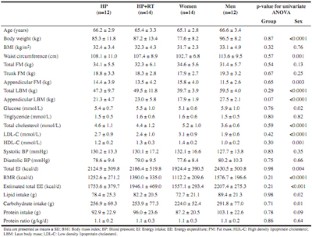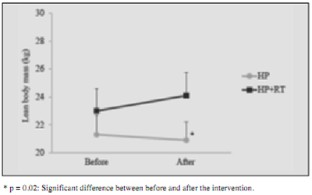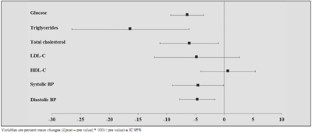 References
1.

Pischon T, Nothlings U, Boeing H. Obesity and cancer. Proc Nutr Soc 2008;67(2):128–145.

2.

Wahba IM, Mak RH. Obesity and obesity-initiated metabolic syndrome: mechanistic links to chronic kidney disease. Clin J Am Soc Nephrol 2007;2(3):550–562.

3.

Ribeiro SM, Kehayias JJ. Sarcopenia and the analysis of body composition. Adv Nutr 2014;5(3):260–267.

4.

Zamboni M, et al. Adipose tissue, diet and aging. Mech Ageing Dev 2014;136–137:129–137.

5.

Tang M, Leidy HJ, Campbell WW. Regional, but not total, body composition changes in overweight and obese adults consuming a higher protein, energy-restricted diet are sex specific. Nutr Res 2013;33(8):629–635.

6.

Isomaa B, et al. Cardiovascular morbidity and mortality associated with the metabolic syndrome. Diabetes Care 2001;24(4):683–689.

7.

Clinical Guidelines on the Identification, Evaluation, and Treatment of Overweight and Obesity in Adults—The Evidence Report. National Institutes of Health. Obes Res 1998;6 Suppl 2:51S–209S.

8.

Obesity: preventing and managing the global epidemic. Report of a WHO consultation. World Health Organization technical report series 2000;894:i-xii, 1-253.

9.

Brochu M, Tchernof A, Turner AN, Ades PA, Poehlman ET. Is there a threshold of visceral fat loss that improves the metabolic profile in obese postmenopausal women? Metabolism 2003;52(5):599–604.

10.

You T, Berman DM, Ryan AS, Nicklas BJ. Effects of hypocaloric diet and exercise training on inflammation and adipocyte lipolysis in obese postmenopausal women. The Journal of clinical endocrinology and metabolism 2004;89(4):1739–1746.

11.

Fielding RA, et al. Sarcopenia: an undiagnosed condition in older adults. Current consensus definition: prevalence, etiology, and consequences. International working group on sarcopenia. J Am Med Dir Assoc 2011;12(4):249–256.

12.

Manini TM, Clark BC. Dynapenia and aging: an update. J Gerontol A Biol Sci Med Sci 2012;67(1):28–40.

13.

Anton SD, et al. Effects of a weight loss plus exercise program on physical function in overweight, older women: a randomized controlled trial. Clin Interv Aging 2011;6:141–149.

14.

Brochu M, et al. Resistance training does not contribute to improving the metabolic profile after a 6-month weight loss program in overweight and obese postmenopausal women. J Clin Endocrinol Metab 2009;94(9):3226–3233.

15.

Cermak NM, Res PT, de Groot LC, Saris WH, van Loon LJ. Protein supplementation augments the adaptive response of skeletal muscle to resistancetype exercise training: a meta-analysis. The American journal of clinical nutrition 2012;96(6):1454–1464.

16.

Karelis AD, Messier V, Suppere C, Briand P, Rabasa-Lhoret R. Effect of cysteinerich whey protein (immunocal(R)) supplementation in combination with resistance training on muscle strength and lean body mass in non-frail elderly subjects: a randomized, double-blind controlled study. The journal of nutrition, health & aging 2015;19(5):531–536.

17.

Due A, Toubro S, Skov AR, Astrup A. Effect of normal-fat diets, either medium or high in protein, on body weight in overweight subjects: a randomised 1-year trial. Int J Obes Relat Metab Disord 2004;28(10):1283–1290.

18.

Skov AR, Toubro S, Ronn B, Holm L, Astrup A. Randomized trial on protein vs carbohydrate in ad libitum fat reduced diet for the treatment of obesity. Int J Obes Relat Metab Disord 1999;23(5):528–536.

19.

Farnsworth E, et al. Effect of a high-protein, energy-restricted diet on body composition, glycemic control, and lipid concentrations in overweight and obese hyperinsulinemic men and women. Am J Clin Nutr 2003;78(1):31–39.

20.

Layman DK, et al. A reduced ratio of dietary carbohydrate to protein improves body composition and blood lipid profiles during weight loss in adult women. J Nutr 2003;133(2):411–417.

21.

Demling RH, DeSanti L. Effect of a hypocaloric diet, increased protein intake and resistance training on lean mass gains and fat mass loss in overweight police officers. Ann Nutr Metab 2000;44(1):21–29.

22.

Villareal DT, Banks M, Sinacore DR, Siener C, Klein S. Effect of weight loss and exercise on frailty in obese older adults. Arch Intern Med 2006;166(8):860–866.

23.

Riesco E, et al. Effect of exercise training combined with phytoestrogens on adipokines and C-reactive protein in postmenopausal women: a randomized trial. Metabolism 2012;61(2):273–280.

24.

Bertin E, Marcus C, Ruiz JC, Eschard JP, Leutenegger M. Measurement of visceral adipose tissue by DXA combined with anthropometry in obese humans. Int J Obes Relat Metab Disord 2000;24(3):263–270.

25.

Abad-Diez JM, et al. Age and gender differences in the prevalence and patterns of multimorbidity in the older population. BMC Geriatr 2014;14:75.

26.

Kim IH, Chun H, Kwon JW. Gender differences in the effect of obesity on chronic diseases among the elderly Koreans. J Korean Med Sci 2011;26(2):250–257.

27.

Expert Panel on Detection, Evaluation, and Treatment of High Blood Cholesterol in Adults. Executive Summary of The Third Report of The National Cholesterol Education Program (NCEP) Expert Panel on Detection, Evaluation, And Treatment of High Blood Cholesterol In Adults (Adult Treatment Panel III). JAMA 2001;285(19):2486–2497.

28.

Furberg CD. Natural statins and stroke risk. Circulation 1999;99(2):185–188.

29.

Grundy SM. Can statins cause chronic low-grade myopathy? Ann Intern Med 2002;137(7):617–618.

30.

Barsalani R, Brochu M, Dionne IJ. Is there a skeletal muscle mass threshold associated with the deterioration of insulin sensitivity in sedentary lean to obese postmenopausal women? Diabetes Res Clin Pract 2013;102(2):123–128.

31.

Lebon J, et al. Is a small muscle mass index really detrimental for insulin sensitivity in postmenopausal women of various body composition status? J Musculoskelet Neuronal Interact 2012;12(3):116–126.

32.

Elango R, Humayun MA, Ball RO, Pencharz PB. Evidence that protein requirements have been significantly underestimated. Curr Opin Clin Nutr Metab Care 2010;13(1):52–57.

33.

Gaffney-Stomberg E, Insogna KL, Rodriguez NR, Kerstetter JE. Increasing dietary protein requirements in elderly people for optimal muscle and bone health. J Am Geriatr Soc 2009;57(6):1073–1079.

34.

Paddon-Jones D, Short KR, Campbell WW, Volpi E, Wolfe RR. Role of dietary protein in the sarcopenia of aging. Am J Clin Nutr 2008;87(5):1562S–1566S.

35.

Wolfe RR, Miller SL, Miller KB. Optimal protein intake in the elderly. Clin Nutr 2008;27(5):675–684.

36.

Lau DC, et al. 2006 Canadian clinical practice guidelines on the management and prevention of obesity in adults and children [summary]. CMAJ 2007;176(8):S1–13.

37.

Pennings B, et al. Amino acid absorption and subsequent muscle protein accretion following graded intakes of whey protein in elderly men. Am J Physiol Endocrinol Metab 2012;302(8):E992–999.

38.

Yang Y, et al. Resistance exercise enhances myofibrillar protein synthesis with graded intakes of whey protein in older men. Br J Nutr 2012;108(10):1780–1788.

39.

Weisgarber KD, Candow DG, Farthing JP. Whey protein and high-volume resistance training in postmenopausal women. The journal of nutrition, health & aging 2015;19(5):511–517.

40.

Tang JE, Phillips SM. Maximizing muscle protein anabolism: the role of protein quality. Current opinion in clinical nutrition and metabolic care 2009;12(1):66–71.

41.

Ryan AS, et al. Aerobic exercise and weight loss reduce vascular markers of inflammation and improve insulin sensitivity in obese women. J Am Geriatr Soc 2014;62(4):607–614.

42.

Ryan AS, et al. Aerobic exercise plus weight loss improves insulin sensitivity and increases skeletal muscle glycogen synthase activity in older men. J Gerontol A Biol Sci Med Sci 2014;69(7):790–798.

43.

Morencos E, et al. Effects of dietary restriction combined with different exercise programs or physical activity recommendations on blood lipids in overweight adults. Nutr Hosp 2012;27(6):1916–1927.

44.

Potteiger JA, et al. Resistance exercise and aerobic exercise when paired with dietary energy restriction both reduce the clinical components of metabolic syndrome in previously physically inactive males. Eur J Appl Physiol 2012;112(6):2035–2044.

45.

Koopman C, et al. Persisting gender differences and attenuating age differences in cardiovascular drug use for prevention and treatment of coronary heart disease, 1998-2010. Eur Heart J 2013;34(41):3198–3205.

46.

Robinson JG, Booth B. Statin use and lipid levels in older adults: National Health and Nutrition Examination Survey, 2001 to 2006. J Clin Lipidol 2010;4(6):483–490.

47.

Weinsier RL, et al. Do adaptive changes in metabolic rate favor weight regain in weight-reduced individuals? An examination of the set-point theory. Am J Clin Nutr 2000;72(5):1088–1094.
About this article
Cite this article
Amamou, T., Normandin, E., Pouliot, J. et al. Effect of a high-protein energy-restricted diet combined with resistance training on metabolic profile in older individuals with metabolic impairments. J Nutr Health Aging 21, 67–74 (2017). https://doi.org/10.1007/s12603-016-0760-8
Received:

Accepted:

Published:

Issue Date:
Key words
Strength training

protein intake

weight loss

metabolic syndrome

obesity